Powder Caramel Market Size, Growth (2023-2028)
The global Powder Caramel Market size was assessed at USD xx billion in 2022, and it is determined that it will reach USD xx billion by 2028 at a notable CAGR over the prediction period. The growth of caramel powder occurs as the demand for pastry and bakery products increases due to changes in consumer preferences.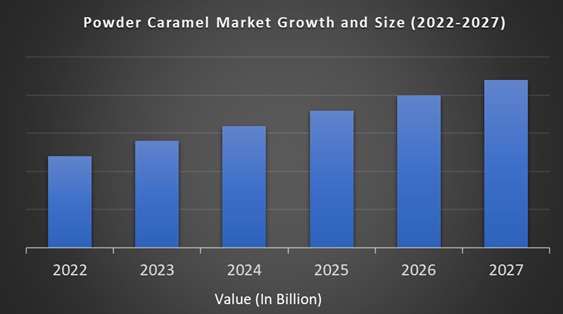 Market Overview:
Caramel is made by heating different types of sugar and is available in solid, liquid, granular and powdered forms. Caramel is produced when cooked with a mixture of sugar and water. Caramel is a widely used confectionery product. Caramel has a unique sweet flavor and attractive brown color. Caramel is considered one of the most popular flavors in the American market. Caramel can be consumed as items such as candy, cream, nuts, cookies, various desserts, and marshmallows. Caramel is produced when glucose and sucrose are caramelized at around 160°C by the Mailard reaction. Caramel has a variety of flavors that can be added to ice cream and dairy products. The flavor of each unique caramel product is created during the cooking process and develops through the reaction. New innovative products such as tea-infused chocolate and Java pop coffee soda have been launched on the market.
Powder Caramel Market Growth:
In the food and beverage industry, demand for powder caramel is expected to record rapid growth due to its unique color, flavor and characteristics.
REPORT COVERAGE:
| | |
| --- | --- |
| REPORT METRIC | DETAILS |
| Market Size Available | 2022 – 2028 |
| Base Year | 2022 |
| Forecast Period | 2023 - 2028 |
| Segments Covered | By Application, Function and Region |
| Various Analyses Covered | Global, Regional & Country Level Analysis, Segment-Level Analysis, DROC, PESTLE Analysis, Porter's Five Forces Analysis, Competitive Landscape, Analyst Overview on Investment Opportunities |
| Regions Covered | North America, Europe, APAC, Latin America, Middle East & Africa |
| Market Leaders Profiled | Alvin Caramel Colours (india) Private Ltd, San Soon Seng Food Industries sdn bhd, The John D. Walsh Company, Sethness Caramel Color, Sunspray Food Ingredients (Pty) Ltd, ASAHI GROUP FOODS, Secna Group, Best Flavors, Fruitofood, TSUKUBA DAIRY PRODUCTS CO.,LTD and Others. |
Drivers:
The main driver of the highest demand for powdered candies in the world market is the excellence of flavor and colors, since today's food and beverage manufacturers are more interested in providing products with innovations, different flavors and colors. On the other hand, consumers are also looking for foods that not only meet their needs and demands in terms of taste, but also specifically mix food ingredients and have a unique aroma. The demand for products such as chocolate, cakes, desserts, beverages and many other confectionery products is increasing in the worldwide market, which is promoting demand for caramel powder in the food and beverage industry. In the food and beverage industry, the need for powdered candies is on the rise due to the unique color, flavor and taste characteristics, giving consumers a special blend of caramel flavors in food and beverages. Significant growth is also observed in the beverage industry, including alcoholic and non-alcoholic products. Product types such as caramel sugar syrup and powder and liquid caramel colors are used to produce alcoholic and non-alcoholic beverages such as lemonade, tea, fruit drinks, beer, powdered beverage mixes and more. In the beverage industry, this high demand for products has a positive impact on the growth of the market for powdered caramel ingredients during the forecast period.
As the food decorating trend that drives the caramel topping segment increases, it is considered one of the important factors that will lead the market for the global market for caramel powder. As demand for desert ice cream and caramel increases, depending on the food sector, the bakery sector is considered to be one of the key factors in increasing sales in the global caramel market. In emerging economies such as India, China, Australia and New Zealand, demand for caramel powder market is expected to increase in these countries as disposable income and urbanization increase. As the demand for bakery, confectionery and other processed products increases, the number of restaurants and bakeries increases rapidly, leading to global demand for caramel powder. In addition, the widespread application of powdered candies in the food and beverage sector, changes in lifestyle, increased disposable income, and increased use of powdered candies for bakery product coverage are expected to skyrocket the global market for caramel powder over the years.
Restraints:
Despite the positive outlook, there are certain factors that hinder the growth of the global caramel powder market. The amount of sugar present in caramel is the main disadvantage of eating a large amount of caramel. The increase in the price of raw materials required for the production of powdered candies leads to an increase in the overall cost of producing powdered candies, which is expected to be a limit to the growth of powdered candies market. When the amount of sugar present in caramel is high, raw material prices rise, and healthy lifestyles are used, consumption of confectionery products is reduced, inhibiting the growth of the world market for caramel powder.
Powder Caramel Market Segmentation Analysis:
By Function:
Colours

Flavours

Toppings

Fillings
By Application:
Confectionary Products

Bakery Products

Dairy Products

Beverages

Others
Geographical Segmentation Analysis:
North America - the United States and Canada

Europe - United Kingdom, Spain, Germany, Italy, and France

The Asia Pacific - India, Japan, China, Australia, Singapore, Malaysia, South Korea, New Zealand, and Southeast Asia

Latin America - Brazil, Argentina, Mexico, and Rest of LATAM

The Middle East and Africa - Africa and Middle East (Saudi Arabia, UAE, Lebanon, Jordan, Cyprus)
Regional Analysis:
The Global Powder Carmel Market is classified by region, North, Central and South America, Europe, Asia Pacific, the Middle East and Africa. In terms of demand, the market share of caramel powder is expected to be a globally favorable market for the Asia Pacific and North America markets. Of these sectors, Europe is the largest producer and consumer of caramel, so it is expected to have a high market share worldwide. In the Asia-Pacific region, countries like India, China and Australia are making huge profits. The Asia Pacific region is also estimated to have the highest annual growth rate due to its large consumer base combined with more retail outlets than other regions. The North American market is supposed to grow significantly during the outlook period, but due to a large number of emerging economies in the Asia-Pacific region, growth is expected to be less than in the APEJ region. North America was a leading consumer for the caramel ingredients and is the emerging region in the global powder caramel market. Product consumption in North America is due to the growing popularity of frozen and packaged foods among consumers. In terms of product consumption, the Middle East followed North America.
Impact of Covid-19 on the Global Powder Caramel Market:
The Covid-19 pandemic has resulted in a complete change in the food intakes of consumers, resulting in a negative impact on the global powder caramel market. There is a high probability that consumers prefer nutrient rich and sugar-free products to avoid the chanced of falling sick to combat the spread of corona virus. This may lead to declined sales of caramel powder in the worldwide marketplace in the coming days.
Key Players in the Market:
Major key Players in the Global Powder Caramel Market are
Alvin Caramel Colours (india) Private Ltd.

San Soon Seng Food Industries sdn bhd

The John D. Walsh Company

Sethness Caramel Color

Sunspray Food Ingredients (Pty) Ltd

ASAHI GROUP FOODS, LTD. Inc

Secna Group

Best Flavors, Inc

Fruitofood

TSUKUBA DAIRY PRODUCTS CO.,LTD