Project Logistics Market Growth, Size and Forecast (2023-2028)
The Global Project Logistics Market size was worth USD xx billion in 2022, so it is estimated to reach USD xx billion by 2028, growing at a CAGR of 4 %.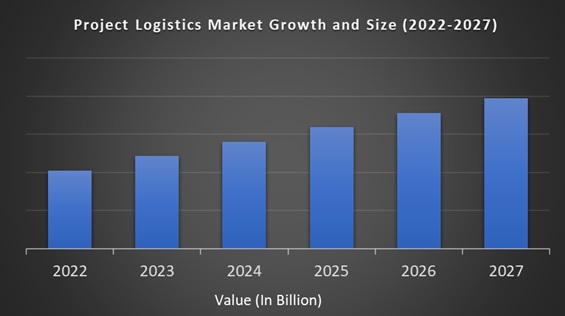 Market Overview:
A transporter's job is never easy when it comes to dealing with a cargo of unusual proportions. Larger-sized cargo necessitates an entirely distinct set of equipment, infrastructure, and experienced staff. On the other hand, shippers and service providers are getting more adept in the transportation of oversized and heavyweight shipments. Furthermore, manufacturing complexity complicates matters. Parts and modular packages are manufactured in far-flung corners of the globe and then sent to their final destinations. Technology advancements in modes of transportation services and collaborative logistics approaches are essential elements influencing the growth of the project logistics industry. The use of driverless cars and an increase in the use of blockchains for effective logistical operations will drive the project logistics market forward.
Recent Developments in Project Logistics Industry:
Avigna Industrial & Logistics Park, a subsidiary of Chennai-based Avigna Group, will invest Rs 500-600 crore to develop a 4 million sq ft Grade A warehousing facility in Hoskote Karnataka. The industrial park will feature Grade A warehouse capacity to meet the most technologically advanced supply chain management requirements. Avigna intends to hand over the first 1 million square feet at Hoskote Industrial Park in 2022-23.

GEODIS, global transportation and logistics service company, has leased a 30,000-square-foot multi-use facility at the LOGOS Logistics Estate in Buhari, north of Delhi. The first operation with LOGOS is the Buhari facility, which will be operating by March 2022. The company is also in negotiations with LOGOS about opening more of these facilities in the Asia Pacific.

Sites Logistic Solutions, a Palakkad-based tech-enabled comprehensive supply chain firm, is growing into Europe, the United States, Canada, Indonesia, and Vietnam. As a result, it intends to increase its international revenue share to 20%.

Flock Freight, sponsored by SoftBank, has raised $215 million in a fresh fundraising round to promote its load-matching technology, allowing shippers to group their goods on trucks to avoid freight hubs. The new capital will enable the six-year-old company to hire 300 more staff next year and develop its shipment-pooling algorithm and machine-learning technology to process more shipments per minute.

LaserShip Inc. agreed to acquire Western U.S. rival OnTrac Logistics Inc. in a $1.3 billion deal to expand the local last-mile delivery specialist's reach across a broader section of the United States at a time of booming e-commerce demand. The acquisition would establish a network that would enable two-day shipment to 74 percent of the U.S. population.
PROJECT LOGISTICS MARKET REPORT COVERAGE:
| | |
| --- | --- |
| REPORT METRIC | DETAILS |
| Market Size Available | 2022 – 2028 |
| Base Year | 2022 |
| Forecast Period | 2023 - 2028 |
| CAGR | 4% |
| Segments Covered | By Service, End User, and Region. |
| Various Analyses Covered | Global, Regional & Country Level Analysis, Segment-Level Analysis, DROC, PESTLE Analysis, Porter's Five Forces Analysis, Competitive Landscape, Analyst Overview on Investment Opportunities |
| Regions Covered | North America, Europe, APAC, Latin America, Middle East & Africa |
| Market Leaders Profiled | Rhenus Logistics,Bollore Logistics,Agility Logistics,EMO Trans,Hellmann Worldwide Logistics,Ceva Logistics,Rohlig Logistics,Ryder System Inc.,CH Robinson Worldwide Inc.,Kuehne + Nagel International AG and Others. |
Drivers:
The increased need for project logistics from the automotive industry is one of the key growth drivers for this market. In addition, digital technology advancements and changing customer tastes resulting from e-commerce are likely to drive the change of the logistics ecosystem.
As a result of technology advancements, the project logistics industry is expected to increase in the near future. When two or more organizations form a collaboration, they are said to accomplish collaborative logistics. The partnership's goal is to optimize logistics operations by pooling equipment, trucks, information, or carriers to minimize costs. As a result, the logistics method will contribute to the expansion of the project logistics market shortly. To suit industry demands and expectations, central global logistics businesses offer a particular project cargo segment.
Furthermore, local companies are expanding their fleet size, business solutions, sectors addressed, and technologies. Global manufacturers produce enormous and oversized components at plant locations (off-site), which complicates the lives of heavy cargo haulage businesses. Multinational corporations with significant resources and assets can invest in improved fleets and benefit from the scenario mentioned above. Moreover, regional and local players are developing better industry solutions to support clients completing projects on time. The project logistics market is being driven by the bright future forecast for renewable energy. Energy businesses must create the necessary infrastructure, start new projects, and install power-producing equipment to generate the appropriate amount of power in the future. This scenario will increase the demand for project logistics. Construction companies are looking for numerous options to prevent bottlenecks. One method is moving components to installation sites early and employing regional laydown facilities to marshal goods at or near a site well before construction begins. These strategies would assist developers in avoiding trailer shortages during peak shipping periods, extend the window for finding competent heavy-haul drivers in limited supply, and mitigate cost overruns owing to driver overtime and late permitting.
Restraints:
Problems with logistics and players necessitate a significant initial capital expenditure, inhibiting the growth of the automotive project logistics sector.
Project Logistics Market Segmentation Analysis:
By Service:
Transportation

Forwarding

Inventory Management and Warehousing

Other Value-added Services
The market is segmented into Transportation, Forwarding, Inventory Management, and Warehousing, Other Value-added Services. The transportation services category accounted for the majority of project logistics market growth. The global project logistics market's prominent competitors provide customized and unique mobility solutions. As an outcome, the project logistics service market size in the transportation service segment will constantly expand. However, the industry's development in this category will be slower than the market's growth in the other segments.
By End-User:
Oil and Gas

Mining and Quarrying

Energy and Power

Construction

Manufacturing

Others
The market is augmented into Oil and Gas, Mining and Quarrying, Energy and Power, Construction, Manufacturing, and Others. Rising oil prices and a thriving liquefied natural gas (LNG) and petrochemical manufacturing industry may enormously benefit the transportation logistics business in 2019. Some firms have been developed to conduct project logistics activities all over the globe. The decade-long trend of the rapid increase in renewable energy capacity continued in 2018, with 171 gigawatts added globally (G.W.). Hydropower, wind energy, bioenergy, solar power, and geothermal power are all part of it. The 7.9 percent yearly increase was boosted by new solar and wind energy additions, which accounted for 84 percent of the expansion. Notably, sustainable energy accounts for one-third of worldwide power capacity. This tendency is anticipated to expand in the following years to determine climate patterns and sustainability targets.
Geographical Segmentation Analysis:
North America - the United States and Canada

Europe - United Kingdom, Spain, Germany, Italy, and France

The Asia Pacific - India, Japan, China, Australia, Singapore, Malaysia, South Korea, New Zealand, and Southeast Asia

Latin America - Brazil, Argentina, Mexico, and Rest of LATAM

The Middle East and Africa - Africa and Middle East (Saudi Arabia, UAE, Lebanon, Jordan, Cyprus)
Regional Analysis:
According to industry experts, Asia-Pacific leads the market research and is also projected to be the most vital area. In recent times, infrastructure investment has been a crucial driver of economic development in Asia-Pacific countries. Some countries priorities the construction of infrastructure building (such as Australia and the ASEAN countries). In recent times, China's construction sector has seen substantial development. Chinese contractors completed 7,217 construction projects along the Belt and Road in 2017 alone and 13,267 construction contracts worldwide. This creates a massive potential for local project cargo firms to serve such projects with logistical services shortly. Some regional logistics organizations are managing large shipments with improved capacities.
Impact of COVID-19 on Global Project Logistics Market:
The COVID-19 epidemic has directly impacted logistics organizations, which are involved in the transit, storage, and flow of commodities. As a result, supply chain interruptions induced by the pandemic could impact competitiveness, economic growth, and job creation. However, the sector is expected to recover when the country's lockdown is eased. The impact of COVID-19 on the logistics sector may be seen in this heat map of transportation movement around the country. In the end, project logistics is dependent on other industries resuming operations and returning to pre-crisis levels of activity.
Due to the worldwide lockdown, major production facilities have been closed, causing severe supply chain disruption in all manufacturing sectors. The global prices of raw materials and intermediate suppliers have risen due to the production slowdown and transit interruption. In addition, border restrictions have temporarily halted human mobility and transportation activities, putting unprecedented strain on sea and road freights and creating significant barriers to international trade.
Key Players in the Market:
Major Key Players in the Global Project Logistics Market are
Rhenus Logistics

Bollore Logistics

Agility Logistics

EMO Trans

Hellmann Worldwide Logistics

Ceva Logistics

Rohlig Logistics

Ryder System Inc.

CH Robinson Worldwide Inc.

Kuehne + Nagel International AG