Retail Automation Market Size, Growth, Forecast (2022-2027)
The Global Retail Automation Market size was valued at US$ 13.97 Billion in 2021 and is anticipated to reach the valuation of US$ 31.81 Billion by 2027 and is predicted to register a CAGR of 10.94% during 2022-2027.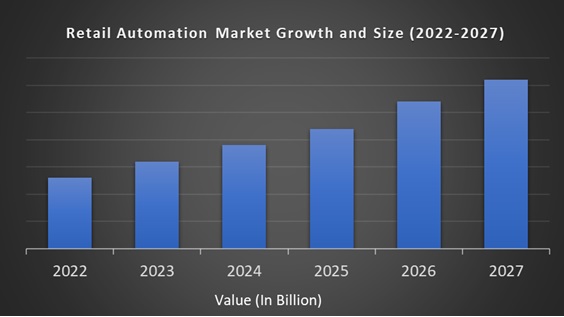 Market Overview:
Retail automation integrates software to implement automated operations in retail stores to replace manual processes in traditional stores. Retailers look for technologies that would do specific actions to reduce cost, increase accuracy, and complete operations quickly, retail automation does all of these by implementing kiosk machines and point of sale terminals including technology, hardware, and services. Customers operate a touch screen interface to navigate and select the product and then to make a payment, and then the product is delivered through a mechanism inside the machine. It offers the best consumer experience, delivery mechanism, and software integration, which lack in vending machines. Automated retail produces better results and revenues for expensive products like electronics, cosmetics, and others, but it is not suitable for lower-cost products. The automatic retailers accept both credit cards and debit cards.
Recent Developments in Retail Automation Industry:
Data analytics is playing a crucial role in forecasting by analysing massive amounts of available data and achievability of decision making with the help of analytic automation, which is going to help the retailers gain more productivity.

The consumers' behavioural patterns while buying products are being analysed, which has impacted the growth of the market. Implementation of data analytics in the retail industry like recommendation systems has led to growth in revenue in large amounts.

In March 2017, Acculynk (US) had been acquired by First Data to expand its e-Commerce solution suite.

In April 2017, Fujitsu (Japan) and Grind Inc. (US) collaborated to develop AI intelligence merging both of their technologies zinrai and ReNom.
REPORT COVERAGE:
| | |
| --- | --- |
| REPORT METRIC | DETAILS |
| Market Size Available | 2021 – 2027 |
| Base Year | 2021 |
| Forecast Period | 2022 – 2027 |
| Segments Covered | By Type, Implementation, End-user & Region. |
| Various Analyses Covered | Global, Regional & Country Level Analysis, Segment-Level Analysis, DROC, PESTLE Analysis, Porter's Five Forces Analysis, Competitive Landscape, Analyst Overview on Investment Opportunities. |
| Regions Covered | North America, Europe, APAC, Latin America, Middle East & Africa. |
| Market Leaders Profiled | Datalogic S.p.A., Diebold Nixdorf, Inc, Toshiba Global Commerce Solutions, Zebra Technologies, NCR Corporation, Posiflex Technology Inc., Fiserv, Inc., Fujitsu Limited, Honeywell International Inc., KUKA AG. |
Retail Automation Market Drivers:
Retailers all around the world are streamlining workflows to improve their business processes since it provides transparency and visibility in the supply chain. As a result, more methods, such as digitalization, are being adopted to drive the global retail automation market forward during the forecast period. The introduction of automation has relieved the strain to outsmart the competition, exceeded customer expectations, boosted revenue potential, and improved organizational efficiency.
As a result of its capacity to provide end-to-end visibility, streamline operations, eliminate redundancies, and other benefits, automation has become increasingly popular in the retail industry. In the future, the retail industry is likely to benefit greatly from the integration of analytics technology with automation technologies.
Analytical automation's ability to make judgments based on studied data is expected to help retailers achieve a competitive advantage in the market. As a result, consumer buying patterns analysis is likely to boost market expansion in the approaching years. Furthermore, the surge in data and analytics transformation operations in retail, such as recommendation systems, presents additional possibility for global market players to considerably enhance income.
Retail Automation Market Restraints:
Electricity and the internet are required for all retail automation technologies. While all retail industry operators may desire to use retail automation, the lack of high-speed internet and reliable electrical supply may limit the business's expansion. The world's less developed regions may be late to join the new retail automation segment. As a result, the retail automation market may have an inconsistent growth tendency. As a result, the RA market may be on the receiving end of the growing trends.
Retail Automation Market Opportunities:
In today's market, there are numerous important prospects. The use of automation by retail automation industry participants, for example, will have a domino effect. This domino effect has a favorable impact on the market. The retail automation industry is undergoing a technological revolution. As a result, the retail automation sector has a lot of room for expansion. Market players as well as rising retail leaders can benefit from the potential.
Retail Automation Market Challenges:
Retailers engage with a wide range of operations on a daily basis. Departmental integration is a fundamental need that must be met in order to effectively manage and align departments with corporate objectives. Inappropriate storage structure, faulty in-store product mix, ineffective warehouse space usage, frequent price adjustments, rapid shifts in customer needs, and lack of control over channel partners are just a few of the primary issues that retailers confront. Furthermore, commercial businesses must meet difficult standards in the domains of e-commerce and retail, as well as the accompanying logistics, such as same-day delivery, click-and-collect, and straightforward returns processing. As a result, it is believed that organisations with superior logistics will stand out from the competition and be able to outlast the competition in the long run.
Retail Automation Market Segmentation Analysis:
By Type:
Point-of-Sale (POS)

RFID & Barcode

Camera

Electronic Shelf Label

Automated Vehicles

Others
Based on the Type, Point-of-sale (POS) segment ruled the market in 2018 and is likely to continue this trend during the forecast period. Within the forecast period, there will be growth in this segment due to advancements in R&D, resulting in the production of advanced systems like contactless payments, RFID transponders, biometric-based POS systems, which is offering comfortable and secure payment options to the end-user.
By Implementation:
By End-user:
Retail Pharmacies

Fuel Stations

General Stores

Supermarkets

Hypermarkets
Geographical Segmentation Analysis:
North America - the United States and Canada

Europe - United Kingdom, Spain, Germany, Italy, and France

The Asia Pacific - India, Japan, China, Australia, Singapore, Malaysia, South Korea, New Zealand, and Southeast Asia

Latin America - Brazil, Argentina, Mexico, and Rest of LATAM

The Middle East and Africa - Africa and Middle East (Saudi Arabia, UAE, Lebanon, Jordan, Cyprus)
Key Players in the Market:
Major Key Players in the Global Retail Automation Market are
Datalogic S.p.A.

Diebold Nixdorf, Inc

Toshiba Global Commerce Solutions

Zebra Technologies

NCR Corporation

Posiflex Technology Inc

Fiserv, Inc

Fujitsu Limited

Honeywell International Inc

KUKA AG