Machine Vision Camera Market Size and Forecast (2022-2027)
The global Machine Vision Camera market size was estimated at USD 11 billion in 2021 and is going to grow at a CAGR of 7% from 2022 to 2027, to reach USD 15.5 billion by 2027.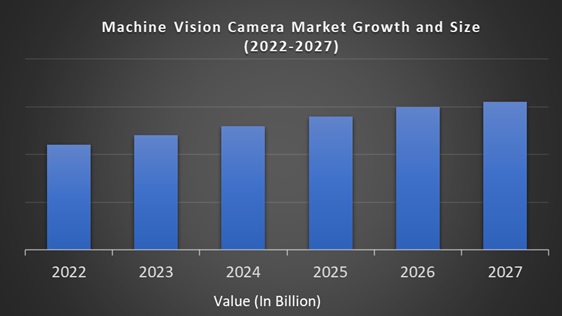 Machine Vision Camera Market Scenario:
Machine vision cameras use digital sensors with specialized optics to record pictures, which are then processed, analyzed, and measured using computer hardware and software to make correct decisions. If it is constructed around the correct resolution and optics, a machine vision camera can readily investigate minute object features that are too tiny to be seen by the human eye.
Lighting, lens, image sensor, vision processing, and communications are the main components of a machine vision camera system. The light is converted into a digital image by the sensor in the machine vision camera system, which is then sent to the processor for processing. Therefore, these features increases the global machine vision camera market share.
Electronics and semiconductors, healthcare, automotive, food and beverage, pharmaceuticals, packaging, and printing are just a few of the sectors that employ machine vision cameras. It may be used for a range of activities such as pattern recognition, inspection, and location analysis. In a location application, the vision system's job is to locate the item and provide its position and orientation. The aim of a vision system in inspection applications is to verify particular aspects such as the existence or absence of a correct label on a container, chocolates in a box, or faults. Vision camera systems scan multiple codes and alphanumeric characters in an identifying application.
Recent Developments in the Machine Vision Camera Industry:
Cognex introduced the DataMan 8700 Series, the latest generation of portable barcode readers, in March 2021. The gadget is cutting-edge in terms of performance and is extremely simple to operate, requiring no prior tweaking or operator training.

Cognex released Cognex Edge Intelligence (EI) in March 2021, which uses barcode scanning performance monitoring and device management to assist clients in avoiding downtime and enhance the efficiency of manufacturing and shipping operations.
REPORT COVERAGE:
| | |
| --- | --- |
| REPORT METRIC | DETAILS |
| Market Size Available | 2021 – 2027 |
| Base Year | 2021 |
| Forecast Period | 2022 - 2027 |
| CAGR | 7% |
| Segments Covered | By Type, System, Industry and Region |
| Various Analyses Covered | Global, Regional & Country Level Analysis, Segment-Level Analysis, DROC, PESTLE Analysis, Porter's Five Forces Analysis, Competitive Landscape, Analyst Overview on Investment Opportunities |
| Regions Covered | North America, Europe, APAC, Latin America, Middle East & Africa |
| Market Leaders Profiled | Allied Vision Technologies GmbH, Basler AG, Cognex Corporation, Keyence Corporation, LMI Technologies, Inc, Microscan Systems, Inc, National Instruments Corporation, OMRON Corporation, Sick AG, Tordivel AS and Others. |
Machine Vision Camera Market Growth:
The need for machine vision cameras is steadily increasing as production becomes more automated. The total machine vision camera industry is dominated by line scan and area scan cameras. Therefore, this is the primary factor responsible for the global machine vision camera market growth.
Machine Vision Camera Market Drivers:
Following COVID-19, industrial companies throughout the world have pledged to invest more in automation. Furthermore, as businesses have realized the importance of automated quality assurance in manufacturing processes, demand for it has increased. The COVID-19 epidemic, which has resulted in reduced human interaction in many processes, has exacerbated the global machine vision camera market demand. Therefore, machine vision is now widely acknowledged as a critical component of long-term automation development. In a short length of time, machine vision can help reveal flaws in automated manufacturing processes. As a result, costs are lower, and response times are faster. It also aids in the detection of defective items, lowering the risk of product returns and increasing consumer satisfaction. With this technology, all items on the manufacturing lines are checked equally and with the same concentration, which has raised the need for machine vision in quality assurance further rising the global machine vision camera market growth. Also, if any defects are discovered, the items are reworked—this is the most expensive factor. As a results of these factors the global machine vision camera market has developed a major growth in the next six years.
Machine Vision Camera Market Restraints:
Despite the drivers, the global machine vision camera market also has the factors that are the stumbling blocks for its growth. Scanners may simply be used to survey Internet of Things (IoT) devices, allowing for easy vulnerability exploitation. Usernames and passwords that haven't been updated since they were created can act as software faults that can be discovered through reverse engineering, which acts as the major restraint for the global machine vision camera market. Cyberattacks are getting more vulnerable as people become more reliant on the internet and IoT devices like AI-enabled gadgets. Cyberattacks are getting more vulnerable as people become more reliant on the internet and IoT devices like AI-enabled gadgets. Manufacturers can benefit from AI machine vision and automation, but they must also pay attention to cyber security principles.
Machine Vision Camera Market Segmentation Analysis:
By Type:
1-D Vision System

2-D Vision System

3-D Vision System
During the forecasted period, the 2-D vision system category is expected to dominate the global machine vision camera market share. Its usage in a digital camera that takes photographs of an object is the reason for this. The reflected image light is recorded and processed in 2D vision systems, which use a 2-dimensional map with (X, Y) coordinates. Label orientation, printing verification, and barcode reading have all traditionally been done with these 2-D systems.
By System:
PC based

Smart Camera

Others (Compact, etc.)
PC-based MV systems were the most popular product category on the global machine vision camera market. Throughout the projection period, it is expected that the category will retain its worldwide market position. In addition, throughout the projection period, smart camera systems are expected to increase at a significant rate. The increasing use of cameras in 3D sensing and imaging is responsible for the rise.
By Industry:
Semiconductor

Healthcare

Automotive

Manufacturing

Others (Retail, Banking, etc.)
The automobile sector is the most common end-user of machine vision camera market worldwide. In the following years, the industry is expected to develop rapidly. During the projected period, the food and beverage industry is expected to have the greatest CAGR. Packaging and bottling activities are where MV systems are most commonly employed in the industrial industry. Healthcare, as well as other industries such as retail, finance, food and beverage, agriculture, solar panels, security and surveillance, and rubber and plastic manufacturing, are expected to grow rapidly in the future years.
Geographical Segmentation Analysis:
North America - the United States and Canada

Europe - United Kingdom, Spain, Germany, Italy, and France

The Asia Pacific - India, Japan, China, Australia, Singapore, Malaysia, South Korea, New Zealand, and Southeast Asia

Latin America - Brazil, Argentina, Mexico, and Rest of LATAM

The Middle East and Africa - Africa and Middle East (Saudi Arabia, UAE, Lebanon, Jordan, Cyprus)
Machine Vision Camera Market Regional Analysis:
In 2021, Asia Pacific dominated the global machine vision camera market, accounting for nearly 40.0 percent of total revenue. From 2022 through 2030, the region is expected to expand rapidly. The attractive potential in automotive, packaging, pharmaceutical and other industrial applications in the Asia Pacific area may be attributed to this huge market share and regional expansion. The technology is expected to acquire substantial momentum during the projected period as the area establishes itself as a global manufacturing center. China and Japan are two significant nations that have the potential to offer a wide range of possibilities for both developing and mature technology like machine vision. Numerous industrial industries contribute to the expansion and prosperity of the area's economy.
North America is regarded as one of the world's fastest-growing revenue producers in the global machine vision camera market. This is due to the semiconductor industry's dominance in the region, which is a crucial segment for Machine Vision systems. Furthermore, MV technologies are shrinking in size and getting smarter in order to fit into automation applications such as autonomous vehicles, AI-driven bin picking, enhanced inspection technologies, and so on. All of this is projected to boost the region's demand for MV systems.
The market for Machine Vision cameras in Latin America is expected to rise steadily, owing to the convenience of smart cameras. Automotive, pharmaceutical, health care, packaging, and electronics are some of the industries driving the industry in South America.
Key Players in the Market:
Major Key Players in the Global Machine Vision Camera Market are
Microscan Systems, Inc.

National Instruments Corporation

OMRON Corporation

Sick AG

Tordivel AS