Sanitary Pumps and Valves Market Size, Growth (2022-2027)
The Global Sanitary Pumps and Valves Market size was worth US$ 1.97 billion in 2021 and is anticipated to succeed in the valuation of US$ 2.64 billion by 2027 and is predicted to register a CAGR of 4.3% during 2022-2027.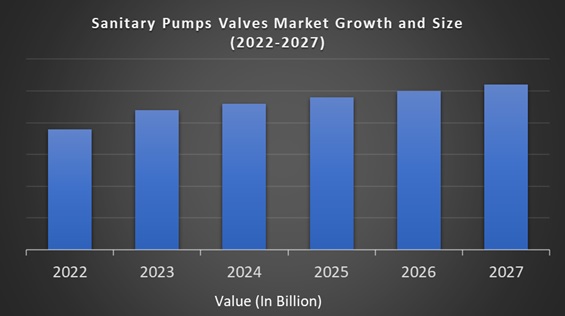 Sanitary Pumps and Valves Market Scenario:
The global sanitary pumps and valves market share is primarily driven by the characteristics of the sanitary pumps and valves. Mainly, sanitary pumps are specialised equipment that employ industrial processing pipeline systems to pump slurries and hygienic liquids, and valves on a pump control the flow of liquid through a pump. These are crucial intermediaries in the distribution of products intended for human consumption or touch, such as dairy products, food, cosmetics, pharmaceuticals, food additives, beverages, fine chemicals, and a variety of other products. The implementation of necessary government requirements for maintaining ideal hygiene levels, businesses' increasing preference for plant automation, and the development of novel goods are all expected to boost sanitary pumps and valves market growth in the coming years.
Recent Developments within the Sanitary Pumps and Valves Market:
Alfa Laval raises the bar in the sanitary fluid handling industry.
This new Alfa Laval pump has a unique design that focuses on cleanliness and safety, providing efficient performance that fulfils the latest worldwide hygiene requirements (EHEDG and 3A) while allowing for easy maintenance. Customers previously had to pick between efficient pumps and pumps that were simple to clean and maintain. For the first time, the DuraCirc pump combines the best of both worlds, setting a new industry standard.
With Gea Heat Pump Technology, E.On transforms sewage into a valuable resource.
Using GEA's energy-efficient heat pumps, a large power provider had to adjust its mindset in order to reduce greenhouse gas emissions from the heating supplied to a city in Sweden. In an innovative technique to turning waste into usable energy, a sewage plant was determined to be the greatest source for heating homes after evaluating the water.
REPORT COVERAGE:
| | |
| --- | --- |
| REPORT METRIC | DETAILS |
| Market Size Available | 2021 – 2027 |
| Base Year | 2021 |
| Forecast Period | 2022 - 2027 |
| CAGR | 4.3% |
| Segments Covered | By Pump Type, Pump Priming Type and Region |
| Various Analyses Covered | Global, Regional & Country Level Analysis, Segment-Level Analysis, DROC, PESTLE Analysis, Porter's Five Forces Analysis, Competitive Landscape, Analyst Overview on Investment Opportunities |
| Regions Covered | North America, Europe, APAC, Latin America, Middle East & Africa |
| Market Leaders Profiled | ALFA LAVAL, Fristam Pumpen KG, GEA Group Aktiengesellschaft, ITT INC, Xylem, Ampco Pumps Company, Viking Pumps, Verder and Others. |
Sanitary Pumps and Valves Market Growth:
The sanitary pumps and valves industry is anticipated to have the major growth because of the rising focus on R&D for the sanitary pumps and valves.
Sanitary Pumps and Valves Market Drivers:
The major driver that is responsible for the global sanitary pumps and valves market growth is the strict government regulations for maintaining optimal hygiene level.
Process industry manufacturers must follow the strict rules set forth by various governments in order to preserve industry hygiene and provide customers with contamination-free products. The food sector is governed by a complicated system of regulations and legislation enacted by many governments across the world. To ensure the quality and safety of food items, food chain companies must comply with certain standards. To ensure the purity and quality of final products as well as the strength of active ingredients, the pharmaceuticals industry requires maintaining high hygiene standards at each phase of the manufacturing process, including materials, equipment, containers, premises, and cleaning and disinfecting products. Pharmaceutical makers must adhere to regulations set forth by the US Food and Drug Administration, the International Council for Harmonisation of Technical Requirements for Pharmaceuticals for Human Use (ICH), and the Thai Food and Drug Administration, among others. Pharmaceutical, food, beverage, and dairy product makers are required to follow government rules, which has driven them to use sanitary equipment and maintain hygiene in their facilities, which further increases the usage of several types of sanitary valves and pumps in order to maintain safety and hygienic procedures mainly in industrial plants has enlarged.
Another factor driving the sanitary pumps and valves market volume in India is the rising demand for twin-screw pumps. As producers, particularly in the food and beverage industry, grow more concerned with quality, efficiency, and hygiene, twin-screw pump technology has advanced. The sanitary twin screw pump, for example, can transfer a wide range of fluids at various speeds while still maintaining the needed pressure for handling various types of meals. Large and microscopic particles can be handled easily with a twin-screw pump since they deliver minimal shear. Due to the lack of a centrifuge in these pumps, the separation of non-homogeneous fluids is also reduced.
Sanitary Pumps and Valves Market Restraints:
The major factor that hampers the global sanitary pumps and valves market growth is the high prices of the raw materials. Non-corrosive, odourless, and non-toxic materials, such as 304L or 316L stainless steel, are required for the manufacture of sanitary pumps and valves. The cost of these stainless-steel variations is determined by the amount of alloy used and the cost of the alloying element used. The price of raw materials changes, affecting the cost of manufacturing sanitary pumps and valves. Raw material costs are highly variable, resulting in inefficient pricing management and fluctuating profit margins. The sales of sanitary valves and sanitary pumps are similarly affected by this difference in end-product prices. Variations in the adoption of sanitary valves and sanitary pumps among industries are caused by these variables, which operate as a sanitary pumps and valves market restraint.
Sanitary Pumps and Valves Market Segmentation Analysis:
By Pump Type:
Centrifugal

Positive Displacement

Others
Centrifugal pumps are the earliest and most basic sanitary pumps, based on the centrifugal force principle in the global sanitary pumps and valves market. They are the most extensively used form of sanitary pump on the market due to their low cost of manufacture and simple, long-lasting operation. Centrifugal pumps have a number of advantages, including their excellent ability to transfer low-viscosity fluids, easy flow rate adjustment, low cost, simple design that is easy to maintain, consistent output, compatibility with fluids containing suspended particulates or small solids, and availability in a variety of designs capable of a wide range of flow and pressure outputs. Because of these characteristics, centrifugal pumps currently dominate the sanitary pumps market and are expected to grow significantly during the projected period.
By Pump Priming Type:
Self-priming

Non-self-priming
The market for sanitary pumps and valves is dominated by non-self-priming sanitary pumps, and this trend is projected to continue over the forecast period. This is due to the fact that the vast majority of sanitary pumps on the market are engineered to be non-self-priming, with only a few being self-priming. Centrifugal pumps, which are the most commonly used pumps in sanitary applications, must always be primed before use. Due to the numerous advantages that self-priming pumps provide, such as the ability to handle a wide range of fluids and solids with great efficiency while causing no damage to the pump system, demand for self-priming pumps is expanding across the industry.
Geographical Segmentation Analysis:
North America - the United States and Canada

Europe - United Kingdom, Spain, Germany, Italy, and France

The Asia Pacific - India, Japan, China, Australia, Singapore, Malaysia, South Korea, New Zealand, and Southeast Asia

Latin America - Brazil, Argentina, Mexico, and Rest of LATAM

The Middle East and Africa - Africa and Middle East (Saudi Arabia, UAE, Lebanon, Jordan, Cyprus)
Sanitary Pumps and Valves Market Regional Analysis:
The global sanitary valves market is segmented into five regions: North America, Europe, Asia Pacific, South America, and the Middle East and Africa.
From 2022 to 2027, Asia Pacific is expected to lead the global sanitary pumps and valves market. In addition, the Asia Pacific market is expected to grow rapidly in the near future. Because of the rapid expansion of the food and pharmaceutical industries, as well as increased hygiene awareness in these industries, emerging economies like as China and India are expected to contribute considerably to the growth of the sanitary valves market. This is projected to be a major element driving sanitary valve demand and hence boosting the sanitary pumps and valves market in the region.
Because of the high dairy production in these countries, the market for sanitary pumps and valves for the dairy sector in APAC is rising at a rapid pace, this pattern is likely to continue in the coming years. A growing population in emerging nations, rising per capita income, increased industrialisation, and fast urbanisation are just a few of the other reasons driving the region's sanitary pumps and valves market growth.
Key Players in the Market:
Major key Players in the Global Sanitary Pumps and Valves Market are