Socks Market Size, Share, Trends, and Forecast 2022-2027:
The Socks Market is estimated at USD 44.1 billion in 2022 and is expected to reach USD 63.21 billion by 2027, growing at the rate of 5.62 % CAGR.
However, increased smartphone user penetration in these countries has forced sock manufacturers, along with various value-added products, including cash-on-delivery services, to release their consumer variants at reduced prices. The global socks market will also be driven by this in the forecast period.
In addition, increased health and fitness expenditures among adults will lead to demands for various shoe accessories, such as sports socks and knee socks for exercise in gyms and health clubs. In the past few years, a variety of health workers have spent on publishing various papers on healthy foot maintenance as foot disorders associated with diabetic pat are increasing.
A major part of extending the utility of socks is expected to play a growing function in the formal appeal of White-Collar professionals at the global level. In addition, demand growth is expected to increase in the coming years.
In turn, increased health and fitness spending for adults would contribute to the demand for various footwear supplies such as sports socks and ankle socks in gyms and health clubs during workouts. Different health workers have increased over the past few years expenditures on publishing several research papers on healthy foot maintenance as foot disorders in diabetic pat are increasingly occurring.
The consequence is the introduction of advanced diabetic socks by some companies including Dr. Oxyn and Podolite to reduce the risk of foot ulcers, which cause infection or potential amputation. A growing number of companies in emerging economies like China, Bangladesh, India, and Mexico are expected to remain an industry favorable factor as a result of supportive policies to encourage investment at the domestic level.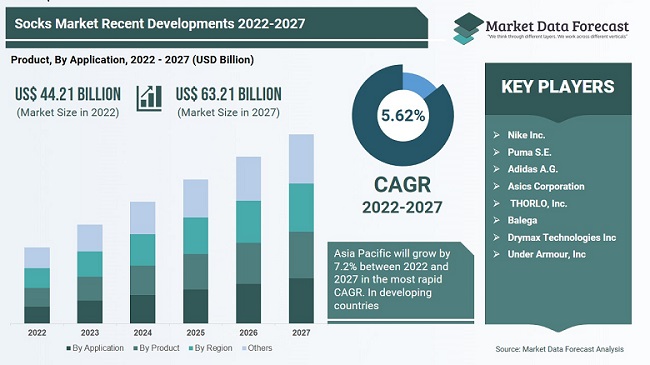 Research Methodology:
Market research involves studying market trends, and growth patterns and understanding the influence of variables like macro and microeconomic conditions, and geopolitical and demographic conditions on the market value and market dynamics.
The research methodology used to calculate and forecast the Socks market began by collecting information on the market key player's sales using multiple sources via secondary research. In order to identify market segmentation, supplier offers have been considered.
Recent Industry Developments:
In May 2018 in its online portals, United Legwear & Apparel Co., LLC, launched 150 types of socks for men and women.
PBC launched ten conceptual socks under the name Say Possible on 2018, Kickstarter.
In 2018, the share of casual products 2018 was 54.3%. It is expected that the industry will remain favored by the ease of integration of these items as they can be used with all apparel. Therefore, most customers are using casual polyester and nylon socks because of their comfort and convenience offline and online availability. Mustang Socks & Accessories, Goodfellow & Co, Sock Talk, and Kane Socks Company are among the most popular casual sock manufacturers.
At the fastest CAGR of 6.7% from 2019 to 2027, the athletic market is projected to grow. Such services are favored by athletes and health practitioners because they are able to prevent blisters from rolling around their feet. Athletic socks are considered to be the key driver for new product releases by companies like Nike and Adidas worldwide.
The largest share of people in 2018 was 63.2 percent. Items like patchy and stuffed items slowly become part of the men's classification. The adoption of items as accessories for casual and commercial attirance by men will show growth in this category. This is the market. However, an increasing number of social Videos on Youtube and Google+ are expected to encourage expenditure on good quality shoe accessories such as sockets, as they advise on maintaining an excellent care appearance.
The women's segment will rise from 2022to to 2027 by 6,7% at the fastest CAGR. According to the World Bank report, approximately 40.83 percent of women work and the figure is growing considerably in 2018. The increasing number of working-class women worldwide is anticipated to have a positive impact on growth in the segment.
Drivers and market limitations of Socks Market:
The Socks market size is exponentially expanding owing to the following:
Increasing customer adoption.
Health benefits are provided by citrus oil.
Restraints of the Socks market can be
Strict safety and protection rules.
High setup cost.
Opportunities in the Socks market can be
Increased penetration of eCommerce through the vertical sector.
SOCKS MARKET

REPORT COVERAGE:
REPORT METRIC

DETAILS

Market Size Available

2022– 2027

Base Year

2021

Forecast Period

2022 - 2027

CAGR

5.62 %

Segments Covered

By Product

By Application

Various Analyses Covered

Global, Regional & Country Level Analysis, Segment-Level Analysis, DROC, PESTLE Analysis, Porter's Five Forces Analysis, Competitive Landscape, Analyst Overview on Investment Opportunities

Regions Covered

North America, Europe, APAC, Latin America, Middle East & Africa

Market Leaders Profiled

Nike Inc. Puma S.E. Adidas A.G. Asics Corporation; THORLO, Inc. Balega; Drymax Technologies Inc. and Under Armour, Inc.
Socks Market Segmentation:
Socks Market - Product:
Socks Market - By Application:
Regional Analysis:
North America
Europe
Asia Pacific
Latin America
The Middle East and Africa
Asia Pacific will grow by 7.2% between 2022 and 2027 in the most rapid CAGR. In developing countries, including China, Bangladesh, Pakistan, and India, population growth, rising disposable incomes, and urbanization are expected to have positive effects on market growth. Additionally, there are plans to open up new advances for domestic players to increase their spending on buying luxury sports products such as skates and socks in India and Australia, including the Indian Premier League (IPL) and the Big Bash League.
In North America, the share of global sales in 2018 was 19.8 percent. Main players in the sector such as Adidas A.G., Adidas Inc., and Puma S.E. have a strong foundation. The continuing product access to buyers is expected to be guaranteed in the retail and wholesale networks in the USA and Canada. In addition, some companies produce custom socks to satisfy sports professionals' requirements.
Key players in the market:
Nike Inc

Puma S.E

Adidas A.G

Asics Corporation

THORLO, Inc

Balega

Drymax Technologies Inc

Under Armour, Inc
1. Introduction
1.1 Market Definition
1.2 Study Deliverables
1.3 Base Currency, Base Year and Forecast Periods
1.4 General Study Assumptions
2. Research Methodology
2.1 Introduction
2.2 Research Phases
2.2.1 Secondary Research
2.2.2 Primary Research
2.2.3 Econometric Modelling
2.2.4 Expert Validation
2.3 Analysis Design
2.4 Study Timeline
3. Overview
3.1 Executive Summary
3.2 Key Inferences
3.3 Epidemology
4. Drivers, Restraints, Opportunities, and Challenges Analysis (DROC)
4.1 Market Drivers
4.2 Market Restraints
4.3 Key Challenges
4.4 Current Opportunities in the Market
5. Market Segmentation
5.1 Product
5.1.1 Introduction
5.1.2 Casual
5.1.3 Athletic
5.1.4 Y-o-Y Growth Analysis, By Product
5.1.5 Market Attractiveness Analysis, By Product
5.1.6 Market Share Analysis, By Product
5.2 Application
5.2.1 Introduction
5.2.2 Men
5.2.3 Women
5.2.4 Y-o-Y Growth Analysis, By Application
5.2.5 Market Attractiveness Analysis, By Application
5.2.6 Market Share Analysis, By Application
6. Geographical Analysis
6.1 Introduction
6.1.1 Regional Trends
6.1.2 Impact Analysis
6.1.3 Y-o-Y Growth Analysis
6.1.3.1 By Geographical Area
6.1.3.2 By Product
6.1.3.3 By Application
6.1.4 Market Attractiveness Analysis
6.1.4.1 By Geographical Area
6.1.4.2 By Product
6.1.4.3 By Application
6.1.5 Market Share Analysis
6.1.5.1 By Geographical Area
6.1.5.2 By Product
6.1.5.3 By Application
6.2 North America
6.1.1 Introduction
6.1.2 United States
6.1.3 Canada
6.3 Europe
6.2.1 Introduction
6.2.2 U.K
6.2.3 Spain
6.2.4 Germany
6.2.5 Italy
6.2.6 France
6.4 Asia-Pacific
6.3.1 Introduction
6.3.2 China
6.3.3 India
6.3.4 Japan
6.3.5 Australia
6.3.6 South Korea
6.5 Latin America
6.4.1 Introduction
6.4.2 Brazil
6.4.3 Argentina
6.4.4 Mexico
6.4.5 Rest of Latin America
6.6 Middle East & Africa
6.5.1 Introduction
6.5.2 Middle-East
6.5.3 Africa
7. Strategic Analysis
7.1 PESTLE analysis
7.1.1 Political
7.1.2 Economic
7.1.3 Social
7.1.4 Technological
7.1.5 Legal
7.1.6 Environmental
7.2 Porter's Five analysis
7.2.1 Bargaining Power of Suppliers
7.2.2 Bargaining Power of Consumers
7.2.3 Threat of New Entrants
7.2.4 Threat of Substitute Products and Services
7.2.5 Competitive Rivalry within the Industry
8. Market Leaders' Analysis
8.1 Nike Inc.
8.1.1 Overview
8.1.2 Product Analysis
8.1.3 Financial analysis
8.1.4 Recent Developments
8.1.5 SWOT analysis
8.1.6 Analyst View
8.2 Puma S.E.
8.3 Adidas A.G.
8.4 Asics Corporation
8.5 THORLO Inc.
8.6 Balega
8.7 Drymax Technologies Inc.
8.8 Under Armour, Inc.
9. Competitive Landscape
9.1 Market share analysis
9.2 Merger and Acquisition Analysis
9.3 Agreements, collaborations and Joint Ventures
9.4 New Product Launches
10. Market Outlook and Investment Opportunities
Appendix
a) List of Tables
b) List of Figures
Global Socks Market By Region, From 2022 - 2027 ( USD Million )

Global Socks Market By Product, From 2022 - 2027 ( USD Million )

Global Casual Market By Region, From 2022 - 2027 ( USD Million )

Global Athletic Market By Region, From 2022 - 2027 ( USD Million )

Global Socks Market By Application, From 2022 - 2027 ( USD Million )

Global Men Market By Region, From 2022 - 2027 ( USD Million )

Global Women Market By Region, From 2022 - 2027 ( USD Million )