Thaumatin Market Size, Growth, Forecast (2022-2027)
The Global Thaumatin Market size was calculated at USD 170 million in 2021, and it is estimated to reach a valuation of USD 220 million by 2027 at a CAGR of 4.5% during the conjecture period. Market players operating in this market can consolidate in the future and ensure a high market share through mergers with domestic players.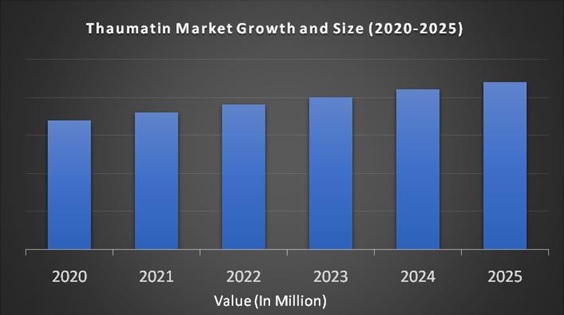 Market Overview:
Thaumatin is a kind of natural protein and low-calorie flavoring that can be physically isolated from the fruit in the catacombshrubs. It is a low-calorie sweetener that can be obtained from Katemfe fruit, which is a native to West Africa. Thaumatin is very stable and soluble in water under high temperatures and acidic conditions. The small amount of protein found in the Thaumatin family is approximately 2000 times sweeter than sugar. Thaumatin was first discovered at the Nigerian University of life. Recently, Thaumatin has been widely used in dairy and non-dairy products. Thaumatin is mainly used in the production of chocolate, sweets, toffee and many confectionery products. It is also used for dairy and non-dairy products. It helps improve the taste of certain foods by reducing acidity and bitterness. It has been found to be applied in the pharmaceutical and functional food industries due to its high sugar content. Thaumatin, together with polyols and some high-intensity sweeteners, provides a sugar flavor and reduces salt levels in salty products. Thaumatin hides astringency and reduces the sour or bitter taste in low-fat yogurt and bean-based deserts. Berries have been widely used as flavor enhancers for centuries, and some other areas where leaves and stems are used are considered berries. The process of extracting tau martin from fruits is quite expensive, which is why many companies have attempted to use recombinant DNA technology for genes that can produce the Thaumatin protein.
Recent Developments in Thaumatin Industry:
Naturex, a major player in the global Thaumatin market, will launch new plant-based products to replace EDTA at the IFT18 Expo.
REPORT COVERAGE:
| | |
| --- | --- |
| REPORT METRIC | DETAILS |
| Market Size Available | 2021 – 2027 |
| Base Year | 2021 |
| Forecast Period | 2022 - 2027 |
| CAGR | 4.5% |
| Segments Covered | By Product Type, Application, End-User and Region |
| Various Analyses Covered | Global, Regional & Country Level Analysis, Segment-Level Analysis, DROC, PESTLE Analysis, Porter's Five Forces Analysis, Competitive Landscape, Analyst Overview on Investment Opportunities |
| Regions Covered | North America, Europe, APAC, Latin America, Middle East & Africa |
| Market Leaders Profiled | Naturex Group, KF Specialty Ingredients Nutraceutical Group, Beneo-Palatinit GmbH, Neptune Bio-Innovations, Parchem Fine & Specialty Chemicals, Natex and Others. |
Thaumatin Market Growth:
The main driving force in the global Thaumatin market is the rapid use of dairy and non-dairy products and the well-being of customers around the world.
Drivers:
The main drivers supporting development in the global Thaumatin market are the rapid consumption of dairy and non-dairy products and increased health awareness among consumers around the world. Macroeconomic factors such as per capita income, emerging economies, changing lifestyles, and rapid urbanization are also driving the global Thaumatin market. Another major driving force in the global market is the mergers and acquisitions and high investment in the food and beverage industry. The increased use of confectionery and the regular use of spices in the nutritional and renewable industries arouse interest in tau martin, accelerating market development. If Katemfe's organic products limit the development of the market, the terrible extraction costs are high and the accessibility is limited. The use of recombinant DNA innovations to alter the supply properties of tau martin protein is based on providing development opportunities to the market. The global Thaumatin market is predicted to record growth in the near future. The use of tau martin for dairy and non-dairy products has been driven by its sweet nature, as some types of protein are considered several times sweeter than processed sugar. In the confectionery industry, tau martin is applied to the production of hard candy, jelly beans, and chocolate flavors and to strengthen flavors such as mint, citrus, and berries.
With the introduction of new flavors and the launch of new products, the growth of the confectionery and dairy industry is expected to fuel the market. Thaumatin helps reduce the bitter or sour taste of soy-based products and low-fat yogurt. A major driving force in the global Thaumatin market may be an increase in dairy and dairy production. Increased health awareness among consumers around the world is expected to spur market growth. Other factors, such as changes in lifestyle, increasing urbanization, per capita income and the improvement of emerging economies can also lead to positive aspects of the market. Merging with local players can help global players increase their market share. Thaumatin has found several applications in the cosmetic, pharmaceutical, and food and beverage sectors. Food and beverages are expected to have a higher market share during the outlook period. Thaumatin finds application as a flavoring and sweetening agent. As a flavoring agent, it is used in confectionery products, so it can guarantee a greater demand in the market.
Restraints:
The main limiting factor in the global Thaumatin market is the limited availability area, mainly in West Africa. If katemfe fruit limits market growth, the cost of traumatic extraction is high and availability is limited.
Thaumatin Market Segmentation Analysis:
By Product Type:
Pharmaceutical Grade

Food Grade

Others
By Application:
Sweetener

Flavoring Agent

Others
By End-User:
Food and Beverage Industry

Nutraceutical Industry

Cosmetics Industry

Others
Geographical Segmentation Analysis:
North America - the United States and Canada

Europe - United Kingdom, Spain, Germany, Italy, and France

The Asia Pacific - India, Japan, China, Australia, Singapore, Malaysia, South Korea, New Zealand, and Southeast Asia

Latin America - Brazil, Argentina, Mexico, and Rest of LATAM

The Middle East and Africa - Africa and Middle East (Saudi Arabia, UAE, Lebanon, Jordan, Cyprus)
Regional Analysis:
Based on geography, the global Thaumatin market is spread across North America, Latin America, the Middle East and Africa, APEJ, Eastern Europe, and Western Europe. Among these, North America is projected to rule the global market with a relatively high growth rate due to the high demand for food and beverages. Western Europe is presumed to expand towards the high growth rate followed by North America in the Thaumatin market, as there is strong health awareness among consumers in this area. Western Europe is projected to grow at a high rate due to strong health awareness among consumers in this locale. The Asia Pacific region is expected to hold robust CAGR in volume in the future. The Asia-Pacific area is expected to expand at a significant growth rate in the global Thaumatin market, as it occupies a relatively large share, a rapidly growing population, a changing lifestyle for consumers, and the fastest urbanization in the entire locale. Globally, prospects for the tau martin market will show positive growth during the prediction period, and the high demand for organic and healthy food from around the world will be a forged factor. The region is expected to have a good market growth rate, which may be due to population growth, urbanization, and lifestyle changes. Thaumatin is a natural product commonly available in the West African forests.
Key Players in the Market:
Major Key Players in the Global Thaumatin Market are
Naturex Group

KF Specialty Ingredients Nutraceutical Group

Beneo-Palatinit GmbH

Neptune Bio-Innovations

Parchem Fine & Specialty Chemicals

Natex