US Cold Storage Market Growth and Forecast (2021-2026):
The US Cold Storage Market size was worth US$ 15.26 billion in 2021, and it is estimated to reach a valuation of US$ 19.69 billion by the end of 2026, expanding at an annual compound rate of 3.7% between 2021 and 2026. The United States is widely considered to be one of the leading markets in technological development responsible for the effective management of cold storage processes.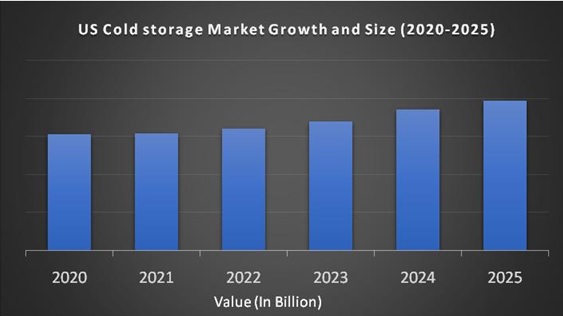 Market Overview:
Cold chains provide storage and distribution services for products that must be kept at a specific temperature. Most of the products like meat, fruits, and others are heat sensitive and need to store and transport a particular temperature range. This has created an extensive cold chain infrastructure across the USA. Globalization has shortened the distance between countries around the world, but the physical distance between these regions remains an essential aspect of some freight transport. The longer the length, the more cargo or cargo can be damaged in one of the complex transport tasks. Some products can be damaged by impacts such as glass, but extreme temperature changes can damage other products. Cold zones are built using refrigeration equipment to space adequately and remove heat to keep the temperature low.
Recent Developments in US Cold Storage Industry:
Lineage Logistics Holdings, LLC opens a refrigerated distribution center in South Carolina to facilitate public access to imported products and provide solutions to export products to foreign markets. The new distribution center has installed the latest technology for large scale blast freezing, product handling and energy savings.

In December 2017, AGRO Merchants (USA) acquired Grocontinental Limited (UK), a provider of refrigeration and logistics services. The agreement strengthened AGRO's position as a leading provider of refrigeration and logistics in the UK and Ireland.

In December 2017, Americold Logistics (USA) added a new facility to the Utah Clearfield campus. This expansion helped increase the company's market leadership in northern Utah to more than 50% of its total temperature-controlled storage capacity.

Lineage Logistics (USA) acquired Partner Logistics (USA) in June 2017 to develop and extend its existing service offerings.
REPORT COVERAGE:
| | |
| --- | --- |
| REPORT METRIC | DETAILS |
| Market Size Available | 2019 – 2025 |
| Base Year | 2019 |
| Forecast Period | 2020 - 2025 |
| CAGR | 3.7% |
| Segments Covered | By Temperature Type, Application, Warehouse Type and Region |
| Various Analyses Covered | Global, Regional & Country Level Analysis, Segment-Level Analysis, DROC, PESTLE Analysis, Porter's Five Forces Analysis, Competitive Landscape, Analyst Overview on Investment Opportunities |
| Regions Covered | North America, Europe, APAC, Latin America, Middle East & Africa |
| Market Leaders Profiled | Americold Logistics, Lineage Logistics Holdings, AGRO Merchants Group North America, Burris Logistics, Cloverleaf Cold Storage, Henningsen, Nordic Logistics, Preferred Freezer Services, Wabash National and Others. |
US Cold Storage Market Growth:
Managing the inventory of medicines, such as vaccines and drugs, is an expensive process, so adequate safety measures must be taken to protect the quality of the product. This is going to support the cold storage business in the USA.
Drivers:
Growth in this business can be attributed to various factors, such as advances in packaging, processing and storage technology for perishable food and temperature-sensitive items. As risks and investments in grain crops increase, farmers are turning to grow fruits and vegetables. Since most of these crops require refrigeration, it is expected to encourage the development of refrigeration facilities. Service providers have stepped up efforts to protect temperature-controlled products from possible tampering or malicious behavior. Facility security includes refrigerated warehouses, as well as staff and visitors. As a result, there has been an increased demand for the implementation of monitoring components such as telematics and telemetry devices, RFID devices, sensors and data loggers, and network devices to improve refrigerated storage and transport performance and efficiency. As the demand for connected trucks, refrigerated high-cube trailers, and vehicles that facilitate transportation between products increases, the need for refrigerated transportation services is likely to increase.
Increasingly, health awareness among consumers has inspired healthier eating habits and increased demand for quality products. Outsourcing services are gaining popularity among companies due to factors such as increased competition, rapid increases in operating costs, and strict quality standards. Additionally, the many benefits of outsourcing services, such as reduced operating costs, increased flexibility, increased efficiency, and experience, facilitated widespread adoption. Providing useful features like advanced refrigeration technology, monitoring and tracking systems for various products such as fruits and vegetables, Advanced Refrigeration Technology dramatically reduces the chance of wasting temperature-sensitive products.
Also, outsourcing cold and frozen storage operations offer manufacturers a variety of cost advantages. This eliminates warehouse space and the costs associated with management, technology, transportation, and labor. Working with suppliers can reduce operating costs, such as employee wages, heating and cooling fees, insurance and energy costs. As a result, manufacturers can increase their profit margins and focus on key business activities, such as making high-quality products, expanding the customer base, and meeting customer needs.
Restraints:
The lack of the necessary infrastructure to maintain a cold chain has great challenges to expand the company in the regional market. Additionally, the lack of electrical connections for refrigerated trailers in transportation hubs and ports can hinder market growth in this area. The refrigeration equipment has some drawbacks that can affect the demand for the product. Refrigeration equipment has significant capital and ongoing costs. This equipment has a high operating price and consumes a large amount of electricity. When a small quantity of products is shipped, it is expensive, and margins are reduced. Most refrigerants and refrigeration equipment have fluorocarbons that contain chlorine. This equipment releases a large amount of heat into the environment, raising the temperature of the earth. Refrigerated storage protects perishable products from decomposition, but long-term storage can reduce the aroma of the product.
US Cold Storage Market Segmentation Analysis:
By Temperature Type:
By Application:
Fruits & vegetables

Dairy

Fish

meat & seafood

Pharmaceuticals
By Warehouse Type:
Regional Analysis:
California led the US cold storage market in 2018, and the state has a large user base, which is why it is expected to remain in a significant state from 2019 to 2025. The state represents the largest refrigeration facility with 400 million installations, which can be attributed to the large population base. US's demand for products is supposed to increase as investment in automation of material handling equipment increases. Material handling enables the storage, protection and control of products in the supply chain. Refrigeration in materials handling has resulted in significant improvements and investments in this area in recent years. Some of the most profitable states are North Carolina and South Carolina, and they are anticipated to show CAGR of 5.3% and 4.8%, respectively, from 2019 to 2025, respectively. Advances in transportation facilities, technological advancements, and increased adoption of frozen foods lead to market growth with demand for refrigeration and storage.
Key Players in the Market:
Major Key Players in the US Cold Storage Market are
Americold Logistics, LLC

Lineage Logistics Holdings LLC

AGRO Merchants Group North America

Burris Logistics

Cloverleaf Cold Storage

Henningsen

Nordic Logistics LLC

Preferred Freezer Services

Wabash National
1. Introduction
1.1 Market Definition
1.2 Study Deliverables
1.3 Base Currency, Base Year and Forecast Periods
1.4 General Study Assumptions
2. Research Methodology
2.1 Introduction
2.2 Research Phases
2.2.1 Secondary Research
2.2.2 Primary Research
2.2.3 Econometric Modelling
2.2.4 Expert Validation
2.3 Analysis Design
2.4 Study Timeline
3. Overview
3.1 Executive Summary
3.2 Key Inferences
3.3 Epidemology
4. Drivers, Restraints, Opportunities, and Challenges Analysis (DROC)
4.1 Market Drivers
4.2 Market Restraints
4.3 Key Challenges
4.4 Current Opportunities in the Market
5. Market Segmentation
5.1 Temperature Type
5.1.1 Introduction
5.1.2 Chilled
5.1.3 Frozen
5.1.4 Y-o-Y Growth Analysis, By Temperature Type
5.1.5 Market Attractiveness Analysis, By Temperature Type
5.1.6 Market Share Analysis, By Temperature Type
5.2 Application
5.2.1 Introduction
5.2.2 Fruits & Vegetables
5.2.3 Dairy
5.2.4 Fish
5.2.5 Meat & Seafood
5.2.6 Pharmaceuticals
5.2.7 Y-o-Y Growth Analysis, By Application
5.2.8 Market Attractiveness Analysis, By Application
5.2.9 Market Share Analysis, By Application
5.3 Warehouse Type
5.3.1 Introduction
5.3.2 Private
5.3.3 Semi-private
5.3.4 Y-o-Y Growth Analysis, By Warehouse Type
5.3.5 Market Attractiveness Analysis, By Warehouse Type
5.3.6 Market Share Analysis, By Warehouse Type
6. Geographical Analysis
6.1 Introduction
6.1.1 Regional Trends
6.1.2 Impact Analysis
6.1.3 Y-o-Y Growth Analysis
6.1.3.1 By Geographical Area
6.1.3.2 By Temperature Type
6.1.3.3 By Application
6.1.3.4 By Warehouse Type
6.1.4 Market Attractiveness Analysis
6.1.4.1 By Geographical Area
6.1.4.2 By Temperature Type
6.1.4.3 By Application
6.1.4.4 By Warehouse Type
6.1.5 Market Share Analysis
6.1.5.1 By Geographical Area
6.1.5.2 By Temperature Type
6.1.5.3 By Application
6.1.5.4 By Warehouse Type
6.2 North America
6.1.1 Introduction
6.1.2 United States
6.1.3 Canada
6.3 Europe
6.2.1 Introduction
6.2.2 U.K
6.2.3 Spain
6.2.4 Germany
6.2.5 Italy
6.2.6 France
6.4 Asia-Pacific
6.3.1 Introduction
6.3.2 China
6.3.3 India
6.3.4 Japan
6.3.5 Australia
6.3.6 South Korea
6.5 Latin America
6.4.1 Introduction
6.4.2 Brazil
6.4.3 Argentina
6.4.4 Mexico
6.4.5 Rest of Latin America
6.6 Middle East & Africa
6.5.1 Introduction
6.5.2 Middle-East
6.5.3 Africa
7. Strategic Analysis
7.1 PESTLE analysis
7.1.1 Political
7.1.2 Economic
7.1.3 Social
7.1.4 Technological
7.1.5 Legal
7.1.6 Environmental
7.2 Porter's Five analysis
7.2.1 Bargaining Power of Suppliers
7.2.2 Bargaining Power of Consumers
7.2.3 Threat of New Entrants
7.2.4 Threat of Substitute Products and Services
7.2.5 Competitive Rivalry within the Industry
8. Market Leaders' Analysis
8.1 Americold Logistics
8.1.1 Overview
8.1.2 Product Analysis
8.1.3 Financial analysis
8.1.4 Recent Developments
8.1.5 SWOT analysis
8.1.6 Analyst View
8.2 LLC
8.3 Lineage Logistics Holdings LLC
8.4 ARGO Merchants Group North America
8.5 Burris Logistics
8.6 Cloverleaf Cold Storage
8.7 Henningsen
8.8 Nordic Logistics LLC
8.9 Preferred Freezer Services
8.10 Wabash National
9. Competitive Landscape
9.1 Market share analysis
9.2 Merger and Acquisition Analysis
9.3 Agreements, collaborations and Joint Ventures
9.4 New Product Launches
10. Market Outlook and Investment Opportunities
Appendix
a) List of Tables
b) List of Figures
Global, regional and country-level analysis and forecasts of the study market; providing Insights on the major countries/regions in which this industry is blooming and to also identify the regions that are still untapped

The Segment-level analysis in terms of By Temperature Type, By Warehouse Type, Application and along with market size forecasts and estimations to detect key areas of industry growth in detail

Identification of key drivers, restraints, opportunities, and challenges (DROC) in the market and their impact on shifting market dynamics

Study of the effect of exogenous and endogenous factors that affect the global market; which includes broadly demographic, economics, and political, among other macro-environmental factors presented in an extensive PESTLE Analysis

Study the micro environment factors that determine the overall profitability of an Industry, using Porter's five forces analysis for analyzing the level of competition and business strategy development

A comprehensive list of key market players along with their product portfolio, current strategic interests, key financial information, legal issues, SWOT analysis and analyst overview to study and sustain the market environment

Competitive landscape analysis listing out the mergers, acquisitions, collaborations in the field along with new product launches, comparative financial studies and recent developments in the market by the major companies

An executive summary, abridging the entire report in such a way that decision-making personnel can rapidly become acquainted with background information, concise analysis and main conclusions

Expertly devised analyst overview along with Investment opportunities to provide both individuals and organizations a strong financial foothold in the market
United States Cold Storage Market By Temperature Type, From 2021-2026 ( USD Billion )

United States Cold Storage Market By Application, From 2021-2026 ( USD Billion )

United States Cold Storage Market By Warehouse Type, From 2021-2026 ( USD Billion )