Video Surveillance Market Size (2022 - 2027)
According to our latest analysis, the global video surveillance market size is expected to reach 84.21 billion USD by 2026, increasing from 40 billion USD in 2020, and is expected to grow at a CAGR of 15%. The growth of the market can be attributed to the increasing concerns about public security.
Monitoring has become essential with increasing crime and terrorist activities around the world, which results in remote surveillance using electronic equipment such as closed-circuit television (CCTV) or interception of electronically transmitted data such as Internet traffic. It may also involve simple technical approaches, such as human intelligence gathering and postal interception.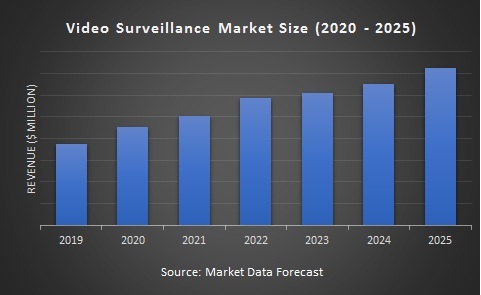 Growth Drivers
The security camera system monitors and records people's behavior and activities. These systems are being rapidly deployed in airports, schools, office buildings, public places, and so on. Governments in different countries have been mandated to implement surveillance systems for the protection of public places and critical infrastructure due to an increasing focus on security issues. This is a significant driver of the Market.

Video Surveillance-as-a-Service is a web-based service that allows users to remotely store, track, capture, play, and monitor surveillance footage directly on cloud or secure servers. The benefits of such functions include cost-effectiveness, easy access to data, secure data storage, and high reliability, among many others. This is another significant driver of the global market.
Major Challenges
The security cameras is used for a variety of reasons, such as fraud prevention and overall security. Nevertheless, it is often seen as a violation of privacy and is protested by several civil rights organizations and activists. There have been concerns about who watches the video and how the video might be used or misused because people expect their personal information to be used solely for legitimate and specific purposes.
VIDEO SURVEILLANCE MARKET REPORT COVERAGE
| | |
| --- | --- |
| REPORT METRIC | DETAILS |
| Market Size Available | 2020-2026 |
| Base Year | 2020 |
| Forecast Period | 2022 - 2027 |
| Segments Covered | By Type, Component, End-user & Region |
| Various Analyses Covered | Global, Regional & Country Level Analysis, Segment-Level Analysis, DROC, PESTLE Analysis, Porter's Five Forces Analysis, Competitive Landscape, Analyst Overview on Investment Opportunities |
| Regions Covered | North America, Europe, APAC, Latin America, Middle East & Africa |
| Market Leaders Profiled | Zhejiang Dehua Technology Co. Ltd, Honeywell Security Group, Cisco Systems Inc, Pelco Inc, Genetec Inc, Geovision, Panasonic System Networks Co. Ltd, Bosch Security Systems Inc, Canon Inc, Agent Video Intelligence, Axis Communications AB, HikVision Digital Technology Co. Ltd |
MARKET SEGMENTATION
Global Video Surveillance Market - By Component
Equipment

Comprising Recorders

Encoders

Screens

Cameras
Based on the Component, the demand for surveillance cameras is expected to experience high growth, which can be due to increasing sales of IP cameras with built-in recorders.
The Services Sub-Segment comprises mixed, controlled and hosted services. Technological innovation, such as increasing the storage capacity of petabytes (PBs) and reducing the cost of processing surveillance data, is expected to drive demand for the Video Surveillance Market.
Global Video Surveillance Market - By End-Use
Corporate

Residential

Transportation

Retail

Hospitality

Government

Industrial

Healthcare
Based on the End-Use, Retail and transport are projected to be the largest markets in the forecast period. This is primarily due to the increasing demand for cloud services and growing awareness of the management of applications for video surveillance. Home offices, residential and commercial real estate projects are expected to adopt VSaaS services in conjunction with the banking sector. Decreasing IT costs, need for centralized data & application management and technological advancement in high-resolution video and imaging analytics are expected to drive video surveillance business.
Global Video Surveillance Market - By Region
North America

Europe

Asia Pacific (APAC)

Latin America & Middle East Africa
Based on the Region, the use of security cameras is expected to increase in APAC countries, as these are emerging economies with an increasing number of manufacturing bases, and terrorist attacks are a strong possibility. In addition, the demand for video surveillance is projected to see an upsurge in this region due to increased security concerns in countries like India and China.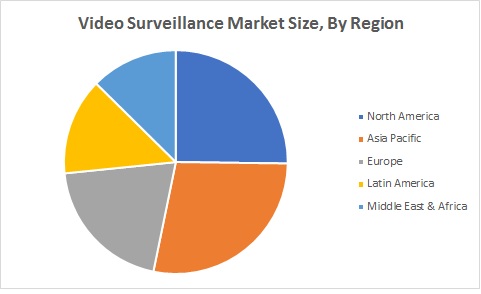 Some of the Dominating Key Players Profiled in the Research Report of Video Surveillance Market are:
Zhejiang Dehua Technology Co. Ltd

Honeywell Security Group

Cisco Systems Inc

Pelco Inc

Genetec Inc

Geovision

Panasonic System Networks Co. Ltd

Bosch Security Systems Inc

Canon Inc

Agent Video Intelligence

Axis Communications AB

HikVision Digital Technology Co. Ltd
Recent Developments:
In July of 2019 Bosch has partnered with Drone Shield Ltd, a supplier of security and safety solutions. Through this collaboration, Drone Shield is likely to offer an integrated drone detection and avoidance program, with Drone Shield's solutions combined with Bosch's video surveillance devices.
In January 2018, for the carnival season, the US government installed 250 surveillance cameras in New Orleans (US) to control crime. The New York Police Department installed hundreds of additional surveillance cameras on highways and other public places to reduce traffic violations and violence.
BS/2, a Lithuanian banking technology company and Vision Labs announced a strategic contactless recognition alliance that would help companies significantly increase safety and avoid risks associated with illegal or unauthorized activities while running self-service terminals, making ATM eye. iQ a full-scale, self-service video monitoring and fraud prevention program.