A2 Milk Market Size Growth Volume Analysis 2021-2026
The size of the A2 Milk Market expected at USD 1.13 billion in 2019 and is anticipated to arrive at USD 4.70 billion by the end of the assessment period. The A2 Milk Market is also foreseen to experience reasonable growth to record a CAGR of 15.8% throughout the outlook period 2021-2026. Asia-Pacific A2 Milk Market was the projecting industry in 2019. North America A2 Milk Market is projected to show a prominent growth rate, owing to the fast demand and approval of a2 milk beverages because of high consumer spending, lactose intolerance amongst the large population, and rising health awareness. Due to the spread of coronavirus, the demand for functional beverages due to increased consumer spending and health awareness has grown substantially. COVID-19 is further determined to improve the demand for A2 milk at a considerable rate in the global market. Greater awareness of people to strengthen their immunity and their immune system to avoid being easily infected requires them to maintain a healthy lifestyle and a proper diet.
What is A2 Milk?
Milk is a white liquid produced by mammals that is rich in nutrients. There are two types of variations in cow's milk-related to beta-casein protein which is A1 and A2. A1 milk is the one that does not contain the protein A2 β-casein and milk A2 is the one that does not contain the protein A1 β-casein. Demand for this product is expected to rise due to consumer health concerns and growing awareness of the benefits of A2 milk, such as the reduced risk of heart disease, inflammation from dairy, and a great alternative to breast milk, thus stimulating the growth of this A2 Milk market. Consuming A1 milk can cause gastrointestinal problems and stomach pain while consuming A2 milk helps prevent symptoms of an upset stomach such as bloating, diarrhea, and gas. Apart from that, it is also a rich source of omega-3 fatty acids that helps in the overall growth and development of the human body.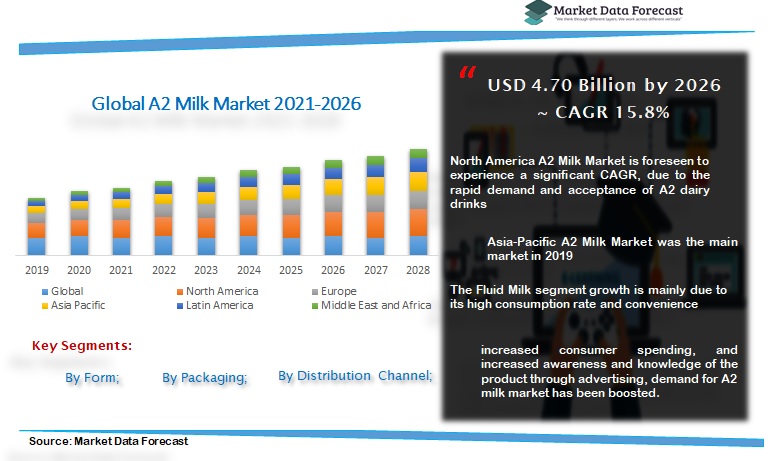 To know more about the market insights Download our Sample Brochure
A2 Milk Market Recent Developments:
New Zealand milk producer A2 Milk Company (ASX: A2M) surprised the market by submitting a non-binding indicative offer to acquire a controlling stake in Chinese milk producer Mataura Valley Milk for around $ 270 million New Zeeland. The news comes just two days since A2 Milk Company reported a net income of nearly $ 386 million in the last fiscal year, up 34% from the prior year. A2 Milk Company's decision to acquire 75% of MVM follows active discussions.

A2 Milk Company wanted to improve its direct sales in China after the collapse of its main channel because of COVID-19, which resulted in almost 500 million sales in this nation. Managing Director Geoff Babidge said the deal with Mataura and CAHG would be key to building a strong base of operations in New Zealand while forging a deeper bond with A2's Chinese partners.
A2 Milk Market Drivers and Restraints:
There has been an increase in demand for functional beverages that provide digestive benefits. Due to increased consumer health awareness, increased consumer spending, and increased awareness and knowledge of the product through advertising, demand for the A2 milk market has been boosted. Additionally, consumers are increasingly turning to beverages that are produced sustainably, such as those with simplified labels, no additives/preservatives, no GMOs, and a list of recognizable ingredients. It is one of the most important factors driving demand for A2 milk. Also, the application of A2 milk powder as an ingredient in infant formulas has gained popularity. This is due to its easier digestive properties compared to conventional milk. Therefore, several multinational brands are gradually developing and launching infant formulas made with A2 milk as an ingredient. However, the price of this milk is higher than that of conventional milk and may therefore hamper the growth of the global A2 milk business. On the other hand, there has been a spike in the need for dairy products like cheese, ghee, butter, and others. This can be seen as an opportunity for manufacturers to continue to grow and expand the market through diversification and product innovation.
A2 Milk Market Segmentation:
According to the analysis, the A2 milk market is segmented according to form, packaging form, distribution channel, and region.
By Form
On the basis of the form, the fluid category accounted for the maximum market share of A2 milk in 2019. The fluid milk segment growth is mainly due to its high consumption rate and convenience. Consumers prefer fresh milk for direct consumption because it provides important nutrients that humans need, such as protein, calcium, and vitamins. However, the A2 milk powder segment is expected to grow at a higher CAGR during the forecast period.
By Way of Packaging
According to the packaging, the carton segment recorded a substantial share of the global market in 2019. Cartons can extend the shelf life of the product, reduce transportation costs, and are also convenient and safer for consumers. Thus, due to this growing preference and the drive of consumption, the carton segment recorded a higher value share in the global market size and is supposed to maintain its position over the outlook period.
By Distribution Channel
Supermarkets and Hypermarkets

Grocery and Convenience Stores

Online Retail

Others
Based on the distribution channel, the supermarkets and hypermarkets segment accounted for the maximum share of the global A2 milk market in 2019. Supermarkets and hypermarkets provide high visibility and an attractive variety of herbal products for consumers. This allows them to discover new varieties, understand labels, and better differentiate products. In addition, supermarket chains are one of the most visited stores for the purchase of groceries. Therefore, this factor is supposed to drive sales of A2 milk in the market. However, the online retail segment is likely to grow at the highest CAGR during the conjecture period.
A2 Milk Market Report Statistics:
REPORT METRIC

DETAILS

Market Size Available

2021 to 2026

Base Year

2020

Forecast Period

2021 to 2026

CAGR

15.8%

Segments Analysed

By Form, By Packaging, By Distributional Channels

Various Analyses Covered

Global, Regional & Country Level Analysis, Segment-Level Analysis, Drivers, Restraints, Opportunities, Challenges, PESTLE Analysis, Porter's Five Forces Analysis, Competitive Landscape, Analyst Overview on Investment Opportunities

Regions Analysed

North America, Europe, Asia Pacific, Latin America, Middle East, and Africa

A2 Milk Market Regional Analysis:
The global A2 Milk market has been categorized based on geography in the regions of North America, Asia Pacific, Europe, Latin America, and the Middle East, and Africa.
By geographical analysis, the Asia-Pacific region was the main market in 2019. This can be attributed to the enormous popularity and substantial consumption of A2 milk drinks in the area. In addition, the availability of A2 dairy cow breeds is also abundant in the region. However, the North American region is foreseen to experience a significant CAGR, due to the rapid demand and acceptance of A2 dairy drinks due to high consumer spending, lactose intolerance in a large population, and growing awareness of health.
Leading Company in the A2 Milk Market
GCMMF (Amul) had the largest share of the A2 Milk Market in terms of sales and revenue in 2019. GCMMF (Amul) is the eighth largest dairy group in the world. According to the latest report, Amul has procured 14% more milk during the COVID-19 amid 2020-2021
Key Players Covered in the A2 Milk market
Key players in the A2 Milk Market include Vinamilk, Urban Farms Milk, GCMMF (Amul), The A2 Milk Company Limited, Taw River Dairy, Ripley Farms LLC, Provilac Dairy Farms Pvt. Ltd., Lion Dairy & Drinks, Freedom Foods Group Limited, and Erden Creamery Private Limited.
1. Introduction
1.1 Market Definition
1.2 Scope of the report
1.3 Study Assumptions
1.4 Base Currency, Base Year and Forecast Periods
2. Research Methodology
2.1 Analysis Design
2.2 Research Phases
2.2.1 Secondary Research
2.2.2 Primary Research
2.2.3 Data Modelling
2.2.4 Expert Validation
2.3 Study Timeline
3. Report Overview
3.1 Executive Summary
3.2 Key Inferencees
4. Market Dynamics
4.1 Impact Analysis
4.1.1 Drivers
4.1.2 Restaints
4.1.3 Opportunities
4.2 Regulatory Environment
4.3 Technology Timeline & Recent Trends
5. Competitor Benchmarking Analysis
5.1 Key Player Benchmarking
5.1.1 Market share analysis
5.1.2 Products/Service
5.1.3 Regional Presence
5.2 Mergers & Acquistion Landscape
5.3 Joint Ventures & Collaborations
6. Market Segmentation
6.1 A2 Milk Market, By Form
6.1.1 Liquid
6.1.2 Powder
6.1.3 Market Size Estimations & Forecasts (2021-2026)
6.1.4 Y-o-Y Growth Rate Analysis
6.1.5 Market Attractiveness Index
6.2 A2 Milk Market, By Packaging
6.2.1 Bottle
6.2.2 Carton
6.2.3 Market Size Estimations & Forecasts (2021-2026)
6.2.4 Y-o-Y Growth Rate Analysis
6.2.5 Market Attractiveness Index
6.3 A2 Milk Market, By Distribution Channel
6.3.1 Supermarket & Hypermarket
6.3.2 Online Retail
6.3.3 Grocery & Convenience Stores
6.3.4 Market Size Estimations & Forecasts (2021-2026)
6.3.5 Y-o-Y Growth Rate Analysis
6.3.6 Market Attractiveness Index
7. Geographical Landscape
7.1 Global Identity Governance and Administration Market, by Region
7.2 North America - Market Analysis (2018 - 2024)
7.2.1 By Country
7.2.1.1 USA
7.2.1.2 Canada
7.2.2 By Form
7.2.3 By Packaging
7.2.4 By Distribution Channel
7.3 Europe
7.3.1 By Country
7.3.1.1 UK
7.3.1.2 France
7.3.1.3 Germany
7.3.1.4 Spain
7.3.1.5 Italy
7.3.1.6 Rest of Europe
7.3.2 By Form
7.3.3 By Packaging
7.3.4 By Distribution Channel
7.4 Asia Pacific
7.4.1 By Country
7.4.1.1 China
7.4.1.2 India
7.4.1.3 Japan
7.4.1.4 South Korea
7.4.1.5 South East Asia
7.4.1.6 Australia & NZ
7.4.1.7 Rest of Asia-Pacific
7.4.2 By Form
7.4.3 By Packaging
7.4.4 By Distribution Channel
7.5 Latin America
7.5.1 By Country
7.5.1.1 Brazil
7.5.1.2 Argentina
7.5.1.3 Mexico
7.5.1.4 Rest of Latin America
7.5.2 By Form
7.5.3 By Packaging
7.5.4 By Distribution Channel
7.6 Middle East and Africa
7.6.1 By Country
7.6.1.1 Middle East
7.6.1.2 Africa
7.6.2 By Form
7.6.3 By Packaging
7.6.4 By Distribution Channel
8. Key Player Analysis
8.1 GCMMF (Amul)
8.1.1 Business Description
8.1.2 Products/Service
8.1.3 Financials
8.1.4 SWOT Analysis
8.1.5 Recent Developments
8.1.6 Analyst Overview
8.2 Vinamilk
8.3 Urban Farms Milk
8.4 Taw River Dairy
8.5 Ripley Farms LLC
8.6 Provilac Dairy Farms Pvt. Ltd
8.7 Lion Dairy & Drinks
8.8 Freedom Foods Group Limited
8.9 Erden Creamery Private Limited
8.10 The A2 Milk Company Limited
9. Market Outlook & Investment Opportunities
Appendix
List of Tables
List of Figures
Global and country-level analysis and forecasts of the study market; providing Insights on the major countries/regions in which this industry is blooming and also identify the regions that are still untapped
The segment-level analysis in terms of Form, Packaging form, Distributional Channels along with market size forecasts and estimations to detect key areas of industry growth in detail
Identification of key drivers, restraints, opportunities and challenges (DROC) in the market and their impact on shifting market dynamics
Study of the effect of exogenous and endogenous factors that affect the global market; which includes broadly demographic, economics, and political, among other macro-environmental factors presented in an extensive PESTLE Analysis
Study the microenvironment factors that determine the overall profitability of an Industry, using Porter's five forces analysis for analyzing the level of competition and business strategy development
A comprehensive list of key market players along with their product portfolio, current strategic interests, key financial information, legal issues, SWOT analysis, and analyst overview to study and sustain the market environment
Competitive landscape analysis listing out the mergers, acquisitions, collaborations in the field along with new product launches, comparative financial studies, and recent developments in the market by the major companies
An executive summary, abridging the entire report in such a way that decision-making personnel can rapidly become acquainted with background information, concise analysis, and main conclusions
Expertly devised analyst overview along with Investment opportunities to provide both individuals and organizations a strong financial foothold in the market
Global A2 Milk Market By Region, From 2021-2026 ( USD Billion )

Global A2 Milk Market By Form, From 2021-2026 ( USD Billion )

Global Liquid Market By Region, From 2021-2026 ( USD Billion )

Global Powder Market By Region, From 2021-2026 ( USD Billion )

Global A2 Milk Market By Packaging, From 2021-2026 ( USD Billion )

Global Bottle Market By Region, From 2021-2026 ( USD Billion )

Global Carton Market By Region, From 2021-2026 ( USD Billion )

Global A2 Milk Market By Distribution Channel, From 2021-2026 ( USD Billion )

Global Supermarket & Hypermarket Market By Region, From 2021-2026 ( USD Billion )

Global Online Retail Market By Region, From 2021-2026 ( USD Billion )

Global Grocery & Convenience Stores Market By Region, From 2021-2026 ( USD Billion )