Apple Cider Vinegar Market Size, Share, Growth (2022-2027)
Apple Cider Vinegar Market size was worth USD xx million in 2021, and it is foreseen that it will reach USD xx million by 2027 with an annual progression rate (CAGR) of xx%.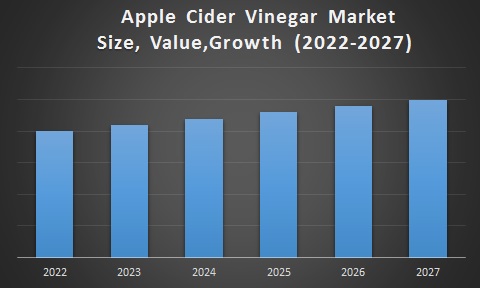 Overview:
Apple cider vinegar is a type of vinegar that is widely used as an antibacterial and flavoring ingredient in dishes. It is rich in magnesium, acetic acid, probiotics, potassium, and enzymes. Additionally, bacteria are added to the alcohol solution to ferment the alcohol again, turning it into acetic acid, the main active compound in vinegar. Apple cider vinegar is used in baking, cooking, salad dressing, and as a preservative. Consuming apple cider vinegar has benefits such as weight loss, maintaining a healthy alkaline pH level, helping to control blood sugar, lowering blood pressure, and reducing the risk of heart disease. It also helps lower high cholesterol levels, helps flush out toxins, feeds the body with enzymes, and helps heal skin conditions. Apple cider vinegar supports weight loss and metabolism. It can also be used for cleaning purposes due to the high antifungal properties of apple cider vinegar. It is used as a flavoring for soups, condiments, and salad dressings. Apple cider vinegar is the most common ingredient used in natural remedies, foods. The additional antifungal agents in apple cider vinegar will help with cleaning purposes. Helps prevent the formation of mold and harmful bacteria. Apple cider vinegar is used as a flavoring and antibacterial agent in cooking. Apple cider vinegar provides 22 calories with a minimum micronutrient content of 100 grams.
Recent Development in Apple Cider Vinegar Industry:
In 2020, the Dabur India Ltd., launched a new products "Dabur Himalayan Apple Cider Vinegar", which is completely natural, undiluted, unfiltered and unpasteurized apple cider vinegar along with genuine content.
Apple Cider Vinegar Market Growth:
The growing awareness of the health benefits associated with apple cider vinegar is a key factor driving the growth of the market. It is considered one of the essential components of salad dressings, sauces and soups, and food preservatives.
Apple Cider Vinegar Market Report Statistics:
| | |
| --- | --- |
| REPORT METRIC | DETAILS |
| Market Size Available | 2021 – 2026 |
| Base Year | 2021 |
| Forecast Period | 2022 - 2027 |
| CAGR | xx% |
| Segments Covered | By Application, By Distribution Channel, and By Region |
| Various Analyses Covered | Global, Regional & Country Level Analysis, Segment-Level Analysis, DROC, PESTLE Analysis, Porter's Five Forces Analysis, Competitive Landscape, Analyst Overview on Investment Opportunities |
| Regions Covered | North America, Europe, APAC, Latin America, Middle East & Africa |
| Market Leaders Profiled | The Kraft Heinz Company, PepsiCo, Inc, White House Foods Company, GNC Holdings, Inc, Castelo Alimentos S / A, Carl Kühne KG, Apple Products Co, Pompeian, Inc, Aspall Cyder Ltd, Solana Gold Organics, Eden Foods, Inc, Nutraceutical Corporation, Mautner Markhof Feinkost GmbH, and Others. |
Apple Cider Vinegar Market Drivers:
Consumers are adopting a healthy lifestyle, increasing their consumption of food ingredients with a variety of health benefits. The growth of the apple cider vinegar market is also driven by a wide range of applications in the food and beverage industry. Apple cider vinegar offers several health benefits related to consumption, such as caring for heart health and treating diabetes. It is one of the important components for cooking, baking, salad dressings, and food preservatives. Additionally, the increased use of apple cider vinegar in personal care, pharmaceutical, industrial and household is another factor that is estimated to drive market growth during the conjecture period. The market for apple cider vinegar is being stimulated by increasing awareness of the various diseases it controls. This demand has been driven by growing scientific evidence supporting the health benefits. It is mainly used for weight loss control, blood sugar control and cholesterol reduction due to its antibacterial, antibiotic and antifungal properties. The apple cider vinegar market is determined to show continued growth during the projection period. Other factors contributing to high growth include an aging population, increased health awareness, higher purchasing power, and rising per capita medical costs. Increased demand for products due to excellent efficacy, such as low blood pressure, pH balance, maintenance of blood sugar level, weight loss, changes in people's lifestyle and increased awareness of health and hygiene, etc., will accelerate the growth of the apple cider vinegar market in the prediction period. With an increased awareness of the health benefits, the presence of natural ingredients in apple cider vinegar contributes significantly to the bulking during the forecast period.
The growth of health-conscious populations in different parts of the world seeking natural products with great health benefits is a notable trend driving demand for apple cider vinegar. The surge in the adoption of healthy lifestyles brings rapid development to the global market. The rise in disease ailments such as acne problems, diabetes, heartburn, acid reflux, gout, and high cholesterol has increased the demand for foods like apple cider vinegar in developed countries. The apple cider vinegar market has a growing interest in global health and personal care. Additionally, changes in consumer eating habits are supposed to increase product utilization. However, there is a possibility that the apple cider vinegar market will expand in the future due to the augmenting demand from young people. It also increases the number of health awareness among people and improves the level of obesity. The growing application from the food and beverage, personal care and pharmaceutical industries will further strengthen the various opportunities that will lead to the growth of the global apple cider vinegar market in the conjecture period.
Apple Cider Vinegar Market Restraints:
Excessive use of apple cider vinegar has side effects and increases competition in the market. Eating too much vinegar can have unwanted effects, such as tooth decay from regular consumption of undiluted vinegar, nausea, and even low potassium levels in extreme cases. Skin burns can also occur if undiluted apple cider vinegar comes into contact with the skin for a long period of time. Therefore, it is expected that the effects may hamper the burgeoning market to some extent.
Apple Cider Vinegar Market Segmentation Analysis:
Depending on the application, apple cider vinegar is classified into pharmaceutical, personal care, food, and beverage products, and others. Others include a variety of industrial and household applications. Apple cider vinegar, a key ingredient in various ethnic and foreign dishes, is supposed to have a relatively high share in the food and beverage sector.
On the basis of distribution channels, the apple cider vinegar market is segmented into pharmacies, supermarkets/hypermarkets, specialty stores, convenience stores, etc. Supermarkets/hypermarkets are likely to occupy a relatively high share of the worldwide apple cider vinegar market. The expansion of the retail chain format globally contributed significantly to the growth of supermarkets/hypermarkets during the foreseen period.
Geographical Segmentation Analysis:
North America - the United States and Canada

Europe - United Kingdom, Spain, Germany, Italy, and France

The Asia Pacific - India, Japan, China, Australia, Singapore, Malaysia, South Korea, New Zealand, and Southeast Asia

Latin America - Brazil, Argentina, Mexico, and Rest of LATAM

The Middle East and Africa - Africa and Middle East (Saudi Arabia, UAE, Lebanon, Jordan, Cyprus)
Apple Cider Vinegar Market Regional Analysis:
North America and Europe are determined to hold the largest share in terms of market value over the envisioned period. This region is attributable to the relatively higher consumer trends towards health and wellness products. The Asia Pacific region is anticipated to witness healthy growth in the global apple cider vinegar market due to rising awareness of consumption-related health benefits and increased disposable income. As a health benefit, it is consumed directly by consumers in the region by mixing it with water, and in the form of dressings, marinades or sauces, it is used in a variety of Japanese and Chinese dishes to give it a tangy flavor. As demand increases, players operating in the market focus on expanding their presence to occupy the market and gain a competitive advantage.
Apple Cider Vinegar Market Key Players:
Major Key Players in the Global Apple Cider Vinegar Market are
The Kraft Heinz Company

PepsiCo, Inc

White House Foods Company

GNC Holdings, Inc

Castelo Alimentos S / A

Carl Kühne KG

Apple Products Co

Pompeian, Inc

Aspall Cyder Ltd

Solana Gold Organics

Eden Foods, Inc

Nutraceutical Corporation

Mautner Markhof Feinkost GmbH

Vitane Pharmaceuticals, Inc

Higher Nature Limited

Swanson Health Products, Inc

Bragg Live Food Products, Inc

Viva Naturals