Cider Market Value, Size, Share Growth (2022-2027)
Cider Market size was worth US$ 4.54 billion in 2022 and is anticipated to have a value of US$ 14.7 billion by 2027 with a CAGR of 4.6% during 2022-2027.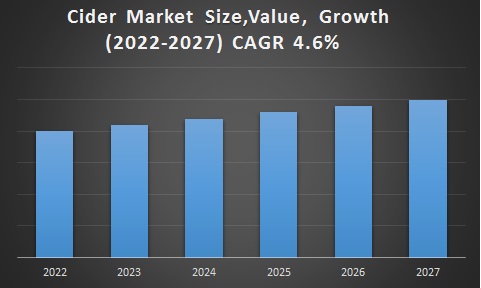 Cider Market Scenario
Cider is usually considered an alcoholic beverage or a beverage prepared from various apples, but recently other fruits have been added to the mix to expand the variety. Similar to how wine is made, cider is also produced. The fruits are procured from the cultivars and scratted and pressed there. Using yeasts, the fermentation process enables the production of ethanol from simple carbohydrates. In contrast, in many popular cultures, cider is subtly used in place of beer or malt beverage. As a result, cider is most frequently also referred to as "fermented fruit juice." Additionally, it has antioxidant characteristics, because the fruits chosen to make cider are typically astringent and high in tannins.One of the main drivers propelling the cider industry forward throughout the forecast period of 2022–2027 is the increased consumption of healthy alcoholic beverages by millennials in their daily routines, combined with the product makers' diverse product offerings.
Recent Developments in the Global Cider Market
Heineken introduced a brand-new sustainable cider in Europe in March 2021 that is manufactured entirely of British apples. 500 ml bottles, 4x440 ml cans, and 10x440 ml cans of Inch's are all available.
CIDER MARKET REPORT COVERAGE:
| | |
| --- | --- |
| REPORT METRIC | DETAILS |
| Cider Market Size Available | 2021 – 2026 |
| Base Year | 2021 |
| Forecast Period | 2027 - 2027 |
| CAGR | 6.1% |
| Segments Covered | By Type, and By Distributional Channels |
| Various Analyses Covered | Global, Regional & Country Level Analysis, Segment-Level Analysis, DROC, PESTLE Analysis, Porter's Five Forces Analysis, Competitive Landscape, Analyst Overview on Investment Opportunities |
| Regions Covered | North America, Europe, APAC, Latin America, Middle East & Africa |
| Market Leaders Profiled | Aston Manor Brewery, C&C Group Plc, Carlberg A/S, Distell Group, Halewood International Holdings Plc, Heineken UK Ltd., SABMiller Plc, Carlton & United Breweries Limited, and The Boston Beer Company Inc |
Cider Market Drivers
One of the main growth factors of the global cider market is an increase in demand for premium spirits brought on by increased per capita income and drinking as a status symbol. In alcoholic beverages, consumers are increasingly drawn to tradition, quality, and innovation. On the other hand, Cider market growth is increasing as low-alcohol beverages gain popularity. Although the Covid-19 pandemic caused enormous damage, the world has not yet fully recovered from cardiovascular diseases. Such conditions have been labelled "the silent killer" by the WHO since they account for the majority of fatalities in people under the age of 70. Additionally, drinking alcohol has a long history of increasing the risk of contracting these diseases. As a result, the cider market's product offers for "alcohol-free cider" and "low alcohol cider" have acquired some popularity.
In addition, people are increasingly consuming beverages prepared from cider due to its advantageous anti-platelet and anti-inflammatory effects. Apple cider is a functional beverage with bioactive polyphenols, as researchers have easily demonstrated. Additionally, PAF, an inflammatory and thrombotic lipid mediator, is strongly inhibited by the bioactive polyphenols' powerful anti-platelet capabilities. Additionally, it was shown that the PL from all sources of cider products were high in PUFA, particularly n-3 PUFA and MUFA, which explains why they have such strong anti-inflammatory and anti-platelet characteristics. Additionally, the presence of polyphenols has produced a structural analogy that gives numerous cell receptors strong antagonistic capabilities.
Cider Market Restraints:
Cider's sugar level poses a major global cider market challenge. First off, compared to wine, cider has a lower glycemic index rating since grapes contain more sugar than the majority of apples. In any case, the fermented product has a lot of sugar. According to recent research, a 470 ml "natural cider" can includes 20.5 grammes of sugar, which is the only amount that adults are advised to consume daily. Additionally, depending on whether the cider is consumed with lager or ale, the sugar amounts may increase by 5 or 10 times. Given that diabetes is one of the most common cardiovascular diseases and that people's food preferences have altered in response to these statistics, the cider market faces a significant challenge.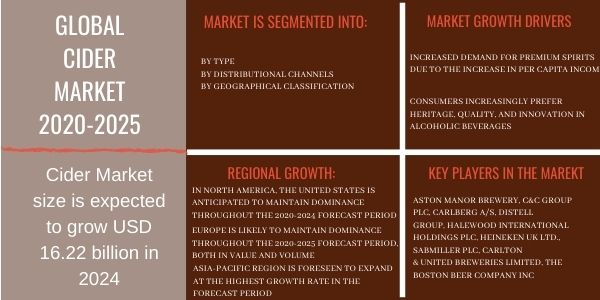 Cider Market Segmentation
By Product:
Sparkling cider

Still

Apple wine
With more than 30% of the global cider market, sparkling cider was the most popular product category in 2018. In contrast to champagne, apple juice that has been carbonated is likewise seen as a celebratory drink. The carbonated beverage also provides a variety of nutritional advantages due to its antioxidant, potassium, vitamin B, and carbohydrate content. Vitamin B-containing riboflavin and niacin, which are included in sparkling cider, support healthy skin, eyesight, digestion, and neurological function. However, because the product lacks the fibre needed to control how quickly sugar is absorbed, it is not seen to be the ideal option for diabetic individuals.
By Source:
Apple

Fruit flavoured

Perry

others
Based on sources the apple cider market accounted for more than 55% of the global cider market share. The product provides the advantages of eating apples in terms of health. Brewing Research International scientists also indicate that the apple-derived product contains antioxidants that improve health. Half a pint of cider has the same amount of antioxidants as a glass of red wine, hence it is regarded as being on par with red wine. Due to growing consumer awareness of fruit ingredients in various product categories, the market for fruit-flavoured cider is expected to grow at a CAGR of 3.4% between 2022 and 2027. The nutritional makeup of fruits and their health advantages, when added to beverages, may further increase demand in the years to come.
Cider Market Regional Analysis
The Global Cider Market Report includes the segmentation of Regions:
The world's largest producer of apples is thought to be in Europe. The location also has the strongest aggregation grip over apple juice that hasn't been fermented. Additionally, 800 million litres of cider were consumed at their highest level each year in the UK.

During 2022-2027, Asia-Pacific offers the cider market significant expansion potential. It is due to the millennial generation's growing preference for non-alcoholic drinks like cider or even healthy alcoholic beverages. Additionally, the region has changing preferences that can be met by modifying apple cider with various fruits.
Cider Market Key Players
Carlton & United Breweries (CUB),

Heineken UK Limited,

The Boston Beer Company,

Anheuser-Busch Companies LLC and

Distell Group.