Wine Market Size, Growth, Forecast (2023-2028)
The Global Wine Market size was worth US$ 302.02 billion in 2022, and it is estimated to reach a valuation of US$ 423.59 billion by 2028 with an annual expansion rate of 5.8% between 2023 and 2028.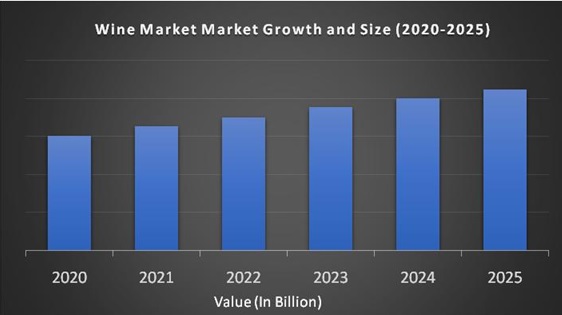 Market Overview:
Wine is a grape product obtained during fermentation. The grapes used in the production of wine are called wine grapes because they are different from ordinary grapes. In wine production, yeast is used to convert sugar into ethanol and carbon dioxide. You can get it without adding acids, enzymes, water, or other nutrients. The time that the fermented product comes into contact with the grape skin determines the intensity of the wine color that can be obtained. Sometimes other fruits are also used to produce fruit wine. Wine grapes are smaller, have a spicy taste, and have a thick, chewy skin. Red grapes are used to produce red and rosé wines, while white grapes are used to produce white wine. Different types of wine are made using different types of grapes along with different types of yeast.
Recent Developments in Wine Industry:
In April 2019, Bishop Cider launched Uncommon Wine, a wine in canned women's power session. This wine has an alcohol content of less than 5%, which is why it is called session beer.
REPORT COVERAGE:
| | |
| --- | --- |
| REPORT METRIC | DETAILS |
| Market Size Available | 2022 – 2028 |
| Base Year | 2022 |
| Forecast Period | 2023 - 2028 |
| CAGR | 5.8% |
| Segments Covered | By Color, Taste, Product Type, Distribution Channel and Region |
| Various Analyses Covered | Global, Regional & Country Level Analysis, Segment-Level Analysis, DROC, PESTLE Analysis, Porter's Five Forces Analysis, Competitive Landscape, Analyst Overview on Investment Opportunities |
| Regions Covered | North America, Europe, APAC, Latin America, Middle East & Africa |
| Market Leaders Profiled | E&J Gallo Winery, Constellations Brand, The Wine Group, Compagnia Del Vino SRL, Bacardi Limited, Caviro, Torres, Grupo Peñaflor SA, Treasury Wine Estates, Castel Group, Vina Conch, Toro, Distell Group, International Beverage Holdings, Global Drinks Finland, Amvyx SA, John Distilleries and Others. |
Wine Market Growth:
The growing popularity of vineyards as tourist attractions, the increase in disposable income and the increase in foreign tourists, and the promotion of healthy wines are some of the reasons for this business growth.
Drivers:
Rapid urbanization, high disposable incomes and changing lifestyles are some of the growth drivers of the global wine market as wine products rise in popularity during social events. In recent years, there has been an increase in demand for wine around the world. Health-friendly wines are gaining social recognition driving market growth. An aging population that prefers wine to alcoholic beverages is also increasing the demand for wine around the world. Wine contains antioxidants that, when consumed, fight free radicals to prevent diseases such as cancer. The wine market is driven by a growing demand for wines due to the health benefits and premiumization of wine products, aromatic innovations and the most advanced distribution networks in the world. The health benefits and premiumization of wine products, along with flavor innovations and the most advanced distribution networks around the world, are the main factors driving the growth of the global wine market. The rise in the number of young wine connoisseurs has increased the prevalence of wine products and wine tasting events around the world. Exposing it to other countries where traveling the world and drinking wine is part of their lifestyle also helps boost wine sales in India. Changes in taste and new consumer preferences, along with growing demand for new and exotic flavors, such as Riesling wines and other tropical fruit wines, are expected to drive growth in the wine market, this is expected to increase the demand for wine among health-conscious consumers. Wine is known to provide several health benefits, such as reducing the risk of stroke, increasing bone density, and strengthening the immune system.
The global wine market is mainly driven by the growing population that consumes wine and sees it as a form of social recognition. Changes in lifestyle and consumer income are accelerating the global wine market. The rapidly growing young population with increasing disposable income in many developing countries around the world is expected to drive the growth of the global market. The growth of the global wine industry is expected to accelerate as the acceptance of alcoholic beverages in developing countries increases due to changes in perceptions of alcoholic beverages. The fast-growing foodservice industry is expected to drive demand for wine around the world.
Restraints:
However, the increase in wine prices due to high production costs is limiting the world wine market. Wine is consumed mainly by some sectors of the population, since not everyone can afford it. Besides, increased government rules and regulations and the imposition of taxes are hampering the expansion of the world wine market. Heavy government taxes and legal regulation on wine is a major factor hampering the growth of the wine market. One of the main obstacles to the growth of the wine market is that wine prices are relatively very high compared to other spirits, and India is a price sensitive country that generally does not prefer wine consumption. Furthermore, the availability of other alcohol substitutes may hamper the growth of the world wine market. Despite the growing number of Indian winemakers, the consumption of imported wines is high in India.
Wine Market Segmentation Analysis:
The global wine market has been segmented by product type, color, taste, and distribution channel.
In terms of color, the global wine market has been segmented into into rosé wines, red wines, and white wines. By taste, the global market is separated as dry, medium and sweet.
By product type, the market is segmented into sparkling wines, dessert wines, still wines and fortified wines. The still wines segment is expected to dominate the global wine market in the coming years.
In terms of distribution channels, the worldwide wine market can be divided into online distribution channels and offline distribution channels. Offline wine distribution channels are segmented into specialty stores, hypermarkets, supermarkets and convenience stores. The online wine distribution channel is expected to expand rapidly during the forecast period due to increased internet facilities, convenience, and the presence of many brands. However, offline wine distribution channels are expected to dominate the market due to the presence of an organized wine retail network in both developed and developing countries. Supermarkets and hypermarkets are most popular places for selling wine.
Geographical Segmentation Analysis:
North America - the United States and Canada

Europe - United Kingdom, Spain, Germany, Italy, and France

The Asia Pacific - India, Japan, China, Australia, Singapore, Malaysia, South Korea, New Zealand, and Southeast Asia

Latin America - Brazil, Argentina, Mexico, and Rest of LATAM

The Middle East and Africa - Africa and Middle East (Saudi Arabia, UAE, Lebanon, Jordan, Cyprus)
Regional Analysis:
North America, Europe, Asia Pacific, Latin America and the Middle East and Africa are regional segments of the global wine market. The Asia Pacific region is expected to experience the highest growth rates in the forecast period due to growing demand for wine and increased wine production in developing countries. The Asia Pacific region drives demand for wine and China dominates the region's market. Australia ranks second in wine consumption in the Asia Pacific region, followed by Japan. The Philippines, South Korea and Vietnam are other potential wine consumption markets in the Asia Pacific region. Hong Kong has no import taxes on wine, which is the driving force in the market. China is one of the main markets for red wine consumption and competition is fierce with France and Italy. Drinking red wine is more of a Chinese tradition, especially in China, as red wine is considered lucky. Growth in Europe is expected to be steady as there are many wine producers and wineries in the region. North America is expected to remain an important region during the forecast period due to increased wine production. Latin America, the Middle East and Africa are also expected to see a steady increase in wine market demand during the forecast period. The increasing middle class population expands demand in these countries, particularly in Brazil, with the major initiatives by companies like Expand Importadora and InterfoodImportação to augment the consumption of wines.
Key Players in the Market:
Major Key Players in the Global Wine Market are
E&J Gallo Winery

Constellations Brand

The Wine Group

Compagnia Del Vino SRL

Bacardi Limited

Caviro

Torres

Grupo Peñaflor SA

Treasury Wine Estates

Castel Group

Vina Conch

Toro

Distell Group

International Beverage Holdings

Global Drinks Finland

Amvyx SA

John Distilleries

Constellation Brands

Pernod Ricard

Gruppo Campari

Accolade Wines

Soyuz Victan

SPI Group

The Wine Group and Diageo plc