Rum Market Size, Growth, Forecast (2023-2028)
The Global Rum Market size was worth USD 15 billion in 2022, and it is determined to reach a valuation of USD 21.5 billion by 2028 at a CAGR of 5.5% during the outlook period. The world rum market is thriving because the mental category is receiving a lot of attention.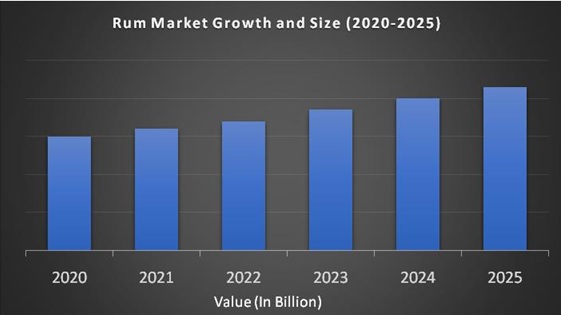 Market Overview:
Rum is the second preferred beverage of all spirits, consumers are increasingly interested in new flavor profiles in addition to those offered by dark rum and golden rum, and flavored rums are widely used in the production of cocktails, shakers and drink mixes. The medicinal properties of rum saved the lives of troops and soldiers in war, not until decades ago. During World War I, 'Totorum' was used to keep soldiers healthy. Rum can increase bone density. In that sense, eating in moderation can help prevent osteoporosis and relieve arthritis symptoms. Rum can help prevent heart attacks and heart disease by increasing good cholesterol, also known as HDL cholesterol, and preventing clogging of the arteries. Rum is one of the oldest alcoholic beverages that exist. Traditional rum consumers are looking for premium rum products with a unique flavor profile.
Recent Developments in Rum Industry:
In 2018, Bacardi, a leading brand in the rum market, launched a new line of premium rum in the U.S. market, including Añejo Cuatro, Reserva Ocho, Gran Reserva Diez and Gran Reserva Limitada.
In 2018, the main liquor producer Diageo had a growth rate of 11% in the premium segment of India.
Rum Market Growth:
Increasing power in the middle-income population to promote rum sales and promote market growth in urban areas, the perception that high-pressure jobs and alcohol consumption are comfortable in mind is resulting in a surge in the intake of rum.
REPORT COVERAGE:
| | |
| --- | --- |
| REPORT METRIC | DETAILS |
| Market Size Available | 2022 – 2028 |
| Base Year | 2022 |
| Forecast Period | 2023 - 2028 |
| CAGR | 5.5% |
| Segments Covered | By Type, Distribution Channel and Region |
| Various Analyses Covered | Global, Regional & Country Level Analysis, Segment-Level Analysis, DROC, PESTLE Analysis, Porter's Five Forces Analysis, Competitive Landscape, Analyst Overview on Investment Opportunities |
| Regions Covered | North America, Europe, APAC, Latin America, Middle East & Africa |
| Market Leaders Profiled | Bacardi Global Brands Ltd, Asahi Group Holdings Ltd, Demerara Distillers Ltd, Davide Campari-Milano Spa, Suntory Holdings Ltd, LT Group Inc, Diageo Plc, Pernod Ricard SA, Nova ScotiaSpirit Co, William Grant & Sons Ltd and Others. |
Drivers:
With disposable income increasing in emerging economies, as the urban population has grown, people have come to explore new forms of entertainment, such as spending time at night parties and bars, pubs, and lounges. It is an important factor in boosting sales of alcoholic beverages by young people with easy access to energy consumption, the impact on social media and alcoholic beverages. Patented flavor and increased demand for flavor will be a key factor driving growth in the global rum market. The drastic preference of online retailers has a huge impact on the revenue generated by the rum market. Sales of alcoholic beverages are determined primarily by the individual's income, and the purchasing power of consumers is determined by income. According to the United Nations, the number of middle-class consumers has increased in recent years. Consumers in this category have a greater propensity for a better lifestyle, as disposable income for food and beverages increases. This factor is expected to drive growth in the global rum market during the outlook period. The increasing demand for premium varieties of rum will be an important factor in driving the growth of the global rum market. Demand for premium rum is increasing among consumers as per capita income increases in developed and developing countries. The premium varieties of rum are known for their authenticity, flavor and brand. To meet this growing demand for rum of superior quality and flavor, various suppliers in the market offer a wide variety of rums. Consumers' willingness to spend more on premium quality rum will facilitate the growth of the rum market during the forecast period.
Premium rum varieties are gaining popularity due to their authenticity, flavor and brand. In addition, consumer preferences for premium rums worldwide have increased significantly due to increase per capita income for consumers in developed and developing countries. This encourages suppliers to introduce various types of premium rum to meet growing consumer demand. These factors are expected to accelerate the growth of the global rum market during the outlook period. Millennium Generation and Gen X Group consumers are increasingly interested in the authenticity of alcoholic beverages, including alcoholic beverages such as rum. Interest is fueled primarily by social media, word of mouth, and a growing group of multicultural consumers. These groups prefer artisanal products and require more than just taste and ease of purchase. The main factor influencing the global growth of the rum market is the launch of new products. Rise in product development and delivery expansion are increasing the demand for alcoholic drinks like rum. In recent years, more players are expected to grow the new rum market in the future. Also, manufacturers have been offering rum products with a variety of flavors and flavors. Most producers are focusing on offering sweet buttery butterscotch rum products, tropical fruit, and vanilla flavors with a smoky licorice and molasses finish. This is due to technological advances on the production line. In addition, the development of advertising has a great influence on consumers of alcoholic beverages. Companies further strengthen the growth of the global rum market by hiring famous celebrities to advertise their brands, improve sales, and increase brand awareness.
Restraints:
Spirits like Scotch whiskey and whiskey challenge the rapidly growing rum market. Also, the presence of a variety of non-alcoholic beverages has provided fierce competition with rum.
Impact of COVID 19 on the Rum Market:
Since the COVID-19 virus outbreak in December 2019, the disease has spread to nearly 180 countries around the world when the World Health Organization (WHO) declared a public health emergency. The global impact of the coronavirus disease (COVID-19) in 2019 is already beginning to be detected and will have a great impact on the rum market in 2020. The COVID-19 outbreak has affected several aspects, such as the cancellation of flights, travel ban and quarantine, restaurant closure, all indoor events are limited, urgent declaration in many countries, massive slowdown in the supply chain, the unpredictability of the stock market, business confidence declines, population fears rise and uncertainty about the future leads to a decline in the global rum market.
Rum Market Segmentation Analysis:
The global rum market is segmented by type into golden, spicy, white and dark rum. The variety of rums are available as white, gold and dark rums which are in high demand throughout the rum market. Various types of rum are used to make spicy rum. This constitutes a larger segment with evidence / percentages containing full evidence and limited efficacy.
The rum market, classified by distribution channel, as on trade and off trade market in 2019. Sales of spirits in the commercial sector have increased significantly in recent years as the number of consumers who drink alcohol in bars, pubs and restaurants has increased. Out-of-trade distribution channels are expected to experience the fastest growth during the forecast period. The expansion of e-commerce also expanded growth opportunities for Spice Rum in the foreign trade sector. In-store pickup options and on-demand delivery services are driving Spice Rum's online sales among consumers.
Geographical Segmentation Analysis:
North America - the United States and Canada

Europe - United Kingdom, Spain, Germany, Italy, and France

The Asia Pacific - India, Japan, China, Australia, Singapore, Malaysia, South Korea, New Zealand, and Southeast Asia

Latin America - Brazil, Argentina, Mexico, and Rest of LATAM

The Middle East and Africa - Africa and Middle East (Saudi Arabia, UAE, Lebanon, Jordan, Cyprus)
Regional Analysis:
APAC region will represent the highest growth in the global rum market during the forecast period. South Asia has been identified as one of the largest consumers of rum in the world. India and the Philippines are the most dominant countries in the South Asian rum market and have the largest number of consumers. India and the Philippines are also major producers of rum products. India is also experiencing strong growth in the premium rum category. Britain and France finally revealed the potential of rum as 'the next big thing'. These markets have shown that through well-targeted marketing and new product development, they can guide young consumers into a category that will stimulate future demand for rum and speed up the premiumization process. The East Asian rum market, followed by the Middle East and Africa, is expected to post impressive growth during the forecast period as the number of rum consumers and food and beverage stores in the region increases.
Key Players in the Market:
Major Key Players in the Global Rum Market are
Bacardi Global Brands Ltd

Asahi Group Holdings Ltd

Demerara Distillers Ltd

Davide Campari-Milano Spa

Suntory Holdings Ltd

LT Group Inc.

Diageo Plc

Pernod Ricard SA

Nova ScotiaSpirit Co

William Grant & Sons Ltd