Alcoholic Beverages Market Size, Growth, Forecast (2023-2028)
The Global Alcoholic Beverages Market size was worth US$ 500.75 billion in 2022 and is anticipated to reach the valuation of US$ 740.85 billion by 2028 and register a CAGR of 8.1% during 2023-2028.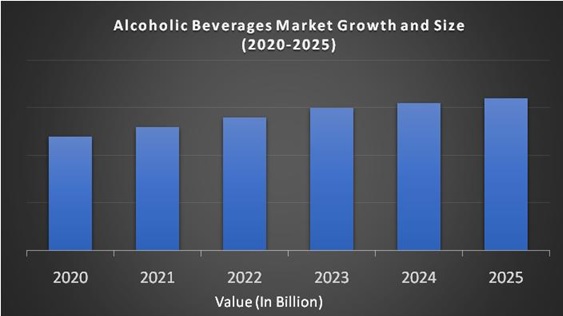 Market Overview:
A drink produced with ethanol, fermented fruits, grains, and sugar is known as an alcoholic beverage. Wines and ciders are prepared from fermented fruit, whereas beers and spirits are made from fermented barley or rye, respectively. The alcoholic content and flavor of the beverage are influenced by how long it is aged and the container it is fermented in. Alcoholic beverages are commonly consumed as energizing and recreational beverages.
The global alcoholic beverage market is growing due to innovations and developments in the manufacturing of vodka, flavored wine, beer, and cocktails, coupled with shifting consumer lifestyles, beverage preferences, and an increase in the number of brewers and wineries across the globe. Furthermore, in both developed and developing countries, demand for premium and super-premium alcoholic beverages is fast expanding. Moreover, the market has also benefited from the increased trend of socializing and mid-week/weekend gatherings among young and working professionals. Premium beverages have become associated with class and sophistication as a result of increased urbanization, prompting customers to seek out distinctive and inventive drinking experiences. As a result, there is a growing trend in experimenting with various flavors of flavored alcohols and mixed beverages. Furthermore, factors such as the food and beverage industry's expansion, the rising rate of social media and internet usage, and improved distribution and retail channels are all contributing to global alcoholic beverages market expansion.
Recent Developments in Alcoholic Beverages Industry:
The Suntory Group formed a new domestic liquor firm on Friday, July 1st, 2022, in order to promote integrated management of the whole domestic liquor sector in response to changing alcohol consumption trends.
Alcoholic Beverages Market Growth:
The global Alcoholic Beverages market is expected to show significant growth during the outlook period. Demand has increased significantly as need for alcoholic beverages in the millennium generation worldwide increases rapidly.
REPORT COVERAGE:
| | |
| --- | --- |
| REPORT METRIC | DETAILS |
| Market Size Available | 2022 – 2028 |
| Base Year | 2022 |
| Forecast Period | 2023 - 2028 |
| CAGR | 8.1% |
| Segments Covered | By Type, Packaging, Sales Channel and Region |
| Various Analyses Covered | Global, Regional & Country Level Analysis, Segment-Level Analysis, DROC, PESTLE Analysis, Porter's Five Forces Analysis, Competitive Landscape, Analyst Overview on Investment Opportunities |
| Regions Covered | North America, Europe, APAC, Latin America, Middle East & Africa |
| Market Leaders Profiled | Bacardi Limited, Beam Suntory Inc, China Resources Beer Company Limited, Anheuser-Busch InBev SA/NV, Constellation Brands Inc, Heineken Holding NV, Asahi Breweries Ltd, Accolade Wines Ltd, Diageo Plc, Carlsberg A/S, Molson Coors Brewing Co, SABMiller Ltd, Pernod Ricard SA, United Spirits Ltd and Others. |
Drivers:
A variety of positive variables have fueled exceptional expansion in the global alcoholic beverages industry during the last few years.
Individuals in emerging economies are exploring new types of entertainment such as night parties and spending time in bars and lounges, because of the growing urban population and rising disposable incomes. Furthermore, young persons with high family earnings, significant social media impact, and easy access to alcoholic beverages are all major factors pushing alcoholic beverage sales.
Increased intake of alcoholic drinks is occurring in metropolitan areas due to high-pressure employment and the idea that drinking alcohol relaxes the mind. Manufacturers of alcoholic beverages that are always introducing fresh flavors to their products. Curiosity is encouraging customers, particularly millennials, to try these goods, which is positively impacting the alcoholic beverage business.
The population across the world has become more aware of the negative consequences of low alcohol usage, demand for high and primary alcohol rises. By 2027, out-of-home consumption will account for 43% of spending and 27% of volume consumption in the Alcoholic Beverage industry. Alcoholic beverages typically comprise ethanol and water as the primary ingredients, with some containing considerable amounts of sugar. Aside from these ingredients, they've come to include a variety of other taste and scent enhancers, such as herbs and spices. By focusing on fragrance, new consumer propositions will emerge. This emphasizes the alcoholic beverages market's huge ecology. Over time, it appears that there has become a consensus that synthesized ethanol should not be used, owing to its high level of impurities.
For hundreds of years, alcoholic beverage manufacture has been regarded as a traditional beverage in Indochina and Thailand. A growing number of research aimed at increasing the safety of alcoholic beverages and reducing contamination have contributed value to the industry. Exotic fruit has been used by beverage businesses to improve the health profile of their products and to entice consumers over the years. A number of corporations take pleasure in the secret component compositions of the alcoholic beverages they create, and this is a crucial factor in the alcoholic beverages market's shapes.
Restraints:
The replacement of various non-alcoholic beverages and energy drinks are posing a severe threat to the business. Consumer understanding of health and well-being has begun to influence their purchasing behaviors. Consumers are more informed than ever before, and the business may face a challenge as a result of this growing awareness of the detrimental consequences of alcoholic beverages.
Impact of COVID 19 on the Alcoholic Beverages Market:
COVID-19, a global health pandemic that began in China in 2019, has had far-reaching consequences for people's health and economic growth in countries all over the world. Governments began enforcing stay-at-home orders in 2020 to limit community spread and to reduce caseloads. This resulted in certain favorable dynamics in the food and beverage industry, especially the market for alcoholic beverages. In several nations, sales soared in 2020, causing a rapid expansion in the value of the alcoholic beverages market in just a few months. Furthermore, the fall in international trade hampered the expansion of global market opportunities. Nonetheless, as economies open their borders to the rest of the world and the number of air travelers increases, the global economy has favored it.
Alcoholic Beverages Market Segmentation Analysis:
By Type:
Based on type, beer segment dominates the global alcoholic beverages market growth during the forecast period. Beer is treated as the most popular alcoholic beverage in the world, containing between 4 and 7 percent alcohol. Brew sales are also being driven by an increase in demand for craft beer. Beer's high silicon content may aid in the development of stronger bones. Dietary silicon in the soluble form of orthosilicic acid (OSA) may be beneficial to bone and connective tissue growth and development, as well as lowering the risk of osteoporosis, a bone-thinning disease. On the other hand, Wine, which contains 6-20 percent alcohol, is the second largest segment after beer, and spirits include 40-80 percent alcohol.
By Distribution Channel:
Supermarkets/Hypermarkets

Online trade

Convenience stores

Others
Supermarkets/Hypermarkets, Online trade and Convenience stores are the many segments of the beverage market. As a result of rising urbanization in several emerging economies, the number of supermarkets has expanded. Furthermore, supermarkets provide a varied selection of products at affordable costs, enticing customers to shop for their weekly grocery needs at supermarkets. Several supermarkets give excellent visibility and an enticing assortment of alcoholic beverages in order to attract a broader customer base. All of these factors are fueling up demand for the category in the market over the forecast period.
By Packaging Type:
Glass bottles

Plastic bottles

Tins

Others
Based on packaging type, glass bottles are anticipated to hold the largest global alcoholic beverages market share in the next six years. It's the only craft beer container that doesn't require a plastic liner, so the beer's flavor isn't harmed. A beer bottle made of amber glass blocks 99.9% of UV rays, resulting in better flavor and aroma. Freshness is ensured by glass containers and their closures, which act as excellent oxidation barriers.
Geographical Segmentation Analysis:
North America - the United States and Canada

Europe - United Kingdom, Spain, Germany, Italy, and France

The Asia Pacific - India, Japan, China, Australia, Singapore, Malaysia, South Korea, New Zealand, and Southeast Asia

Latin America - Brazil, Argentina, Mexico, and Rest of LATAM

The Middle East and Africa - Africa and Middle East (Saudi Arabia, UAE, Lebanon, Jordan, Cyprus)
Regional Analysis:
Asia Pacific is the most important region, accounting for the majority of the market. This is primarily due to rising urbanization and an expanding middle-class population with disposable income. Latin America, on the other hand, is predicted to grow at the fastest rate of 5.4 percent between 2017 and 2025. This is primarily due to the changing lifestyles, social media's effect, and the growing trend of entertainment in clubs and lounges. For decades, the United Kingdom has been a major importer of fine wines from throughout the world, and wine accounts for more than a third of UK alcohol consumption.
Key Players in the Market:
Major key Players in the Global Alcoholic Beverages Market are
Anheuser-Busch InBev SA/NV

Constellation Brands Inc

Heineken Holding NV

Asahi Breweries Ltd

Accolade Wines Ltd

Diageo Plc

Carlsberg A/S

Molson Coors Brewing Co

SABMiller Ltd

Pernod Ricard SA

United Spirits Ltd

Thai Beverage Public Co., Ltd

Treasury Wine Estates

Tsingtao Brewery Co. Ltd

Rémy Cointreau SA

Wine Group

China Resources Beer Company Limited