Asparagus Market Size, Growth, Forecast (2023-2028)
The Global Asparagus Market size was assessed to be USD 2.8 billion in 2022, and it is to reach a valuation of USD 4.85 billion by 2028 at a remarkable CAGR during the envisioned time. The wide application of asparagus is an important driver of market growth.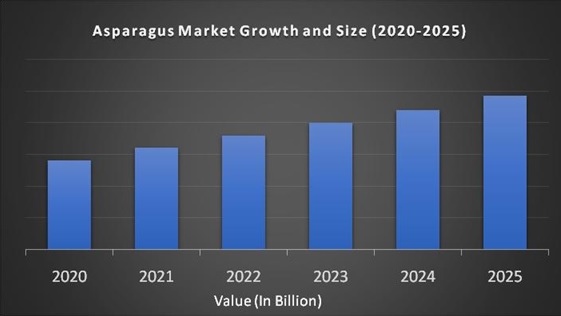 Market Overview:
Asparagus, also known by its scientific name: Asparagus opinari, a green leafy vegetable with a long, pointed spear, and basically grilled, broiled, and steamed. It is a spring vegetable and is grown mainly in Michigan, California, and Washington. It is currently produced in temperate regions around the world. The production of asparagus for commercial purposes has started in the middle of 19th century. Asparagus is used for a variety of medicinal purposes, as well as for a wide variety of foods and beverages. Asparagus has good nutritional properties and flavor, which is why it is actively sought after by major companies as a key ingredient in soup. As many companies are using asparagus in soup making, it is touted to play a crucial part in the soup-making sector, which is expected to grow only in the future. As a healthy vegetable, asparagus is becoming famous in several ready-to-eat foods, and it is combined with other foods like mixed vegetables and chicken to make a truly delicious preparation.
Recent Developments in Asparagus Industry:
In September 2017, Desert Farms published the future launch of organic green asparagus products in the upcoming season. Asparagus growers based in California/Mexico will cultivate new product lines alongside their existing operations in the Sonora region of Mexico, with yields expected to last from January to April 2018.

In April 2019, Applewood Fresh Growers LLC, in association with the American Asparagus of New Era, offers fresh Michigan asparagus in addition to apples.
REPORT COVERAGE:
| | |
| --- | --- |
| REPORT METRIC | DETAILS |
| Market Size Available | 2022 – 2028 |
| Base Year | 2022 |
| Forecast Period | 2023 - 2028 |
| Segments Covered | By Type, Colour, Distribution Channel and Region |
| Various Analyses Covered | Global, Regional & Country Level Analysis, Segment-Level Analysis, DROC, PESTLE Analysis, Porter's Five Forces Analysis, Competitive Landscape, Analyst Overview on Investment Opportunities |
| Regions Covered | North America, Europe, APAC, Latin America, Middle East & Africa |
| Market Leaders Profiled | Altar Produce LLC, Sociedad Agrícola Virú, THIERMANN SPAGEL FARM, DanPer Trujillo S.A.C., Limgroup B.V., TEBOZA BV, ILIOS - The Greek Asparagus Company, BEJO SEEDS LTD, Spargelhof Elsholz Gbr, Cutter Asparagus Seed, JERSEY ASPARAGUS FARMS, INC, Consorzio Associazione Produttori Ortofrutticoli Foggia, Mazzoni Vivai, California Asparagus Seed and Transplants, Inc and Others. |
Asparagus Market Growth:
The demand for asparagus in fresh foods such as in salt and in vinegar, soups and sauces increases, the growth in sales of fresh segments in the global asparagus market is likely to improve significantly.
Drivers:
The growing awareness of the health benefits provided by asparagus and the rising health awareness are the key drivers of growth in the global asparagus market. Asparagus is a good source of vitamins K, E, A, folic acid, chromium, and fiber.
It contains large amounts of antioxidants that help protect cells from free radicals. It also improves digestive health, supports a healthy pregnancy and helps lose weight. It also increases immunity and brain function, promotes healthy digestion and promotes demand, thereby promoting the market growth. It is also rich in antioxidants that promote healthy and shiny skin. This factor is also supposed to accelerate the growth of the asparagus market. Intake of asparagus helps to lower blood pressure by increasing your intake of potassium. These are also some of the factors that drive growth in the target market. In the global asparagus market, the number of organic producers of organic asparagus increases every year due to the high demand for organic asparagus. Asparagus growers are trying to increase the yield they can get, which is attributed to the globally active global export market for asparagus. Asparagus has several health advantages, in particular, the micronutrients in them provide numerous benefits. Asparagus contains glutathione, which is a fight against cancer. Routines that help strengthen blood vessels are abundant in asparagus. Asparagus contains the highest amount of polyacin among all vegetables, so taking it can help prevent neural tube defects in babies.
The health cognizance among consumers across the globe has skyrocketed in recent years, and this supported the demand for production and consumption of organic asparagus. The augmenting trend for organic asparagus is among the main emerging aspects of driving the global market. Organic asparagus is produced using fertilizer and pest control methods that do not contain synthetic compounds. They are available in the market in the puree, fresh, powdered and frozen forms. The number of organic asparagus growers increases every year due to high demand in North America and Europe. Asparagus growers are focusing on increasing yields to meet growing demand. Increased consumption of asparagus as pickles is assumed to accelerate market growth as shelf life can be extended by adding preservatives or keeping asparagus in salt water. Asparagus products are preserved with preservatives and can be consumed throughout the year. Pickle and pickled asparagus can be purchased in cans, bottles, or glass bottles from the market. Therefore, this factor is presumed to drive market growth by boosting demand for asparagus.
The increased release of asparagus products from organic agricultural products is likely to provide tremendous growth opportunities for the asparagus market. However, the growing demand for organic asparagus among end-users can create huge profit opportunities for players in the target market.
Restraints:
The asparagus was sold using direct marketing strategies, and some farmers set up stalls in the town to encourage the sale of organic produce. Direct marketing is less profitable when selling products at lower prices, and this factor is expected to hinder the growth of the asparagus market. Also, in emerging regions, product distribution through direct marketing is relatively weak compared to developing countries, so it is estimated to hamper growth in the asparagus market during the planned marketing period. Additionally, asparagus is a factor that can sometimes cause an allergic reaction when used on the skin or consumed as a vegetable, affecting the growth of the global asparagus market.
Asparagus Market Segmentation Analysis:
By Type:
By Colour:
By Distribution Channel:
Supermarkets and Hypermarkets

Grocery Stores

Other Distribution Channels
Geographical Segmentation Analysis:
North America - the United States and Canada

Europe - United Kingdom, Spain, Germany, Italy, and France

The Asia Pacific - India, Japan, China, Australia, Singapore, Malaysia, South Korea, New Zealand, and Southeast Asia

Latin America - Brazil, Argentina, Mexico, and Rest of LATAM

The Middle East and Africa - Africa and Middle East (Saudi Arabia, UAE, Lebanon, Jordan, Cyprus)
Regional Analysis:
Given that the European market is a major manufacturer of asparagus, it is determined to record high growth in terms of sales during the outlook period. Furthermore, the use of asparagus in cigars and soups in the countries of this region is another factor that supports the growth of the target market. North America is considered as the second-largest producer of asparagus, trailed by the Asia Pacific. Increased consumption of asparagus with low-calorie ingredients and high nutrition is a key growth factor in the North American asparagus market. Additionally, the growing demand for canned asparagus among frozen asparagus and consumers is predicted to support growth in target markets in North America soon.
Key Players in the Market:
Major Key Players in the Global Asparagus Market are
Altar Produce LLC

Sociedad Agrícola Virú

THIERMANN SPAGEL FARM

DanPer Trujillo S.A.C.

Limgroup B.V.

TEBOZA BV, ILIOS - The Greek Asparagus Company

BEJO SEEDS LTD.

Spargelhof Elsholz Gbr

Cutter Asparagus Seed

JERSEY ASPARAGUS FARMS, INC.

Consorzio Associazione Produttori Ortofrutticoli Foggia

Mazzoni Vivai

California Asparagus Seed and Transplants, Inc.