Soups Market Size, Growth, Forecast (2023-2028)
The Global Soups Market size was valued at USD 16 billion in 2022 and is supposed to reach a value of about USD 20 billion by 2028, registering a compound annual growth rate of around 3.1% over the forecast period of 2023 to 2028. The ascend in the number of product launches by the leading players, along with the addition of interesting flavors is supplementing to this market boom.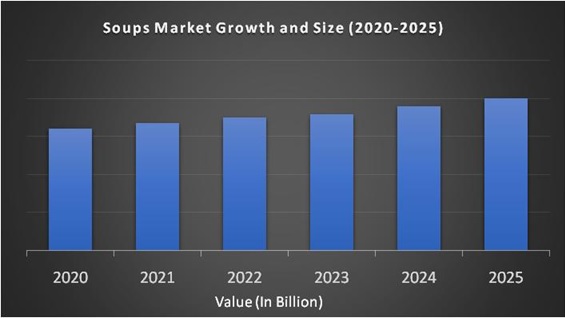 Market Overview:
Soup is a liquid dish made from vegetables, fish, chicken, or meat combined with other flavoring ingredients. Soups are traditionally divided into 'light' types or 'thick' types, whether vegetarian or not. Today, the common types of retail soup products available as ready-to-use soups, commonly known as RTS soups, are the most preferred soups for convenience. On the other hand, condensed wet soup needs some preparation by adding the same amount of water or liquid. Dried or dehydrated soup also requires some preparation and contains agglomerated starch that dissolves easily in hot liquids. Chilled soups have the shortest shelf life, and the base is often a mixture of mirepoix and broth made from a bouquet of herbs. Also, the soup is popular with consumers with hearty and delicious dishes that can be healthy and cheap. Eating low-density, high-energy foods, such as soups, can have long-term health and weight loss benefits.
Recent Developments in Soups Industry:
Nestlé has released six types of soup for one person in an instant format. MAGGI Cup-a-Licious Soups is a single secondary soup in instant form.

Eat24 and Uber Eats offered a new online service to serve their customers with hot soup. These factors are expected to break new ground in the future and expand market demand.

In 2019, Hindustan Unilever led the soup market with the Knorr brand, which represents more than half of its total participation. The company has a massive portfolio of soups in the classic, international, and instant soup categories, released primarily in small packages and individual parts.

Pitango partnered with Sunfed, an award-winning maker of chicken meat substitutes, to create Thai Chicken Chicken Style, a limited-edition vegan soup called 'seasonal soup'.

Pitango has developed Indian Lentil and Turmeric Soup, which is part of the Very Vegan Soup range, which includes three servings of vegetables per package.
REPORT COVERAGE:
| | |
| --- | --- |
| REPORT METRIC | DETAILS |
| Market Size Available | 2022 – 2028 |
| Base Year | 2022 |
| Forecast Period | 2023 - 2028 |
| CAGR | 3.1% |
| Segments Covered | By Product Type, Distribution Channel and Region |
| Various Analyses Covered | Global, Regional & Country Level Analysis, Segment-Level Analysis, DROC, PESTLE Analysis, Porter's Five Forces Analysis, Competitive Landscape, Analyst Overview on Investment Opportunities |
| Regions Covered | North America, Europe, APAC, Latin America, Middle East & Africa |
| Market Leaders Profiled | Associated British Foods, Acecook Vietnam, B&G Foods, Baxters Food Group, Campbell Soup, ConAgra Foods, Frontier Soups, H.J. Heinz Co, General Mills, Nestle and Others. |
Market Drivers:
Due to the changing dynamics behind this growth, companies in this sector must understand changing market trends. The industry is leading as demand for prepared foods increases and awareness of the health benefits of soups raises. The soup is rich in vitamins, minerals, nutrients, and protein. Overall demand is supposed to progress in the coming years as consumer lifestyles change and the propensity to consume healthy foods increases. Improving disposable income, urbanization, and the introduction of innovative flavors are assumed to drive global demand for soup in the future. Additionally, market demand increases as health benefits improve the workforce and the preference for processed foods increases. In addition, the movement of rural populations to urban areas in developing Asia Pacific countries, including India and China, is likely to increase the demand for soup.
Dry soup products dominated the market due to their higher content of nutrients, vitamins, minerals, and protein compared to other types of convenience soup products. Also, packaged soups are preferable to soups served in restaurants and grocery stores because of the accessibility and durability of the package. The increase in product types during the projection period, the consumption of health and wellness products and the active promotion of market participants are contributing to the growth of the global soup market. The growing demand for prepared foods will lead to the market during the evaluation period. Demand for soups around the world is increasing as the workforce changes preferences for processed foods. The soup contains ingredients such as vegetables and meat that are considered to provide various health benefits and prevent indigestion. These health benefits of soup attract many health-conscious consumers around the world.
Furthermore, the market is seen to prosper as soup consumption as meal replacements increases. The market is also launching innovative packaging and flavors for kids, further promoting market growth, and the demand for soups in North America is presumed to increase as the demand for healthier foods increases, which is a significant part of the global market. Major players' market dominance is due to high spending on promotions and other marketing activities. It also focuses on the brand awareness strategy and improves the taste and quality of the product for a competitive advantage. Instant soup is easy to prepare and is anticipated to dominate the soup market during the prediction period.
Restraints:
If the dry product contains a lot of salt and corn, the blood pressure and blood sugar levels rise, which is considered to inhibit the growth of the market, which damages the health of the individual. Moreover, the canned food supply chain is expected to be a significant limiting factor in the market. Canned products must be delivered and sold on time, otherwise, the product will be damaged or expired.
Soups Market Segmentation Analysis:
By Product Type:
Ready To Serve Soups

Condensed Wet Soups

Refrigerated Soups

Dehydrated Soups

Frozen Soups and Ramen
By Distribution Channel:
Supermarkets and Hypermarkets

Convenience Stores

Grocery Stores

Other Distribution Channels
Soups Market Geographical Segmentation Analysis:
North America - the United States and Canada

Europe - United Kingdom, Spain, Germany, Italy, and France

The Asia Pacific - India, Japan, China, Australia, Singapore, Malaysia, South Korea, New Zealand, and Southeast Asia

Latin America - Brazil, Argentina, Mexico, and Rest of LATAM

The Middle East and Africa - Africa and Middle East (Saudi Arabia, UAE, Lebanon, Jordan, Cyprus)
Regional Analysis:
Europe has become the dominant local market for soup. The region has generated huge profits and is anticipated to occupy a significant market share during the forecast period. So, the soup is consumed mainly by the European and North American populations due to the high disposable income of the consumers along with the luxury lifestyle. The region's production capacity has made it a mature market. A significant factor driving the expansion of the North American soup market is that in countries like the United States and Canada, people can choose to eat right away, and are getting busier. With healthier food options, a change in the perception of soup favored fast food, and the launch of new and better flavors is expected to accelerate the growth of the North American soup market.
Markets in the Asia Pacific and other countries have growth opportunities for new sectors. Populations in developing countries, such as India, China, Thailand and Bangladesh, adopt western and living cultures. As a result, the demand for canned and dry soup products in the region may increase. Market-wide demand in the Asia Pacific, Central and South America, the Middle East and Africa is also foreseen to grow as their health awareness increases along with their busy working life.
Top Leading Company:
The CSC LP brand is one of the most active in terms of product launches. The main strategies adopted by the company in the global market are the launch of new products, contracts/associations, expansions, mergers and acquisitions.
Key Players in the Market:
Major Key Players in the Global Soups Market are
Associated British Foods

Acecook Vietnam

B&G Foods

Baxters Food Group

Campbell Soup

ConAgra Foods

Frontier Soups

H.J. Heinz Co

General Mills

Nestle