Pickles Market Size, Growth, Forecast (2023-2028)
The global Pickles Market size was assessed to be USD 10.6 billion in 2022 and it is likely that it will reach a valuation of USD 12.6 billion by 2028 at a CAGR of 2.8% over the probable time. The evolution of consumer preferences for different dishes and flavors is also attracting the attention of the product.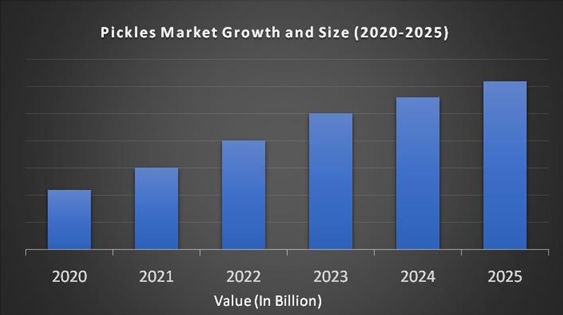 Market Overview:
Pickles are a form of seasoning consisting of vegetables or fruits preserved in saltwater or vinegar. Pickles are stored for a period of time when the fruit or vegetable is dipped in a solution of salt or vinegar and the ingredients are preserved in vinegar to achieve the desired flavor. They acquire the flavor of key ingredients, which are the vegetables or fruits that the pickle is made from. They are consumed not only as garnishes but also as savory items, especially in Indian cuisine. They are usually made using two methods, lactic acid fermentation and acetic acid preservation. Pickles derived from these two methods have a unique flavor and texture. Pickling is mainly employed to preserve food for later usage, particularly for seasonal foods. Sugar is the most common and natural preservative that is often added to catalyze the regular pickling process or increase sweet flavor.
Recent Developments in Pickles Industry:
In July 2016, the Craft Hines Company released two new pickle chips at the festival in Pittsburgh, Pennsylvania: Spicy Garlic Pickle Chips and Sweet and Spicy Pickle Chips. This packaged product comes in a 16 oz glass bottle and is distributed through major retailers such as Walmart and Target.

In November 2017, the SIMKED (Sikkim State Co-operative Supply and Marketing Federation Ltd) Northeast India Marketing Union launched a variety of organic foods, including packaged pickles. SIMFED has partnered with Qseal Agritech Pvt Ltd., an Indian organization based on organic agriculture for this project.

In April 2018, the American company Pickle Juice Company (TPJC) introduced sports drinks specifically for female athletes and even led the Pickle Juice pro cycling team to support and inspire female athletes.
REPORT COVERAGE:
| | |
| --- | --- |
| REPORT METRIC | DETAILS |
| Market Size Available | 2022 – 2028 |
| Base Year | 2022 |
| Forecast Period | 2023 - 2028 |
| CAGR | 2.8% |
| Segments Covered | By Type, Distribution Channel and Region |
| Various Analyses Covered | Global, Regional & Country Level Analysis, Segment-Level Analysis, DROC, PESTLE Analysis, Porter's Five Forces Analysis, Competitive Landscape, Analyst Overview on Investment Opportunities |
| Regions Covered | North America, Europe, APAC, Latin America, Middle East & Africa |
| Market Leaders Profiled | ADF Foods, Del Monte Foods, Mt. Olive Pickle Company, Kraft Foods Inc, Reitzel International, Pinnacle Foods, Inc, Mitoku Company, Ltd and Others. |
Pickles Market Growth:
As the demand for multicultural cuisine increases worldwide, the reach of the pickle market has expanded over the years.
Drivers:
The main drivers of the global pickle market include the health benefits of pickles. In addition to improving the taste of everyday food, pickles have numerous health benefits that drive growth in the global market. Pickle is a proven antioxidant that prevents free radicals from attacking the human body. It also has probiotic properties, which aids digestion. They are also sources of natural nutrients like iron, vitamins, calcium, and potassium. It has also been shown to reduce ulcers and provide protection. Therefore, it is leading the market positively. Furthermore, with the growing awareness of GMO products, the growth of the organic pickle market has begun. As awareness of the harmful effects of GMO products increases, the market has begun to grow as demand trends shift to organic pickles. Using preservatives in organic pickles shortens shelf life and prevents long-term storage. This is a major limitation in the global pickle market. Organic and non-GMO pickles have become popular with health-conscious consumers. As consumer demand for new products increases, market vendors must innovate and improve product launches to meet consumer demand. The companies are launching new products because they need to differentiate products from their competitors and gain a competitive advantage.
This product is made without preservatives and other synthetic chemicals, which can have a negative impact on health. Eating vinegar-based pickles can help control diabetes by maintaining hemoglobin levels in diabetics. The demand for organic food is increasing worldwide. The use of pickle has evolved from food preservation to a favorite accompaniment that improves the overall taste of food. This is supposed to boost demand for gherkins worldwide. The antioxidant properties and improved digestion that pickles provide are also expected to fuel market growth. In addition, manufacturers offer new flavors according to local tastes and consumer tastes. In addition, leading companies are offering convenient and cost-effective pickling packaging options to facilitate ease of use and consumption on the go. These packaging variations range from glass bottles, PET bottles, and individual packaging packages to stand-up, multi-layer co-extrusion bags, injection-molded polypropylene containers with heat-sealable, easily peeled flexible lids. The surge in the need for pickles in the Asia Pacific and the Middle East and Africa areas will offer huge growth potential for the global pickle market. Manufacturers are currently moving toward organic pickles, which are touted to create an opportunity over the conjecture period.
Restraints:
Fluctuating prices of raw materials and ingredients added to pickle manufacturing are one of the limitations of the pickle market. Therefore, in developing countries like India, people prefer homemade pickles or pickles made by the unorganized pickle industry because they contain pure ingredients and can be customized based on materials and packaging.
Pickles Market Segmentation Analysis:
By Type:
Vegetables:
Cabbage

Chilli

Bell Peppers

Other Vegetables
Fruits:
Cucumber

Mango

Orange

Other Fruits
By Distribution Channel:
Departmental Stores

Supermarkets

Convenience Stores
Geographical Segmentation Analysis:
North America - the United States and Canada

Europe - United Kingdom, Spain, Germany, Italy, and France

The Asia Pacific - India, Japan, China, Australia, Singapore, Malaysia, South Korea, New Zealand, and Southeast Asia

Latin America - Brazil, Argentina, Mexico, and Rest of LATAM

The Middle East and Africa - Africa and Middle East (Saudi Arabia, UAE, Lebanon, Jordan, Cyprus)
Regional Analysis:
Geographically, Pickle's global markets are divided into North America, Europe, Asia Pacific, the Middle East, Africa and Latin America. The North American market is assumed to retain its dominance in terms of revenue share as olives and pickled cucumbers in the United States and Canada become more popular. This is due to increased pickle consumption among North American consumers due to differentiated flavor and flavor enhancement characteristics. Furthermore, the use of these products to prepare sandwiches, hot dogs, hamburgers and other street foods as ingredients is due to the growth of the market in that region compared to Europe, Asia Pacific, Latin America and other regions like Middle East and Africa. North America continues to lead the market for pickles and pickled products due to the increased consumption of pickled olives and cucumbers. Additionally, pickles are considered to be added or flavored as ingredients in sandwiches and hamburgers and are presumed to promote market growth in the region. In the Asia-Pacific region, the pickle market is likely to reach the highest CAGR during the calculated period as seasonal foods are available as pickles throughout the season. In addition, a variety of side dishes of vegetables, fruits, seafood, and meat are estimated to be used as side dishes to pave the way for the growth of the pickle market in the Asia Pacific area. Developing countries like China and India are experiencing significant growth rates in the vicinity.
Key Players in the Market:
Major Key Players in the Global Pickles Market are
ADF Foods

Del Monte Foods

Mt. Olive Pickle Company

Kraft Foods Inc.

Reitzel International

Pinnacle Foods, Inc.

Mitoku Company, Ltd.