Allspice Market Size, Growth, Forecast (2023-2028)
The global Allspice Market size was estimated at USD xx billion in 2022, and it is foreseen to reach a valuation of USD xx billion by 2028 at a notable CAGR over the conjecture period. Growing health awareness and preference for spicy foods has increased the demand for bell peppers in the Asia Pacific region.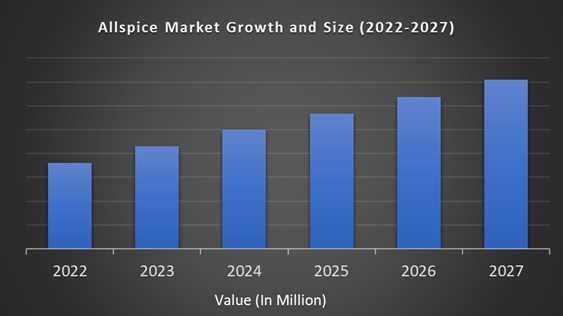 Market Overview:
To make spices, we use dried berries or unripe fruits of the plants. Berries obtained from dried fruits or ripe plants are used as spices. The name of pepper was created due to the combination of flavors of cinnamon, nutmeg and cloves that the berry offers. Allspice is among the most extensively applied spices in the Western Hemisphere. This plant is native to Central America, but is now cultivated in many other countries as well. Jamaica pepper is one of the most famous ingredients used in Caribbean cuisine, so demand is increasing in the North American market. Allspice is primarily used to give meat sauce a unique flavor and aroma. The reason behind the All Spice name is that the berry flavor is a combination of nutmeg, cinnamon, and clove flavors. The PimentaDioica plant was primarily found in Central America, but is now available in other countries. The western hemisphere is where most of the crops are produced. Allspice is mainly used to give the meat sauce a typical taste and smell.
Allspice Market Growth:
As the lifespan of Allspice has increased, new dishes have been created around the world and demand for Allspice around the world has skyrocketed.
REPORT COVERAGE:
| | |
| --- | --- |
| REPORT METRIC | DETAILS |
| Market Size Available | 2022 – 2028 |
| Base Year | 2022 |
| Forecast Period | 2023 - 2028 |
| Segments Covered | By Type, Application and Region |
| Various Analyses Covered | Global, Regional & Country Level Analysis, Segment-Level Analysis, DROC, PESTLE Analysis, Porter's Five Forces Analysis, Competitive Landscape, Analyst Overview on Investment Opportunities |
| Regions Covered | North America, Europe, APAC, Latin America, Middle East & Africa |
| Market Leaders Profiled | McCormick, NH MERCADO, Castella, Savoury Spice, Pereg, Spice Islands, Lena Maud farm, Morton Bassett, Mountain Rose Herbs, Kautilya Commodities and Others. |
Drivers:
A key factor in the growth of the global allspices market is increasing the use of spices for various purposes. The target market is expected to grow as the demand for healthy and conscious young people for healthy and nutritious food increases significantly.
In many countries, as people's income levels and busy lifestyles and working hours increase, the demand for ready-to-eat and processed foods is also expected to lead to market growth of allspices. Health awareness is increasing and the demand for spicy foods is supposed to increase sales of all spices. Allspice is mainly used to prepare dried meat, such as pork and chicken. Allspice is one of the most popular spices in European cuisine, especially for the preparation of marinades and pickles. Jamaican pepper was used in traditional Indian curries and is also widely used in the Middle East to prepare meat and rice dishes. The flavors of all three spices combine to effectively replace cinnamon, cloves, and nutmeg. The main use of all spices is to prepare minced meat, such as chicken or pork. All of the active ingredients in Spice have unique chemicals that relieve pain and inflammation. The soothing properties of Allspice have made it a compelling solution for advance sound assimilation by dispensing with blockage and unreasonable swelling. Potassium, present in all spices, relaxes the cardiovascular system and has a positive effect on heart health. For all these reasons, green peppers have become a very important ingredient in the food and pharmaceutical industries, which is increasing the demand in the perfume market. Allspice is a key ingredient in European culinary culture and is also used in the preparation of pickles and marinades.
In India, allspice is used to prepare curry, meat and rice dishes due to its unique flavor. Green pepper is used not only in the food industry, but also in the field of medicine. The beneficial nutrients in green peppers, such as the high concentrations of quercetin, eugenol, tannins and organic compounds, are the reasons for its high adoption in the medical field. The active ingredients in Allspice contain unique chemicals to relieve pain and bloating, and it has become a useful remedy to promote healthy digestion by eliminating constipation and excessive bloating. Also, the presence of potassium in allspice has a positive effect on the heart, releasing stress on the cardiovascular system. For a variety of reasons, the widespread use of Allspice is driving global market growth by increasing demand for Allspice. When products are available on e-commerce websites, product visibility is expected to increase and Allspice is more widely adopted in countries where products are not available. Thus, online sales can support revenue and earnings growth for players in the market. The unique combination of flavors present in Allspice has become the main ingredient in the food service industry. However, these benefits are not well known to consumers. Therefore, market participants should focus on increasing consumer awareness of Allspice nutritional ingredients. Manufacturers must come up with new strategies to promote them in the Middle East, Africa and Europe. New market participants must take an existing strategy and create a new proposition to promote their products. Likewise, as the sound way of life pattern increments, new items that contain allspices must be presented regularly, which will in the long run lead to the extension of the worldwide allspices showcase.
Restraints:
Strict government regulations related to food flavoring in many countries can hinder the growth of allspices market worldwide to some degree. Furthermore, contamination concerns can hinder the market growth.
Allspice Market Segmentation Analysis:
By Type:
Whole Allspice

Ground Allspice

Rub Spice
By Application:
Pharmaceutical

Food industry

Household

others
Geographical Segmentation Analysis:
North America - the United States and Canada

Europe - United Kingdom, Spain, Germany, Italy, and France

The Asia Pacific - India, Japan, China, Australia, Singapore, Malaysia, South Korea, New Zealand, and Southeast Asia

Latin America - Brazil, Argentina, Mexico, and Rest of LATAM

The Middle East and Africa - Africa and Middle East (Saudi Arabia, UAE, Lebanon, Jordan, Cyprus)
Regional Analysis:
The North American market is expected to dominate the global market in terms sales of allspices, owing to the raising awareness of the health benefits of all spices in the population and high production of all spices, which are expected to continue its dominion during the outlook period in this locale. The Asia Pacific market is expected to register significant growth in the target market due to the high demand for spices in the countries of the region to prepare authentic foods.
Impact of Covid-19 on the Global Allspice Market:
The Covid-19 pandemic has altogether changed the consumer perspective for the intake of nutrient and healthy foods, resulting in the increased demand for the allspice market. As the need for disease resistance and immunity is increasing with the spread of coronavirus, the allspice market is foreseen to develop with considerable growth in the coming years.
Key Players in the Market:
Major Key Players in the Global Allspice Market are
McCormick

NH MERCADO

Castella

Savoury Spice

Pereg

Spice Islands

Lena Maud farm

Morton Bassett

Mountain Rose Herbs

Kautilya Commodities