Organic Spices Market Size, value, and Expected Growth:
Organic Spices Market size was worth USD 20 billion in 2021, and it is estimated to reach a valuation of USD 22.98 billion by the end of 2026, expanding at an annual compound rate of 7.5% between 2021 and 2026. The health benefits of various flavors are expected to drive demand for organic flavors in the near future.
REPORT COVERAGE:
| | |
| --- | --- |
| REPORT METRIC | DETAILS |
| Market Size Available | 2020 – 2026 |
| Base Year | 2020 |
| Forecast Period | 2021 - 2026 |
| Fastest Growing Market | Asia Pacific |
| Largest Market | North America |
| CAGR | 7.5% |
| Segments Covered | By Product, Technology, End-User, and Region |
| Various Analyses Covered | Global, Regional & Country Level Analysis, Segment-Level Analysis, DROC, PESTLE Analysis, Porter's Five Forces Analysis, Competitive Landscape, Analyst Overview on Investment Opportunities |
| Regions Covered | North America, Europe, APAC, Latin America, Middle East & Africa |
| Market Leaders Profiled | Yogi Botanicals Pvt Ltd.; Live Organics; Starwest Macroeconomics; Rocky Mountain Company; Salzhäusl Himalaya-Kristallsalz GmbH; Rapid Organic pvt. The Spice Hunter Inc.; Earthen Delight; Frontier Natural Products Corporation; and The Spice Hunter. Ltd |
Request for Sample Report for more information on this market
Organic spices use new techniques and remove spices from bacteria to avoid harmful pesticides. It is a combination of healthy and safe foods because organic spices guarantee safety. Organic spices like turmeric, ginger, cloves, and cinnamon also have a variety of health benefits. The antioxidant properties of turmeric and ginger help fight Alzheimer's, cancer, and many other viral illnesses. The antibacterial properties of cloves and cinnamon help treat viral diseases and sore throats. Various types of spices that are frequently used include garlic, turmeric, coriander, chili powder, ginger, and nutmeg, and mace.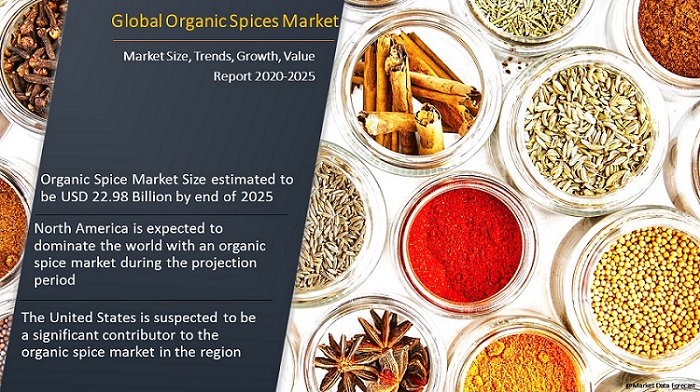 Global Organic Spices Market Drivers and limitations:
The rise in demand for organic spices in the food and beverage sector has stimulated the market for organic flavors.
The demand for organically grown spices is expected to increase as awareness of the harmful effects of chemicals, pesticides and additives increases. Other factors, such as changing food consumption trends and the popularity of ethnic and exotic foods, are supposed to drive growth. In addition to innovating new flavors in the prepared foods sector, increased consumption of prepared foods such as soups, snacks, and frozen and baked goods is assumed to boost demand for products. The popularity of multi-cuisine and international dishes is also likely to be a significant factor in driving demand for organic spices. Demand for flavors in powder form is expected to accelerate as customer preference for ready-to-use flavors increases to save time during cooking without compromising taste. The importance of a full flavor incorporating ethnic ingredients is presumed to be a major driving force in the growth of the market in the next eight years.
There is expected to be an increase in preferences for chemical-free and healthy products, and high demand for traditional and exotic ethnic food flavors is anticipated to drive growth. In addition, the introduction of authentic spices from top brands is estimated to have a positive impact on global demand. An increase in the number of health-conscious consumers and increasing awareness of the health benefits associated with consuming organic flavors are two key factors driving the growth of the global organic food and beverage sector. North America and Europe are notable regions in terms of the consumption of various types of organic food. This is due to the increase in per capita income in the area and the continuous evolution of the product by the manufacturer. Additionally, some food manufacturers have a strong preference for organic products and have focused on providing food organically. Spices have gradually resisted the trend organically. They are available in different forms depending on consumer preferences, i.e. powders, granules, and liquids, which are expected to promote market growth further.
Increased awareness of the health benefits of naturally produced spices due to therapeutic properties will stimulate demand for products during the outlook period. Spices are mainly used for flavoring, preserving, and coloring food. The most commonly used organic ingredients are turmeric, chili, ginger, garlic, coriander, nutmeg, and mace. The strong individual flavor and food-enriching scent for a wide range of food applications remain a crucial driver of demand. Due to the long-lasting aromatic properties, the popularity of exotic natural ingredients in food preparations has a positive effect on the growth of the organic spice market. Spices are an essential ingredient in a variety of cuisines worldwide due to their decorative and flavoring benefits. These ingredients add a balanced amount to each dish, providing a pleasant aroma, and enriching the quality of food.
High price margins in importing countries and various trade regulations are deemed to hamper the growth of the organic spice market worldwide. High production and logistics costs result in a higher price range for organic spices than traditional spices. Withdrawal among farmers who convert conventional farming methods to organic farming, slow production in some regions may hinder the market growth.
Global Organic Spices Market Detailed Segmentation:
Based on Product:
Clove

Pepper

Ginger

Cinnamon

Turmeric

Mustard Seeds

Nutmeg
Based on By Form:
Powder

Extract

Raw

Granular
Based on Distributional Channel:
Powder type is projected to yield USD 12.01 billion by 2025 since these items are user-friendly and time-consuming and ready to cook. Due to an increasingly hectic lifestyle, the high demand for ready-to-use products was expected to drive demand further. Soon, rising consumer disposable income is also projected to improve spice use.
In the foreseen period, whole spices are expected to expand by 5.3 percent. This section contains unprocessed and raw materials such as turmeric, ginger roots, cumin seeds, and black pepper. This category is growing because of the growing awareness of the health benefits of the natural use of different spices. For starters, the raw use of black pepper helps cure digestive problems and strengthens the immune system. In addition, awareness of the antibacterial characteristics of turmeric and other spices is expected to remain a significant driver of the segment's growth.
Due to the high demand for food processing units, restaurants, and food joints, the commercial segment held the largest market share in 2018. Increasing consumption of fast food and dining is expected to further drive the segment's growth in developing Asia Pacific countries, including China, India, and Bangladesh. Due to increasing awareness of the health benefits of cooked home food and the consumption of organic spices, the household sector, however, is expected to register the quickest CAGR during the projective period.
Geographical Classification and Regional Insights:
According to the report, the global Organic Spices Market classified into different regions like North America, Europe, Asia Pacific, Latin America, Middle East, and Africa, and the Rest of the World.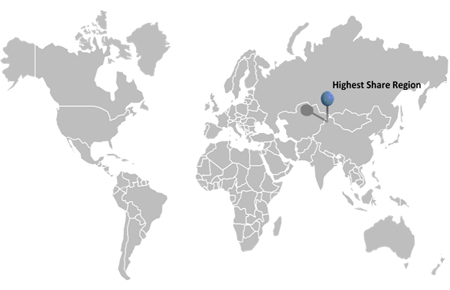 The Asia-Pacific organic spices market maintained a share of approximately 35% in 2018, driven by changing food trends and increased consumption of flavored and ethnic organic spices influenced by the existence of large multi-cultural groups in evolving economies country such as China. Growth is expected to be witnessed due to usage in India.
Also, the introduction of new and exotic flavors is anticipated to increase consumer disposable income, and the acceptance of innovative characters is even foreseen to drive local demand. Asia-Pacific also has a significant share of the global organic flavor market, with substantial production of natural flavors in the region. Furthermore, the growing awareness of organic spices and the high consumption of spices in local cuisine is accelerating the growth of the market.
The European organic spices market expects a significant increase in spice consumption, especially in Sweden and the UK, with an annual compound rate of over 5.5% over the next seven years. As the preference for natural foods increases, consuming ethical foods will support industrial demand.
The European organic spices market is assumed to grow as European countries' preference for multicultural cuisine increases. The expansion of the conventional retail industry, including supermarket chains, will boost local demand. North America is expected to dominate the world with an organic spice market during the projection period. The United States is suspected to be a significant contributor to the organic spice market in the region. The high demand for organic and natural food ingredients in the US population is primarily driving the growth of the North American organic spices market.
Leading Key Players involved in the Organic Spices Market report are:
UK Blending LTD

Organic Spices Inc.

Daarnhouwer & Co

Spice Chain Corporation

The Watkins Co.

Sabater Spices

Pacific Spice Company, Inc

Husarich GmbH

AKO GmbH

SunOpta Inc
They develop new goods and tastes to meet the increasing consumer preferences in order to gain greater market share.
Key highlights of the research report:
This report provides a detailed quantitative analysis of the current market and estimates for the years 2019-2024, which help identify the prevailing market opportunities.

Important changes in market dynamics.

Report and evaluation of recent developments in the industry.

Competitive intelligence helps to understand the competitive scenario in geographical regions.

The key players in the market are described in detail in this report, and their strategies are analyzed in-depth to understand the competitive advantage of the market better.
1. Introduction
1.1 Market Definition
1.2 Study Deliverables
1.3 Base Currency, Base Year and Forecast Periods
1.4 General Study Assumptions
2. Research Methodology
2.1 Introduction
2.2 Research Phases
2.2.1 Secondary Research
2.2.2 Primary Research
2.2.3 Econometric Modelling
2.2.4 Expert Validation
2.3 Analysis Design
2.4 Study Timeline
3. Overview
3.1 Executive Summary
3.2 Key Inferences
3.3 Epidemology
4. Drivers, Restraints, Opportunities, and Challenges Analysis (DROC)
4.1 Market Drivers
4.2 Market Restraints
4.3 Key Challenges
4.4 Current Opportunities in the Market
5. Market Segmentation
5.1 By Product
5.1.1 Introduction
5.1.2 Clove
5.1.3 Pepper
5.1.4 Ginger
5.1.5 Cinnamon
5.1.6 Turmeric
5.1.7 Y-o-Y Growth Analysis, By Product
5.1.8 Market Attractiveness Analysis, By Product
5.1.9 Market Share Analysis, By Product
5.2 By Form
5.2.1 Introduction
5.2.2 Powder
5.2.3 Extract
5.2.4 Raw
5.2.5 Y-o-Y Growth Analysis, By Form
5.2.6 Market Attractiveness Analysis, By Form
5.2.7 Market Share Analysis, By Form
5.2 By Distribution Channel
5.2.1 Introduction
5.2.2 Direct
5.2.3 Indirect
5.2.5 Y-o-Y Growth Analysis, Distribution Channel
5.2.6 Market Attractiveness Analysis, Distribution Channel
5.2.7 Market Share Analysis, Distribution Channel
6. Geographical Analysis
6.1 Introduction
6.1.1 Regional Trends
6.1.2 Impact Analysis
6.1.3 Y-o-Y Growth Analysis
6.1.3.1 By Geographical Area
6.1.3.2 By Product
6.1.3.3 By Distribution Channel
6.1.4 Market Attractiveness Analysis
6.1.4.1 By Geographical Area
6.1.4.2 By Product
6.1.4.3 By Distribution Channel
6.1.5 Market Share Analysis
6.1.5.1 By Geographical Area
6.1.5.2 By Product
6.1.5.3 By Distribution Channel
6.2 North America
6.1.1 Introduction
6.1.2 United States
6.1.3 Canada
6.3 Europe
6.2.1 Introduction
6.2.2 U.K
6.2.3 Spain
6.2.4 Germany
6.2.5 Italy
6.2.6 France
6.4 Asia-Pacific
6.3.1 Introduction
6.3.2 China
6.3.3 India
6.3.4 Japan
6.3.5 Australia
6.3.6 South Korea
6.5 Latin America
6.4.1 Introduction
6.4.2 Brazil
6.4.3 Argentina
6.4.4 Mexico
6.4.5 Rest of Latin America
6.6 Middle East & Africa
6.5.1 Introduction
6.5.2 Middle-East
6.5.3 Africa
7. Strategic Analysis
7.1 PESTLE analysis
7.1.1 Political
7.1.2 Economic
7.1.3 Social
7.1.4 Technological
7.1.5 Legal
7.1.6 Environmental
7.2 Porter's Five analysis
7.2.1 Bargaining Power of Suppliers
7.2.2 Bargaining Power of Consumers
7.2.3 Threat of New Entrants
7.2.4 Threat of Substitute Products and Services
7.2.5 Competitive Rivalry within the Industry
8. Market Leaders' Analysis
8.1 UK Blending LTD.
8.1.1 Overview
8.1.2 Product Analysis
8.1.3 Financial analysis
8.1.4 Recent Developments
8.1.5 SWOT analysis
8.1.6 Analyst View
8.2 Organic Spices Inc
8.3 Daarnhouwer & Co
8.4 Spice Chain Corporation
8.5 The Watkins Co
8.6 Sabater Spices.
8.7 Pacific Spice Company, Inc.
8.8 Husarich GmbH
8.9 AKO GmbH
8.10 SunOpta Inc
9. Competitive Landscape
9.1 Market share analysis
9.2 Merger and Acquisition Analysis
9.3 Agreements, collaborations, and Joint Ventures
9.4 New Product Launches
10. Market Outlook and Investment Opportunities
Appendix
a) List of Tables
b) List of Figures
Global, regional and country-level analysis and forecasts of the study market; providing Insights on the major countries/regions in which this industry is blooming and to also identify the regions that are still untapped

Segment-level analysis in terms of By Type, by Distribution Channel, and along with market size forecasts and estimations to detect key areas of industry growth in detail

Identification of key drivers, restraints, opportunities, and challenges (DROC) in the market and their impact on shifting market dynamics

Study of the effect of exogenous and endogenous factors that affect the global market; which includes broadly demographic, economics, and political, among other macro-environmental factors presented in an extensive PESTLE Analysis

Study the micro environment factors that determine the overall profitability of an Industry, using Porter's five forces analysis for analyzing the level of competition and business strategy development

A comprehensive list of key market players along with their product portfolio, current strategic interests, key financial information, legal issues, SWOT analysis and analyst overview to study and sustain the market environment

Competitive landscape analysis listing out the mergers, acquisitions, collaborations in the field along with new product launches, comparative financial studies and recent developments in the market by the major companies

An executive summary, abridging the entire report in such a way that decision-making personnel can rapidly become acquainted with background information, concise analysis and main conclusions

Expertly devised analyst overview along with Investment opportunities to provide both individuals and organizations a strong financial foothold in the market
Global Organic Spices Market By Region, From 2021-2026 ( USD Billion )

Global Organic Spices Market By Product Type, From 2021-2026 ( USD Billion )

Global Clove Market By Region, From 2021-2026 ( USD Billion )

Global Pepper Market By Region, From 2021-2026 ( USD Billion )

Global Ginger Market By Region, From 2021-2026 ( USD Billion )

Global Cinnamon Market By Region, From 2021-2026 ( USD Billion )

Global Turmeric Market By Region, From 2021-2026 ( USD Billion )

Global Mustard Seeds Market By Region, From 2021-2026 ( USD Billion )

Global Nutmeg Market By Region, From 2021-2026 ( USD Billion )

Global Organic Spices Market By Form, From 2021-2026 ( USD Billion )

Global Powder Market By Region, From 2021-2026 ( USD Billion )

Global Extract Market By Region, From 2021-2026 ( USD Billion )

Global Raw Market By Region, From 2021-2026 ( USD Billion )

Global Granular Market By Region, From 2021-2026 ( USD Billion )

Global Organic Spices Market By Sales Channel, From 2021-2026 ( USD Billion )

Global Direct Market By Region, From 2021-2026 ( USD Billion )

Global Indirect Market By Region, From 2021-2026 ( USD Billion )

North America Organic Spices Market By Product Type, From 2021-2026 ( USD Billion )

North America Clove Market By Region, From 2021-2026 ( USD Billion )

North America Pepper Market By Region, From 2021-2026 ( USD Billion )

North America Ginger Market By Region, From 2021-2026 ( USD Billion )

North America Cinnamon Market By Region, From 2021-2026 ( USD Billion )

North America Turmeric Market By Region, From 2021-2026 ( USD Billion )

North America Mustard Seeds Market By Region, From 2021-2026 ( USD Billion )

North America Nutmeg Market By Region, From 2021-2026 ( USD Billion )

North America Organic Spices Market By Form, From 2021-2026 ( USD Billion )

North America Powder Market By Region, From 2021-2026 ( USD Billion )

North America Extract Market By Region, From 2021-2026 ( USD Billion )

North America Raw Market By Region, From 2021-2026 ( USD Billion )

North America Granular Market By Region, From 2021-2026 ( USD Billion )

North America Organic Spices Market By Sales Channel, From 2021-2026 ( USD Billion )

North America Direct Market By Region, From 2021-2026 ( USD Billion )

North America Indirect Market By Region, From 2021-2026 ( USD Billion )

United States Organic Spices Market By Product Type, From 2021-2026 ( USD Billion )

United States Organic Spices Market By Form, From 2021-2026 ( USD Billion )

United States Organic Spices Market By Sales Channel, From 2021-2026 ( USD Billion )

Canada Organic Spices Market By Product Type, From 2021-2026 ( USD Billion )

Canada Organic Spices Market By Form, From 2021-2026 ( USD Billion )

Canada Organic Spices Market By Sales Channel, From 2021-2026 ( USD Billion )

Europe Organic Spices Market By Product Type, From 2021-2026 ( USD Billion )

Europe Clove Market By Region, From 2021-2026 ( USD Billion )

Europe Pepper Market By Region, From 2021-2026 ( USD Billion )

Europe Ginger Market By Region, From 2021-2026 ( USD Billion )

Europe Cinnamon Market By Region, From 2021-2026 ( USD Billion )

Europe Turmeric Market By Region, From 2021-2026 ( USD Billion )

Europe Mustard Seeds Market By Region, From 2021-2026 ( USD Billion )

Europe Nutmeg Market By Region, From 2021-2026 ( USD Billion )

Europe Organic Spices Market By Form, From 2021-2026 ( USD Billion )

Europe Powder Market By Region, From 2021-2026 ( USD Billion )

Europe Extract Market By Region, From 2021-2026 ( USD Billion )

Europe Raw Market By Region, From 2021-2026 ( USD Billion )

Europe Granular Market By Region, From 2021-2026 ( USD Billion )

Europe Organic Spices Market By Sales Channel, From 2021-2026 ( USD Billion )

Europe Direct Market By Region, From 2021-2026 ( USD Billion )

Europe Indirect Market By Region, From 2021-2026 ( USD Billion )

U.K. Organic Spices Market By Product Type, From 2021-2026 ( USD Billion )

U.K. Organic Spices Market By Form, From 2021-2026 ( USD Billion )

U.K. Organic Spices Market By Sales Channel, From 2021-2026 ( USD Billion )

Germany Organic Spices Market By Product Type, From 2021-2026 ( USD Billion )

Germany Organic Spices Market By Form, From 2021-2026 ( USD Billion )

Germany Organic Spices Market By Sales Channel, From 2021-2026 ( USD Billion )

France Organic Spices Market By Product Type, From 2021-2026 ( USD Billion )

France Organic Spices Market By Form, From 2021-2026 ( USD Billion )

France Organic Spices Market By Sales Channel, From 2021-2026 ( USD Billion )

Italy Organic Spices Market By Product Type, From 2021-2026 ( USD Billion )

Italy Organic Spices Market By Form, From 2021-2026 ( USD Billion )

Italy Organic Spices Market By Sales Channel, From 2021-2026 ( USD Billion )

Spain Organic Spices Market By Product Type, From 2021-2026 ( USD Billion )

Spain Organic Spices Market By Form, From 2021-2026 ( USD Billion )

Spain Organic Spices Market By Sales Channel, From 2021-2026 ( USD Billion )

Asia Pacific Organic Spices Market By Product Type, From 2021-2026 ( USD Billion )

Asia Pacific Clove Market By Region, From 2021-2026 ( USD Billion )

Asia Pacific Pepper Market By Region, From 2021-2026 ( USD Billion )

Asia Pacific Ginger Market By Region, From 2021-2026 ( USD Billion )

Asia Pacific Cinnamon Market By Region, From 2021-2026 ( USD Billion )

Asia Pacific Turmeric Market By Region, From 2021-2026 ( USD Billion )

Asia Pacific Mustard Seeds Market By Region, From 2021-2026 ( USD Billion )

Asia Pacific Nutmeg Market By Region, From 2021-2026 ( USD Billion )

Asia Pacific Organic Spices Market By Form, From 2021-2026 ( USD Billion )

Asia Pacific Powder Market By Region, From 2021-2026 ( USD Billion )

Asia Pacific Extract Market By Region, From 2021-2026 ( USD Billion )

Asia Pacific Raw Market By Region, From 2021-2026 ( USD Billion )

Asia Pacific Granular Market By Region, From 2021-2026 ( USD Billion )

Asia Pacific Organic Spices Market By Sales Channel, From 2021-2026 ( USD Billion )

Asia Pacific Direct Market By Region, From 2021-2026 ( USD Billion )

Asia Pacific Indirect Market By Region, From 2021-2026 ( USD Billion )

Japan Organic Spices Market By Product Type, From 2021-2026 ( USD Billion )

Japan Organic Spices Market By Form, From 2021-2026 ( USD Billion )

Japan Organic Spices Market By Sales Channel, From 2021-2026 ( USD Billion )

China Organic Spices Market By Product Type, From 2021-2026 ( USD Billion )

China Organic Spices Market By Form, From 2021-2026 ( USD Billion )

China Organic Spices Market By Sales Channel, From 2021-2026 ( USD Billion )

India Organic Spices Market By Product Type, From 2021-2026 ( USD Billion )

India Organic Spices Market By Form, From 2021-2026 ( USD Billion )

India Organic Spices Market By Sales Channel, From 2021-2026 ( USD Billion )

Australia Organic Spices Market By Product Type, From 2021-2026 ( USD Billion )

Australia Organic Spices Market By Form, From 2021-2026 ( USD Billion )

Australia Organic Spices Market By Sales Channel, From 2021-2026 ( USD Billion )

South Korea Organic Spices Market By Product Type, From 2021-2026 ( USD Billion )

South Korea Organic Spices Market By Form, From 2021-2026 ( USD Billion )

South Korea Organic Spices Market By Sales Channel, From 2021-2026 ( USD Billion )

Latin America Organic Spices Market By Product Type, From 2021-2026 ( USD Billion )

Latin America Clove Market By Region, From 2021-2026 ( USD Billion )

Latin America Pepper Market By Region, From 2021-2026 ( USD Billion )

Latin America Ginger Market By Region, From 2021-2026 ( USD Billion )

Latin America Cinnamon Market By Region, From 2021-2026 ( USD Billion )

Latin America Turmeric Market By Region, From 2021-2026 ( USD Billion )

Latin America Mustard Seeds Market By Region, From 2021-2026 ( USD Billion )

Latin America Nutmeg Market By Region, From 2021-2026 ( USD Billion )

Latin America Organic Spices Market By Form, From 2021-2026 ( USD Billion )

Latin America Powder Market By Region, From 2021-2026 ( USD Billion )

Latin America Extract Market By Region, From 2021-2026 ( USD Billion )

Latin America Raw Market By Region, From 2021-2026 ( USD Billion )

Latin America Granular Market By Region, From 2021-2026 ( USD Billion )

Latin America Organic Spices Market By Sales Channel, From 2021-2026 ( USD Billion )

Latin America Direct Market By Region, From 2021-2026 ( USD Billion )

Latin America Indirect Market By Region, From 2021-2026 ( USD Billion )

Brazil Organic Spices Market By Product Type, From 2021-2026 ( USD Billion )

Brazil Organic Spices Market By Form, From 2021-2026 ( USD Billion )

Brazil Organic Spices Market By Sales Channel, From 2021-2026 ( USD Billion )

Argentina Organic Spices Market By Product Type, From 2021-2026 ( USD Billion )

Argentina Organic Spices Market By Form, From 2021-2026 ( USD Billion )

Argentina Organic Spices Market By Sales Channel, From 2021-2026 ( USD Billion )

Mexico Organic Spices Market By Product Type, From 2021-2026 ( USD Billion )

Mexico Organic Spices Market By Form, From 2021-2026 ( USD Billion )

Mexico Organic Spices Market By Sales Channel, From 2021-2026 ( USD Billion )

Rest of Latin America Organic Spices Market By Product Type, From 2021-2026 ( USD Billion )

Rest of Latin America Organic Spices Market By Form, From 2021-2026 ( USD Billion )

Rest of Latin America Organic Spices Market By Sales Channel, From 2021-2026 ( USD Billion )

Middle East and Africa Organic Spices Market By Product Type, From 2021-2026 ( USD Billion )

Middle East and Africa Clove Market By Region, From 2021-2026 ( USD Billion )

Middle East and Africa Pepper Market By Region, From 2021-2026 ( USD Billion )

Middle East and Africa Ginger Market By Region, From 2021-2026 ( USD Billion )

Middle East and Africa Cinnamon Market By Region, From 2021-2026 ( USD Billion )

Middle East and Africa Turmeric Market By Region, From 2021-2026 ( USD Billion )

Middle East and Africa Mustard Seeds Market By Region, From 2021-2026 ( USD Billion )

Middle East and Africa Nutmeg Market By Region, From 2021-2026 ( USD Billion )

Middle East and Africa Organic Spices Market By Form, From 2021-2026 ( USD Billion )

Middle East and Africa Powder Market By Region, From 2021-2026 ( USD Billion )

Middle East and Africa Extract Market By Region, From 2021-2026 ( USD Billion )

Middle East and Africa Raw Market By Region, From 2021-2026 ( USD Billion )

Middle East and Africa Granular Market By Region, From 2021-2026 ( USD Billion )

Middle East and Africa Organic Spices Market By Sales Channel, From 2021-2026 ( USD Billion )

Middle East and Africa Direct Market By Region, From 2021-2026 ( USD Billion )

Middle East and Africa Indirect Market By Region, From 2021-2026 ( USD Billion )

Middle East Organic Spices Market By Product Type, From 2021-2026 ( USD Billion )

Middle East Organic Spices Market By Form, From 2021-2026 ( USD Billion )

Middle East Organic Spices Market By Sales Channel, From 2021-2026 ( USD Billion )

Africa Organic Spices Market By Product Type, From 2021-2026 ( USD Billion )

Africa Organic Spices Market By Form, From 2021-2026 ( USD Billion )

Africa Organic Spices Market By Sales Channel, From 2021-2026 ( USD Billion )