Bean Pasta Market Growth and Forecast (2021-2026):
The Global Bean Pasta Market size was valued at US$ 2.9 billion in 2021, and it is estimated that it will reach a valuation of US$ 12.9 billion by 2026 with an annual expansion rate of 7.3% between 2021 and 2026.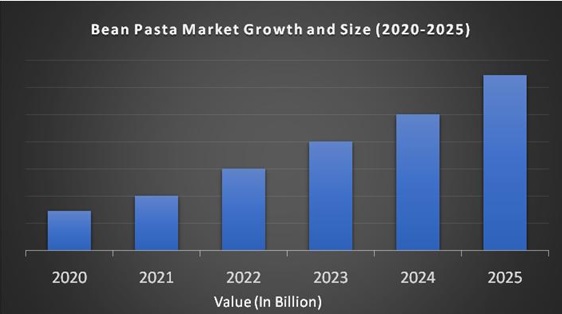 Market Overview:
Bean paste is a type of paste that is made by grinding beans into flour and combining the dough with a thickening agent such as xanthan gum or tapioca or combining them with water. Bean pasta refers to a gluten-free variety of pasta that is made up of beans and has more fiber and protein than regular pasta. Bean pasta is slow but is gaining popularity around the world because it can be cooked simply without much effort. Beans commonly used in the preparation of soybean paste include lentils, black beans, and chickpeas. Bean pasta is rich in protein and fiber compared to regular pasta due to its high soy content. With the continuous development of gluten-free foods and a dense international market, the category of legumes and pasta with legumes is booming. Based on its high nutritional content, bean pasta helps reduce unsaturated body fat, promotes muscle growth, reduces blood cholesterol levels, and maintains good digestive health. Bean pasta is widely available, including spaghetti, shells, various varieties, penne, fusilli, fettuccine, and more.
Bean Pasta Market Growth:
Bean pasta is slowly becoming one of the most popular pasta varieties around the world and is now in high demand due to its organic appearance.
REPORT COVERAGE:
| | |
| --- | --- |
| REPORT METRIC | DETAILS |
| Market Size Available | 2020 – 2026 |
| Base Year | 2020 |
| Forecast Period | 2021 - 2026 |
| CAGR | 7.3% |
| Segments Covered | By Nature, Product Type, Pasta Type, Distribution Channel and Region |
| Various Analyses Covered | Global, Regional & Country Level Analysis, Segment-Level Analysis, DROC, PESTLE Analysis, Porter's Five Forces Analysis, Competitive Landscape, Analyst Overview on Investment Opportunities |
| Regions Covered | North America, Europe, APAC, Latin America, Middle East & Africa |
| Market Leaders Profiled | Explore Cuisine, Jinan Mintian Flour Co., Ltd, Harvest Innovations LLC, Kazidomi, Mxo Global Inc, LIVIVA Foods, Banza LLC, Pedon SPA, NutriNoodle, Bellabondonza LLC, Ceres Enterprises Limited, Tianjin ASO Organic Food Co. Ltd, The Only Bean LLC, Trader Joe's Company and Others. |
Drivers:
Increasing globalization and the wide availability of bean pasta in a variety of flavors are also driving demand for products around the world. In addition to this, social media marketing strategies, along with numerous food blogs, online recipes, customer reviews, and more, are becoming more prevalent, further driving the demand for bean pasta. The expansion of the food sector will boost the bean pasta market in countries such as China and India. Demand for organic pasta is highest in China, India and Russia compared to all other countries, and lifestyle changes and increased consumption of food and beverages have boosted bean pasta sales. The strong nutritional index of pasta and the expansion of distribution channels such as supermarkets/hypermarkets and department stores is another factor in the slowdown of the global bean paste market. This expanding food and beverage industry are growing the bean pasta market, especially in developing countries. The food and beverage industry is constantly evolving due to all the changes and growing demand. To curb this possibility, manufacturers feel the urge to innovate according to general demand. Consumer preferences are changing over time can switch to another brand because you cannot get a product that suits your needs. Also, as competition has increased among bean paste manufacturers, the likelihood of focusing on innovation has increased. Some of the leading manufacturers want to outperform others in terms of sales and geographic location with this strategy. As a result, some leading manufacturers are investing in the construction of R&D facilities to meet dynamic consumer demand. Failure of manufacturers to provide innovative, high-quality products can negatively affect the company's sales. Nutrition is an important factor to consider recently before making a final purchasing decision. Product sales that fail to do so may be adversely affected.
Today's consumers are learning more about the products they consume and the nutritional benefits they provide. So, to provide better nutrition, manufacturers extract products from natural and organic ingredients. Therefore, bean pasta manufacturers began to introduce products with high nutritional value. Pasta from sources such as buckwheat, legumes, rice, and quinoa. Legumes such as lentils, beans, chickpeas, etc. they are used as an important replacement source for durum wheat and semolina. As the food processing sector expands, the market for bean pasta is also growing as demand for ready-to-eat food products that are easy to store and have a long shelf life increase. The growing number of health-conscious consumers is primarily driving the shift from traditional wheat pasta to healthier alternatives like bean pasta. Additionally, market growth is expanding further as efforts by key market players increase for gluten-free labels to meet the nutritional needs of consumers. Furthermore, the increasing incidence of various lifestyle disorders such as diabetes, obesity, and gluten intolerance are further driving the growth of the market. With the changing tastes and preferences of consumers, various pasta makers are launching dry pasta noodles with different protein densities and gluten-free. The promotion of bean pasta for weight management by various manufacturers has increased the demand for bean pasta and boosted the market for bean pasta. However, gluten-tolerant consumers are not the only consumer base choosing soy-based pasta, as health-conscious shoppers increasingly consume bean pasta due to its high nutritional value. The growing demand for healthy food consumption has led consumers to prefer bean-based pasta. Bean pasta is gluten-free and widely accepted among the gluten-tolerant consumer base. Therefore, producers ultimately want to innovate their products. This has led producers to convert large capital to build R&D facilities that can meet this growing demand.
Restraints:
Bean paste made with a refined flour mixture is no different from the traditional substitute for white pasta. These production practices can hamper the market growth. Therefore, manufacturers are developing pasta made from 100% soy flour to reassure healthy consumers.
Impact of COVID 19 on the Bean Pasta Market:
However, in early 2020, the COVID-19 pandemic disrupted the bean pasta supply chain due to temporary closures of several manufacturing plants and unavailability of raw materials. The impact of this pandemic is not only affecting the supply chain, it is increasing day by day. The COVID-19 crisis is creating uncertainty in the stock market, business credibility is falling, supply chains are slowing significantly, and panic among customer segments is increasing. The overall impact of the coronavirus is affecting production processes in many industries. In addition, the national blockade has led to cafeteria closings, restaurant closures and restaurant closures, negatively disrupting the demand for bean pasta in the catering sector. However, consumption is increasing as soybean paste sales on e-commerce platforms increase.
Bean Pasta Market Segmentation Analysis:
The global bean pasta market is segmented into nature, type of product, type of paste and distribution channel.
Based on nature, the bean pasta market is classified as traditional and organic.
By product type, the market for bean pasta is segmented into black bean paste, white bean paste, bean paste, green bean paste, etc.
Depending on the type of pasta, the world market for bean pasta is divided into fettuccine, spaghetti, rotini, etc.
According to the distribution channels, the world bean pasta market is divided into convenience stores, supermarkets and hypermarkets. Several companies use recyclable boxes for the packaging of bean pasta. The appearance on the shelves of hypermarkets/supermarkets, convenience stores and e-commerce, along with the labels and statements that are displayed on the product, have been shown to increase the likelihood that a consumer will buy a product.
Geographical Segmentation Analysis:
North America - the United States and Canada

Europe - United Kingdom, Spain, Germany, Italy, and France

The Asia Pacific - India, Japan, China, Australia, Singapore, Malaysia, South Korea, New Zealand, and Southeast Asia

Latin America - Brazil, Argentina, Mexico, and Rest of LATAM

The Middle East and Africa - Africa and Middle East (Saudi Arabia, UAE, Lebanon, Jordan, Cyprus)
Regional Analysis:
North America maintains its dominance in the global bean pasta market with a share of more than 40%. The United States has the highest consumption of bean pasta and the high demand for organic products, resulting in a significant increase in the market for bean pasta. However, the market is expected to expand at high growth rates in the coming years. The growth rate is high given the strong economic growth of Asian countries and the consequent increase in disposable income per capita. APAC, with the rising number of health-conscious consumers, is offering lucrative opportunities for the consumption of gluten-free products.
Key Players in the Market:
Major Key Players in the Global Bean Pasta Market are
Explore Cuisine

Jinan Mintian Flour Co., Ltd

Harvest Innovations LLC

Kazidomi

Mxo Global Inc

LIVIVA Foods

Banza LLC

Pedon SPA

NutriNoodle

Bellabondonza LLC

Ceres Enterprises Limited

Tianjin ASO Organic Food Co. Ltd

The Only Bean LLC

Trader Joe's Company
1. Introduction
1.1 Market Definition
1.2 Scope of the report
1.3 Study Assumptions
1.4 Base Currency, Base Year and Forecast Periods
2. Research Methodology
2.1 Analysis Design
2.2 Research Phases
2.2.1 Secondary Research
2.2.2 Primary Research
2.2.3 Data Modelling
2.2.4 Expert Validation
2.3 Study Timeline
3. Report Overview
3.1 Executive Summary
3.2 Key Inferencees
4. Market Dynamics
4.1 Impact Analysis
4.1.1 Drivers
4.1.2 Restaints
4.1.3 Opportunities
4.2 Regulatory Environment
4.3 Technology Timeline & Recent Trends
5. Competitor Benchmarking Analysis
5.1 Key Player Benchmarking
5.1.1 Market share analysis
5.1.2 Products/Service
5.1.3 Regional Presence
5.2 Mergers & Acquistion Landscape
5.3 Joint Ventures & Collaborations
6. Market Segmentation
6.1 Bean Pasta Market, By Nature
6.1.1 Conventional
6.1.2 Organic
6.1.3 Market Size Estimations & Forecasts (2021-2026)
6.1.4 Y-o-Y Growth Rate Analysis
6.1.5 Market Attractiveness Index
6.2 Bean Pasta Market, By Product Type
6.2.1 Black Bean Pasta
6.2.2 White Bean Pasta
6.2.3 Soybean Pasta
6.2.4 Green Bean Pasta
6.2.5 Market Size Estimations & Forecasts (2021-2026)
6.2.6 Y-o-Y Growth Rate Analysis
6.2.7 Market Attractiveness Index
6.3 Bean Pasta Market, By Pasta Type
6.3.1 Fettuccine
6.3.2 Spaghetti
6.3.3 Rotini
6.3.4 Market Size Estimations & Forecasts (2021-2026)
6.3.5 Y-o-Y Growth Rate Analysis
6.3.6 Market Attractiveness Index
6.4 Bean Pasta Market, By Distribution Channel
6.4.1 Convenience Stores
6.4.2 Supermarkets/Hypermarkets
6.4.3 Online
6.4.4 Market Size Estimations & Forecasts (2021-2026)
6.4.5 Y-o-Y Growth Rate Analysis
6.4.6 Market Attractiveness Index
7. Geographical Landscape
7.1 Global Identity Governance and Administration Market, by Region
7.2 North America - Market Analysis (2021-2026)
7.2.1 By Country
7.2.1.1 USA
7.2.1.2 Canada
7.2.2 By Nature
7.2.3 By Product Type
7.2.4 By Pasta Type
7.2.5 By Distribution Channel
7.3 Europe
7.3.1 By Country
7.3.1.1 UK
7.3.1.2 France
7.3.1.3 Germany
7.3.1.4 Spain
7.3.1.5 Italy
7.3.1.6 Rest of Europe
7.3.2 By Nature
7.3.3 By Product Type
7.3.4 By Pasta Type
7.3.5 By Distribution Channel
7.4 Asia Pacific
7.4.1 By Country
7.4.1.1 China
7.4.1.2 India
7.4.1.3 Japan
7.4.1.4 South Korea
7.4.1.5 South East Asia
7.4.1.6 Australia & NZ
7.4.1.7 Rest of Asia-Pacific
7.4.2 By Nature
7.4.3 By Product Type
7.4.4 By Pasta Type
7.4.5 By Distribution Channel
7.5 Latin America
7.5.1 By Country
7.5.1.1 Brazil
7.5.1.2 Argentina
7.5.1.3 Mexico
7.5.1.4 Rest of Latin America
7.5.2 By Nature
7.5.3 By Product Type
7.5.4 By Pasta Type
7.5.5 By Distribution Channel
7.6 Middle East and Africa
7.6.1 By Country
7.6.1.1 Middle East
7.6.1.2 Africa
7.6.2 By Nature
7.6.3 By Product Type
7.6.4 By Pasta Type
7.6.5 By Distribution Channel
8. Key Player Analysis
8.1 Explore Cuisine
8.1.1 Business Description
8.1.2 Products/Service
8.1.3 Financials
8.1.4 SWOT Analysis
8.1.5 Recent Developments
8.1.6 Analyst Overview
8.2 Jinan Mintian Flour Co., Ltd
8.3 Harvest Innovations LLC
8.4 Kazidomi
8.5 Mxo Global Inc
8.6 LIVIVA Foods
8.7 Banza LLC
8.8 Pedon SPA
8.9 NutriNoodle
8.10 Bellabondonza LLC
9. Market Outlook & Investment Opportunities
Appendix
List of Tables
List of Figures
Global, regional and country-level analysis and forecasts of the study market; providing Insights on the major countries/regions in which this industry is blooming and to also identify the regions that are still untapped

The Segment-level analysis in terms of By Nature, Product Type, Pasta Type, Distribution Channel and along with market size forecasts and estimations to detect key areas of industry growth in detail

Identification of key drivers, restraints, opportunities, and challenges (DROC) in the market and their impact on shifting market dynamics

Study of the effect of exogenous and endogenous factors that affect the global market; which includes broadly demographic, economics, and political, among other macro-environmental factors presented in an extensive PESTLE Analysis

Study the micro environment factors that determine the overall profitability of an Industry, using Porter's five forces analysis for analysing the level of competition and business strategy development

A comprehensive list of key market players along with their product portfolio, current strategic interests, key financial information, legal issues, SWOT analysis and analyst overview to study and sustain the market environment

Competitive landscape analysis listing out the mergers, acquisitions, collaborations in the field along with new product launches, comparative financial studies and recent developments in the market by the major companies

An executive summary, abridging the entire report in such a way that decision-making personnel can rapidly become acquainted with background information, concise analysis and main conclusions

Expertly devised analyst overview along with Investment opportunities to provide both individuals and organizations a strong financial foothold in the market
Global Bean Pasta Market By Region, From 2021-2026 ( USD Billion )

Global Bean Pasta Market By Nature, From 2021-2026 ( USD Billion )

Global Conventional Market By Region, From 2021-2026 ( USD Billion )

Global Organic Market By Region, From 2021-2026 ( USD Billion )

Global Bean Pasta Market By Product Type, From 2021-2026 ( USD Billion )

Global Black Bean Pasta Market By Region, From 2021-2026 ( USD Billion )

Global White Bean Pasta Market By Region, From 2021-2026 ( USD Billion )

Global Soybean Pasta Market By Region, From 2021-2026 ( USD Billion )

Global Green Bean Pasta Market By Region, From 2021-2026 ( USD Billion )

Global Bean Pasta Market By Pasta Type, From 2021-2026 ( USD Billion )

Global Fettuccine Market By Region, From 2021-2026 ( USD Billion )

Global Spaghetti Market By Region, From 2021-2026 ( USD Billion )

Global Rotini Market By Region, From 2021-2026 ( USD Billion )

Global Bean Pasta Market By Distribution Channel, From 2021-2026 ( USD Billion )

Global Convenience Stores Market By Region, From 2021-2026 ( USD Billion )

Global Supermarkets/Hypermarkets Market By Region, From 2021-2026 ( USD Billion )

Global Online Market By Region, From 2021-2026 ( USD Billion )