Bovine Serum Albumin Market Growth and Forecast (2022-2027):
The global Bovine Serum Albumin Market size was determined at USD 254.8 million in 2022. With a compound annual growth rate of about 3% it is predicted to reach USD 304.2 million by 2027. The demand for albumin in R&D activities is increasing and the non-therapeutic application of albumin is driving the market.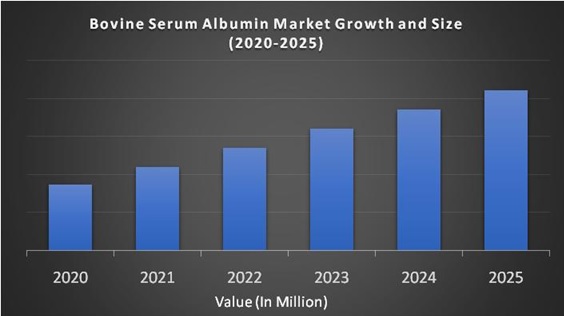 Market Overview:
Albumin refers to a group of acidic proteins, the primary function of controlling colloidal osmotic pressure in the blood. It is found not only in body fluids, but also in the tissues and plants of mammals. Albumin is a type of protein found abundantly in plasma. Bovine serum albumin is isolated from cow's milk and is mainly used as a blocker in the Enzyme Immunosorbent Assay (ELISA) and Western blot, and it is used as a standard to calibrate proteins and dissolve lipids. Bovine serum albumin (BSA) or fraction V is the main plasma protein found in bovine blood that helps maintain the pH levels. It is an important by-product of the meat industry and is derived mainly from fetal serum. BSA is purified from serum through a variety of purification methods, such as low-temperature organic solvent fractionation, thermal shock, and ion exchange chromatography. It is also found in various proportions in milk and whey protein. This generally occurs because proteins escape from whey into milk as part of the secretion from the mammary glands. BSA is widely used in a variety of immunological, biochemical, and biotechnological applications. It is also used as a protein supplement and small molecule carrier for other cell culture applications.
Recent Developments in Bovine Serum Albumin Industry:
ProliantBiologicals in February 2019 has introduced a new line of products for ultra-high monomer BSA solutions that is aimed to enhance the functionality of BSA in research.

BelHealth Investment Partners during September 2018 made an investment of USD 350 million in Gemini Bioproducts to develop an extensive bio-product making platform.
REPORT COVERAGE:
| | |
| --- | --- |
| REPORT METRIC | DETAILS |
| Market Size Available | 2021 – 2027 |
| Base Year | 2021 |
| Forecast Period | 2022 - 2027 |
| CAGR | 3% |
| Segments Covered | By Form, Grade, Vertical and Region |
| Various Analyses Covered | Global, Regional & Country Level Analysis, Segment-Level Analysis, DROC, PESTLE Analysis, Porter's Five Forces Analysis, Competitive Landscape, Analyst Overview on Investment Opportunities |
| Regions Covered | North America, Europe, APAC, Latin America, Middle East & Africa |
| Market Leaders Profiled | Thermo Fisher Scientific, Bio-Rad Laboratories, Inc, Merck KGAA, Itoham Yonekyu Holdings Inc, Proliant Biologicals, Kraeber & Co Gmbh, Rockland Immunochemicals Inc, Rocky mountain biologicals, Bio-Techne Corporation, Prospec-Tany Technogene Ltd and Others. |
Bovine Serum Albumin Market Growth:
The global market for bovine serum albumin is growing as consumer preferences for high protein diets change and the demands of the life sciences industry increase.
Drivers:
Raising awareness of the use of albumin, raising awareness and supporting activities by governments and various organizations are one of the main factors driving the growth of the global albumin market. The growth of the global market is accelerating as albumin is applied in various fields, such as vaccines, media production, drug supply, etc. The increased prevalence of diseases leading to hypoalbuminemia, the surge in demand for albumin in the non-therapeutic industry, the increased demand for albumin for research and development, and the increased production of immunoglobin are some of the other factors responsible for the growth of this market. In addition, industry scientists prefer bovine serum albumin as it does not affect many biochemical reactions. It is relatively cheaper than other protein standards due to a large amount of blood. It can be easily purified from bovine blood. Some of the other properties that favor the products are increasing applications in the pharmaceutical and diagnostic industries, including very pure properties and high water solubility. The increased use of plasma products in the food industry, along with the advances in the collection and processing of livestock blood and the increased demand for meat and animal protein in the population are the main driving forces in the market.
The worldwide bovine serum albumin market is determined to expand rapidly. The continual research and development has augmented the development of the market with the introduction of new variants with different grades, such as enzyme grade and food grade to improve overall share. The global bovine serum albumin market is promoted by the surge in the utilization of plasma products in the food sector and rising call for animal meat and protein among the populace. Other drivers of the market include expanding range of animal by-products in cell culture technology, increasing demand as an excipient for the pharmaceutical industry, and improving supply chain and distribution network. Bovine serum albumin is a nutrient that repairs tissues and aids growth and development and protects the body from viruses that cause infection and disease. These factors also increase the demand for bovine serum albumin in the global market. Rapid growth and expansion of albumin coverage in developing countries across Asia Pacific are expected to provide revenue opportunities for players in the albumin market.
Restraints:
The increase in bovine disease leads to a decrease in production and a greater preference for alternative products, which hinders the growth of the market. Strict regulations, limited reimbursements, and the irrational use and side effects associated with albumin are factors that inhibit the growth of this market. Another limitation of the market is the decrease in production due to the increase in bovine disease and a greater preference for alternative products.
Bovine Serum Albumin Market Segmentation Analysis:
By Form:
By Grade:
Technical & Diagnostic Grade

Research/Reagent - Grade

Food Grade
By Vertical:
Life Sciences Industry

Food Industry

Feed Industry

Research Institutes
Geographical Segmentation Analysis:
North America - the United States and Canada

Europe - United Kingdom, Spain, Germany, Italy, and France

The Asia Pacific - India, Japan, China, Australia, Singapore, Malaysia, South Korea, New Zealand, and Southeast Asia

Latin America - Brazil, Argentina, Mexico, and Rest of LATAM

The Middle East and Africa - Africa and Middle East (Saudi Arabia, UAE, Lebanon, Jordan, Cyprus)
Regional Analysis:
Depending on the region, the market is divided into Asia Pacific (APAC), Europe, the Middle East and Africa (MEA), North America (NA) and Latin America (LA). The Asia Pacific region is predicted to lead the worldwide market in the following years. Increased use of albumin for the treatment of various diseases, increased research and development activities, and increased awareness of the therapeutic application of immunoglobin are some of the factors driving the albumin market in the region. Australia and New Zealand are major producers of bovine serum albumin. In China, Japan, Korea, and India, increasing emphasis is placed on strengthening diagnosis, preventive care, and medical research. Due to these factors, these countries show great potential for growth in the albumin market. China has played an important role in the growth of Asia in recent years and will be the main driver of this market. Furthermore, due to the maturity of the western market and the European recession, many albumin manufacturers have been drawn to the Asia Pacific region. The growing population in the Asia Pacific region offers the potential for expansion and adoption of a variety of medical treatments, including albumin products.
Key Players in the Market:
Major Key Players in the Global Bovine Serum Albumin Market are
Thermo Fisher Scientific

Bio-Rad Laboratories, Inc

Merck KGAA

Itoham Yonekyu Holdings Inc

Proliant Biologicals

Kraeber & Co Gmbh

Rockland Immunochemicals Inc

Rocky mountain biologicals

Bio-Techne Corporation

Prospec-Tany Technogene Ltd
1. Introduction
1.1 Market Definition
1.2 Scope of the report
1.3 Study Assumptions
1.4 Base Currency, Base Year and Forecast Periods
2. Research Methodology
2.1 Analysis Design
2.2 Research Phases
2.2.1 Secondary Research
2.2.2 Primary Research
2.2.3 Data Modelling
2.2.4 Expert Validation
2.3 Study Timeline
3. Report Overview
3.1 Executive Summary
3.2 Key Inferencees
4. Market Dynamics
4.1 Impact Analysis
4.1.1 Drivers
4.1.2 Restaints
4.1.3 Opportunities
4.2 Regulatory Environment
4.3 Technology Timeline & Recent Trends
5. Competitor Benchmarking Analysis
5.1 Key Player Benchmarking
5.1.1 Market share analysis
5.1.2 Products/Service
5.1.3 Regional Presence
5.2 Mergers & Acquistion Landscape
5.3 Joint Ventures & Collaborations
6. Market Segmentation
6.1 Bovine Serum Albumin Market, By Form
6.1.1 Dry
6.1.2 Liquid
6.1.3 Market Size Estimations & Forecasts (2022-2027)
6.1.4 Y-o-Y Growth Rate Analysis
6.1.5 Market Attractiveness Index
6.2 Bovine Serum Albumin Market, By Grade
6.2.1 Technical & Diagnostic Grade
6.2.2 Research/Reagent - Grade
6.2.3 Food Grade
6.2.4 Market Size Estimations & Forecasts (2022-2027)
6.2.5 Y-o-Y Growth Rate Analysis
6.2.6 Market Attractiveness Index
6.3 Bovine Serum Albumin Market, By Vertical
6.3.1 Life Sciences Industry
6.3.2 Food Industry
6.3.3 Feed Industry
6.3.4 Research Institutes
6.3.5 Market Size Estimations & Forecasts (2022-2027)
6.3.6 Y-o-Y Growth Rate Analysis
6.3.7 Market Attractiveness Index
7. Geographical Landscape
7.1 Regional Identity Governance and Administration Market, by Region
7.2 North America - Market Analysis (2022-2027)
7.2.1 By Country
7.2.1.1 USA
7.2.1.2 Canada
7.2.2 By Form
7.2.3 By Grade
7.2.4 By Vertical
7.3 Europe
7.3.1 By Country
7.3.1.1 UK
7.3.1.2 France
7.3.1.3 Germany
7.3.1.4 Spain
7.3.1.5 Italy
7.3.1.6 Rest of Europe
7.3.2 By Form
7.3.3 By Grade
7.3.4 By Vertical
7.4 Asia Pacific
7.4.1 By Country
7.4.1.1 China
7.4.1.2 India
7.4.1.3 Japan
7.4.1.4 South Korea
7.4.1.5 South East Asia
7.4.1.6 Australia & NZ
7.4.1.7 Rest of Asia-Pacific
7.4.2 By Form
7.4.3 By Grade
7.4.4 By Vertical
7.5 Latin America
7.5.1 By Country
7.5.1.1 Brazil
7.5.1.2 Argentina
7.5.1.3 Mexico
7.5.1.4 Rest of Latin America
7.5.2 By Form
7.5.3 By Grade
7.5.4 By Vertical
7.6 Middle East and Africa
7.6.1 By Country
7.6.1.1 Middle East
7.6.1.2 Africa
7.6.2 By Form
7.6.3 By Grade
7.6.4 By Vertical
8. Key Player Analysis
8.1 Thermo Fisher Scientific
8.1.1 Business Description
8.1.2 Products/Service
8.1.3 Financials
8.1.4 SWOT Analysis
8.1.5 Recent Developments
8.1.6 Analyst Overview
8.2 Bio-Rad Laboratories, Inc
8.3 Merck KGAA
8.4 Itoham Yonekyu Holdings Inc
8.5 Proliant Biologicals
8.6 Kraeber & Co Gmbh
8.7 Rockland Immunochemicals Inc
8.8 Rocky mountain biologicals
8.9 Bio-Techne Corporation
8.10 Prospec-Tany Technogene Ltd
9. Market Outlook & Investment Opportunities
Appendix
List of Tables
List of Figures