Citrus Bioflavonoids Market Size, Growth, Forecast (2022-2027)
The Global Citrus Bioflavonoids Market size was worth US$ 1billion in 2021, and it is estimated that it will reach US$ 2 billion by 2027 with an annual development rate of 6.2% during the conjecture period of 2022 and 2027.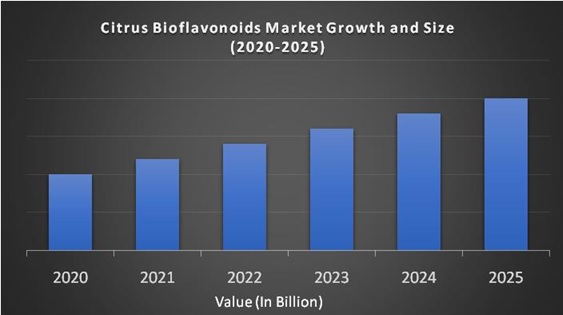 Product Description:
Bioflavonoids are a group of plant pigments that give color to many flowers and fruits. Citrus bioflavonoids are mostly found in citrus fruits such as lemon, grapefruit, orange, and tangerine. Citrus bioflavonoids contain antioxidants that help maintain a healthy life. Citrus bioflavonoids are extracted from fruits rich in vitamin C and work by neutralizing free radicals. Various types of bioflavonoids are extracted from citrus, such as hesperidin (orange and lemon), naringin and naringenin (grapefruit), mandarin retin (lemon peel and orange), and diosmin (lemon and orange). This bioflavonoid is used extensively in the dietary supplement industry, and its demand is increasing worldwide due to healthy lifestyle trends.
Recent Developments in Citrus Bioflavonoids Industry:
Yakult Honsha Co., Ltd. introduced a new symbiotic drink to the Korean market in March 2019. This product is rich in active bioflavonoids, MicrobiomeX.
Citrus Bioflavonoids Market Growth:
The future progress of the citrus bioflavonoid market can be attributed to a number of factors, such as increasing health and wellness awareness and increasing emphasis on the consumption of natural health care products.
REPORT COVERAGE:
| | |
| --- | --- |
| REPORT METRIC | DETAILS |
| Market Size Available | 2021 – 2027 |
| Base Year | 2021 |
| Forecast Period | 2022 - 2027 |
| CAGR | 6.2% |
| Segments Covered | By Type, End-Use, Distribution Channel and Region |
| Various Analyses Covered | Global, Regional & Country Level Analysis, Segment-Level Analysis, DROC, PESTLE Analysis, Porter's Five Forces Analysis, Competitive Landscape, Analyst Overview on Investment Opportunities |
| Regions Covered | North America, Europe, APAC, Latin America, Middle East & Africa |
| Market Leaders Profiled | NOW Foods, J & K Scientific Ltd, Solgar Inc, BOC Sciences, Santa Cruz Biotechnology Inc, Yakult Honsha Co., Ltd, Yaan Times Biotech, Hunan Sunfull Bio-tech Co., Ltd, MORRE-TEC Industries, Hunan Yuantong Pharmaceutical Co., Ltd, DestilacionesBordasChinchurreta SA, Natural Factors Inc, Organika Health Products Inc, Country Life LLC, Freeda Vitamins Inc, Grupo Ferrer Internacional and others. |
Drivers:
Citrus bioflavonoids are natural compounds that are behind many of the health benefits, which is the main and most prominent reason that it is expected to lead the citrus bioflavonoid market. Due to other properties that bioflavonoids exhibit, it is considered beneficial to the heart and brain, reducing the likelihood of asthma or cancer. Additionally, citrus bioflavonoids are used in a variety of alcoholic and instant drink products. As demand for packaged and easy-to-transport foods increases among consumers due to a busy lifestyle, citrus bioflavonoids lead the citrus bioflavonoid market as it is commonly used as a functional ingredient in many foods and beverages to increase nutritional value. Citrus bioflavonoids also protect the brain by preventing cell destruction in the nervous system, the leading cause of Parkinson's and Alzheimer's. Citrus bioflavonoids have a large and powerful effect on human health, enhance the immune system, improve the body's vitamin C levels, and the functional value of citrus bioflavonoid foods maintains a healthy heart and reduces the likelihood of related cardiovascular disease with kidneys. This helps improve brain function in adults. They have a large amount of fiber that improves digestive health. In addition to this, citrus bioflavonoids have anti-inflammatory and antioxidant properties, which help prevent cancer. The demand for these products in the food and beverage industry is increasing due to changes in lifestyle worldwide and the eating habits of consumers. The manufacturer's numerous health claims have certainly attracted consumers, and in recent years there have been numerous product launches in the supplement sector. The popularity among gymnastic athletes has increased the demand for this product many times over. These health claims for herbal products, including broccoli powder, are often pure, non-toxic, and the growing demand for food and beverages, which are considered to be of great benefit to health and beauty.
More publicity stemming from the research is acting as a driving force for the growth in demand for citrus bioflavonoids. This has led consumers to become increasingly interested in adult products, which do not harm consumer health and cause little harm. Growth in this market is expected to be driven by supply-side innovation backed by health and fitness people. As consumer awareness of health and supplements increases, the global citrus bioflavonoid market is expected to grow during the forecast period. Additionally, there was little to no risk associated with consuming this naturally derived food supplement, which led to high market demand. Additionally, in the citrus bioflavonoid market vary from herbal medicine companies to functional food companies to large companies, and the number of supplements currently offered in various types of markets is expected to increase significantly as well. Belief in herbal supplements and high capacity are other driving factors. Since consumers claim that products made with citrus bioflavonoids are safe and allergen-free, consumer curiosity about product quality and safety and propensity for natural products are the main factors driving the global citrus bioflavonoid market size.
Restraints:
Due to lack of FDA approval the market for citrus bioflavonoid is expected to limit the growth during the forecast period. Bioflavonoids are increasing visibility in dietary supplements and medications. It is struggling to introduce new functional food products and pharmaceuticals to companies in the citrus bioflavonoid market.
Impact of COVID 19 on the Citrus Bioflavonoids Market:
Citrus fruits are rich in vitamin C and maintain the proper functioning of the immune system. Citrus bioflavonoids are widely used in the food and beverage industry due to the high fiber content that maintains a healthy digestive system. The new corona virus easily affects people with weakened immune systems. Therefore, vitamin C-based products are a better option for boosting immunity. In addition to the food and beverage industry, citrus bioflavonoids are also used in pharmaceuticals and functional foods for the production of various dietary / health supplements. Due to the occurrence of COVID-19, industries around the world face great challenges. The complete shutdown, imposed by governments around the world to prevent the spread of the epidemic, has a negative impact on many companies' supply chains, and the citrus bioflavonoid industry is unaffected.
Citrus Bioflavonoids Market Segmentation Analysis:
The global citrus bioflavonoid market is classified by type, end-use, distribution channel, and region.
Depending on the type, the global citrus bioflavonoid market is classified as hesperidin, tengeretin, rutin, nobiletin, naringin, quercetin, diosmin and other citrus bioflavonoids, among which hesperidin has a market share of approximately 21.4%. There is value in 2020.
Based on end use, the global citrus bioflavonoid market is classified into dietary supplements, pharmaceutical and functional foods, cosmetics and personal care, food and beverages, and animal feed. Of these, the food and beverage sector hold the largest share in 2020 in terms of market value.
Depending on distribution channels, the globa; citrus bioflavonoid market is segmented into herb stores, online retailers, retailers, and supermarkets. As internet penetration in developing countries has increased, online sales of herbal supplements have also gained momentum and are expected to grow significantly in respected regions.
Geographical Segmentation Analysis:
North America - the United States and Canada

Europe - United Kingdom, Spain, Germany, Italy, and France

The Asia Pacific - India, Japan, China, Australia, Singapore, Malaysia, South Korea, New Zealand, and Southeast Asia

Latin America - Brazil, Argentina, Mexico, and Rest of LATAM

The Middle East and Africa - Africa and Middle East (Saudi Arabia, UAE, Lebanon, Jordan, Cyprus)
Regional Analysis:
Depending on the region, the citrus bioflavonoid market is divided into the following main regions: Asia Pacific, North America, Western and Eastern Europe, Latin America, the Middle East, and Africa. The main areas related to the citrus bioflavonoid market are: Europe and Japan. The highest approval of natural or organic food products which has natural ingredients are expected to improve the citrus bioflavonoid market growth in the North America which is followed by Japan during the forecast period. The high use of herbal extracts in countries such as Germany, the United Kingdom, France and other European countries is expected to support market growth in the region. Europe has a market share and is expected to continue to lead the world market during the forecast period. After Europe, North America has ranked second with a significant share of the citrus bioflavonoid market worldwide for the coming period.
Key Players in the Market:
Major Key Players in the Global Citrus Bioflavonoids Market are
NOW Foods

J & K Scientific Ltd

Solgar Inc

BOC Sciences

Santa Cruz Biotechnology Inc

Yakult Honsha Co., Ltd

Yaan Times Biotech

Hunan Sunfull Bio-tech Co., Ltd

MORRE-TEC Industries

Hunan Yuantong Pharmaceutical Co., Ltd

DestilacionesBordasChinchurreta SA

Natural Factors Inc

Organika Health Products Inc

Country Life LLC

Freeda Vitamins Inc

Grupo Ferrer Internacional
1. Introduction
1.1 Market Definition
1.2 Scope of the report
1.3 Study Assumptions
1.4 Base Currency, Base Year and Forecast Periods
2. Research Methodology
2.1 Analysis Design
2.2 Research Phases
2.2.1 Secondary Research
2.2.2 Primary Research
2.2.3 Data Modelling
2.2.4 Expert Validation
2.3 Study Timeline
3. Report Overview
3.1 Executive Summary
3.2 Key Inferencees
4. Market Dynamics
4.1 Impact Analysis
4.1.1 Drivers
4.1.2 Restaints
4.1.3 Opportunities
4.2 Regulatory Environment
4.3 Technology Timeline & Recent Trends
5. Competitor Benchmarking Analysis
5.1 Key Player Benchmarking
5.1.1 Market share analysis
5.1.2 Products/Service
5.1.3 Regional Presence
5.2 Mergers & Acquistion Landscape
5.3 Joint Ventures & Collaborations
6. Market Segmentation
6.1 Citrus Bioflavonoids Market, By Type
6.1.1 Tengeretin
6.1.2 Hesperidin
6.1.3 Rutin
6.1.4 Nobiletin
6.1.5 Quercetin
6.1.6 Diosmin
6.1.7 Naringin
6.1.8 Market Size Estimations & Forecasts (2022-2027)
6.1.9 Y-o-Y Growth Rate Analysis
6.1.10 Market Attractiveness Index
6.2 Citrus Bioflavonoids Market, By End-Use
6.2.1 Pharmaceutical and Functional Foods
6.2.2 Dietary Supplements
6.2.3 Food and Beverages
6.2.4 Cosmetics and Personal Care
6.2.5 Animal Feed
6.2.6 Market Size Estimations & Forecasts (2022-2027)
6.2.7 Y-o-Y Growth Rate Analysis
6.2.8 Market Attractiveness Index
6.3 Citrus Bioflavonoids Market, By Distribution Channel
6.3.1 Online Retail
6.3.2 Herbal Specialty Store
6.3.3 Retail
6.3.4 Supermarket
6.3.5 Market Size Estimations & Forecasts (2022-2027)
6.3.6 Y-o-Y Growth Rate Analysis
6.3.7 Market Attractiveness Index
7. Geographical Landscape
7.1 Global Identity Governance and Administration Market, by Region
7.2 North America - Market Analysis (2022-2027)
7.2.1 By Country
7.2.1.1 USA
7.2.1.2 Canada
7.2.2 By Type
7.2.3 By End-Use
7.2.4 By Distribution Channel
7.3 Europe
7.3.1 By Country
7.3.1.1 UK
7.3.1.2 France
7.3.1.3 Germany
7.3.1.4 Spain
7.3.1.5 Italy
7.3.1.6 Rest of Europe
7.3.2 By Type
7.3.3 By End-Use
7.3.4 By Distribution Channel
7.4 Asia Pacific
7.4.1 By Country
7.4.1.1 China
7.4.1.2 India
7.4.1.3 Japan
7.4.1.4 South Korea
7.4.1.5 South East Asia
7.4.1.6 Australia & NZ
7.4.1.7 Rest of Asia-Pacific
7.4.2 By Type
7.4.3 By End-Use
7.4.4 By Distribution Channel
7.5 Latin America
7.5.1 By Country
7.5.1.1 Brazil
7.5.1.2 Argentina
7.5.1.3 Mexico
7.5.1.4 Rest of Latin America
7.5.2 By Type
7.5.3 By End-Use
7.5.4 By Distribution Channel
7.6 Middle East and Africa
7.6.1 By Country
7.6.1.1 Middle East
7.6.1.2 Africa
7.6.2 By Type
7.6.3 By End-Use
7.6.4 By Distribution Channel
8. Key Player Analysis
8.1 NOW Foods
8.1.1 Business Description
8.1.2 Products/Service
8.1.3 Financials
8.1.4 SWOT Analysis
8.1.5 Recent Developments
8.1.6 Analyst Overview
8.2 J & K Scientific Ltd
8.3 Solgar Inc
8.4 BOC Sciences
8.5 Santa Cruz Biotechnology Inc
8.6 Yakult Honsha Co., Ltd
8.7 Hunan Sunfull Bio-tech Co., Ltd
8.8 MORRE-TEC Industries
8.9 Natural Factors Inc
8.10 Grupo Ferrer Internacional
9. Market Outlook & Investment Opportunities
Appendix
List of Tables
List of Figures
Global Citrus Bioflavonoids Market By Region, From 2022-2027 ( USD Billion )

Global Citrus Bioflavonoids Market By Type, From 2022-2027 ( USD Billion )

Global Tengeretin Market By Region, From 2022-2027 ( USD Billion )

Global Hesperidin Market By Region, From 2022-2027 ( USD Billion )

Global Rutin Market By Region, From 2022-2027 ( USD Billion )

Global Nobiletin Market By Region, From 2022-2027 ( USD Billion )

Global Quercetin Market By Region, From 2022-2027 ( USD Billion )

Global Diosmin Market By Region, From 2022-2027 ( USD Billion )

Global Naringin Market By Region, From 2022-2027 ( USD Billion )

Global Citrus Bioflavonoids Market By End-Use, From 2022-2027 ( USD Billion )

Global Pharmaceutical and Functional Foods Market By Region, From 2022-2027 ( USD Billion )

Global Dietary Supplements Market By Region, From 2022-2027 ( USD Billion )

Global Food and Beverages Market By Region, From 2022-2027 ( USD Billion )

Global Cosmetics and Personal Care Market By Region, From 2022-2027 ( USD Billion )

Global Animal Feed Market By Region, From 2022-2027 ( USD Billion )

Global Citrus Bioflavonoids Market By Distribution Channel, From 2022-2027 ( USD Billion )

Global Online Retail Market By Region, From 2022-2027 ( USD Billion )

Global Herbal Specialty Store Market By Region, From 2022-2027 ( USD Billion )

Global Retail Market By Region, From 2022-2027 ( USD Billion )

Global Supermarket Market By Region, From 2022-2027 ( USD Billion )