Cold Chain Market Size, Growth, Forecast (2023-2028)
The Global Cold Chain Market Size was worth USD 203 billion in 2022, and it is estimated that it will reach a valuation of USD 293 billion by the end of 2028, recording an annual growth rate of 7.6% between 2023 and 2028.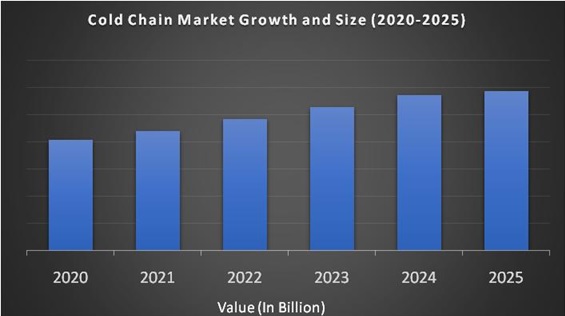 Market Overview:
The cold chain is a system used for the management and transportation of temperature-sensitive products through refrigeration methods and thermal packaging. There are several ways to transport refrigerated products, such as rail vehicles, refrigerated trucks, air cargo, and refrigerated ships. The cold chain is a technology that relies entirely on physical means to maintain adequate temperature conditions. The cold chain is also called the temperature control supply chain.
Recent Developments in Cold Chain Industry:
In January 2018, VersaCold, Canada opened a new distribution center in Milton, Ontario. The new center handles around 30 entries per day and 60 departures per day.

June 2018: Lineage Logistics acquired Wisconsin-based refrigeration provider Service Refrigeration (SCS). SCS has four portfolios of refrigerated rental warehouses in the Southeast strategic market.

December 2017: Americold added a new Clearfield plant by adding more than 9.5 million ft3 of temperature-controlled storage space, adding the total capacity of the campus to approximately 22 million ft3.

In December 2017, AGRO Merchants (USA) acquired Grocontinental Limited (UK), a provider of refrigeration and logistics services. The agreement strengthened AGRO's position as a leading provider of refrigeration and logistics in the UK and Ireland.
REPORT COVERAGE:
| | |
| --- | --- |
| REPORT METRIC | DETAILS |
| Market Size Available | 2022 – 2028 |
| Base Year | 2022 |
| Forecast Period | 2023 - 2028 |
| CAGR | 7.6% |
| Segments Covered | By Type, Temperature Type, Application and Region |
| Various Analyses Covered | Global, Regional & Country Level Analysis, Segment-Level Analysis, DROC, PESTLE Analysis, Porter's Five Forces Analysis, Competitive Landscape, Analyst Overview on Investment Opportunities |
| Regions Covered | North America, Europe, APAC, Latin America, Middle East & Africa |
| Market Leaders Profiled | Lineage Logistics, AGRO Merchant, Priority Freezer, ITC Ltd, Henningsen, Americold Logistics, Burris Logistics, Nichirei Logistics, Kloosterboer, VersaCold Logistics, Weekly Warehouse, Swire Refrigeration and Others. |
Cold Chain Market Growth:
Increased consumer demand for perishable food, growth in international trade due to trade liberalization, and expansion of the organized retail food industry are some of the factors driving the global cold chain market growth.
Drivers:
The global cold chain market is driven by numerous initiatives taken by governments around the world to develop a robust infrastructure. Furthermore, the need for transportation and refrigeration facilities and the increase in export and import activities have led large companies to invest heavily in the capital. This will have a positive impact on the development of the global cold chain market in the food industry. Furthermore, increasing disposable income and rapid urbanization worldwide have well supported the growth of the entire market. As the population grows worldwide, the demand for processed and convenience foods has increased, fueling the cold chain market in the food industry. The development of international trade in perishable foods will also have a positive impact on the global cold chain business.
Cold chain service providers aim to adopt state-of-the-art technology as the demand for food safety in convenience and processed foods increases. That is why cold chains are considered the best business opportunity for years to come, and numerous multinational providers are entering this market to provide better cold chain solutions. Therefore, the adoption of cutting-edge technology will enhance the overgrowth of the global cold chain market. The growing trend to buy perishables online has created new opportunities and challenges. These include innovative solutions to deliver the latest mileage, automated warehouses for inventory management and cost reduction per item, and advanced, low-cost temperature monitoring devices to keep food fresh.
Restraints:
However, the lack of funds and underdeveloped refrigeration infrastructure in many emerging economies has become a significant bottleneck in the worldwide cold chain market. Issues related to environmental problems due to greenhouse gas emissions are also estimated to challenge the growth of this market.
Cold Chain Market Segmentation Analysis:
By type, the cold chain market has been classified into storage, transportation and monitoring components. The growth of the storage sector is due to the increased preference for packaged foods worldwide. The demand for frozen food is increasing due to changes in consumer patterns and lifestyles. The need for storage solutions is supposed to grow in the coming years. Cold chain systems are essential for the supply of food, beverages and health care products.
Depending on the type of temperature, the frozen section is anticipated to dominate the market during the outlook period. Cold chains for chilled and frozen food often include no product interruption in a low-temperature environment during each stage of the value chain (for example, harvesting, harvesting, packaging, processing, storage, transportation and marketing) until reaching the end-user. The frozen sector occupied a relatively larger market share in 2018 and is supposed to continue this in the future, owing to aspects like extend shelf life from days to weeks due to large-scale cooling of food for preservation.
Depending on the application, the market was classified into fruits and vegetables, fruit pulp and concentrates, dairy products, meat and seafood, processed foods, bakery and confectionery, and pharmaceuticals. The processed food sector is presumed to show the highest growth during the projection period due to continued innovation in packaging materials. Advances in packaging materials extend the shelf life of food.
Cold Chain market Geographical Segmentation Analysis:
North America - the United States and Canada

Europe - United Kingdom, Spain, Germany, Italy, and France

The Asia Pacific - India, Japan, China, Australia, Singapore, Malaysia, South Korea, New Zealand, and Southeast Asia

Latin America - Brazil, Argentina, Mexico, and Rest of LATAM

The Middle East and Africa - Africa and Middle East (Saudi Arabia, UAE, Lebanon, Jordan, Cyprus)
Regional Analysis:
The North American cold chain market is likely to grow at the highest CAGR during the forecast period. Market growth is primarily due to the large consumer base and increased penetration of connected devices. The market offers excellent opportunities for new entrants. Europe is the second-largest cold chain market. The Asia Pacific cold chain market is foreseen to show significant growth during the prediction period due to increased agricultural production. The government must improve its logistics and warehousing infrastructure and strengthen its leadership and investment in the development of seafood storage, packaging and processing technology, which is an essential factor in improving the growth of the cold chain market in the Asia Pacific during the forecast period. Standard government guidelines for fresh food packaging, storage and transportation are expected to drive growth in the Latin American cold chain market during the estimated period. As frozen meat products increase in popularity and foreign direct investment increases, the cold chain market in the Middle East and Africa is growing.
Top Leading Company:
Henningsen Cold Storage is an international cold chain company that provides the necessary services such as warehouses, sole suppliers, transportation facilities, and transportation providers.
Key Players in the Market:
Major Key Players in the Global Cold Chain Market are
Lineage Logistics

AGRO Merchant

Priority Freezer

ITC Ltd

Henningsen

Americold Logistics

Burris Logistics

Nichirei Logistics

Kloosterboer

VersaCold Logistics

Weekly Warehouse

Swire Refrigeration