Cold Storage Market Growth and Forecast (2022-2027):
The global Cold Storage Market size was estimated to be USD 203 billion in 2021, and it is likely to reach a value of USD 293 billion by the end of 2027, rising at a CAGR of about 8% over the envisioned period. Government support for infrastructure development in several developing countries is driving the growth of this industry.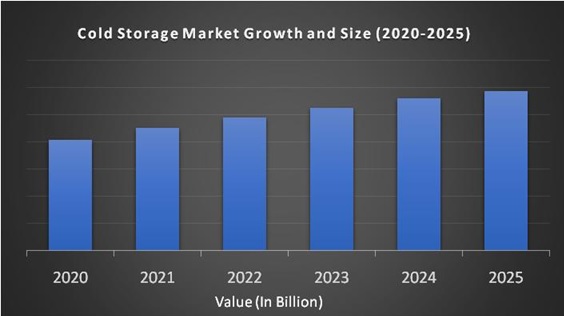 Market Overview:
Cold storage technology offers advantages like advanced refrigeration technology and maintaining and tracking systems for various products such as fruits and vegetables, greatly reducing the possibility of wastage of temperature-sensitive products. Globalization has shortened the distance between countries around the world, but the physical distance between these regions remains an important aspect of some freight transport. The longer the distance, the more is the chance that cargo can be damaged during transportation. Some products can be damaged like glass can be damaged by physical impact while other products are even affected by excessive temperature range. The cold storage is built by properly closing the space and keeping the temperature low by removing heat using refrigeration equipment. Most of the problems related to the fruit and vegetable industry, such as high marketing costs, over-market and price fluctuations, are caused by corruption. Keeping fruits and vegetables at low temperatures can significantly reduce spoilage, increasing the importance of refrigeration projects.
Recent Developments in Cold Storage Industry:
In January 2018, VersaColdstarted a new distribution facility in Milton, Ontario. This new facility handles almost 30 entries and 60 departures every day.

In December 2017, Americold Logistics added a new facility to the Utah Clearfield campus. This expansion helped increase the company's market leadership in northern Utah to more than 50% of its total temperature-controlled storage capacity.

The AGRO vendor acquired Grocontinental Limited, a provider of logistics and cold storage services, in December 2017. The deal will reinforce position of AGRO as a well-known refrigeration and logistics provider in the markets of the UK and Ireland.

In July 2017, AGRO merchants acquired the Polish transport service Logistyka.

In June 2017, Lineage Logistics acquired Partner Logistics, Europe's leading cold storage provider, to expand its existing service offerings.
REPORT COVERAGE:
| | |
| --- | --- |
| REPORT METRIC | DETAILS |
| Market Size Available | 2021 – 2027 |
| Base Year | 2021 |
| Forecast Period | 2022 - 2027 |
| CAGR | 8% |
| Segments Covered | By Construction Type, Temperature, Application, Warehouse Type and Region |
| Various Analyses Covered | Global, Regional & Country Level Analysis, Segment-Level Analysis, DROC, PESTLE Analysis, Porter's Five Forces Analysis, Competitive Landscape, Analyst Overview on Investment Opportunities |
| Regions Covered | North America, Europe, APAC, Latin America, Middle East & Africa |
| Market Leaders Profiled | Agro Merchants Group, Burris Logistics, Americold Logistics LLC, Wabash National Corporation, Preferred Freezer Services, Lineage Logistics Holding LLC, Nichirei Logistics Co., Ltd, Barloworld Limited, VersaCold Logistics Services, Henningsen Cold Storage, Nordic Logistics, United States Cold Storage and Others. |
Cold Storage Market Growth:
Increased demand for perishable foods among consumers, rise in international business due to trade liberalization, and expansion of the organized retail food industry are some of the factors driving the market growth.
Drivers:
The market has benefited significantly from strict regulations on the production and supply of temperature-sensitive products. The industry is preparing for unprecedented growth over the forecast period as the organized retail sector in emerging economies grows. Furthermore, as automation of refrigerated warehouses increases, demand is expected to increase further. Warehouse automation includes cloud technology, robots, conveyors, truckload automation, and energy management. Cold storage has become a crucial part of Supply Chain Management (SCM) during the transport of several temperature-sensitive products. The demand for cold storage solutions is also expected to increase in the coming years as the perishable goods transaction increases. Suppliers of various temperature-controlled packaging systems are working to decline the ecological impact of cold storage transport. At the same time, with increased awareness of formal Corporate Social Responsibility (CSR) policies, strict government regulations, and changing customer expectations, there is great difficulty in developing an adequate packaging system. Globalization has increased due to trade liberalization, advances in transportation infrastructure and telecommunications technology, and the growth of multinational companies in the retail industry. The rise in international trade for these perishable foods, such as dairy and frozen desserts, fruits and vegetables, meat, fish and seafood, bakery and confectionery products is promoting this business expansion. Export of food and agricultural products produced in locale and import of scarce food made virtually any fruit, vegetable, or processed food available in local supermarkets year-round.
Various forces are driving and improving the trend of perishable goods trade worldwide. The reduction of tariff and non-tariff barriers to international trade has led to rapid growth in the cross-border movement of perishable goods. Population growth and increased demand for medicines have created a demand for refrigeration equipment. Various medications, such as vaccines, insulin, and biotech products, require refrigeration for preservation. It is important to produce and supply chemicals to different industries, and the properties of these chemicals can change without maintaining the required temperature. Cold storage is important in some chemical industries, and manufacturers are installing cold storage equipment. Global companies are developing original solutions or take advantage of alternative energy sources to overcome these challenges in emerging markets. In addition, new vehicles, such as multi-purpose refrigerated containers, are being developed to overcome the lack of adequate transportation facilities. These solutions can provide access to international markets and provide opportunities for farmers and small businesses in your area.
Restraints:
High energy costs are increasing interest in cold storage providers. In cold storage facilities, traditional fluorescent lamps (lit throughout the year) are used because they must be used in cold storage facilities. This leads to energy loss and high cost. The lack of the necessary infrastructure to maintain cold storage has great challenges to expand the company in emerging markets. Additionally, the lack of electrical connections for refrigerated trailers in transportation hubs and ports can hinder market growth in this area.
Cold Storage Market Segmentation Analysis:
By Construction Type:
Bulk Storage

Production Stores

Ports
By Temperature:
By Application:
Processed Foods

Dairy Products

Fruits and Vegetables

Meat and Seafood

Pharmaceuticals
By Warehouse Type:
Public

Private

Semi-Private
Geographical Segmentation Analysis:
North America - the United States and Canada

Europe - United Kingdom, Spain, Germany, Italy, and France

The Asia Pacific - India, Japan, China, Australia, Singapore, Malaysia, South Korea, New Zealand, and Southeast Asia

Latin America - Brazil, Argentina, Mexico, and Rest of LATAM

The Middle East and Africa - Africa and Middle East (Saudi Arabia, UAE, Lebanon, Jordan, Cyprus)
Regional Analysis:
Based on the regional segmentation, the global cold storage market has been spread across North America, Middle East and Africa, Europe, Asia Pacific and South America. North America had the largest market share in 2018 and is expected to expand further from 2020 to 2025. The proliferation of connected devices is an important factor driving growth in the region along with the presence of a large consumer base. Mexico, in particular, is expected to grow exponentially in North America due to the strengthening of warehouse networks and increased investment in the development of logistics infrastructure. These are also used as the main factors that stimulate the demand for cold storage. In addition, economic growth in Mexico and changes in government regulations are assumed to accelerate demand in the coming years to streamline customs programs. Countries like China are turning to a consumer-centric economy. Therefore, they are presumed to witness significant growth in the coming years. Advances in warehouse management and refrigerated transportation combined with government subsidies to develop the cold storage industry have enabled service providers to take advantage of these emerging markets by leveraging innovative solutions to overcome transportation-related complexities.
Key Players in the Market:
Major Key Players in the Global Cold Storage Market are
Agro Merchants Group

Burris Logistics

Americold Logistics LLC

Wabash National Corporation

Preferred Freezer Services

Lineage Logistics Holding LLC

Nichirei Logistics Co., Ltd.

Barloworld Limited

VersaCold Logistics Services

Henningsen Cold Storage

Nordic Logistics

United States Cold Storage
1. Introduction
1.1 Market Definition
1.2 Scope of the report
1.3 Study Assumptions
1.4 Base Currency, Base Year and Forecast Periods
2. Research Methodology
2.1 Analysis Design
2.2 Research Phases
2.2.1 Secondary Research
2.2.2 Primary Research
2.2.3 Data Modelling
2.2.4 Expert Validation
2.3 Study Timeline
3. Report Overview
3.1 Executive Summary
3.2 Key Inferencees
4. Market Dynamics
4.1 Impact Analysis
4.1.1 Drivers
4.1.2 Restaints
4.1.3 Opportunities
4.2 Regulatory Environment
4.3 Technology Timeline & Recent Trends
5. Competitor Benchmarking Analysis
5.1 Key Player Benchmarking
5.1.1 Market share analysis
5.1.2 Products/Service
5.1.3 Regional Presence
5.2 Mergers & Acquistion Landscape
5.3 Joint Ventures & Collaborations
6. Market Segmentation
6.1 Cold Storage Market, By Construction Type
6.1.1 Bulk Storage
6.1.2 Production Stores
6.1.3 Ports
6.1.4 Market Size Estimations & Forecasts (2022-2027)
6.1.5 Y-o-Y Growth Rate Analysis
6.1.6 Market Attractiveness Index
6.2 Cold Storage Market, By Temperature
6.2.1 Chilled
6.2.2 Frozen
6.2.3 Market Size Estimations & Forecasts (2022-2027)
6.2.4 Y-o-Y Growth Rate Analysis
6.2.5 Market Attractiveness Index
6.3 Cold Storage Market, By Application
6.3.1 Processed Foods
6.3.2 Dairy Products
6.3.3 Fruits and Vegetables
6.3.4 Meat and Seafood
6.3.5 Pharmaceuticals
6.3.6 Market Size Estimations & Forecasts (2022-2027)
6.3.7 Y-o-Y Growth Rate Analysis
6.3.8 Market Attractiveness Index
6.4 Cold Storage Market, By Warehouse Type
6.4.1 Public
6.4.2 Private
6.4.3 Semi-Private
6.4.4 Market Size Estimations & Forecasts (2022-2027)
6.4.5 Y-o-Y Growth Rate Analysis
6.4.6 Market Attractiveness Index
7. Geographical Landscape
7.1 Global Identity Governance and Administration Market, by Region
7.2 North America - Market Analysis (2022-2027)
7.2.1 By Country
7.2.1.1 USA
7.2.1.2 Canada
7.2.2 By Construction Type
7.2.3 By Temperature
7.2.4 By Application
7.2.5 By Warehouse Type
7.3 Europe
7.3.1 By Country
7.3.1.1 UK
7.3.1.2 France
7.3.1.3 Germany
7.3.1.4 Spain
7.3.1.5 Italy
7.3.1.6 Rest of Europe
7.3.2 By Construction Type
7.3.3 By Temperature
7.3.4 By Application
7.3.5 By Warehouse Type
7.4 Asia Pacific
7.4.1 By Country
7.4.1.1 China
7.4.1.2 India
7.4.1.3 Japan
7.4.1.4 South Korea
7.4.1.5 South East Asia
7.4.1.6 Australia & NZ
7.4.1.7 Rest of Asia-Pacific
7.4.2 By Construction Type
7.4.3 By Temperature
7.4.4 By Application
7.4.5 By Warehouse Type
7.5 Latin America
7.5.1 By Country
7.5.1.1 Brazil
7.5.1.2 Argentina
7.5.1.3 Mexico
7.5.1.4 Rest of Latin America
7.5.2 By Construction Type
7.5.3 By Temperature
7.5.4 By Application
7.5.5 By Warehouse Type
7.6 Middle East and Africa
7.6.1 By Country
7.6.1.1 Middle East
7.6.1.2 Africa
7.6.2 By Construction Type
7.6.3 By Temperature
7.6.4 By Application
7.6.5 By Warehouse Type
8. Key Player Analysis
8.1 Cloverleaf Cold Storage
8.1.1 Business Description
8.1.2 Products/Service
8.1.3 Financials
8.1.4 SWOT Analysis
8.1.5 Recent Developments
8.1.6 Analyst Overview
8.2 Agro Merchants Group
8.3 Burris Logistics
8.4 Americold Logistics LLC
8.5 Wabash National Corporation
8.6 Lineage Logistics Holding LLC
8.7 Nichirei Logistics Co., Ltd
8.8 Barloworld Limited
8.9 VersaCold Logistics Services
8.10 Henningsen Cold Storage
8.11 Nordic Logistics
9. Market Outlook & Investment Opportunities
Appendix
List of Tables
List of Figures