Europe 5G services Market Size & Growth (2020 – 2025)
The size of the European 5G services market was estimated at US$ 0.1475 Billion in 2019 and is expected to reach US$ 31.26 billion by 2025, growing at an annual compound rate of 96.8% from 2019 to 2024. The fifth generation of mobile technology (5G technology) is an advanced technology that offers high data speed and connectivity in the rapidly evolving digital world. Mobile 5G seems to be the next big thing in the global ecosystem of digital connectivity
The European Commission is implementing various strategies and taking regulatory measures and has also invested US$ 16.64 billion to develop infrastructure for 5G broadband services. Features such as well-connected cities, private and public investment funds to build network infrastructure in the European region are promoting the growth and development of 5G technology. Therefore, the increasing prevalence of technology and the increase in mobile broadband services in Europe are an essential factor for the growth of 5G services in the region.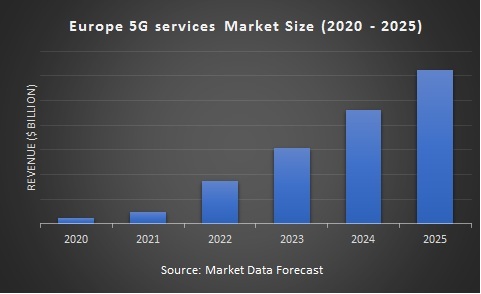 Recent developments:
European Commission created a Public-Private Partnership on 5G, which is a flagship project to increase the research and developments in the 5G technology. An action plan was developed by this initiative in 2016 to introduce 5G services in the whole Europe by the end of 2020.

In 2018, around 138 trials in the 5G network took place in over 35 cities in Europe. Of those, Spain, France, Germany, and Italy accounted for more than 40% of the activity performed.

In 2018, Elisa Oyj, a Finland-based telecom operator introduced Europe's first commercial 5G network. More deployments are expected from Vodafone, EE, Orange SA, and Deutsche Telekon AG by 2020. ()
Drivers and Restraints of Europe 5G Services Market:
Drivers:
Increasing digital traffic and the demand for uninterrupted connectivity

Advent of emerging technologies like artificial intelligence, M2M communication, Internet of Things, and others

Demand for sensors and actuators from autonomous vehicles and smart devices

Presence of automotive giants in the European region, such as Nissan, Volkswagen, Daimler and BMW
Limitations:
The cost involved in the implementation of network services

Intense market competition and stringent telecommunication regulations
This market research report is segmented and sub-segmented into the following categories:
By Vertical: Smart Cities, Connected Vehicles, Connected Factories, Smart Buildings, Smart Utilities, Connected Healthcare, and Broadband Services.
Broadband Services are anticipated to hold the dominant share in the regional market, owing to the growing penetration of the internet and the need for high-speed data connectivity. However, the Smart Cities segment is likely to witness the rapid growth rate in the foreseen period due to the increasing demand for smart traffic management and parking, water and waste management, public safety applications, and so on.
By Application: eMBB, mMTC and URLLC, and FWA.
The mMTC and URLLC segment is predicted to expand with the highest CAGR in the coming years, attributing to the need for latent-free connectivity in M2M connections like self-driving vehicles.
By Geography: Germany, UK, France, Italy, Denmark, Norway, Sweden, Finland, Switzerland, the Netherlands, Luxembourg, Iceland, and the rest of Europe.
All the nations in Europe are strengthening their current infrastructure to implement 5G services in the coming years.
Key Players:
Nokia Corporation, Samsung Electronics Co., Ltd., Cisco Systems, Inc., LG Electronics Inc., Huawei Investment & Holding Co., Ltd, Telefonaktiebolaget LM Ericsson, Verizon Communications, Inc., Qualcomm Inc., Intel Corporation, T-Mobile USA, Inc., AT&T and NEC Corporation.
Europe 5G Services Market TOC
Europe 5G Services Market By Vertical, From 2020-2025 ( USD Billion )

Europe Smart Cities Market By Region, From 2020-2025 ( USD Billion )

Europe Connected Vehicles Market By Region, From 2020-2025 ( USD Billion )

Europe Connected Factories Market By Region, From 2020-2025 ( USD Billion )

Europe Smart Buildings Market By Region, From 2020-2025 ( USD Billion )

Europe Smart Utilities Market By Region, From 2020-2025 ( USD Billion )

Europe Connected Healthcare Market By Region, From 2020-2025 ( USD Billion )

Europe Broadband Services Market By Region, From 2020-2025 ( USD Billion )

Europe 5G Services Market By Application, From 2020-2025 ( USD Billion )

Europe eMBB Market By Region, From 2020-2025 ( USD Billion )

Europe mMTC and URLLC Market By Region, From 2020-2025 ( USD Billion )

Europe FWA Market By Region, From 2020-2025 ( USD Billion )

U.K. 5G Services Market By Vertical, From 2020-2025 ( USD Billion )

U.K. 5G Services Market By Application, From 2020-2025 ( USD Billion )

Germany 5G Services Market By Vertical, From 2020-2025 ( USD Billion )

Germany 5G Services Market By Application, From 2020-2025 ( USD Billion )

France 5G Services Market By Vertical, From 2020-2025 ( USD Billion )

France 5G Services Market By Application, From 2020-2025 ( USD Billion )

Italy 5G Services Market By Vertical, From 2020-2025 ( USD Billion )

Italy 5G Services Market By Application, From 2020-2025 ( USD Billion )

Spain 5G Services Market By Vertical, From 2020-2025 ( USD Billion )

Spain 5G Services Market By Application, From 2020-2025 ( USD Billion )