Europe Kefir Market Size Analysis 2022 - 2027:
Europe Kefir Market size was worth USD x.x billion in 2020 and estimated to be growing at a CAGR of x.x%, to reach USD x.x Billion by the end of forecast period 2026. Kefir is a beneficial beverage made from fermented milk. Kefir is a functional beverage of Russian origin made by yeast/bacterial fermentation of milk. Kefir products have many nutrients like dietary minerals, vitamins, essential amino acids, and conjugated linoleic acid, in amounts similar to unfermented cow, goat or sheep milk. It is a probiotic drink, in addition to bacteria, kefir often contains strains of yeast that can metabolize lactose.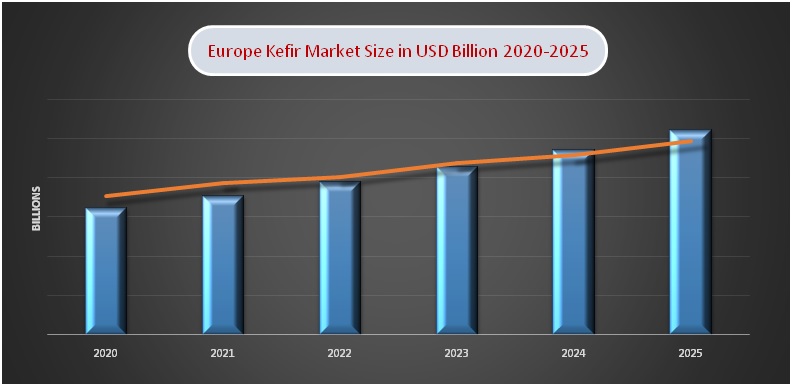 Europe Kefir Market Growth Factors:
Primary factors accounted for driving the market are increasing popularity for Kefir products and their nutritional and health benefits and increasing awareness in consumers regarding healthy diet and advantages of functional beverages and probiotic bacteria. However, expensive cost production and storage problems are the factors hindering the growth of kefir market.
Europe Kefir Market Detailed Segmentation Overview:
Europe Kefir Market is segmented based on Composition, Type, Flavour and Distribution Channel.
Based on Composition – Water Kefir and Milk Kefir.
Based on Type – Greek style, Frozen, Organic, Low fat and others.
Based on Flavour – Regular Kefir and Flavoured Kefir.
Based on Distribution Channel - Supermarkets, Convenience Stores, Grocery Stores, Online Retailers and others.
Milk Kefir holds the major share in the market due to its additional nutritional benefits as it is prepared from milk. Greek type Kefir holds the major share in the market based on type. Flavoured Kefir holds the major share in terms of flavour while Regular Kefir is expected to grow the fastest due to increasing number of individuals opting for natural and unflavoured Kefir.
Kefir Market Regional Share Analysis:
Based on Geographical analysis the market is separated into regions of U.K., Germany, France, Italy and Spain. U.K. is leading the market regionally, due to presence of market leaders and increasing popularity regarding the health benefits of Kefir among individuals. Germany is expected to grow the fastest owing to its increasing disposable income and increasing adoption rate of functional beverages.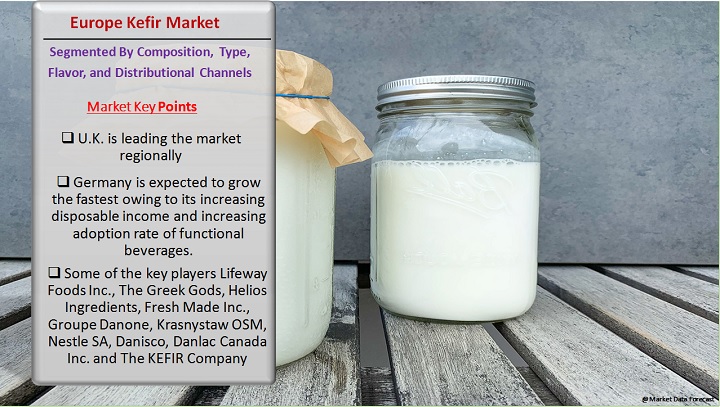 Major Players Covered in the Europe Kefir Market report are:
Some of the key players dominating this market include Lifeway Foods Inc., The Greek Gods, Helios Ingredients, Fresh Made Inc., Groupe Danone, Krasnystaw OSM, Nestle SA, Danisco, Danlac Canada Inc. and The KEFIR Company.