Kefir Market Size, and Growth Rate Analysis:
Kefir Market size was estimated at USD 1.30 billion in 2019 and is expected to reach USD 2.89 billion by the end of the assessment period. The kefir Market is supposed to experience moderate growth to record a CAGR of 6.07% throughout the forecast period 2021-2026.
Kefir is a dairy product that is grown in a unique way and is considered primarily as a rich source of probiotic foods. It is a combination of fermented milk, which has a slightly sour taste. Kefir is believed to have medicinal properties because it helps heal leaky intestines. The word kefir is derived from the Turkish word "keif" which means "good feeling". Kefir tastes like drinking yogurt made from fermented dairy products. It can be prepared with goat, sheep or cow milk. Kefir contains the right amount of calcium, biotin, vitamin B12, magnesium, folic acid, vitamin K2, probiotics and enzymes. Since kefir does not have an appropriate standardized nutritional content, the value of ingredients can be determined according to the region where it is produced, cows and crops. Kefir is loaded with Bifidobacterium Bifidum and Lactobacillus acidophilus, and it also provides a good amount of beneficial yeast and lactic acid bacteria. Kefir is rich in nutrients and a beneficial microbiota, which is determined to increase its market demand and consumption during the forecast period.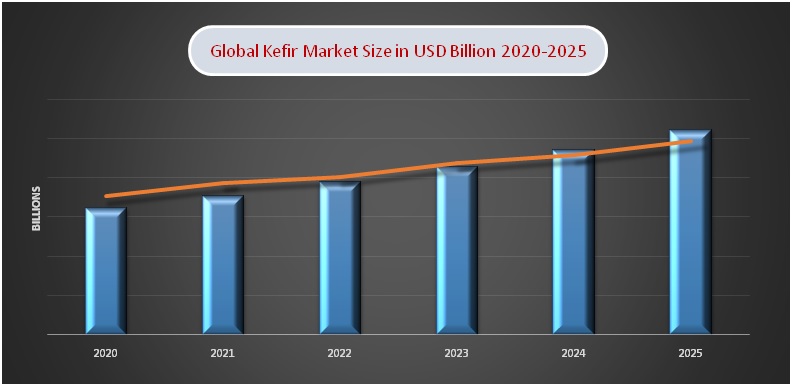 Primary factors accounted for driving the market are increasing popularity for Kefir products and their nutritional and health benefits and increasing awareness in consumers regarding healthy diet and advantages of functional beverages and probiotic bacteria. However, expensive cost production and storage problems are the factors hindering the growth of the market.
Kefir Market Growth Drivers and Restraints:
The global kefir market is stimulated by the increasing popularity of kefir among lactose-intolerant consumers due to its low lactose content. Kefir contains many beneficial bacteria that aid in the digestion of lactose. It should be a better option than yogurt for the lactose intolerant population. Although yogurt and kefir are a good source of calcium and protein, kefir also contains a broader range of bacteria that stimulate digestion. Kefir is a rich source of probiotics that should act as a growth factor for the market. Probiotics aid digestion with other potential benefits, such as improving immunity and intestinal health, preventing obesity, and controlling weight. Increased awareness of the health benefits associated with kefir and increased spending on health-promoting foods are expected to drive the global kefir market in the coming years.
The excellent taste and availability of various flavors of the product may be another important reason that should increase the popularity and consumption of kefir among consumers. Increased investment in research and development by leading companies is expected to be a growth engine for this market. For example, in August 2018, DuPont de Nemours, Inc. introduced a new culture of kefir for the South American market. The high upfront investment and storage costs associated with kefir production are supposed to slow market growth. High storage and preservation costs are linked to the high price of the final product, which should make it difficult for consumers to accept the product in developing regions.
Kefir Market Recent Developments:
In February 2020, Tesco predicted that kefir would become a top 2020 food trend after sales have "dramatically exploded" in the past year. The British retailer said demand for kefir, a yogurt-like drink containing gut bacteria, has grown 400% in the past 18 months. Kefir is a centuries-old product made from milk and live crops, rich in protein and calcium.

Lifeway Foods Inc., the leading provider of drinking yogurt kefir, is expected to announce the acquisition of its largest competitor in yogurt consumption. The Morton Grove Company, which has signed distribution agreements with Target Stores Inc., Wal-Mart Stores Inc. and Costco for the past year, acquires Helios Nutrition Ltd. and its dairy Sauk Center, Minn., Which it claims to be the latest dairy local in Minnesota.
Global Kefir Market is Segmented and Sub-segmented as following below:
Based on Composition:
Based on Type:
Greek Type Kefir

Frozen Kefir

Organic Kefir

Low fat Kefir

Others
Based on Flavour:
Regular Kefir

Flavoured Kefir
Based on Distribution Channel:
Supermarkets/Hypermarkets

Convenience Stores

Grocery Stores

Online Retailers

Others
Geographical Classification of the Market:
North America

Europe

Asia Pacific

Latin America

Middle East and Africa

Rest of the World
Global Kefir Market Share Insights by Regionally:
In terms of revenue, Europe kefir market maintained a dominant position in the global market in 2018, accounting for more than 45% of the market share, and should remain dominant throughout the outlook period. This is mainly due to its wide range of applications in various food products, such as sauces, sauces, and ice cream. Furthermore, kefir is highly preferable for obese and gastric patients, as it improves metabolism and softens the stool.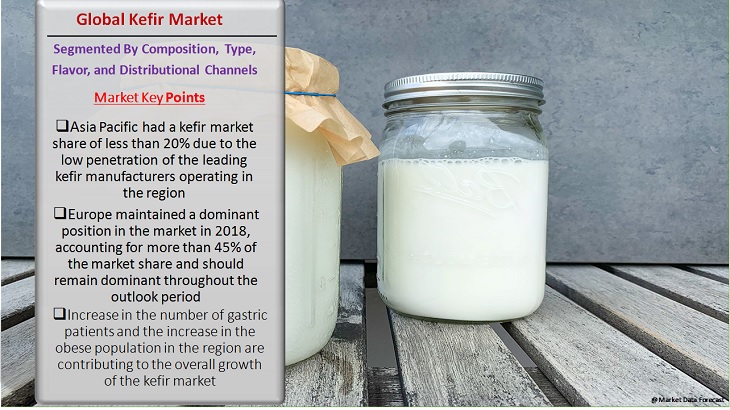 Furthermore, the increase in the number of gastric patients and the increase in the obese population in the region are contributing to the overall growth of the kefir market. According to the World Health Organization (WHO), in 2017, obesity or being overweight is considered the leading cause of around 2.8 million deaths every year worldwide. Furthermore, obesity in Europe has increased considerably in recent years. In 2016, about 30% of the total population in England was obese, most of them belonging to the age group of 55 years or older. Furthermore, the United Kingdom ranks higher in terms of obesity compared to France and Germany, with a share of 27.3%, while Germany represents 24.6% and France 17.5%. Moreover, the UK registered around 6,980 cases of stomach cancer in 2016, which prevailed mainly among the male population. Increasing cases of stomach and stomach cancer should increase the demand for kefir, as it is very effective against gastritis and gastric ulcers. This, in turn, should drive market growth in the near future.
The Asia Pacific had a kefir market share of less than 20% due to the low penetration of the leading kefir manufacturers operating in the region, resulting in low availability. Furthermore, kefir is positioned as a substitute for dairy products, such as processed cheese, butter, cottage cheese and clarified butter, but the region's population is more inclined to consume these products than kefir. This, in turn, slows the growth of the kefir market in the area. However, this trend is anticipated to change in the future due to the growing awareness of the benefits associated with kefir, such as anti-cancer, anti-allergic and many other properties. Furthermore, the changing consumption patterns of the population in this region and the increasing trend towards healthier food consumption, which is mostly influenced by Western culture, should pave the way for kefir in the near future.
In 2017, the overweight and obese population in Asia-Pacific reached 1 billion, prompting the region to spend more than $ 160 billion on health care. This factor should pave the way for kefir in the area. Furthermore, the strengthening of the economic situation in countries such as India, China, and Japan, among others, should encourage the leading manufacturers operating in this field to penetrate these markets to obtain better investment opportunities and respond to a broader clientele. In addition, the Asia-Pacific is foreseen to present a higher growth rate for the kefir market compared to other regions during the prediction period.
Impact of COVID-19 on Kefir Market:
Several companies in the food & beverage sector along with associated industries had witnessed deep impact due to the outbreak of COVID-19 pandemic. Social isolation, self-isolation, and the closure of the entire city have forced many facilities to be closed in countries in Asia, the United States, Europe, and the rest of the world. In the United Kingdom, the United States and Australia, supermarket chains have started to apply new rules to limit panic purchases, while suppliers and factory workers have implemented health and safety measures additional security to ensure consumer safety. Under immense pressure from consumers who stock products, empty shelves are becoming common in supermarkets and hypermarket chains around the world. Household items like toilet paper, hand washing, canned goods, and frozen foods have been the hardest hit, but as the situation changes, individual chains have begun to change their business models. Elsewhere to meet increased demand, some supermarkets are relocating staff to assist in food sales operations. And in the United States, retailers like Kroger, Cost, and Safeway are hiring store staff and delivery drivers to ease the burden.
Top Leading Key Players Listed below are:
Lifeway Foods Inc

The Greek Gods

Helios Ingredients

Fresh Made Inc

Groupe Danone

Krasnystaw OSM

Nestle SA

Danisco

Danlac Canada Inc

The KEFIR Company
Study Objectives of Kefir Market:
In-depth analysis of macro and micro markets.

To evaluation of market size by Product Segmentation.

To comprehend the demand and supply dynamics as well as supply and consumption concentration representing.

To deliver regional level market analysis and future outlook for classified regions like North America, Asia Pacific, Europe, the Middle East and Africa, and the Rest of the World (ROW) and their countries.

Competitive landscaping valuing key player's strategies taken by top market players in the market.

Company outlining of major players mentioned in the market.

Supply chain analysis and value chain analysis

Study of historical market trends, and new technologies, and present government regulatory requirements.
1.Introduction
1.1 Market Definition
1.2 Study Deliverables
1.3 Base Currency, Base Year and Forecast Periods
1.4 General Study Assumptions
2. Research Methodology
2.1 Introduction
2.2 Research Phases
2.2.1 Secondary Research
2.2.2 Primary Research
2.2.3 Econometric Modelling
2.2.4 Expert Validation
2.3 Analysis Design
2.4 Study Timeline
3. Overview
3.1 Executive Summary
3.2 Key Inferences
3.3 Epidemology
4. Drivers, Restraints, Opportunities, and Challenges Analysis (DROC)
4.1 Market Drivers
4.2 Market Restraints
4.3 Key Challenges
4.4 Current Opportunities in the Market
5. Market Segmentation
5.1 Composition
5.1.1 Introduction
5.1.2 Water Kefir
5.1.3 Milk Kefir
5.1.4 Y-o-Y Growth Analysis, By Composition
5.1.5 Market Attractiveness Analysis, By Composition
5.1.6 Market Share Analysis, By Composition
5.2 Type
5.2.1 Introduction
5.2.2 Greek Type Kefir
5.2.3 Frozen Kefir
5.2.4 Organic Kefir
5.2.5 Low fat Kefir
5.2.6 Others
5.2.7 Y-o-Y Growth Analysis, By Type
5.2.8 Market Attractiveness Analysis, By Type
5.2.9 Market Share Analysis, By Type
5.3 Flavour
5.3.1 Introduction
5.3.2 Regular Kefir
5.3.3 Flavoured Kefir
5.3.4 Y-o-Y Growth Analysis, By Flavour
5.3.5 Market Attractiveness Analysis, By Flavour
5.3.6 Market Share Analysis, By Flavour
5.4 Distribution Channel
5.4.1 Introduction
5.4.2 Supermarkets/Hypermarkets
5.4.3 Convenience Stores
5.4.4 Grocery Stores
5.4.5 Online Retailers
5.4.6 Others
5.4.7 Y-o-Y Growth Analysis, By Distribution Channel
5.4.8 Market Attractiveness Analysis, By Distribution Channel
5.4.9 Market Share Analysis, By Distribution Channel
6. Geographical Analysis
6.1 Introduction
6.1.1 Regional Trends
6.1.2 Impact Analysis
6.1.3 Y-o-Y Growth Analysis
6.1.3.1 By Geographical Area
6.1.3.2 By Composition
6.1.3.3 By Type
6.1.3.4 By Flavour
6.1.3.5 By Distribution Channel
6.1.4 Market Attractiveness Analysis
6.1.4.1 By Geographical Area
6.1.4.2 By Composition
6.1.4.3 By Type
6.1.4.4 By Flavour
6.1.4.5 By Distribution Channel
6.1.5 Market Share Analysis
6.1.5.1 By Geographical Area
6.1.5.2 By Composition
6.1.5.3 By Type
6.1.5.4 By Flavour
6.1.5.5 By Distribution Channel
6.2 North America
6.1.1 Introduction
6.1.2 United States
6.1.3 Canada
6.3 Europe
6.2.1 Introduction
6.2.2 U.K
6.2.3 Spain
6.2.4 Germany
6.2.5 Italy
6.2.6 France
6.4 Asia-Pacific
6.3.1 Introduction
6.3.2 China
6.3.3 India
6.3.4 Japan
6.3.5 Australia
6.3.6 South Korea
6.5 Latin America
6.4.1 Introduction
6.4.2 Brazil
6.4.3 Argentina
6.4.4 Mexico
6.4.5 Rest of Latin America
6.6 Middle East & Africa
6.5.1 Introduction
6.5.2 Middle-East
6.5.3 Africa
7.Strategic Analysis
7.1 PESTLE analysis
7.1.1 Political
7.1.2 Economic
7.1.3 Social
7.1.4 Technological
7.1.5 Legal
7.1.6 Environmental
7.2 Porter's Five analysis
7.2.1 Bargaining Power of Suppliers
7.2.2 Bargaining Power of Consumers
7.2.3 Threat of New Entrants
7.2.4 Threat of Substitute Products and Services
7.2.5 Competitive Rivalry within the Industry
8.Market Leaders' Analysis
8.1 Lifeway Foods Inc.
8.1.1 Overview
8.1.2 Composition Analysis
8.1.3 Financial analysis
8.1.4 Recent Developments
8.1.5 SWOT analysis
8.1.6 Analyst View
8.2 The Greek Gods
8.3 Helios Ingredients
8.4 Fresh Made Inc.
8.5 Groupe Danone
8.6 Krasnystaw OSM
8.7 Nestle SA
8.8 Danisco
8.9 Danlac Canada Inc.
8.10 The KEFIR Company
9.Competitive Landscape
9.1 Market share analysis
9.2 Merger and Acquisition Analysis
9.3 Agreements, collaborations and Joint Ventures
9.4 New Product Launches
10.Market Outlook and Investment Opportunities
Appendix
a) List of Tables
b) List of Figures
Global and country-level analysis

and forecasts of the study market; providing Insights on the major countries/regions in which this industry is blooming and to also identify the regions that are still untapped

Segment-level analysis

in terms of Flavors, by Region along with market size forecasts and estimations to detect key areas of industry growth in detail

Identification of key drivers, restraints, opportunities, and challenges (DROC) in the market and their impact on shifting market dynamics
Study of the effect of exogenous and endogenous factors that affect the global market; which includes broadly demographic, economics, and political, among other macro-environmental factors presented in an extensive PESTLE Analysis
Study the micro environment factors that determine the overall profitability of an Industry, using Porter's five forces analysis for analysing the level of competition and business strategy development
A comprehensive list of key market players along with their product portfolio, current strategic interests, key financial information, legal issues, SWOT analysis and analyst overview to study and sustain the market environment

Competitive landscape analysis

listing out the mergers, acquisitions, collaborations in the field along with new product launches, comparative financial studies and recent developments in the market by the major companies

An executive summary, abridging the entire report in such a way that decision-making personnel can rapidly become acquainted with background information, concise analysis and main conclusions
Expertly devised analyst overview along with Investment opportunities to provide both individuals and organizations a strong financial foothold in the market
Global Kefir Market By Region, From 2021-2026 ( USD Million )

Global Kefir Market By Composition, From 2021-2026 ( USD Million )

Global Water Kefir Market By Region, From 2021-2026 ( USD Million )

Global Milk Kefir Market By Region, From 2021-2026 ( USD Million )

Global Kefir Market By Type, From 2021-2026 ( USD Million )

Global Greek style Kefir Market By Region, From 2021-2026 ( USD Million )

Global Frozen Kefir Market By Region, From 2021-2026 ( USD Million )

Global Organic Kefir Market By Region, From 2021-2026 ( USD Million )

Global Low fat Kefir Market By Region, From 2021-2026 ( USD Million )

Global Others Market By Region, From 2021-2026 ( USD Million )

Global Kefir Market By Flavour, From 2021-2026 ( USD Million )

Global Regular Kefir Market By Region, From 2021-2026 ( USD Million )

Global Flavoured Kefir Market By Region, From 2021-2026 ( USD Million )

Global Kefir Market By Distribution Channel, From 2021-2026 ( USD Million )

Global Supermarkets/Hypermarkets Market By Region, From 2021-2026 ( USD Million )

Global Convenience Stores Market By Region, From 2021-2026 ( USD Million )

Global Grocery Stores Market By Region, From 2021-2026 ( USD Million )

Global Online Retailers Market By Region, From 2021-2026 ( USD Million )

Global Others Market By Region, From 2021-2026 ( USD Million )

North America Kefir Market By Composition, From 2021-2026 ( USD Million )

North America Water Kefir Market By Region, From 2021-2026 ( USD Million )

North America Milk Kefir Market By Region, From 2021-2026 ( USD Million )

North America Kefir Market By Type, From 2021-2026 ( USD Million )

North America Greek style Kefir Market By Region, From 2021-2026 ( USD Million )

North America Frozen Kefir Market By Region, From 2021-2026 ( USD Million )

North America Organic Kefir Market By Region, From 2021-2026 ( USD Million )

North America Low fat Kefir Market By Region, From 2021-2026 ( USD Million )

North America Others Market By Region, From 2021-2026 ( USD Million )

North America Kefir Market By Flavour, From 2021-2026 ( USD Million )

North America Regular Kefir Market By Region, From 2021-2026 ( USD Million )

North America Flavoured Kefir Market By Region, From 2021-2026 ( USD Million )

North America Kefir Market By Distribution Channel, From 2021-2026 ( USD Million )

North America Supermarkets/Hypermarkets Market By Region, From 2021-2026 ( USD Million )

North America Convenience Stores Market By Region, From 2021-2026 ( USD Million )

North America Grocery Stores Market By Region, From 2021-2026 ( USD Million )

North America Online Retailers Market By Region, From 2021-2026 ( USD Million )

North America Others Market By Region, From 2021-2026 ( USD Million )

United States Kefir Market By Composition, From 2021-2026 ( USD Million )

United States Kefir Market By Type, From 2021-2026 ( USD Million )

United States Kefir Market By Flavour, From 2021-2026 ( USD Million )

United States Kefir Market By Distribution Channel, From 2021-2026 ( USD Million )

Canada Kefir Market By Composition, From 2021-2026 ( USD Million )

Canada Kefir Market By Type, From 2021-2026 ( USD Million )

Canada Kefir Market By Flavour, From 2021-2026 ( USD Million )

Canada Kefir Market By Distribution Channel, From 2021-2026 ( USD Million )

Europe Kefir Market By Composition, From 2021-2026 ( USD Million )

Europe Water Kefir Market By Region, From 2021-2026 ( USD Million )

Europe Milk Kefir Market By Region, From 2021-2026 ( USD Million )

Europe Kefir Market By Type, From 2021-2026 ( USD Million )

Europe Greek style Kefir Market By Region, From 2021-2026 ( USD Million )

Europe Frozen Kefir Market By Region, From 2021-2026 ( USD Million )

Europe Organic Kefir Market By Region, From 2021-2026 ( USD Million )

Europe Low fat Kefir Market By Region, From 2021-2026 ( USD Million )

Europe Others Market By Region, From 2021-2026 ( USD Million )

Europe Kefir Market By Flavour, From 2021-2026 ( USD Million )

Europe Regular Kefir Market By Region, From 2021-2026 ( USD Million )

Europe Flavoured Kefir Market By Region, From 2021-2026 ( USD Million )

Europe Kefir Market By Distribution Channel, From 2021-2026 ( USD Million )

Europe Supermarkets/Hypermarkets Market By Region, From 2021-2026 ( USD Million )

Europe Convenience Stores Market By Region, From 2021-2026 ( USD Million )

Europe Grocery Stores Market By Region, From 2021-2026 ( USD Million )

Europe Online Retailers Market By Region, From 2021-2026 ( USD Million )

Europe Others Market By Region, From 2021-2026 ( USD Million )

U.K. Kefir Market By Composition, From 2021-2026 ( USD Million )

U.K. Kefir Market By Type, From 2021-2026 ( USD Million )

U.K. Kefir Market By Flavour, From 2021-2026 ( USD Million )

U.K. Kefir Market By Distribution Channel, From 2021-2026 ( USD Million )

Germany Kefir Market By Composition, From 2021-2026 ( USD Million )

Germany Kefir Market By Type, From 2021-2026 ( USD Million )

Germany Kefir Market By Flavour, From 2021-2026 ( USD Million )

Germany Kefir Market By Distribution Channel, From 2021-2026 ( USD Million )

France Kefir Market By Composition, From 2021-2026 ( USD Million )

France Kefir Market By Type, From 2021-2026 ( USD Million )

France Kefir Market By Flavour, From 2021-2026 ( USD Million )

France Kefir Market By Distribution Channel, From 2021-2026 ( USD Million )

Italy Kefir Market By Composition, From 2021-2026 ( USD Million )

Italy Kefir Market By Type, From 2021-2026 ( USD Million )

Italy Kefir Market By Flavour, From 2021-2026 ( USD Million )

Italy Kefir Market By Distribution Channel, From 2021-2026 ( USD Million )

Spain Kefir Market By Composition, From 2021-2026 ( USD Million )

Spain Kefir Market By Type, From 2021-2026 ( USD Million )

Spain Kefir Market By Flavour, From 2021-2026 ( USD Million )

Spain Kefir Market By Distribution Channel, From 2021-2026 ( USD Million )

Asia-Pacific Kefir Market By Composition, From 2021-2026 ( USD Million )

Asia-Pacific Water Kefir Market By Region, From 2021-2026 ( USD Million )

Asia-Pacific Milk Kefir Market By Region, From 2021-2026 ( USD Million )

Asia-Pacific Kefir Market By Type, From 2021-2026 ( USD Million )

Asia-Pacific Greek style Kefir Market By Region, From 2021-2026 ( USD Million )

Asia-Pacific Frozen Kefir Market By Region, From 2021-2026 ( USD Million )

Asia-Pacific Organic Kefir Market By Region, From 2021-2026 ( USD Million )

Asia-Pacific Low fat Kefir Market By Region, From 2021-2026 ( USD Million )

Asia-Pacific Others Market By Region, From 2021-2026 ( USD Million )

Asia-Pacific Kefir Market By Flavour, From 2021-2026 ( USD Million )

Asia-Pacific Regular Kefir Market By Region, From 2021-2026 ( USD Million )

Asia-Pacific Flavoured Kefir Market By Region, From 2021-2026 ( USD Million )

Asia-Pacific Kefir Market By Distribution Channel, From 2021-2026 ( USD Million )

Asia-Pacific Supermarkets/Hypermarkets Market By Region, From 2021-2026 ( USD Million )

Asia-Pacific Convenience Stores Market By Region, From 2021-2026 ( USD Million )

Asia-Pacific Grocery Stores Market By Region, From 2021-2026 ( USD Million )

Asia-Pacific Online Retailers Market By Region, From 2021-2026 ( USD Million )

Asia-Pacific Others Market By Region, From 2021-2026 ( USD Million )

Japan Kefir Market By Composition, From 2021-2026 ( USD Million )

Japan Kefir Market By Type, From 2021-2026 ( USD Million )

Japan Kefir Market By Flavour, From 2021-2026 ( USD Million )

Japan Kefir Market By Distribution Channel, From 2021-2026 ( USD Million )

China Kefir Market By Composition, From 2021-2026 ( USD Million )

China Kefir Market By Type, From 2021-2026 ( USD Million )

China Kefir Market By Flavour, From 2021-2026 ( USD Million )

China Kefir Market By Distribution Channel, From 2021-2026 ( USD Million )

India Kefir Market By Composition, From 2021-2026 ( USD Million )

India Kefir Market By Type, From 2021-2026 ( USD Million )

India Kefir Market By Flavour, From 2021-2026 ( USD Million )

India Kefir Market By Distribution Channel, From 2021-2026 ( USD Million )

Australia Kefir Market By Composition, From 2021-2026 ( USD Million )

Australia Kefir Market By Type, From 2021-2026 ( USD Million )

Australia Kefir Market By Flavour, From 2021-2026 ( USD Million )

Australia Kefir Market By Distribution Channel, From 2021-2026 ( USD Million )

South Korea Kefir Market By Composition, From 2021-2026 ( USD Million )

South Korea Kefir Market By Type, From 2021-2026 ( USD Million )

South Korea Kefir Market By Flavour, From 2021-2026 ( USD Million )

South Korea Kefir Market By Distribution Channel, From 2021-2026 ( USD Million )

Latin America Kefir Market By Composition, From 2021-2026 ( USD Million )

Latin America Water Kefir Market By Region, From 2021-2026 ( USD Million )

Latin America Milk Kefir Market By Region, From 2021-2026 ( USD Million )

Latin America Kefir Market By Type, From 2021-2026 ( USD Million )

Latin America Greek style Kefir Market By Region, From 2021-2026 ( USD Million )

Latin America Frozen Kefir Market By Region, From 2021-2026 ( USD Million )

Latin America Organic Kefir Market By Region, From 2021-2026 ( USD Million )

Latin America Low fat Kefir Market By Region, From 2021-2026 ( USD Million )

Latin America Others Market By Region, From 2021-2026 ( USD Million )

Latin America Kefir Market By Flavour, From 2021-2026 ( USD Million )

Latin America Regular Kefir Market By Region, From 2021-2026 ( USD Million )

Latin America Flavoured Kefir Market By Region, From 2021-2026 ( USD Million )

Latin America Kefir Market By Distribution Channel, From 2021-2026 ( USD Million )

Latin America Supermarkets/Hypermarkets Market By Region, From 2021-2026 ( USD Million )

Latin America Convenience Stores Market By Region, From 2021-2026 ( USD Million )

Latin America Grocery Stores Market By Region, From 2021-2026 ( USD Million )

Latin America Online Retailers Market By Region, From 2021-2026 ( USD Million )

Latin America Others Market By Region, From 2021-2026 ( USD Million )

Brazil Kefir Market By Composition, From 2021-2026 ( USD Million )

Brazil Kefir Market By Type, From 2021-2026 ( USD Million )

Brazil Kefir Market By Flavour, From 2021-2026 ( USD Million )

Brazil Kefir Market By Distribution Channel, From 2021-2026 ( USD Million )

Argentina Kefir Market By Composition, From 2021-2026 ( USD Million )

Argentina Kefir Market By Type, From 2021-2026 ( USD Million )

Argentina Kefir Market By Flavour, From 2021-2026 ( USD Million )

Argentina Kefir Market By Distribution Channel, From 2021-2026 ( USD Million )

Mexico Kefir Market By Composition, From 2021-2026 ( USD Million )

Mexico Kefir Market By Type, From 2021-2026 ( USD Million )

Mexico Kefir Market By Flavour, From 2021-2026 ( USD Million )

Mexico Kefir Market By Distribution Channel, From 2021-2026 ( USD Million )

Rest of Latin America Kefir Market By Composition, From 2021-2026 ( USD Million )

Rest of Latin America Kefir Market By Type, From 2021-2026 ( USD Million )

Rest of Latin America Kefir Market By Flavour, From 2021-2026 ( USD Million )

Rest of Latin America Kefir Market By Distribution Channel, From 2021-2026 ( USD Million )

Middle East & Africa Kefir Market By Composition, From 2021-2026 ( USD Million )

Middle East & Africa Water Kefir Market By Region, From 2021-2026 ( USD Million )

Middle East & Africa Milk Kefir Market By Region, From 2021-2026 ( USD Million )

Middle East & Africa Kefir Market By Type, From 2021-2026 ( USD Million )

Middle East & Africa Greek style Kefir Market By Region, From 2021-2026 ( USD Million )

Middle East & Africa Frozen Kefir Market By Region, From 2021-2026 ( USD Million )

Middle East & Africa Organic Kefir Market By Region, From 2021-2026 ( USD Million )

Middle East & Africa Low fat Kefir Market By Region, From 2021-2026 ( USD Million )

Middle East & Africa Others Market By Region, From 2021-2026 ( USD Million )

Middle East & Africa Kefir Market By Flavour, From 2021-2026 ( USD Million )

Middle East & Africa Regular Kefir Market By Region, From 2021-2026 ( USD Million )

Middle East & Africa Flavoured Kefir Market By Region, From 2021-2026 ( USD Million )

Middle East & Africa Kefir Market By Distribution Channel, From 2021-2026 ( USD Million )

Middle East & Africa Supermarkets/Hypermarkets Market By Region, From 2021-2026 ( USD Million )

Middle East & Africa Convenience Stores Market By Region, From 2021-2026 ( USD Million )

Middle East & Africa Grocery Stores Market By Region, From 2021-2026 ( USD Million )

Middle East & Africa Online Retailers Market By Region, From 2021-2026 ( USD Million )

Middle East & Africa Others Market By Region, From 2021-2026 ( USD Million )

Middle East Kefir Market By Composition, From 2021-2026 ( USD Million )

Middle East Kefir Market By Type, From 2021-2026 ( USD Million )

Middle East Kefir Market By Flavour, From 2021-2026 ( USD Million )

Middle East Kefir Market By Distribution Channel, From 2021-2026 ( USD Million )

Africa Kefir Market By Composition, From 2021-2026 ( USD Million )

Africa Kefir Market By Type, From 2021-2026 ( USD Million )

Africa Kefir Market By Flavour, From 2021-2026 ( USD Million )

Africa Kefir Market By Distribution Channel, From 2021-2026 ( USD Million )