Food Packaging Technology and Equipment Market (2023-2028)
The global Food Packaging Technology and Equipment Market size was worth USD 38.77 billion in 2022, and it is estimated to reach a valuation of USD 57.80 billion by the end of 2028, expanding at a CAGR of about 7% during the forecast period. As awareness of healthy food consumption increases, the amount of food sold in unpacked containers becomes minimal.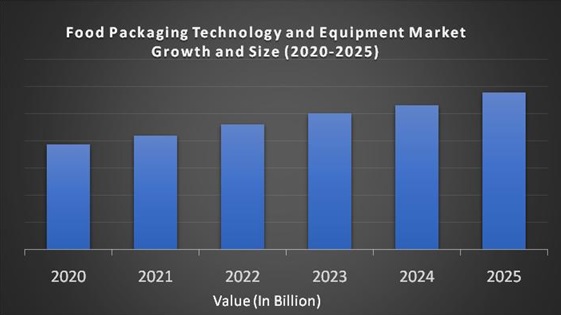 Market Overview:
The packaging is a process based on technical equipment used to protect products, prevent contamination, facilitate the distribution process, and distinguish between brands and types of products. Food packaging places more emphasis on quality and health standards for all living people. The application of food packaging depends on its functional characteristics, including protection, containment, communication, environmental and safety measures. In the modern world, there are very few foods that are unpacked and sold due to health and hygiene. Food packaging technology and equipment play an essential role due to direct contact with various foods and immediate consumption. Therefore, the packaging process includes packaging, packaging equipment, and multiple technologies for numerous applications.
Recent Developments in Food Packaging Technology and Equipment Industry:
Bosch acquired Kliklok-Woodman (USA). This acquisition enables Bosch to strengthen its product portfolio in mid-range secondary packaging.

MULTIVAC Marking & Inspection has expanded its production capacity with an investment of US $ 2.7 million. This development is touted to aid the firm in standing afoot in the changing demands of packaging machinery in the food sector.

Bosch Packaging Technology acquires Osgood Industries (USA), a specialist in filling and packaging machines. This purchase will enable the firm to reinforce its position in the liquid food industry and expand its product portfolio.

MULTIVAC Sepp Haggenmüller SE & Co. KG (Germany), Cabinplant A / S (Denmark) and Meyn Food Processing Technology (The Netherlands) have a strategic alliance with the motivation to provide a better experience to our customers by providing complete solutions such as packaging, processing, filling and inspection.
REPORT COVERAGE:
| | |
| --- | --- |
| REPORT METRIC | DETAILS |
| Market Size Available | 2022 – 2028 |
| Base Year | 2022 |
| Forecast Period | 2023 - 2028 |
| CAGR | 7% |
| Segments Covered | By Technology, Equipment, Application and Region |
| Various Analyses Covered | Global, Regional & Country Level Analysis, Segment-Level Analysis, DROC, PESTLE Analysis, Porter's Five Forces Analysis, Competitive Landscape, Analyst Overview on Investment Opportunities |
| Regions Covered | North America, Europe, APAC, Latin America, Middle East & Africa |
| Market Leaders Profiled | Arpac LLC, Ishida, Bosch packaging technology, GEA Group, Coesia Group, Multivac, IMA Group, Omori Machinery Co. Ltd, Nichrome India Ltd, Oystar Holding GmbH, Nichimo Company Limited, Satake Corporation, Meyer Industries, Odenberg Engineering, Nordischer Maschinenbau Rud Baader and Others. |
Food Packaging Technology and Equipment Market Growth:
The adoption of effective and advanced packaging technology has increased in the manufacture of standard quality products, luxurious and unique shapes.
Drivers:
The food and beverage industry is one of the main factors driving demand in the global food packaging technology and equipment market. Purchase parity, industrial development and the adoption of automated technologies are expected to further fuel growth. Demand for ready-to-eat foods, dairy and other perishables, and prepared foods is supposed to benefit the growth of the market. Increased health awareness and changes in eating habits are assumed to stimulate growth further. In terms of food choices and lifestyle in the Asia Pacific and other developing countries, westernization is expected to increase demand for these packaging equipment. The two essential benefits of food packaging, which have an increasing demand for food packaging equipment and technology, are long shelf life and sustainability of food quality. The continued development of packaging design, standards and raw materials related to the manufacturer environment are one of the key factors driving the market growth.
Lifestyles have emerged on the fly due to a number of factors. The demand for a single, convenient portion or packaged food increases as hours of work and travel times increase and the number of households increases. This trend is likely to increase demand for food packaging technology and equipment markets as food manufacturers innovate and deliver convenient food to their customers. In addition to population growth in developing countries, increased average income ratings and spending capacity are other factors that increase demand for FMCG products for daily application, increasing demand for the packaging equipment and technology. The continued development of packaging, design and raw material standards in relation to the environment by manufacturers is another factor driving the market growth.
The notable packaging features like as easy opening, access, micro-perforation, lightweight, and portability are gaining prominence around the world. The ascend in demand for food packaging technology and equipment for various products like snacks, meat and poultry, candy bars, chocolate, processed foods, and dairy products, is supporting the market boom. This allowed food packaging equipment and technology manufacturers to invest in research and development and develop technologies to meet the growing demand for convenient food packaging. It also focuses on developing manageable food packaging mechanisms for comfortable use. As access to food packaging materials and manufacturing processes have become increasingly easy, various illegal packaging manufacturers have emerged from sites that provide piracy.
Restraints:
The development in the global food packaging technology and equipment market is influenced by the rise in counterfeit food packaging. These counterfeits harm the company in terms of lost revenue and undermine the brand image. Therefore, the packaging industry is affected by counterfeit packaging. The growth in initial investment in food packaging devices is anticipated to hamper the growth of the global food packaging equipment business to a large extent. Packaged waste decomposes for decades and damages the ecosystem. The governments of several countries are addressing this by enforcing strict laws that the food packaging industry must comply. It also limits the use of recycled materials in food packaging, as food can release toxic substances. Furthermore, developing countries are leading by enforcing strict food packaging standards and promoting sustainable or biodegradable packaging solutions. This affects overall revenue for the food packaging market as profits decline, serving to slow growth in the food packaging technology and equipment market.
Food Packaging Technology and Equipment Market Segmentation Analysis:
By Technology:
Controlled

Software

Active

Advanced

Intelligent

Aspetic
By Equipment:
FFS

Labelling

Coding

Wrapping

Case Technology
By Application:
Dairy Products

Bakery & confectionary

Poultry

Sea food & meat products

Convenince food

Fruits & vegetables

Others
Geographical Segmentation Analysis:
North America - the United States and Canada

Europe - United Kingdom, Spain, Germany, Italy, and France

The Asia Pacific - India, Japan, China, Australia, Singapore, Malaysia, South Korea, New Zealand, and Southeast Asia

Latin America - Brazil, Argentina, Mexico, and Rest of LATAM

The Middle East and Africa - Africa and Middle East (Saudi Arabia, UAE, Lebanon, Jordan, Cyprus)
Regional Analysis:
Besides, the food packaging technology and equipment market are divided into North America, Europe, the Middle East and Africa, Asia Pacific, Latin America, and other countries. The Asia Pacific is among the fastest-growing businesses for this food packaging equipment as the need for processed food rises in developing nations like India, Indonesia, China, and Thailand. In North America, the United States is anticipated to become the largest market for food processing equipment as awareness of new foods increases, investment in research in food processing equipment increases, and the economy develops.
Latin America (CFS) and the Middle East and Africa (MEA) are also expected to show significant growth due to lifestyle changes, the impact of western culture, and industrialization that provides increased speed to manufacturing. Additionally, investors want to capitalize on potential MEA and CSA business opportunities as they offer tremendous business capabilities and geographic coverage. This factor is foreseen to adjust well to the expansion of the market in the coming years.
Key Players in the Market:
Major Key Players in the Global Food Packaging Technology and Equipment Market are
Arpac LLC

Ishida

Bosch packaging technology

GEA Group

Coesia Group

Multivac, Inc.

IMA Group

Omori Machinery Co. Ltd

Nichrome India Ltd

Oystar Holding GmbH

Nichimo Company Limited

Satake Corporation

Meyer Industries Incorporated

Odenberg Engineering

Nordischer Maschinenbau Rud Baader