Food Testing Market Growth and Forecast (2020-2025):
The global Food Testing Market size was assessed to be USD 17.0 billion in 2020, and it is determined to reach USD 24.6 billion by 2025 at a CAGR of 7.7% over the calculated period. Increased convenience and demand for packaged foods, the incidence of chemical contamination in the food processing industry, and rise in consumer awareness of food safety are promoting this business growth.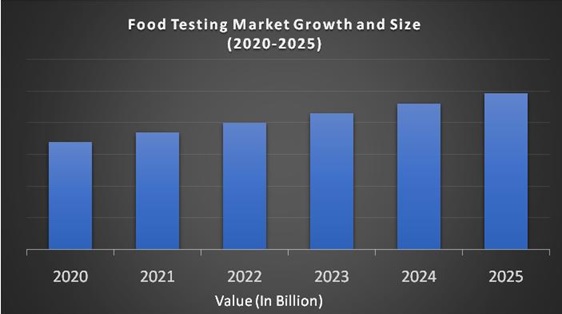 Market Overview:
Food testing helps in identifying for disease-causing germs, chemicals, and other harmful substances in foods, offering safety from foodborne illness and limits the risks related to contamination. Food testing is an essential aspect in preserving food quality in terms of ingredients, flavor, and appearance. Food analysis techniques like microbial contamination and chemical analysis ensures safe production, processing and delivery of food.
Recent Developments in Food Testing Industry:
As of October 2018, Eurofins is an EnvironeX Group Inc. that gives testing administrations to the earth, agribusiness, food, wellbeing and pharmaceutical divisions with three research facilities to extend its quality in the Canadian market.

In July 2018, Eurofins LABORATORIOS ECOSUR S.A., which offers food investigation administrations in Spain is obtained. The obtaining has essentially fortified the organization's quality in Spain.

In April 2018, Eurofins marked an agreement with LabCorp to gain Covance Food Solutions, a food testing and counseling business, for $ 670 million.
Food Testing Market Growth:
The global outbreak of food poisoning diseases is increasing and the globalization of the food trade is driving demand for food safety testing services.
REPORT COVERAGE:
| | |
| --- | --- |
| REPORT METRIC | DETAILS |
| Market Size Available | 2019 – 2025 |
| Base Year | 2019 |
| Forecast Period | 2020 - 2025 |
| CAGR | 7.7% |
| Segments Covered | By Contaminant, Technology, Food Type and Region |
| Various Analyses Covered | Global, Regional & Country Level Analysis, Segment-Level Analysis, DROC, PESTLE Analysis, Porter's Five Forces Analysis, Competitive Landscape, Analyst Overview on Investment Opportunities |
| Regions Covered | North America, Europe, APAC, Latin America, Middle East & Africa |
| Market Leaders Profiled | 3M Company, Biocontrol Systems Incorporated, Roka Bioscience, Agilent Technologies Incorporated, Bio-Rad Laboratories Incorporated, IDDEX Laboratories INC, Douglas Scientific, Ecolab Incorporated, Intertek Group Plc and Others. |
Drivers:
The global food safety testing market is growing as food related issues increased due to the rising incidence of foodborne illness. Business growth is fueled by increased consumer awareness of food safety, increased chemical contamination, and rapid inspection. Additionally, product quality is improving by modifying regulations to reduce the number of people affected by foodborne illnesses such as nausea, food poisoning, and diarrhea. The food and beverage sector has developed in a significant way because of urbanization, rising disposable income, and economic progressions. As imports and exports increase, the levels of pollutants increase due to incorrect control and monitoring, which supports the participation of the industry. Also, as the demand for pesticide residues and other contaminants for fruits and vegetables increases, along with the increase in global fruit and vegetable trades, industrial development will improve during the forecast period. The increasing level of contamination to increase the shelf life of the product is one of the key aspects of adjusting your testing needs on import. The prominent contributors to the global food testing market are seafood, fruits and vegetables, meat, and processed products. Emerging economic trends for processed foods and convenience foods will drive product development along with government initiatives to reduce foodborne illness and business expansion. Intensified competition among service providers has resulted in patent applications for new contaminant detection technologies. Technological developments for implementing reliable and rapid testing technologies are promoting the expansion of the global food testing business.
Numerous licenses for quick innovations, for example, ongoing PCR and immunosorbent measures, show extraordinary development potential in the coming years. The industry said the innovation focused on reducing the time it takes to get test results and improving accuracy. Food supply and quality are at risk across the globe, which is resulting in a surge in the call for food testing. This is because food processors are obstructing industrial growth by skipping routine food inspections to reduce operational food. Also, generous food contamination laws and penalties in developing countries can limit industrial growth. However, as consumer concerns increase, the government has urged actions such as increasing the level of evidence to reduce food contamination and disease outbreaks. Furthermore, the high costs of technology may affect adoption rates in the coming years. Technological innovations and new technological developments have been made in spectroscopy and chromatography, with a focus on reducing delivery times, sample utilization, testing costs, and deficiencies associated with multiple technologies. The increasing implementation of these technologies is supposed to create an opportunity for the services in small and medium laboratories and compete with large players in the industry. These technologies also have other advantages, including high sensitivity, the accuracy of results, reliability, non-target detection with multiple contaminants, and short processing times.
Restraints:
Lack of food management infrastructure can hinder the market growth. The complexity of testing technology and the lack of regulation are expected to hamper the market growth.
Food Testing Market Segmentation Analysis:
By Contaminant:
Pathogens

Pesticides

GMOs

Toxins
By Technology:
By Food Type:
Meat, Poultry, & Seafood

Dairy

Processed Food

Fruits & Vegetables
Impact of Covid-19 on the Global Food Testing Market:
The Covid-19 pandemic has affected several industries in a negative way, however it is deemed to influence positively in the food testing industry. The rising need for more healthy and safe foods across the globe is likely to promote players in this market to invest more.
Geographical Segmentation Analysis:
North America - the United States and Canada

Europe - United Kingdom, Spain, Germany, Italy, and France

The Asia Pacific - India, Japan, China, Australia, Singapore, Malaysia, South Korea, New Zealand, and Southeast Asia

Latin America - Brazil, Argentina, Mexico, and Rest of LATAM

The Middle East and Africa - Africa and Middle East (Saudi Arabia, UAE, Lebanon, Jordan, Cyprus)
Regional Analysis:
Europe has accounted for a leading portion in the worldwide industry, accounting for almost one-third of the overall revenue in 2018. The increasing food-related ailments among consumers are supposed to fuel the dependence on food testing processes. Also, the implementation of strict regulatory standards in the region is expected to increase the size of the market in the locale. North America has a significant share of the global food safety testing market. A key factor driving the growth of the North American market is strict regulations by governing agencies. The market is also driven by increased production in the North American food sector. The large market in North America is also due to the outbreak of foodborne illness. Food safety testing is essential at all stages of production and processing, ensuring consumers' food safety and market supply. Microbial testing and GMO testing are the main types of tests conducted in North America. In the North American food testing market, there are several companies like Eurofins Scientific, Intertek, NSF International, etc. Industries in the Asia-Pacific region are expected to record notable benefits from related agency efforts regarding the safety of edible products. The Latin American market is thriving because of the increased call of packaged and processed products. The region was seriously affected by JBS's meat scandals in Brazil, which are expected to further reinforce market growth by implementing strict regulations in the country.
Key Players in the Market:
Major Key Players in the Global Food Testing Market are
3M Company

Biocontrol Systems Incorporated

Roka Bioscience

Agilent Technologies Incorporated

Bio-Rad Laboratories Incorporated

IDDEX Laboratories INC

Douglas Scientific

Ecolab Incorporated

Intertek Group Plc
1. Introduction
1.1 Market Definition
1.2 Scope of the report
1.3 Study Assumptions
1.4 Base Currency, Base Year and Forecast Periods
2. Research Methodology
2.1 Analysis Design
2.2 Research Phases
2.2.1 Secondary Research
2.2.2 Primary Research
2.2.3 Data Modelling
2.2.4 Expert Validation
2.3 Study Timeline
3. Report Overview
3.1 Executive Summary
3.2 Key Inferencees
4. Market Dynamics
4.1 Impact Analysis
4.1.1 Drivers
4.1.2 Restaints
4.1.3 Opportunities
4.2 Regulatory Environment
4.3 Technology Timeline & Recent Trends
5. Competitor Benchmarking Analysis
5.1 Key Player Benchmarking
5.1.1 Market share analysis
5.1.2 Products/Service
5.1.3 Regional Presence
5.2 Mergers & Acquistion Landscape
5.3 Joint Ventures & Collaborations
6. Market Segmentation
6.1 Food Testing Market, By Contaminant
6.1.1 Pathogens
6.1.2 Pesticides
6.1.3 GMOs
6.1.4 Toxins
6.1.5 Market Size Estimations & Forecasts (2020 -2025)
6.1.6 Y-o-Y Growth Rate Analysis
6.1.7 Market Attractiveness Index
6.2 Food Testing Market, By Technology
6.2.1 Traditional
6.2.2 Rapid
6.2.3 Market Size Estimations & Forecasts (2020 -2025)
6.2.4 Y-o-Y Growth Rate Analysis
6.2.5 Market Attractiveness Index
6.3 Food Testing Market, By Food Type
6.3.1 Meat, Poultry, & Seafood
6.3.2 Dairy
6.3.3 Processed Food
6.3.4 Fruits & Vegetables
6.3.5 Market Size Estimations & Forecasts (2020 -2025)
6.3.6 Y-o-Y Growth Rate Analysis
6.3.7 Market Attractiveness Index
7. Geographical Landscape
7.1 Global Identity Governance and Administration Market, by Region
7.2 North America - Market Analysis (2020 - 2025)
7.2.1 By Country
7.2.1.1 USA
7.2.1.2 Canada
7.2.2 By Contaminant
7.2.3 By Technology
7.2.4 By Food Type
7.3 Europe
7.3.1 By Country
7.3.1.1 UK
7.3.1.2 France
7.3.1.3 Germany
7.3.1.4 Spain
7.3.1.5 Italy
7.3.1.6 Rest of Europe
7.3.2 By Contaminant
7.3.3 By Technology
7.3.4 By Food Type
7.4 Asia Pacific
7.4.1 By Country
7.4.1.1 China
7.4.1.2 India
7.4.1.3 Japan
7.4.1.4 South Korea
7.4.1.5 South East Asia
7.4.1.6 Australia & NZ
7.4.1.7 Rest of Asia-Pacific
7.4.2 By Contaminant
7.4.3 By Technology
7.4.4 By Food Type
7.5 Latin America
7.5.1 By Country
7.5.1.1 Brazil
7.5.1.2 Argentina
7.5.1.3 Mexico
7.5.1.4 Rest of Latin America
7.5.2 By Contaminant
7.5.3 By Technology
7.5.4 By Food Type
7.6 Middle East and Africa
7.6.1 By Country
7.6.1.1 Middle East
7.6.1.2 Africa
7.6.2 By Contaminant
7.6.3 By Technology
7.6.4 By Food Type
8. Key Player Analysis
8.1 3M Company
8.1.1 Business Description
8.1.2 Products/Service
8.1.3 Financials
8.1.4 SWOT Analysis
8.1.5 Recent Developments
8.1.6 Analyst Overview
8.2 Biocontrol Systems Incorporated
8.3 Roka Bioscience
8.4 Agilent Technologies Incorporated
8.5 Bio-Rad Laboratories Incorporated
8.6 IDDEX Laboratories INC
8.7 Douglas Scientific
8.8 Ecolab Incorporated
8.9 Intertek Group Plc
9. Market Outlook & Investment Opportunities
Appendix
List of Tables
List of Figures
Global, regional and country-level analysis and forecasts of the study market; providing Insights on the major countries/regions in which this industry is blooming and to also identify the regions that are still untapped

The segment-level analysis in terms of By Contaminant, Technology, Food Type and along with market size forecasts and estimations to detect key areas of industry growth in detail

Identification of key drivers, restraints, opportunities, and challenges (DROC) in the market and their impact on shifting market dynamics

Study of the effect of exogenous and endogenous factors that affect the global market; which includes broadly demographic, economics, and political, among other macro-environmental factors presented in an extensive PESTLE Analysis

Study the micro environment factors that determine the overall profitability of an Industry, using Porter's five forces analysis for analysing the level of competition and business strategy development

A comprehensive list of key market players along with their product portfolio, current strategic interests, key financial information, legal issues, SWOT analysis and analyst overview to study and sustain the market environment

Competitive landscape analysis listing out the mergers, acquisitions, collaborations in the field along with new product launches, comparative financial studies and recent developments in the market by the major companies

An executive summary, abridging the entire report in such a way that decision-making personnel can rapidly become acquainted with background information, concise analysis and main conclusions

Expertly devised analyst overview along with Investment opportunities to provide both individuals and organizations a strong financial foothold in the market
Global Food Testing Market By Region, From 2020-2025 ( USD Billion )

Global Food Testing Market By Contaminant, From 2020-2025 ( USD Billion )

Global Pathogens Market By Region, From 2020-2025 ( USD Billion )

Global Pesticides Market By Region, From 2020-2025 ( USD Billion )

Global GMOs Market By Region, From 2020-2025 ( USD Billion )

Global Toxins Market By Region, From 2020-2025 ( USD Billion )

Global Food Testing Market By Technology, From 2020-2025 ( USD Billion )

Global Traditional Market By Region, From 2020-2025 ( USD Billion )

Global Rapid Market By Region, From 2020-2025 ( USD Billion )

Global Food Testing Market By Food Type, From 2020-2025 ( USD Billion )

Global Meat, Poultry, & Seafood Market By Region, From 2020-2025 ( USD Billion )

Global Dairy Market By Region, From 2020-2025 ( USD Billion )

Global Processed Food Market By Region, From 2020-2025 ( USD Billion )

Global Fruits & Vegetables Market By Region, From 2020-2025 ( USD Billion )