Frozen Potatoes Market Growth and Forecast (2020-2025):
The global Frozen Potatoes Market size was touted to be USD 54.955 billion in 2020, and it is predicted to reach a valuation of USD 74.403 billion by the end of 2025 at a growth rate of 3.8 % over the conjecture period. According to new research, frozen vegetables have relatively more nutrients than fresh vegetables, boosting this market growth.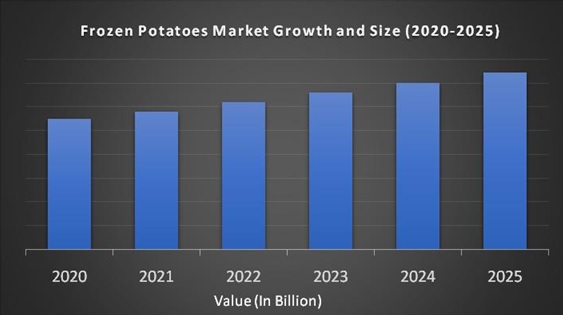 Market Overview:
Potatoes are the main staple food, followed by wheat, rice and corn, ranking fourth in world production. They are consumed as fresh or processed in both households and restaurants. Frozen potatoes are one of the main types of processed potatoes, and they are very convenient and flexible in terms of preparation time, with long storage time and a naturally preserved form, containing various nutrients and vitamins. Frozen potatoes and various products are obtained by processing fresh potatoes using a variety of advanced machines and very low temperatures. These are available in a variety of shapes on the market, such as potato chips, french fries, shapes, mashed potatoes, sweet potatoes, cooking, twice baked, covered/stuffed, and other frozen potato products. These products are consumed at QSR (Quick Service Restaurant) or customers at home through retail stores.
Recent Developments in Frozen Potatoes Industry:
At the Idaho Potato Commission (IPC), the foreign trade mission will leave Taiwan in the week it started and is expected to discuss the possibility of using the technology in the frozen potato business abroad for almost a week.
REPORT COVERAGE:
| | |
| --- | --- |
| REPORT METRIC | DETAILS |
| Market Size Available | 2019 – 2025 |
| Base Year | 2019 |
| Forecast Period | 2020 - 2025 |
| CAGR | 3.8% |
| Segments Covered | By Product, End User and Region |
| Various Analyses Covered | Global, Regional & Country Level Analysis, Segment-Level Analysis, DROC, PESTLE Analysis, Porter's Five Forces Analysis, Competitive Landscape, Analyst Overview on Investment Opportunities |
| Regions Covered | North America, Europe, APAC, Latin America, Middle East & Africa |
| Market Leaders Profiled | McCain Foods, Lamb-Weston, J.R. Simplot Company, Aviko, Bart's Potato Company, Agrarfrost GmbH & Co. KG, Agristo NV, Himalya International Ltd, TaiMei Potato Industry Limited and Others. |
Frozen Potatoes Market Growth:
The large increase in consumption of prepared and ready-to-eat foods was largely reflected in the global demand for frozen potatoes.
Drivers:
The demand for frozen potatoes is growing rapidly worldwide. The increase in the number of fast-food restaurants, the increased demand for processed foods, urbanization and the increase in exports and imports of frozen potatoes are a few crucial factors driving the growth of this market. Going forward, the rapid increase in the female workforce is expected to drive demand for ready-made foods like potato chips and hash browns and is expected to boost the global frozen potato market in the anticipated time. Demand for frozen potatoes worldwide is increasing rapidly due to increased fast-food restaurants, increased global food processing capacity, increased imports, increased urbanization, and reduction in tariffs from the WTO to import and export these products. The Asia Pacific is foreseen to develop as a promising market for frozen potatoes because of the expansion of QSRs. The increase in the female workforce increases the demand for prepared foods, which significantly increases the consumption of convenience products, such as frozen potato chips and dehydrated potato products. The increase in the number of fast-service restaurants is a major factor that is expected to increase sales in the global market over the next decade. In addition, increasing food spending, increasing the food and beverage sector, increasing the number of commercial restaurants, increasing demand for multi-food foods, and increasing demand in the food processing industry are some of the other factors supposed to drive growth in terms of revenue in the coming years.
The main advantage of frozen potatoes is that they take less time to cook and are easier to prepare. In addition, the introduction of new product variants with different flavors has greatly boosted the consumer base for frozen potato products and has accelerated market growth. The notable growth of fast-service restaurants and the increase in the disposable income of consumers are some of the factors that contribute to the growth of the frozen potato market. In addition, advances in refrigeration technology have accelerated the growth of the frozen potato market. Due to the busy lifestyle, expanding income levels and high purchasing power of consumers in the region, the transition to food products that are easy to cook is intensifying, keeping the market growing. Many people, including potato chips, nuggets, kibble, and grated potato chips, are on the rise due to lifestyle changes and consumer adoption of the Western diet culture. This is a major trend currently underway in many developed and developing countries around the world. Furthermore, the acceptance of western culture and the growing demand for fresh food in developing countries of Asia Pacific and LAMEA are considered a common reason for the growth of prepared foods, which offer a wide range of opportunities for market expansion of frozen potatoes.
Restraints:
High-cost requirements for storage and transportation and product recall are some of the key factors that can significantly inhibit growth in the target market. Furthermore, a greater interest in health and greater consumption of other healthy foods such as fruits and vegetables in developing and developed countries can reduce the demand for frozen potato products. Furthermore, the constant low-temperature requirements for keeping potato products frozen and the high costs associated with this will limit the growth of the global frozen potato market.
Frozen Potatoes Market Segmentation Analysis:
By Product:
French fries

Hash brown

Shapes

Mashed

Sweet potatoes

Battered/cooked

Twice baked

Topped/stuffed

Others
By End User:
Geographical Segmentation Analysis:
North America - the United States and Canada

Europe - United Kingdom, Spain, Germany, Italy, and France

The Asia Pacific - India, Japan, China, Australia, Singapore, Malaysia, South Korea, New Zealand, and Southeast Asia

Latin America - Brazil, Argentina, Mexico, and Rest of LATAM

The Middle East and Africa - Africa and Middle East (Saudi Arabia, UAE, Lebanon, Jordan, Cyprus)
Regional Analysis:
By region, the market is classified as North America, Asia Pacific, Europe, Latin America, the Middle East and Africa (LAMEA). Asia Pacific and North America are the prominent areas boosting the growth of the frozen potato market. As consumption rates increase, North America and Europe have been the main regions of the frozen potato market and will continue for years to come. The North American market is expected to generate high returns in terms of global market value, followed by the European market. This is mainly due to the high per capita consumption of frozen potato products in countries like Canada and the United States. Demand for frozen potatoes from restaurants and other fast food vendors and outlets is also expected to increase as consumers in the countries of this region, especially young people in society, have an increasing preference for fast food and other convenient foods, driving growth of the frozen potato market in North America. Markets in the Asia-Pacific region are expected to grow at the fastest annual rate in the future due to the entry of retail fast food conglomerates into countries such as India, China and Japan, as rapid urbanization changes patterns and food consumption preferences.
Key Players in the Market:
Major Key Players in the Global Frozen Potatoes Market are
McCain Foods

Lamb-Weston

J.R. Simplot Company

Aviko

Bart's Potato Company

Agrarfrost GmbH & Co. KG

Agristo NV

Himalya International Ltd.

TaiMei Potato Industry Limited
1. Introduction
1.1 Market Definition
1.2 Study Deliverables
1.3 Base Currency, Base Year and Forecast Periods
1.4 General Study Assumptions
2. Research Methodology
2.1 Introduction
2.2 Research Phases
2.2.1 Secondary Research
2.2.2 Primary Research
2.2.3 Econometric Modelling
2.2.4 Expert Validation
2.3 Analysis Design
2.4 Study Timeline
3. Overview
3.1 Executive Summary
3.2 Key Inferences
3.3 Epidemology
4. Drivers, Restraints, Opportunities, and Challenges Analysis (DROC)
4.1 Market Drivers
4.2 Market Restraints
4.3 Key Challenges
4.4 Current Opportunities in the Market
5. Market Segmentation
5.1 Product
5.1.1 Introduction
5.1.2 French fries
5.1.3 Hash brown
5.1.4 Shapes
5.1.5 Mashed
5.1.6 Sweet potatoes
5.1.7 Battered/cooked
5.1.8 Twice baked
5.1.9 Topped/stuffed
5.1.10 Others
5.1.11 Y-o-Y Growth Analysis, By Product
5.1.12 Market Attractiveness Analysis, By Product
5.1.13 Market Share Analysis, By Product
5.2 End user
5.2.1 Introduction
5.2.2 Residential
5.2.3 Commercial
5.2.4 Y-o-Y Growth Analysis, By end user
5.2.5 Market Attractiveness Analysis, By end user
5.2.6 Market Share Analysis, By end user
6. Geographical Analysis
6.1 Introduction
6.1.1 Regional Trends
6.1.2 Impact Analysis
6.1.3 Y-o-Y Growth Analysis
6.1.3.1 By Geographical Area
6.1.3.2 By Product
6.1.3.3 By end user
6.1.4 Market Attractiveness Analysis
6.1.4.1 By Geographical Area
6.1.4.2 By Product
6.1.4.3 By end user
6.1.5 Market Share Analysis
6.1.5.1 By Geographical Area
6.1.5.2 By Product
6.1.5.3 By end user
6.2 North America
6.1.1 Introduction
6.1.2 United States
6.1.3 Canada
6.3 Europe
6.2.1 Introduction
6.2.2 U.K
6.2.3 Spain
6.2.4 Germany
6.2.5 Italy
6.2.6 France
6.4 Asia-Pacific
6.3.1 Introduction
6.3.2 China
6.3.3 India
6.3.4 Japan
6.3.5 Australia
6.3.6 South Korea
6.5 Latin America
6.4.1 Introduction
6.4.2 Brazil
6.4.3 Argentina
6.4.4 Mexico
6.4.5 Rest of Latin America
6.6 Middle East & Africa
6.5.1 Introduction
6.5.2 Middle-East
6.5.3 Africa
7. Strategic Analysis
7.1 PESTLE analysis
7.1.1 Political
7.1.2 Economic
7.1.3 Social
7.1.4 Technological
7.1.5 Legal
7.1.6 Environmental
7.2 Porter's Five analysis
7.2.1 Bargaining Power of Suppliers
7.2.2 Bargaining Power of Consumers
7.2.3 Threat of New Entrants
7.2.4 Threat of Substitute Products and Services
7.2.5 Competitive Rivalry within the Industry
8. Market Leaders' Analysis
8.1 McCain Foods
8.1.1 Overview
8.1.2 Product Analysis
8.1.3 Financial analysis
8.1.4 Recent Developments
8.1.5 SWOT analysis
8.1.6 Analyst View
8.2 Lamb-Weston
8.3 J.R. Simplot Company
8.4 Aviko
8.5 Bart's Potato Company
8.6 Agrarfrost GmbH & Co. KG
8.7 Agristo NV
8.8 Himalya International Ltd.
8.9 TaiMei Potato Industry Limited
9. Competitive Landscape
9.1 Market share analysis
9.2 Merger and Acquisition Analysis
9.3 Agreements, collaborations and Joint Ventures
9.4 New Product Launches
10. Market Outlook and Investment Opportunities
Appendix
a) List of Tables
b) List of Figures
Global, regional and country-level analysis and forecasts of the study market; providing Insights on the major countries/regions in which this industry is blooming and to also identify the regions that are still untapped

The Segment-level analysis in terms of By Product, End-User and along with market size forecasts and estimations to detect key areas of industry growth in detail

Identification of key drivers, restraints, opportunities, and challenges (DROC) in the market and their impact on shifting market dynamics

Study of the effect of exogenous and endogenous factors that affect the global market; which includes broadly demographic, economics, and political, among other macro-environmental factors presented in an extensive PESTLE Analysis

Study the micro environment factors that determine the overall profitability of an Industry, using Porter's five forces analysis for analysing the level of competition and business strategy development

A comprehensive list of key market players along with their product portfolio, current strategic interests, key financial information, legal issues, SWOT analysis and analyst overview to study and sustain the market environment

Competitive landscape analysis listing out the mergers, acquisitions, collaborations in the field along with new product launches, comparative financial studies and recent developments in the market by the major companies

An executive summary, abridging the entire report in such a way that decision-making personnel can rapidly become acquainted with background information, concise analysis and main conclusions

Expertly devised analyst overview along with Investment opportunities to provide both individuals and organizations a strong financial foothold in the market
Global Frozen potatoes Market By Region, From 2020-2025 ( USD Billion )

Global Frozen potatoes Market By Product, From 2020-2025 ( USD Billion )

Global French fries Market By Region, From 2020-2025 ( USD Billion )

Global Hash brown Market By Region, From 2020-2025 ( USD Billion )

Global Shapes Market By Region, From 2020-2025 ( USD Billion )

Global Mashed Market By Region, From 2020-2025 ( USD Billion )

Global Sweet potatoes Market By Region, From 2020-2025 ( USD Billion )

Global Battered/cooked Market By Region, From 2020-2025 ( USD Billion )

Global Twice baked Market By Region, From 2020-2025 ( USD Billion )

Global Topped/stuffed Market By Region, From 2020-2025 ( USD Billion )

Global Others Market By Region, From 2020-2025 ( USD Billion )

Global Frozen potatoes Market By End user, From 2020-2025 ( USD Billion )

Global Residential Market By Region, From 2020-2025 ( USD Billion )

Global Commercial Market By Region, From 2020-2025 ( USD Billion )

North America Frozen potatoes Market By Product, From 2020-2025 ( USD Billion )

North America French fries Market By Region, From 2020-2025 ( USD Billion )

North America Hash brown Market By Region, From 2020-2025 ( USD Billion )

North America Shapes Market By Region, From 2020-2025 ( USD Billion )

North America Mashed Market By Region, From 2020-2025 ( USD Billion )

North America Sweet potatoes Market By Region, From 2020-2025 ( USD Billion )

North America Battered/cooked Market By Region, From 2020-2025 ( USD Billion )

North America Twice baked Market By Region, From 2020-2025 ( USD Billion )

North America Topped/stuffed Market By Region, From 2020-2025 ( USD Billion )

North America Others Market By Region, From 2020-2025 ( USD Billion )

North America Frozen potatoes Market By End user, From 2020-2025 ( USD Billion )

North America Residential Market By Region, From 2020-2025 ( USD Billion )

North America Commercial Market By Region, From 2020-2025 ( USD Billion )

United States Frozen potatoes Market By Product, From 2020-2025 ( USD Billion )

United States Frozen potatoes Market By End user, From 2020-2025 ( USD Billion )

Canada Frozen potatoes Market By Product, From 2020-2025 ( USD Billion )

Canada Frozen potatoes Market By End user, From 2020-2025 ( USD Billion )

Europe Frozen potatoes Market By Product, From 2020-2025 ( USD Billion )

Europe French fries Market By Region, From 2020-2025 ( USD Billion )

Europe Hash brown Market By Region, From 2020-2025 ( USD Billion )

Europe Shapes Market By Region, From 2020-2025 ( USD Billion )

Europe Mashed Market By Region, From 2020-2025 ( USD Billion )

Europe Sweet potatoes Market By Region, From 2020-2025 ( USD Billion )

Europe Battered/cooked Market By Region, From 2020-2025 ( USD Billion )

Europe Twice baked Market By Region, From 2020-2025 ( USD Billion )

Europe Topped/stuffed Market By Region, From 2020-2025 ( USD Billion )

Europe Others Market By Region, From 2020-2025 ( USD Billion )

Europe Frozen potatoes Market By End user, From 2020-2025 ( USD Billion )

Europe Residential Market By Region, From 2020-2025 ( USD Billion )

Europe Commercial Market By Region, From 2020-2025 ( USD Billion )

U.K. Frozen potatoes Market By Product, From 2020-2025 ( USD Billion )

U.K. Frozen potatoes Market By End user, From 2020-2025 ( USD Billion )

Germany Frozen potatoes Market By Product, From 2020-2025 ( USD Billion )

Germany Frozen potatoes Market By End user, From 2020-2025 ( USD Billion )

France Frozen potatoes Market By Product, From 2020-2025 ( USD Billion )

France Frozen potatoes Market By End user, From 2020-2025 ( USD Billion )

Italy Frozen potatoes Market By Product, From 2020-2025 ( USD Billion )

Italy Frozen potatoes Market By End user, From 2020-2025 ( USD Billion )

Spain Frozen potatoes Market By Product, From 2020-2025 ( USD Billion )

Spain Frozen potatoes Market By End user, From 2020-2025 ( USD Billion )

Asia Pacific Frozen potatoes Market By Product, From 2020-2025 ( USD Billion )

Asia Pacific French fries Market By Region, From 2020-2025 ( USD Billion )

Asia Pacific Hash brown Market By Region, From 2020-2025 ( USD Billion )

Asia Pacific Shapes Market By Region, From 2020-2025 ( USD Billion )

Asia Pacific Mashed Market By Region, From 2020-2025 ( USD Billion )

Asia Pacific Sweet potatoes Market By Region, From 2020-2025 ( USD Billion )

Asia Pacific Battered/cooked Market By Region, From 2020-2025 ( USD Billion )

Asia Pacific Twice baked Market By Region, From 2020-2025 ( USD Billion )

Asia Pacific Topped/stuffed Market By Region, From 2020-2025 ( USD Billion )

Asia Pacific Others Market By Region, From 2020-2025 ( USD Billion )

Asia Pacific Frozen potatoes Market By End user, From 2020-2025 ( USD Billion )

Asia Pacific Residential Market By Region, From 2020-2025 ( USD Billion )

Asia Pacific Commercial Market By Region, From 2020-2025 ( USD Billion )

Japan Frozen potatoes Market By Product, From 2020-2025 ( USD Billion )

Japan Frozen potatoes Market By End user, From 2020-2025 ( USD Billion )

China Frozen potatoes Market By Product, From 2020-2025 ( USD Billion )

China Frozen potatoes Market By End user, From 2020-2025 ( USD Billion )

India Frozen potatoes Market By Product, From 2020-2025 ( USD Billion )

India Frozen potatoes Market By End user, From 2020-2025 ( USD Billion )

Australia Frozen potatoes Market By Product, From 2020-2025 ( USD Billion )

Australia Frozen potatoes Market By End user, From 2020-2025 ( USD Billion )

South Korea Frozen potatoes Market By Product, From 2020-2025 ( USD Billion )

South Korea Frozen potatoes Market By End user, From 2020-2025 ( USD Billion )

Latin America Frozen potatoes Market By Product, From 2020-2025 ( USD Billion )

Latin America French fries Market By Region, From 2020-2025 ( USD Billion )

Latin America Hash brown Market By Region, From 2020-2025 ( USD Billion )

Latin America Shapes Market By Region, From 2020-2025 ( USD Billion )

Latin America Mashed Market By Region, From 2020-2025 ( USD Billion )

Latin America Sweet potatoes Market By Region, From 2020-2025 ( USD Billion )

Latin America Battered/cooked Market By Region, From 2020-2025 ( USD Billion )

Latin America Twice baked Market By Region, From 2020-2025 ( USD Billion )

Latin America Topped/stuffed Market By Region, From 2020-2025 ( USD Billion )

Latin America Others Market By Region, From 2020-2025 ( USD Billion )

Latin America Frozen potatoes Market By End user, From 2020-2025 ( USD Billion )

Latin America Residential Market By Region, From 2020-2025 ( USD Billion )

Latin America Commercial Market By Region, From 2020-2025 ( USD Billion )

Brazil Frozen potatoes Market By Product, From 2020-2025 ( USD Billion )

Brazil Frozen potatoes Market By End user, From 2020-2025 ( USD Billion )

Argentina Frozen potatoes Market By Product, From 2020-2025 ( USD Billion )

Argentina Frozen potatoes Market By End user, From 2020-2025 ( USD Billion )

Mexico Frozen potatoes Market By Product, From 2020-2025 ( USD Billion )

Mexico Frozen potatoes Market By End user, From 2020-2025 ( USD Billion )

Rest of Latin America Frozen potatoes Market By Product, From 2020-2025 ( USD Billion )

Rest of Latin America Frozen potatoes Market By End user, From 2020-2025 ( USD Billion )

Middle East and Africa Frozen potatoes Market By Product, From 2020-2025 ( USD Billion )

Middle East and Africa French fries Market By Region, From 2020-2025 ( USD Billion )

Middle East and Africa Hash brown Market By Region, From 2020-2025 ( USD Billion )

Middle East and Africa Shapes Market By Region, From 2020-2025 ( USD Billion )

Middle East and Africa Mashed Market By Region, From 2020-2025 ( USD Billion )

Middle East and Africa Sweet potatoes Market By Region, From 2020-2025 ( USD Billion )

Middle East and Africa Battered/cooked Market By Region, From 2020-2025 ( USD Billion )

Middle East and Africa Twice baked Market By Region, From 2020-2025 ( USD Billion )

Middle East and Africa Topped/stuffed Market By Region, From 2020-2025 ( USD Billion )

Middle East and Africa Others Market By Region, From 2020-2025 ( USD Billion )

Middle East and Africa Frozen potatoes Market By End user, From 2020-2025 ( USD Billion )

Middle East and Africa Residential Market By Region, From 2020-2025 ( USD Billion )

Middle East and Africa Commercial Market By Region, From 2020-2025 ( USD Billion )

Middle East Frozen potatoes Market By Product, From 2020-2025 ( USD Billion )

Middle East Frozen potatoes Market By End user, From 2020-2025 ( USD Billion )

Africa Frozen potatoes Market By Product, From 2020-2025 ( USD Billion )

Africa Frozen potatoes Market By End user, From 2020-2025 ( USD Billion )