Fruit Powders Market Size, Growth, Forecast (2023-2028)
The Global Fruit Powders Market size was estimated at USD 14.30 billion in 2022, and it is estimated to grow and get valued USD 21.50 billion by 2028 at a CAGR of about 7% over the determined period. The growing demand for super fruit powder is expected to be a major factor driving the growth of the research market during the outlook period.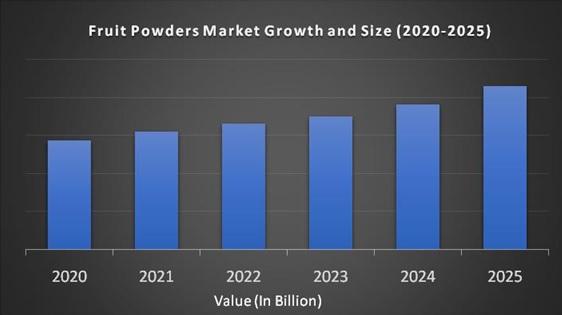 Market Overview:
Fruit powder is manufactured by freeze drying and vacuum processing methods. Powdered fruit can be purchased at organic markets and health food stores. The fruit contains more water, so it is concentrated and desalted to remove excess water, and then spray dried to obtain a free flowing powder. Fruit powder can also be used as a cooking element or flavoring agent. Fruit powder has a long shelf life at room temperature due to low humidity activity along with low logistics cost due to low weight and volume. Fruit powder is manufactured using a spray drying or lyophilization process. Fruit powders are sun dried or lyophilized into powders without supplemental additives that contain calories similar to raw fruits. The fruit powder does not contain artificial pigments or preservatives combined with the low amount of sodium present in the fruit powder. Fruit powder is primarily used in supplements, beverages, and vitamin-fortified formulations. It is convenient to incorporate the fruit powder in pharmaceutical preparations such as tablets, capsules or soft capsules.
Recent Developments in Fruit Powders Industry:
A freeze dried superfood producer based in SouthAm-Chile Santiago has launched a new line of freeze dried fruit powders with Maki Berry and Acai Berry as super fruit based ingredients.

Xi'an Lukee Bio-Tech provided custom powders in the flavor of strawberry and pineapple.

In February 2020, Paradise Fruits of Germany launched frozen fruit granules and powders ideal for chocolate, pastry and bakery products.
REPORT COVERAGE:
| | |
| --- | --- |
| REPORT METRIC | DETAILS |
| Market Size Available | 2022 – 2028 |
| Base Year | 2022 |
| Forecast Period | 2023 - 2028 |
| CAGR | 7% |
| Segments Covered | By Fruit Type, Application and Region |
| Various Analyses Covered | Global, Regional & Country Level Analysis, Segment-Level Analysis, DROC, PESTLE Analysis, Porter's Five Forces Analysis, Competitive Landscape, Analyst Overview on Investment Opportunities |
| Regions Covered | North America, Europe, APAC, Latin America, Middle East & Africa |
| Market Leaders Profiled | Nutradry, DMH Ingredients, Kanegrade, Paradise Fruits, Aarkay Food Products, FutureCeuticals, NutriBotanica, La Herbal, Saipro Biotech Pvt. Ltd, Batory Foods, International Flavors & Fragrances Inc and Others. |
Fruit Powders Market Growth:
The growing number of health-conscious consumers seeking a healthier lifestyle is shifting their preferences from artificial ingredients to all-natural products.
Drivers:
The demand for powdered fruit is increasing worldwide as the vegan population grows. Fruit powder is easy to store and increases the shelf life of the product. Apart from that, this powder is also available out of season. In the food and beverage industry, powdered fruit is added to add flavor and aroma to beverages and foods. Along with this, the use of this powder will help stabilize the price of fresh fruit during the beginning of the season. Leading companies are focusing on specific and innovative applications to be at the forefront of global markets. Leading players and manufacturers in the fruit powder market plan to develop innovative products to meet the growing demands of functional applications for pharmaceuticals and food and beverages. The prominent factor in the global fruit powder market is the growing demand for a variety of healthy fruit powder drinks that contain high amounts of vitamins, minerals and antioxidants. The global fruit powders market is determined to have high growth potential in developing and developed economies as a result of consumer preference for healthy drinks, along with the varied fruit aromas. Fruit powder is a convenient and inexpensive alternative to fresh fruit for a variety of uses. The use of fruit powders in infant formulas seems to show strong growth due to consumer preference for fruit-flavored infant formulas that provide essential vitamins and minerals to babies. With the rise in the use of fruit powders in several industries and the economic potential due to the rise in fruit production in the business, the global fruit powder market is supposed to see strong growth over the prediction period.
The availability of personalized fruit powder is a major trend that is assumed to be popular in the fruit powder market for years to come. Strawberry and apple powders are gaining remarkable popularity in the cosmetic industry. Powdered superfruit is presumed to be a major factor in driving the global market growth during the outlook period. Melting of powdered fruit is anticipated to be an upward trend in the powdered fruit market. Increased consumption of packaged foods and beverages along with increased healthy foods are expected to lead the market for powdered fruit. In addition, the growth of the fruit powder market will be further promoted as the use of fruit powder during the manufacture of packaged foods and beverages increases. The functional drinks and ready-to-eat food sectors offer significant opportunities for growth in the powdered fruit market. To provide better customer experience, major companies are focusing on adding innovative ingredients and flavors to liquid dietary supplements. In areas where fruit production is lacking due to geographic and climatic conditions, fruit powder is a good alternative to meet customer needs. Another important application of fruit powder is that it can be used to prepare food for astronauts when they eat liquid food. In addition to this, powdered fruit will be in high demand as it will be used to meet the growing demand of the vegan population worldwide.
Restraints:
Natural disasters and extreme environmental conditions can have numerous impacts on fruits, which is a significant factor predicted to hamper the growth of the global market. In addition, some populations can cause allergic reactions as another factor that is likely to inhibit the growth of the global fruit powder market due to the use of fruit powder or real fruit.
Fruit Powders Market Segmentation Analysis:
By Fruit Type:
By Application:
Beverages

Pharmaceuticals

Food Products

Confectionery

Bakery

Candy And Dairy Products
Geographical Segmentation Analysis:
North America - the United States and Canada

Europe - United Kingdom, Spain, Germany, Italy, and France

The Asia Pacific - India, Japan, China, Australia, Singapore, Malaysia, South Korea, New Zealand, and Southeast Asia

Latin America - Brazil, Argentina, Mexico, and Rest of LATAM

The Middle East and Africa - Africa and Middle East (Saudi Arabia, UAE, Lebanon, Jordan, Cyprus
Regional Analysis:
Geographically, the global fruit powders industry can be divided into regions of North America, Latin America, Europe, Asia Pacific, the Middle East, and Africa. Throughout the world, Asia Pacific has become a leading region, followed by Europe and North America. As the use of fruit powders in the meat industry increases and the demand for natural colorants increases, the growth of the global fruit powder market is estimated to increase, and the market earnings contribution is expected to expand significantly during the outlook period. North America is deemed to witness significant growth due to its strong presence in food processing companies and increased investment in research and development activities in the food and beverage sector. Europe is the largest region in the powdered fruit market, with sales in 2017 exceeding $ 3 billion. Profitable food sectors such as superfoods, probiotic supplements, and dietary fiber products are supposed to have a positive impact on regional growth. The further increase in dust from organic vegetables, wheat grass, and spirulina in packaged and mobile foods is expected to lead to increased demand for fruit and vegetable powders in Europe during the evaluated period. The Asia Pacific region is determined to be the fastest-growing region with an average annual growth rate of 8.4% during the calculated period. This is due to the significant benefits of the dairy and bakery sectors in developing countries such as China, Thailand, Vietnam and India. Government-backed policies to increase production domestically are the main trends expected to accelerate regional growth in the coming years.
Key Players in the Market:
Major Key Players in the Global Fruit Powders Market are
Nutradry

DMH Ingredients

Kanegrade

Paradise Fruits

Aarkay Food Products

FutureCeuticals

NutriBotanica

La Herbal

Saipro Biotech Pvt. Ltd

Batory Foods

International Flavors & Fragrances Inc