Bakery Processing Equipment Market Growth and Forecast (2021-2026):
The global Bakery Processing Equipment Market size was valued to be USD 12.20 billion in 2021, and it is estimated to reach a valuation of USD 18.43 billion by the end of 2026, rising at a CAGR of 6.1% during the forecast period. With the growth of the bakery market, the global market for bakery processing equipment is growing exponentially.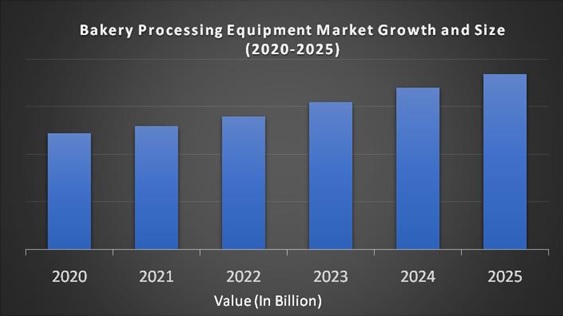 Market Overview:
Bakery processing equipment is used to process dough and to process baked goods made from the mixture. The various tools of bakery equipment include bread systems, bread slices, mixers, ovens and straighteners, dividers and rounders, laminators and moulders, greasers and setters.
Recent Developments in Bakery Processing Equipment Industry:
In April 2019, Buhler AG launched a blockchain-ready solution, which helps provide cutting-edge technologies that increase food safety standards and increase production efficiency. This helps improve the company's customer base.

In April 2019, JBT Corporation signed a final contract to acquire Proseal (UK), a leading provider of tray sealing technology. These Proseal acquisitions serve to significantly expand JBT's capabilities by substantially increasing the bottom-line market position and advancing the overall strategy of delivering solutions to the line customer.

In February 2019, Buhler AG strengthened its strategic position by expanding high-end factories in China. This provides the economic pillar of consumer food and helps achieve organic growth.

In 2018, Bongard launched a new product that became part of the ORION EVO family, using a capacitive technology called INTUITIV2 as an innovative panel.

In August 2018, MECATHERM launched three main innovations: M-TA furnace, M-UB processing system, and M-NS distributor. This allows you to expand your company's product portfolio to grow your business.
REPORT COVERAGE:
| | |
| --- | --- |
| REPORT METRIC | DETAILS |
| Market Size Available | 2020 – 2026 |
| Base Year | 2020 |
| Forecast Period | 2021 - 2026 |
| CAGR | 6.1% |
| Segments Covered | By Type, Application and Region |
| Various Analyses Covered | Global, Regional & Country Level Analysis, Segment-Level Analysis, DROC, PESTLE Analysis, Porter's Five Forces Analysis, Competitive Landscape, Analyst Overview on Investment Opportunities |
| Regions Covered | North America, Europe, APAC, Latin America, Middle East & Africa |
| Market Leaders Profiled | Buhler holding AG, Ali Group S.p.A, GEA Group AG, Heat and Control, Inc, JBT Corporation and Others. |
Bakery Processing Equipment Market Growth:
The dynamics of the bakery processing equipment market worldwide is increasing in the number of bakery equipment manufacturers, depending on factors related to the increase in bakery consumption worldwide.
Drivers:
Industrial demand is increasing as the consumption of cakes and pastries increases in many countries due to the rise in household disposable income. This machine is employed in small and medium or industrial bakeries in large quantities to produce a variety of products in less time. Equipment manufacturers are developing products with a variety of integrated features such as molding, folding, cutting, laminating, decorating, and others to provide bakers with greater flexibility and efficiency. The cake and pastry deposition system is equipped with advanced PLC control to quickly and accurately fill various fillings, such as liquid, cream and chocolate. In addition, this machine adds to the development of the market by providing more excellent reliability, easy cleaning and maintenance. As the demand for healthy and vegan pizzas increases in North America due to changes in consumer preferences for a healthy diet, the need for high-end machines is growing, increasing the market demand for food processing equipment.
Demand for baked goods such as bread, pizza dough, pastries and cakes are expected to revitalize the market. Further growth is presumed due to increased demand for improved equipment. Manufacturers focus on the technological advancement of bakery processing equipment to maintain high competition. They use advanced technology to develop unique and efficient machines to gain a more significant market share. The United States is one of the top markets for bakery processing equipment due to its highly advanced technology industry, skilled workers, advanced processing capabilities, and increased R&D initiatives. Changes in consumer preferences continue driving higher demand for organic and healthy food. Also, there is a continuing demand for food processing equipment, a focus on traceability, and standards-compliant processing equipment. Additionally, an increase in appetite for prepared foods is expected to provide reward opportunities for active players in the bakery processing equipment market.
Still, cost pressures and operational problems among the stakeholders involved are poised to speed up the automation process in the bakery processing industry. Governments and regulators often play a crucial role in accelerating or slowing growth in all markets. Industry regulations focus primarily on specifying requirements related to the verification of various equipment used in multiple processes, such as safety, plant protection, ergonomics, basic hygiene, and cutting, kneading, and storage. The bakery processing equipment industry offers customized products to meet the different needs of our customers. The high level of personalization, standardization and regulation guarantees that at least the essential safety functions are common to all equipment. Growth in the emerging markets increased disposable income, and increased retail sales led to heightened demand for packaged and processed foods, which led to extended equipment sales. Emerging markets are driving the bulk of market growth in the Asia Pacific region to drive market growth in the coming years.
Restraints:
One of the main challenges affecting the growth of the bakery processing equipment market is waste management on food production lines. The wastewater generated in bakery manufacturing comes from equipment and floor washing. It contains rich oil and fat. Besides, achieving quality levels at the production site is also a significant limitation. The use of inferior quality equipment will result in the manufacture of low-quality food. All of these factors are presumed to limit the growth of the global bakery processing equipment market.
Bakery Processing Equipment Market Segmentation Analysis:
By Type:
Ovens & Proofers

Mixers

Sheeters & Molders

Dividers

Others
By Application:
Cookies & Biscuits

Bread

Pizza Crusts

Cakes & Pastries

Other bakery products
Geographical Segmentation Analysis:
North America - the United States and Canada

Europe - United Kingdom, Spain, Germany, Italy, and France

The Asia Pacific - India, Japan, China, Australia, Singapore, Malaysia, South Korea, New Zealand, and Southeast Asia

Latin America - Brazil, Argentina, Mexico, and Rest of LATAM

The Middle East and Africa - Africa and Middle East (Saudi Arabia, UAE, Lebanon, Jordan, Cyprus)
Regional Analysis:
The Asia Pacific region has become a primary market, accounting for 35.72% of the total market share in 2018, which is expected to show the fastest CAGR during the outlook period. Due to population growth, disposable income growth and rapid urbanization, consumption of baked goods are anticipated to increase steadily, which is expected to accelerate regional growth. North America is among the mature markets and is foreseen to reach $ 29.1 billion by 2025. Rapid technological development is one of the elements of Ace that promotes regional growth. The strong R&D capabilities of the leading North American market players enable them to choose industrial automation and provide automatic processing machines for a wide range of applications.
Europe held the second-largest share in this business in 2018 and is deemed to grow at an average annual rate of 4.6% during the prediction period. Government regulations and policies supporting the overall growth of the food processing equipment industry are expected to favor the bakery processing equipment industry in the area. Despite economic inflation, the region is supposed to experience significant growth in the coming years. Although North America and Europe dominate the entire market, bakery processing machines are mainly imported from China, India, and other Asian countries, with skilled labor and profitable manufacturing operations in the region. Due to the increasing popularity of processed foods, rapid industrialization, and consumer demand, China is awaited to remain a significant market.
Key Players in the Market:
Major Key Players in the Global Bakery Processing Equipment Market are
Buhler holding AG

Ali Group S.p.A

GEA Group AG

Heat and Control, Inc.

JBT Corporation
1. Introduction
1.1 Market Definition
1.2 Study Deliverables
1.3 Base Currency, Base Year and Forecast Periods
1.4 General Study Assumptions
2. Research Methodology
2.1 Introduction
2.2 Research Phases
2.2.1 Secondary Research
2.2.2 Primary Research
2.2.3 Econometric Modelling
2.2.4 Expert Validation
2.3 Analysis Design
2.4 Study Timeline
3. Overview
3.1 Executive Summary
3.2 Key Inferences
3.3 Epidemology
4. Drivers, Restraints, Opportunities, and Challenges Analysis (DROC)
4.1 Market Drivers
4.2 Market Restraints
4.3 Key Challenges
4.4 Current Opportunities in the Market
5. Market Segmentation
5.1 Type
5.1.1 Introduction
5.1.2 Ovens & Proofers
5.1.3 Mixers
5.1.4 Sheeters & Molders
5.1.5 Dividers
5.1.6 others
5.1.7 Y-o-Y Growth Analysis, By Type
5.1.8 Market Attractiveness Analysis, By Type
5.1.9 Market Share Analysis, By Type
5.2 Application
5.2.1 Introduction
5.2.2 Cookies & Biscuits
5.2.3 Bread
5.2.4 Pizza Crusts
5.2.5 Cakes & Pastries
5.2.6 other bakery products
5.2.7 Y-o-Y Growth Analysis, By Application
5.2.8 Market Attractiveness Analysis, By Application
5.2.9 Market Share Analysis, By Application
6. Geographical Analysis
6.1 Introduction
6.1.1 Regional Trends
6.1.2 Impact Analysis
6.1.3 Y-o-Y Growth Analysis
6.1.3.1 By Geographical Area
6.1.3.2 By Type
6.1.3.3 By Application
6.1.4 Market Attractiveness Analysis
6.1.4.1 By Geographical Area
6.1.4.2 By Type
6.1.4.3 By Application
6.1.5 Market Share Analysis
6.1.5.1 By Geographical Area
6.1.5.2 By Type
6.1.5.3 By Application
6.2 North America
6.1.1 Introduction
6.1.2 United States
6.1.3 Canada
6.3 Europe
6.2.1 Introduction
6.2.2 U.K
6.2.3 Spain
6.2.4 Germany
6.2.5 Italy
6.2.6 France
6.4 Asia-Pacific
6.3.1 Introduction
6.3.2 China
6.3.3 India
6.3.4 Japan
6.3.5 Australia
6.3.6 South Korea
6.5 Latin America
6.4.1 Introduction
6.4.2 Brazil
6.4.3 Argentina
6.4.4 Mexico
6.4.5 Rest of Latin America
6.6 Middle East & Africa
6.5.1 Introduction
6.5.2 Middle-East
6.5.3 Africa
7.Strategic Analysis
7.1 PESTLE analysis
7.1.1 Political
7.1.2 Economic
7.1.3 Social
7.1.4 Technological
7.1.5 Legal
7.1.6 Environmental
7.2 Porter's Five analysis
7.2.1 Bargaining Power of Suppliers
7.2.2 Bargaining Power of Consumers
7.2.3 Threat of New Entrants
7.2.4 Threat of Substitute Products and Services
7.2.5 Competitive Rivalry within the Industry
8.Market Leaders' Analysis
8.1 Buhler holding AG
8.1.1 Overview
8.1.2 Product Analysis
8.1.3 Financial analysis
8.1.4 Recent Developments
8.1.5 SWOT analysis
8.1.6 Analyst View
8.2 Ali Group S.p.A
8.3 GEA Group AG
8.4 Heat and Control, Inc.
8.5 JBT Corporation.
9.Competitive Landscape
9.1 Market share analysis
9.2 Merger and Acquisition Analysis
9.3 Agreements, collaborations and Joint Ventures
9.4 New Product Launches
10.Market Outlook and Investment Opportunities
Appendix
a) List of Tables
b) List of Figures
Global, regional and country-level analysis and forecasts of the study market; providing Insights on the major countries/regions in which this industry is blooming and to also identify the regions that are still untapped

The Segment-level analysis in terms of By Type, Application and along with market size forecasts and estimations to detect key areas of industry growth in detail

Identification of key drivers, restraints, opportunities, and challenges (DROC) in the market and their impact on shifting market dynamics

Study of the effect of exogenous and endogenous factors that affect the global market; which includes broadly demographic, economics, and political, among other macro-environmental factors presented in an extensive PESTLE Analysis

Study the micro environment factors that determine the overall profitability of an Industry, using Porter's five forces analysis for analysing the level of competition and business strategy development

A comprehensive list of key market players along with their product portfolio, current strategic interests, key financial information, legal issues, SWOT analysis and analyst overview to study and sustain the market environment

Competitive landscape analysis listing out the mergers, acquisitions, collaborations in the field along with new product launches, comparative financial studies and recent developments in the market by the major companies

An executive summary, abridging the entire report in such a way that decision-making personnel can rapidly become acquainted with background information, concise analysis and main conclusions

Expertly devised analyst overview along with Investment opportunities to provide both individuals and organizations a strong financial foothold in the market
Global Bakery Processing Equipment Market By Region, From 2021-2026 ( USD Million )

Global Bakery Processing Equipment Market By Type, From 2021-2026 ( USD Million )

Global Ovens & Proofers Market By Region, From 2021-2026 ( USD Million )

Global Mixers Market By Region, From 2021-2026 ( USD Million )

Global Sheeters & Molders Market By Region, From 2021-2026 ( USD Million )

Global Dividers Market By Region, From 2021-2026 ( USD Million )

Global Others Market By Region, From 2021-2026 ( USD Million )

Global Bakery Processing Equipment Market By Application, From 2021-2026 ( USD Million )

Global Cookies & Biscuits Market By Region, From 2021-2026 ( USD Million )

Global Bread Market By Region, From 2021-2026 ( USD Million )

Global Pizza Crusts Market By Region, From 2021-2026 ( USD Million )

Global Cakes & Pastries Market By Region, From 2021-2026 ( USD Million )

Global other bakery products Market By Region, From 2021-2026 ( USD Million )

North America Bakery Processing Equipment Market By Type, From 2021-2026 ( USD Million )

North America Ovens & Proofers Market By Region, From 2021-2026 ( USD Million )

North America Mixers Market By Region, From 2021-2026 ( USD Million )

North America Sheeters & Molders Market By Region, From 2021-2026 ( USD Million )

North America Dividers Market By Region, From 2021-2026 ( USD Million )

North America Others Market By Region, From 2021-2026 ( USD Million )

North America Bakery Processing Equipment Market By Application, From 2021-2026 ( USD Million )

North America Cookies & Biscuits Market By Region, From 2021-2026 ( USD Million )

North America Bread Market By Region, From 2021-2026 ( USD Million )

North America Pizza Crusts Market By Region, From 2021-2026 ( USD Million )

North America Cakes & Pastries Market By Region, From 2021-2026 ( USD Million )

North America other bakery products Market By Region, From 2021-2026 ( USD Million )

United States Bakery Processing Equipment Market By Type, From 2021-2026 ( USD Million )

United States Bakery Processing Equipment Market By Application, From 2021-2026 ( USD Million )

Canada Bakery Processing Equipment Market By Type, From 2021-2026 ( USD Million )

Canada Bakery Processing Equipment Market By Application, From 2021-2026 ( USD Million )

Europe Bakery Processing Equipment Market By Type, From 2021-2026 ( USD Million )

Europe Ovens & Proofers Market By Region, From 2021-2026 ( USD Million )

Europe Mixers Market By Region, From 2021-2026 ( USD Million )

Europe Sheeters & Molders Market By Region, From 2021-2026 ( USD Million )

Europe Dividers Market By Region, From 2021-2026 ( USD Million )

Europe Others Market By Region, From 2021-2026 ( USD Million )

Europe Bakery Processing Equipment Market By Application, From 2021-2026 ( USD Million )

Europe Cookies & Biscuits Market By Region, From 2021-2026 ( USD Million )

Europe Bread Market By Region, From 2021-2026 ( USD Million )

Europe Pizza Crusts Market By Region, From 2021-2026 ( USD Million )

Europe Cakes & Pastries Market By Region, From 2021-2026 ( USD Million )

Europe other bakery products Market By Region, From 2021-2026 ( USD Million )

U.K. Bakery Processing Equipment Market By Type, From 2021-2026 ( USD Million )

U.K. Bakery Processing Equipment Market By Application, From 2021-2026 ( USD Million )

Germany Bakery Processing Equipment Market By Type, From 2021-2026 ( USD Million )

Germany Bakery Processing Equipment Market By Application, From 2021-2026 ( USD Million )

France Bakery Processing Equipment Market By Type, From 2021-2026 ( USD Million )

France Bakery Processing Equipment Market By Application, From 2021-2026 ( USD Million )

Italy Bakery Processing Equipment Market By Type, From 2021-2026 ( USD Million )

Italy Bakery Processing Equipment Market By Application, From 2021-2026 ( USD Million )

Spain Bakery Processing Equipment Market By Type, From 2021-2026 ( USD Million )

Spain Bakery Processing Equipment Market By Application, From 2021-2026 ( USD Million )

Asia-Pacific Bakery Processing Equipment Market By Type, From 2021-2026 ( USD Million )

Asia-Pacific Ovens & Proofers Market By Region, From 2021-2026 ( USD Million )

Asia-Pacific Mixers Market By Region, From 2021-2026 ( USD Million )

Asia-Pacific Sheeters & Molders Market By Region, From 2021-2026 ( USD Million )

Asia-Pacific Dividers Market By Region, From 2021-2026 ( USD Million )

Asia-Pacific Others Market By Region, From 2021-2026 ( USD Million )

Asia-Pacific Bakery Processing Equipment Market By Application, From 2021-2026 ( USD Million )

Asia-Pacific Cookies & Biscuits Market By Region, From 2021-2026 ( USD Million )

Asia-Pacific Bread Market By Region, From 2021-2026 ( USD Million )

Asia-Pacific Pizza Crusts Market By Region, From 2021-2026 ( USD Million )

Asia-Pacific Cakes & Pastries Market By Region, From 2021-2026 ( USD Million )

Asia-Pacific other bakery products Market By Region, From 2021-2026 ( USD Million )

Japan Bakery Processing Equipment Market By Type, From 2021-2026 ( USD Million )

Japan Bakery Processing Equipment Market By Application, From 2021-2026 ( USD Million )

China Bakery Processing Equipment Market By Type, From 2021-2026 ( USD Million )

China Bakery Processing Equipment Market By Application, From 2021-2026 ( USD Million )

India Bakery Processing Equipment Market By Type, From 2021-2026 ( USD Million )

India Bakery Processing Equipment Market By Application, From 2021-2026 ( USD Million )

Australia Bakery Processing Equipment Market By Type, From 2021-2026 ( USD Million )

Australia Bakery Processing Equipment Market By Application, From 2021-2026 ( USD Million )

South Korea Bakery Processing Equipment Market By Type, From 2021-2026 ( USD Million )

South Korea Bakery Processing Equipment Market By Application, From 2021-2026 ( USD Million )

Latin America Bakery Processing Equipment Market By Type, From 2021-2026 ( USD Million )

Latin America Ovens & Proofers Market By Region, From 2021-2026 ( USD Million )

Latin America Mixers Market By Region, From 2021-2026 ( USD Million )

Latin America Sheeters & Molders Market By Region, From 2021-2026 ( USD Million )

Latin America Dividers Market By Region, From 2021-2026 ( USD Million )

Latin America Others Market By Region, From 2021-2026 ( USD Million )

Latin America Bakery Processing Equipment Market By Application, From 2021-2026 ( USD Million )

Latin America Cookies & Biscuits Market By Region, From 2021-2026 ( USD Million )

Latin America Bread Market By Region, From 2021-2026 ( USD Million )

Latin America Pizza Crusts Market By Region, From 2021-2026 ( USD Million )

Latin America Cakes & Pastries Market By Region, From 2021-2026 ( USD Million )

Latin America other bakery products Market By Region, From 2021-2026 ( USD Million )

Brazil Bakery Processing Equipment Market By Type, From 2021-2026 ( USD Million )

Brazil Bakery Processing Equipment Market By Application, From 2021-2026 ( USD Million )

Argentina Bakery Processing Equipment Market By Type, From 2021-2026 ( USD Million )

Argentina Bakery Processing Equipment Market By Application, From 2021-2026 ( USD Million )

Mexico Bakery Processing Equipment Market By Type, From 2021-2026 ( USD Million )

Mexico Bakery Processing Equipment Market By Application, From 2021-2026 ( USD Million )

Rest of Latin America Bakery Processing Equipment Market By Type, From 2021-2026 ( USD Million )

Rest of Latin America Bakery Processing Equipment Market By Application, From 2021-2026 ( USD Million )

Middle East & Africa Bakery Processing Equipment Market By Type, From 2021-2026 ( USD Million )

Middle East & Africa Ovens & Proofers Market By Region, From 2021-2026 ( USD Million )

Middle East & Africa Mixers Market By Region, From 2021-2026 ( USD Million )

Middle East & Africa Sheeters & Molders Market By Region, From 2021-2026 ( USD Million )

Middle East & Africa Dividers Market By Region, From 2021-2026 ( USD Million )

Middle East & Africa Others Market By Region, From 2021-2026 ( USD Million )

Middle East & Africa Bakery Processing Equipment Market By Application, From 2021-2026 ( USD Million )

Middle East & Africa Cookies & Biscuits Market By Region, From 2021-2026 ( USD Million )

Middle East & Africa Bread Market By Region, From 2021-2026 ( USD Million )

Middle East & Africa Pizza Crusts Market By Region, From 2021-2026 ( USD Million )

Middle East & Africa Cakes & Pastries Market By Region, From 2021-2026 ( USD Million )

Middle East & Africa other bakery products Market By Region, From 2021-2026 ( USD Million )

Middle East Bakery Processing Equipment Market By Type, From 2021-2026 ( USD Million )

Middle East Bakery Processing Equipment Market By Application, From 2021-2026 ( USD Million )

Africa Bakery Processing Equipment Market By Type, From 2021-2026 ( USD Million )

Africa Bakery Processing Equipment Market By Application, From 2021-2026 ( USD Million )