Bakery Processing Equipment Market Size, Growth (2023-2028)
The Global Bakery Processing Equipment Market size was worth US$ 11.7 billion in 2022 and is anticipated to reach the valuation of US$ 14.9 billion by 2028 and register a CAGR of 5.2% during 2023-2028.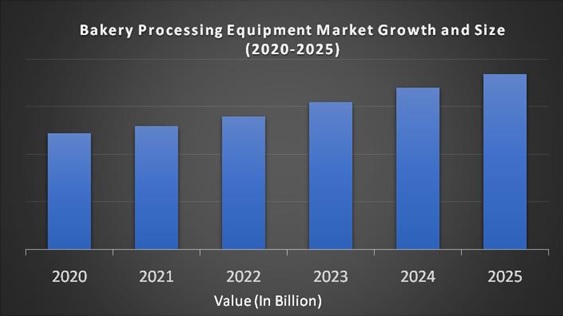 Market Overview:
Bakery processing equipment is used to work with dough and to bake dough-based baked goods. Bread systems, bread slicers, mixers, ovens and proofers, dividers and rounders, sheeters and molders, pan greasers and deposits are all examples of bakery equipment. Bakers' processing equipment is used to manufacture breads, cookies and biscuits, cakes and pastries, pizza crusts, desserts, and other baked goods, depending on the application (croissants, donuts, and pretzels). As the bakery market expands, the worldwide bakery processing equipment market expands at an exponential rate. As a result, players in the bakery processing equipment market are focusing on product development and building technologically advanced equipment to meet rising demand for bakery goods.
As the demand for flexible equipment grows, so will the requirement for automation to manage effective operations at predetermined periods.
Some of the important drivers driving the growth of the bakery equipment market include an increase in energy efficiency equipment, an increase in equipment safety, and a reduction in maintenance costs.
The market dynamics of global bakery processing equipment are influenced by a number of factors, including rising bakery consumption worldwide, which has resulted in an increase in the number of bakery equipment producers. The bakery market is dominated by Europe and the United States; however, bakery processing equipment is primarily imported from China and other Asian countries to serve the Asia Pacific area and other parts of the world.
Recent Developments in the Global Bakery Processing Equipment Market:
Heat and Control, Inc., has begun building on a new facility in Mexico with a ceremonial groundbreaking on April 12, 2021. This facility will be the largest of the Heat and Control properties, located between Guadalajara and Lake Chapala.
REPORT COVERAGE:
| | |
| --- | --- |
| REPORT METRIC | DETAILS |
| Market Size Available | 2022 – 2028 |
| Base Year | 2022 |
| Forecast Period | 2023 - 2028 |
| CAGR | 5.2% |
| Segments Covered | By Type, Application and Region |
| Various Analyses Covered | Global, Regional & Country Level Analysis, Segment-Level Analysis, DROC, PESTLE Analysis, Porter's Five Forces Analysis, Competitive Landscape, Analyst Overview on Investment Opportunities |
| Regions Covered | North America, Europe, APAC, Latin America, Middle East & Africa |
| Market Leaders Profiled | Buhler holding AG, Ali Group S.p.A, GEA Group AG, Heat and Control, Inc, JBT Corporation and Others. |
Global Bakery Processing Equipment Market Drivers:
The demand for convenience foods is increasing because of hectic client lifestyles, the processed food business is driven by an increase in the need for convenience. In addition, rising per-capita income has increased demand for ready-to-eat and on-the-go foods. As a result, the demand for bakery items has increased. Due to the significant expansion in the bakery industry, the outlook for the bakery processing equipment market is expected to stay good. Bakery items are also advantageous to consumers because they are simple to use, eat, and keep for a longer amount of time. Over the last few decades, consumer preferences in developing nations of the four regions have gradually shifted away from conventional home-cooked breakfasts and snacking meals and toward ready-to-eat items. Bread, pizza, cakes, pastries, and pies can all benefit from the ease with which these food products can be prepared. These equipment advancements make it easier to handle items, lengthen their shelf life, and improve the end product's aesthetic and flavor attributes. This has further aided in the expansion of the global bakery processing equipment market.
Frozen bakery products have been increasingly popular as a result of advantages such as convenience of preparation and time and cost savings for other institutional outlets. Due to their differing flavors and application in Quick Service Restaurants and food chains, demand for various varieties of frozen bakery items is increasing. In the worldwide frozen bread and bakery sectors, a growing trend is the expanding diversity of overseas specialties in local food markets. Crossover baking items are becoming increasingly popular. Consumer demand for certain of these items, such as frozen bread, is outpacing that of other frozen bakery products.
The growing popularity of frozen bakery products has prompted producers to increase output, as well as an increase in demand for various types of frozen bakery items, further leads the global bakery processing equipment market forward.
Global Bakery Processing Equipment Market Restraints:
The Maintenance of wastewater in bakery production line is the major restraint in the global bakery processing equipment market. The bread sector is one of the most important food industries in the world, with a wide range of manufacturing scales and processes. Large plant bakers produce more than 80% of the market's supply, whereas small scale bakers sell less than 5%. Water is an essential component in the upkeep of bakery processing equipment. The baking plates, molds, and trays are washed with 40–508C hot water mixed with detergents throughout the manufacturing process. It has a high loading, variable flow, and contains a lot of oil and grease. Furthermore, flour, oil, sugar, and yeast are all substantial waste components.
Moreover, the competition from the local manufacturers offering cost efficient products also acts as another restraint in the global bakery processing equipment market. The profitability of high-end equipment manufacturers in industrialized countries are being impacted by competition from Asia-based manufacturers selling cheaper items. They must now either reduce their profits in order to offer their products at competitive prices; or increase their production and sales while also providing increased functionality at a low cost so that bakery product manufacturers can buy their products and reduce the cost of installing new equipment without compromising quality.
Global Bakery Processing Equipment Market Segmentation Analysis:
By Type:
Sheeters & Molders

Mixers

Ovens & Proofers

Others
Based on type, the mixers category is expected to have the greatest proportion of the bakery processing equipment market. The industrial bakery mixer is one of the most important pieces of equipment for making bakery products including bread, cakes, pastries, and other bakery-related items. Dough mixing, which homogenizes and hydrates the elements in the dough, is a crucial procedure in the manufacturing of bakery items including bread. This has a direct effect on the quality of bakery items. The baking mixer is used to increase the volume of a mixed product or dough by mixing all of the ingredients together, including wheat, sugar, and baking flour. Baking equipment manufacturers are concentrating on utilizing creative and new technology for bread and bakery mixing.
By Application:
Cakes & Pastries

Bread

Cookies & Biscuits

Pizza crusts

Others
Based on application, the worldwide bakery processing equipment market is expected to be dominated by the bread sector. Because of the rising popularity of healthier breads like multi-grain and gluten-free bread, the bread market is expected to rise significantly. Customers are urged to choose bakery items that are gluten-free and low in carbs, rather than standard white bread, as they become more health-conscious. Bread is a staple cuisine in many cultures throughout the world.
Geographical Segmentation Analysis:
North America - the United States and Canada

Europe - United Kingdom, Spain, Germany, Italy, and France

The Asia Pacific - India, Japan, China, Australia, Singapore, Malaysia, South Korea, New Zealand, and Southeast Asia

Latin America - Brazil, Argentina, Mexico, and Rest of LATAM

The Middle East and Africa - Africa and Middle East (Saudi Arabia, UAE, Lebanon, Jordan, Cyprus)
Global Bakery Processing Equipment Market Regional Analysis:
The Global Bakery Processing Equipment Market Report includes the segmentation of Regions:
Due to increased economic growth in the recent decade, the bread processing equipment market in Asia Pacific is expected to rise rapidly. The food industry has also contributed significantly to the region's economic growth. Food consumption in the areas is gradually increasing as a result of increased wealth, population growth, and rapid urbanization. Due to the hectic lifestyles of clients in nations such as China, India, Japan, Australia, and New Zealand, students and professionals in urban areas pick bakery products as snacks. International bakery items have experienced an increase in demand in China due to their superior quality and packaging. All of these factors contribute to the growth of the bread product industry.

A lot of North American companies are offering limited-edition, nostalgic, and seasonal items to entice customers to buy bakery products. As a result, demand for bakery processing equipment with maximum flexibility, such as the ability to modify ingredients/raw materials batch by batch, is expected to expand significantly in the North America area throughout the projection period.

In terms of bread and roll manufacture, Germany is a prominent player in the European region. Bakery product makers should see new opportunities as demand for nutritious bread replacements and packaged bakery items grows.
Impact of COVID-19 on Global Bakery Processing Equipment Market:
The COVID-19 pandemic is predicted to have a substantial influence on the food and beverage industry by 2020. As a result of stringent lockdowns imposed by various governments and regulatory organizations around the world, several food processing enterprises, bakeries, and patisseries have shuttered. Various industry participants and manufacturers observed a significant reduction in their overall bread processing equipment market statistics in FY2020 because to lower food sales during the COVID-19 pandemic.
Key Players in the Market:
Major Key Players in the Global Bakery Processing Equipment Market are
JBT Corporation

Anko Food Machine Co., Ltd.

Markel Food Group

Koenig Maschinen GmbH

Heat & Control, Inc.