Calcium Propionate Market Size, Growth, Forecast (2023-2028)
The Global Calcium Propionate Market size was worth US$ 277.1 million in 2022, and it is estimated to reach a valuation of US$ 363.3 million by the end of 2028, progressing at an annual growth rate of 5.6% between 2023 and 2028. The market is growing tremendously as consumer preference for fresh food, hygiene and products with a prolonged shelf life increase. Compared to other preservatives, calcium propionate is less toxic.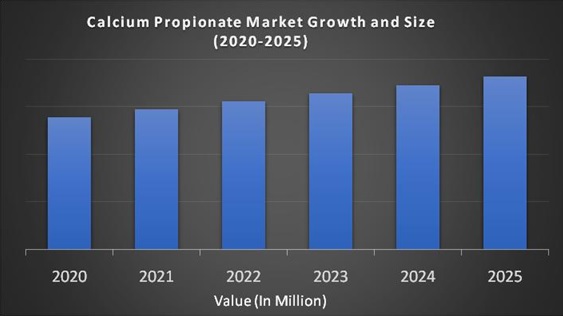 Market Overview:
Calcium propionate is used as a preservative in a variety of foods, including processed meats, baked goods, including bread, and dairy products, including whey. It helps increase the shelf life of food by reducing the growth of bacteria and fungi. In the agricultural sector, calcium propionate is used as a dietary supplement and is provided to cows to prevent milk fever. Unlike benzoate, propionate prevents microorganisms from generating the energy required by them. Propionate does not require acidic requirements like benzoate. Preservatives like sodium propionate are corrosive to the skin, eyes, and mucous membranes, while calcium propionate is not irritating.
Recent Developments in Calcium Propionate Industry:
In January 2018, Kemin Industries was a Kemin Retailer in Canada, Agri-Marketing Corp. (Canada) Acquired Distributor. With this acquisition, Kemin expanded and established a new location in Quebec, Canada.

Bio-Vet Inc. has launched new QuadriCal calcium boluses containing calcium propionate.

ADDCON has expanded its facilities in Parsevalstraße, Germany, to meet growing demand and related requirements. As part of the expansion, ADDCON updated the Bitterfeld-Wolfen Chemical Park site and transferred all operational functions to the new management building at Parsevalstraße.

ADDCON is a Blendtek Ingredients Inc. (Canada) food ingredients, and solutions company and ADDCON have partnered for the distribution of Ammonium Bicarbonate and Calcium Propionate.
REPORT COVERAGE:
| | |
| --- | --- |
| REPORT METRIC | DETAILS |
| Market Size Available | 2022 – 2028 |
| Base Year | 2022 |
| Forecast Period | 2023 - 2028 |
| CAGR | 5.6% |
| Segments Covered | By Application and Region |
| Various Analyses Covered | Global, Regional & Country Level Analysis, Segment-Level Analysis, DROC, PESTLE Analysis, Porter's Five Forces Analysis, Competitive Landscape, Analyst Overview on Investment Opportunities |
| Regions Covered | North America, Europe, APAC, Latin America, Middle East & Africa |
| Market Leaders Profiled | Addcon Gmbh, A.M. Food Chemicals Co. Ltd., Fine Organics, Impextraco Nv, Kemira Oyj, Krishna Chemicals, Macco Organiques Inc., Niacet Corporation, Perstorp Holding Ab and Others. |
Calcium Propionate Market Growth:
The growth of the calcium propionate market is driven by factors such as increased demand for clean label foods with a long shelf life compared to other preservatives and the profitability of calcium propionate.
Drivers:
The global calcium propionate market is growing as consumers' food preferences change. As people's lifestyles have changed, their health awareness has increased, and the demand for calcium propionate has increased. Calcium propionate is used as a preservative in bread, baked goods, processed meats, and many other dairy products. It acts as an antibacterial agent to kill microorganisms such as viruses, bacteria, algae, and fungi. As a result, market demand has increased, causing market growth. Animals receive calcium propionate as a food supplement. As the food preservation sector grows, the need for calcium propionate in the world market increases. This product is very profitable compared to other alternatives such as sulfite, sorbate, etc., so the demand is increasing in the market.
The global calcium propionate market is supposed to show high growth during the outlook period as consumer preference for fresh foods increases. The recent rise in health problems with changes in the consumer's life has led to the use of calcium propionate. It is mainly used as a preservative in bakery products, including bread, processed meats, baked goods, and various dairy products. Calcium propionate also acts as an antibacterial agent to kill microorganisms like bacteria, algae, viruses, and fungi. It is also used as a food supplement for animals. The growing applications in the field of food preservatives are assumed to serve as the main driving force behind the products. With the expansion of the calcium propionate application base in the new product line, the growing demand for food safety from customers expects positive industrial growth during the forecast period. It also serves as a cost-effective solution compared to other alternatives such as sorbate, sulfite, etc., which are expected to further improve market demand in the coming years.
In particular, increased R&D spending in developed countries in North America and Europe is anticipated to provide growth opportunities for market participants. Furthermore, the growth of the processed food market, especially in India and emerging economies, is expected to offer tremendous opportunities for industrial growth. The global calcium propionate market is classified by application, including dairy, bakery, meat and processed meat products, feed and other food applications. The bakery has become an essential application in the global market due to the suitability of the product in this sector.
Restraints:
Changes in consumer preference for fresh foods over preservatives are presumed to remain a significant challenge for industry participants. This change in trends is likely to force players in the food industry to increase their interest in natural products, hampering the growth of the global calcium propionate market during the prediction period. The high price of propionic acid combined with limited availability is suspected of limiting the market in the long term.
Calcium Propionate Market Segmentation Analysis:
By Application:
Bakery

Meat & Processed Meat

Dairy

Feed

Processed Food

Others
Geographical Segmentation Analysis:
North America - the United States and Canada

Europe - United Kingdom, Spain, Germany, Italy, and France

The Asia Pacific - India, Japan, China, Australia, Singapore, Malaysia, South Korea, New Zealand, and Southeast Asia

Latin America - Brazil, Argentina, Mexico, and Rest of LATAM

The Middle East and Africa - Africa and Middle East (Saudi Arabia, UAE, Lebanon, Jordan, Cyprus)
Regional Analysis:
North America and Europe are mature markets for calcium propionate that have already reached saturation. Europe is a significant consumer of the calcium propionate market and will continue to do so in the future. In countries such as the United Kingdom, Italy and France, market growth began as a demand for calcium propionate increased. The reason for this increase in demand is that the working class consumes many convenient foods every day. The need for calcium propionate is also high due to the use of calcium propionate in other applications where previously banned antibiotics have been used. North America is also in high demand for calcium propionate, but the need for fresh fruits and organic foods will slow it down for years to come.
Due to its beneficial properties, the Asia Pacific calcium propionate market is also growing. On the other hand, Asia Pacific is foreseen to show the highest growth due to the growth of the food industry in China and India. These countries have experienced rapid changes in consumer lifestyles, which affect eating and eating habits and expect high growth in the market. Brazil, India, Russia and China are supposed to show high growth and gains during the outlook period. The market is likely to grow at a relatively low growth rate compared to the Asia Pacific, the Middle East, and Africa and Latin America. The Middle East and Africa are assumed to grow significantly during the forecast period. Latin America is expected to show high growth during the forecast period.
Key Players in the Market:
Major Key Players in the Global Calcium Propionate Market are
Addcon Gmbh

A.M. Food Chemicals Co. Ltd.

Fine Organics

Impextraco Nv

Kemira Oyj

Krishna Chemicals

Macco Organiques Inc.

Niacet Corporation

Perstorp Holding Ab