Cheese Powder Market Size, Growth, Forecast (2023-2028)
The Global Cheese Powder Market Size was worth US$ 406.6 million in 2022, and it is estimated to reach a valuation of US$ 604.1 million by the end of 2028, expanding at an annual compound rate of 6.8% between 2023 and 2028. As cheese adoption increased among consumers, demand for cheese powder increased.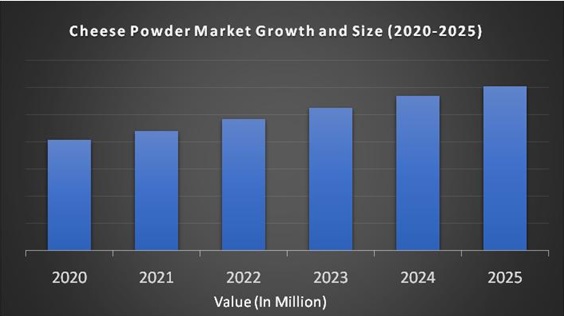 Market Overview:
Powdered cheese is easy to handle and can be stored for a long time so that it can replace the solid form of cheese. This product can be sold in a low-fat way, using salt as a low-fat ingredient and cheese. It also contains whey, anti-caulking additives, cheese and salt and can be manufactured in various ways. In commercial powdered cheese production, the cheese is melted and then passed through a spray dryer to produce a thick powder. Cheese powders are available in organic and traditional forms on the market. The application of cheese powder varies in the food industry. Powdered cheese is used in the manufacture of baked goods, sauces, dressings, and sweet and tasty snacks.
Recent Developments in Cheese Powder Industry:
Lacto acid has launched a new product to provide a calcium product with six times more nutrients compared to other products.

In 2017, manufacturers of dairy raw materials Land O'lakes, Inc. launched a line of organic cheese powder. Organic certification allows companies to set higher prices in the market than their competitors.

In August 2016, All American Foods (USA) expanded its technology center in Mankato, MN to complete an extensive pilot plant, food preparation and testing facility. This allows the company to strengthen the product development process.

In November 2015, H.J. Heinz Company (USA) had a contract with 3G Capital and Berkshire Hathaway Inc. to sign Kraft Food Group Inc. Merged with (USA). This created one of the giant foods and beverage companies. Through this merger, Kraft products benefit from Heinz's presence outside of the United States.

Arch Daniels Midland Company opened two factories in China in November 2015 to strengthen its ability to respond to the growing local demand for high value-added food and beverage materials.

Archer Daniels Midland Company (USA) acquired Wild Flavors GmbH (Switzerland). This added value to the company's portfolio of food ingredients and flavor.
REPORT COVERAGE:
| | |
| --- | --- |
| REPORT METRIC | DETAILS |
| Market Size Available | 2022 – 2028 |
| Base Year | 2022 |
| Forecast Period | 2023 - 2028 |
| CAGR | 6.8% |
| Segments Covered | By Type, Application and Region |
| Various Analyses Covered | Global, Regional & Country Level Analysis, Segment-Level Analysis, DROC, PESTLE Analysis, Porter's Five Forces Analysis, Competitive Landscape, Analyst Overview on Investment Opportunities |
| Regions Covered | North America, Europe, APAC, Latin America, Middle East & Africa |
| Market Leaders Profiled | Land O'Lakes, Inc, Kraft Foods Group, Inc, Kanegrade Limited, Archer Daniels Midland Company, Lactosan A/S, Kerry Group Plc, DairiConcepts, LP and Others. |
Cheese Powder Market Growth:
As consumer demand for ready-to-eat food (RTE) and ready-to-cook (RTC) increases, the growth of the cheese powder market is anticipated to accelerate worldwide.
Drivers:
Cheese powder has found a variety of applications in food and beverages along with changing consumer tastes, leading to an increase in demand for convenience food products. In addition to this, the long shelf life of the products has made it the first choice for packaged foods. Furthermore, the ability of cheese powder to impart good taste and flavor to foods has forced consumers to lean towards the product. Large customers will emphasize the nutritional value of products, such as high protein and vitamin content, and low calories will provide a favorable growth outlook for the market. This will negate the impact of market disruption. Once again, manufacturers are impacting the growth and scope of their business by offering better product quality and flavor along with attractive and durable packaging. Global cheese trade and demand in developed markets remained stable. However, according to information from the US Dairy Export Commission. In the US, demand and prices for cheese in developing countries remain weak.
In recent years, a drop in prices, along with a rise in population, a boom in the foodservice industry and an increase in disposable income, are expected to stimulate demand for products in developing countries. Powdered cheesemakers are focusing on providing custom flavors from cheddar cheese powder segments to sweets and butter to delicious flours. Additionally, manufacturers are seeking innovative ingredients to develop new flavor profiles and products. Increased consumer interest in the nutritional value provided by-products such as low calorie, high protein and vitamin is expected to have a positive impact on the market. Initiatives taken by manufacturers to offer new flavors, better quality and attractive packaging will adapt well to the market during the forecast period. These products can be enhanced with Vitamin D, Calcium, and DHA to improve nutritional value.
The cheese powder companies are leading the cheese market by focusing on expansion, new releases, and acquisitions. The driving force behind this market is increased disposable income, busy lifestyles, new launches, and a growing workforce. Most of the major players in this market are based in the United States. The cheese powder market is fueled by new and innovative product offerings from cheese powder manufacturers to adapt to consumers' changing eating habits and eating patterns.
Restraints:
Increased awareness of the side effects of eating cheese powder for human health, such as high blood pressure, heart failure, obesity, and high cholesterol levels, affects the popularity of the product. Even fluctuations in dairy prices affect market progress. Additionally, due to factors such as animal rights and environmental protection, the transition of the consumer base to a vegan diet is poised to hamper market growth during the outlook period.
Cheese Powder Market Segmentation Analysis:
By Type:
Cheddar

Mozzarella

Parmesan

American

Blue
By Application:
Bakery & Confectionery

Sweet & Savoury Snacks

Sauces

Dressings

Dips & Condiments

Ready Meals
Geographical Segmentation Analysis:
North America - the United States and Canada

Europe - United Kingdom, Spain, Germany, Italy, and France

The Asia Pacific - India, Japan, China, Australia, Singapore, Malaysia, South Korea, New Zealand, and Southeast Asia

Latin America - Brazil, Argentina, Mexico, and Rest of LATAM

The Middle East and Africa - Africa and Middle East (Saudi Arabia, UAE, Lebanon, Jordan, Cyprus
Regional Analysis:
Even by region, the global cheese powder market can be divided into five central areas of Europe, Asia Pacific, Latin America, North America, the Middle East, and Africa. North America cheese powder market is estimated to occupy a significant share of the overall revenue share during the evaluation period due to the massive popularity of prepared foods and ready-to-eat meals among consumers as a result of busy work hours. Furthermore, the growth of the cheese powder market in Europe has accelerated as dairy intake has increased significantly with demographic changes, active lifestyles and easy access to new food and dairy technologies.
In addition, increased per capita income for consumers will drive growth in the Asia Pacific cheese powder market, along with increased dairy consumption and changes in food preferences. Furthermore, increasing the number of stalls and points of sale installed in countries such as China, Korea, India and Japan will help local markets to grow. Obviously, with the increased consumption of nutritious snacks, customers' eating habits increase and the abundant availability of products will drive the growth graph of the Latin American cheese powder market.
Key Players in the Market:
Major Key Players in the Global Cheese Powder Market are
Land O'Lakes, Inc.

Kraft Foods Group, Inc.

Kanegrade Limited

Archer Daniels Midland Company

Lactosan A/S

Kerry Group Plc

DairiConcepts, LP