Clinical Data Analytics Market Size (2022 to 2027)
The global clinical data analytics market was worth USD 8.0 billion in 2022. This value is forecasted to grow at a CAGR of 44.79% and be worth USD 50.7 billion by 2027.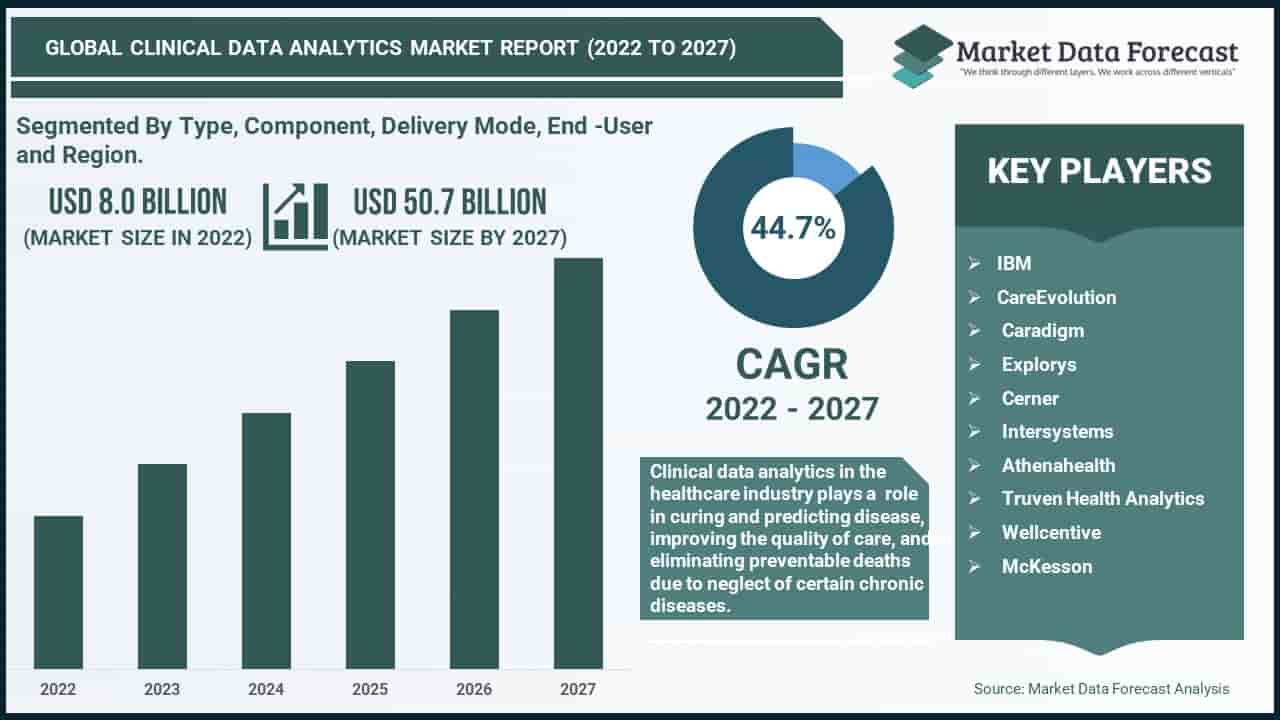 Clinical data analytics in the healthcare industry plays a prominent role in curing and predicting disease, improving the quality of care, and eliminating preventable deaths due to neglect of certain chronic diseases. MHealth technology is on the rise where user-reported data (what people say), task-based measurements (devices that measure exertion and physiology) as well as passive sensing (what people do) daily) Help collect the data used for clinical analysis, which helps market growth.
Analysis of clinical data in the healthcare sector benefits disease prediction and cure, which improves the quality of care and prevents preventable deaths caused by neglect of certain chronic diseases. Due to new technological advancements like mHealth and the Internet of Things (IoT) in healthcare, patients can now track their health data and share it with their respective healthcare professionals for additional remedies and advice. The more data is collected and analyzed, the better the medical knowledge.
MARKET DRIVERS:
The global clinical data analytics market is driven by ever-changing industry regulations, increasing pressures to reduce drug development costs, and growing demand for new therapies.
According to the Avoca group, 66% of R&D activities were outsourced in 2020, and this trend is expected to remain stable until 2021. The market is also experiencing participation in patients, doctors, and systems, contributing to the proliferation of electronic data recording systems and advances in methods (such as randomized trials), presenting an excellent opportunity for the market studied. In addition, there is a growing trend for therapy area-specific modules to be mapped to industry standards. For example, clinical milestone modules, disease-specific symptom modules, and disease-specific assessments (such as GAG urine tests and MPS enzyme tests) are being matched with MedDRA (Medical Dictionary for Regulatory Activities), WHO Drug (WHO Dictionary of Medicines), CDISC (Clinical Data Interchange Standards Consortium), which promotes trials in various therapeutic areas, thus contributing to the growth of the market.
AI and machine learning are gradually entering the clinical data analytics market.
The design phase is one of the most promising potentials for AI and ML in clinical trials. For example, in January 2020, the Mayo Clinic announced the Clinical Data Analytics Platform as the first Mayo Clinic platform company. It is based on a federated architecture, allowing multiple participants to build a robust standard machine learning model and artificial intelligence without sharing data sets.
MARKET RESTRAINTS:
The global clinical data analytics market is in disarray due to lockdowns imposed to limit the spread of the COVID-19 epidemic. In addition to the sudden drop in revenues, some businesses are expected to face various challenges after the pandemic.
Impact of COVID-19 on the global clinical data analytics market:
COVID-19 has heavily impacted human life, and the economy has seen a huge downfall, affecting every sector. The supply and value chains are disrupted due to the demand side and changes in consumer behavior. Non-essential medical care is shut down, and emergency health care services are burdened on a massive scale. The faults of the health care system are exposed, and there is a surge in demand for personalized health care for chronic disease monitoring, health tracking, and fitness measurements. Covid 19 had impacted people to change their lifestyles in the perception of maintaining health and fitness. Clinical data analytics, disease data, symptoms, and preventive care are available online for knowledge and diagnosis.
Clinical data analytics is one of the markets that has witnessed huge demand in these challenging times. This can be attributed to the growth of science and technology coupled with IoT, AI, and other interactive applications. In addition, the need for personalized medicine and regular health and fitness maintenance has triggered the demand for the clinical data analytics market. The government policies regarding maintaining data repositories and data fiduciaries for health monitoring also increased the demand for the clinical data analytics market.
REPORT COVERAGE:
| | |
| --- | --- |
| REPORT METRIC | DETAILS |
| Market Size Available | 2021 to 2027 |
| Base Year | 2021 |
| Forecast Period | 2022 to 2027 |
| Segments Covered | By Type, Component, Delivery Mode, Application, and Region |
| Various Analyses Covered | Global, Regional & Country Level Analysis, Segment-Level Analysis, DROC, PESTLE Analysis; Porter's Five Forces Analysis, Competitive Landscape, Analyst Overview on Investment Opportunities |
| Regions Covered | North America, Europe, APAC, Latin America, Middle East & Africa |
This market research report on the global clinical data analytics market has been segmented and sub-segmented based on type, component, delivery mode, application, and region.
Clinical Data Analytics Market – By Type:
Prescriptive

Descriptive

Predictive
Based on the type, the descriptive segment is anticipated to account for the highest share in the clinical data analytics market as applications in process optimization. The potentiality of descriptive analytics is to analyze historical data and gain actionable future insights that help grow the segment.
The prescriptive analytics segment is expected to witness a CAGR of 15.8% during the forecast period as an implication of crucial business metrics and the capability to predict possible outcomes.
Clinical Data Analytics Market – By Component:
Software

Hardware

Services
Based on the component, the hardware segment dominates the clinical data analytics market growth during the forecast period.
Clinical Data Analytics Market – By Delivery Mode:
On-Premises

Web-based

Cloud-based
Based on the delivery mode, the on-premises segment is anticipated to dominate the market, which accounts for 54.0% of the share globally during the forecast period due to the simple, configurable nature of this segment solution compared to on-demand models.
Clinical Data Analytics Market – By Application:
Based on the application, the financial segment is anticipated to grow with the highest CAGR as of increasing analytics applications to reduce the growing healthcare price and offer quality patient care and extensive analytics to determine and prevent healthcare deceit, which will increase the demand further.
The clinical segment is expected to have strong growth where it allows lessening the amount spent on healthcare, offering quality patient care attributing to important industry care.
Clinical Data Analytics Market – By End-User:
Health Payers

Healthcare Providers

Others
Based on the end-user, the health payers segment has an essential share in the clinical data analytics market over the analysis period. In addition, increasing healthcare costs and requirements for rising memberships decrease fraud claims, bolstering market growth during the analysis period.
Clinical Data Analytics Market – By Region:
Geographically, the North American region was the leader for clinical data analytics in the worldwide market in 2021, and the domination is projected to continue throughout the forecast period. Increasing advancements in information technology and the early adoption of advanced healthcare technologies are significant factors for the market growth in this region. Additionally, the strong presence of many well-established big data and healthcare companies in the region encourages market growth. Further, federal health policy reforms and an increased focus on extensive data management support the North American clinical data analytics market.
The United States clinical data analytics market is expected to experience the most significant growth during the forecast period. The massive expansion of the US market is linked to the development of federal healthcare mandates to control rising healthcare costs, increasing regulatory obligations, increased adoption of the EHR, and the expansion of government initiatives focused on personalized medicine, value-based reimbursement, and population health management. According to ClinicalTrials.gov, in 2020, the United States alone accounted for 35% of registered clinical studies worldwide. The collected data generated from different sources should be studied and analyzed to establish strategies for effectively managing population health. According to the same source, the United States alone accounted for 37% of clinical recruitment studies recorded worldwide in October 2019.
The European market was ranked second in the global clinical data analytics market in 2019. The market is driven by rising medical spending and demand to curb rising healthcare costs. As a result, rising medical spending per capita is boosting the clinical data analytics market in the region. Also, better healthcare facilities and the rapid advancement in healthcare informatics drive the regional market's growth. As a result, the European clinical data analytics market is expected to generate significant revenue over the estimated period.
The market in the Asia-Pacific region is growing rapidly. Factors such as increasing clinical trials and the aging population in this region are driving market growth. Further, the growing demand from patient groups using healthcare data analytics to manage big data supports regional market growth. China and India are the main markets in the region with significant unmet needs. Therefore, the APAC clinical data analytics market is expected to generate substantial revenue over the estimated period.
The Latin American clinical data analytics market is forecasted to value 4.03 billion by the end of 2027.
The clinical data analytics market in the MEA region was valued at 390 million in 2022.
KEY MARKET PARTICIPANTS:
Companies such as IBM, CareEvolution, Caradigm, Explorys, Cerner, Intersystems, Athenahealth, Truven Health Analytics, Wellcentive, and McKesson play a notable role in the global clinical data analytics market and are profiled in this report.
RECENT MARKET DEVELOPMENTS:
In July 2020, Cerner Corporation ad Holon Solutions partnered to provide progressive clinical decision support technology for upgrading patient outcomes. Both companies will employ patented technology, bringing patient-specific knowledge into provider workflows and advancing reimbursements and results.

In November 2019, Intersystem and Virtusa partnered to provide access to patient data from EHR and other clinical applications.

In January 2016, Caradigm launched an open exchange for healthcare interoperability potentiality, which uses (CIP) the Caradigm Intelligence Platform, which uses this CIP to build data assets that support several potentialities.