Sleep Apnea Devices Market Size (2022 to 2027)
As per our research report, the global sleep apnea devices market size is estimated to be growing at a CAGR of 7.8% from 2022 to 2027. This market is estimated to worth USD 12.59 billion by 2027 and USD 8.65 billion in 2022.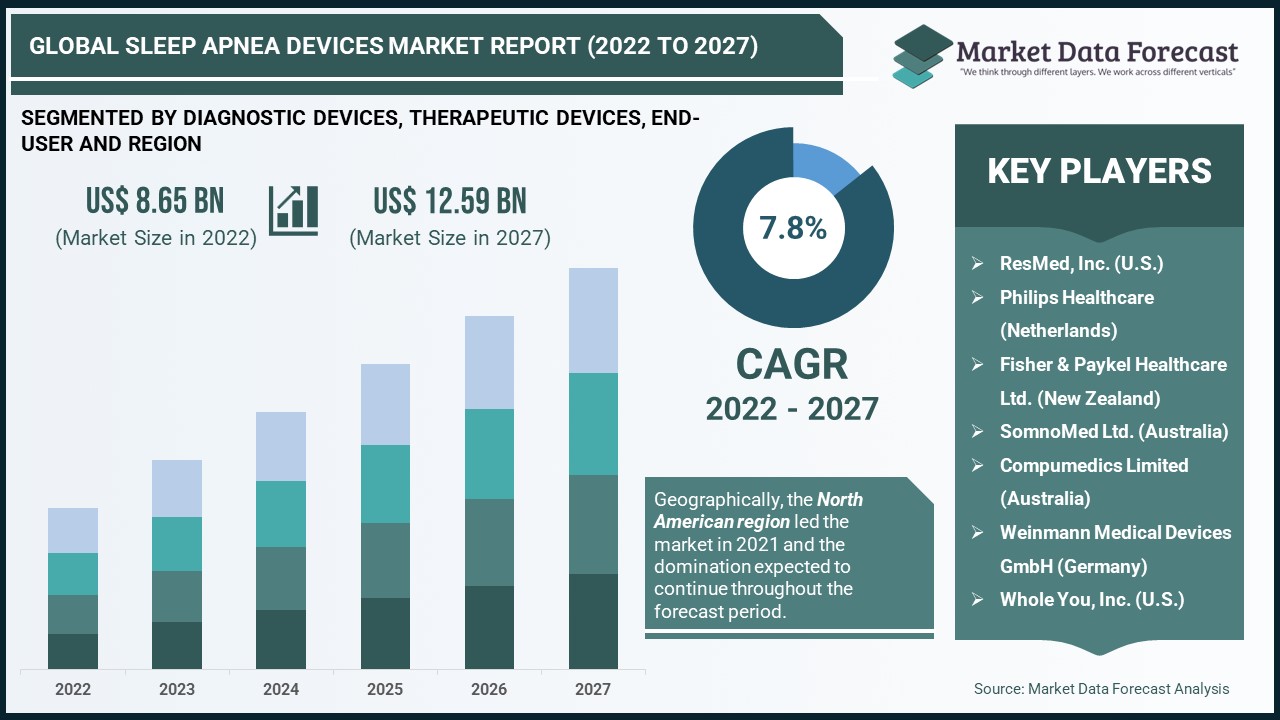 Sleep apnea is a dangerous condition in which breathing regularly stops during sleep. It can sometimes stop breathing a hundred times, resulting in less oxygen intake. It is mostly due to airways being closed or collapsing at night. When a person's breathing ceases, the body immediately wakes up, resulting in insufficient sleep. As a result, people are exhausted throughout the day, which affects their performance. Sleep apnea is classified into three types: central sleep apnea (CSA), obstructive sleep apnea (OSA), and combined sleep apnea. Morning headaches, Forgetfulness, mood changes, Sleepiness or lack of energy during the day, loud snoring is some of the symptoms found in persons with sleep apnea.
Various devices on the market can be used to cure sleep apnea, including continuous positive airway pressure (CPAP), nerve stimulation devices, and oral appliances. The continuous positive airway pressure (CPAP) machine is used to treat mild to extreme sleep apnea and obstructive sleep apnea. CPAP blasts oxygen by increasing air in the local area and keeping the airways open whilst sleeping. When the tongue or other tissue obstructs the airway, a nerve stimulator may assist. In certain cases, oral appliances such as a mandibular advancement device and a tongue retaining device are used. Some patients use a dental device instead of PAP therapy to treat obstructive sleep apnea (OSA).
COVID-19 Impact on the global sleep apnea devices market:
Since the start of the COVID 19 pandemic, there are unprecedented changes in healthcare services. It is known from the studies that the people diagnosed with sleeping disorders are more subjected to face worse symptoms from the COVID 19. During this outbreak, telemedicine has played a major role in treating patients suffering from sleeping disorders. The health care providers kept the complete focus on providing quality services for the patients amid COVID 19. many government organizations have launched novel therapies online. However, in the last few months of 2020, the government's unlock guidelines in every country have set a new value to the market shares. All the activities were resumed by taking preventive measures, which propelled the market's demand in the COVID 19 outbreak.
In 2019, the entire world was hit by Covid – 19, which resulted in many deaths in a short period. The coronavirus imposes a quarantine, social isolation, and a travel ban. As a result, there have been many industry effects, both financially and psychologically. Of both, sleep apnea has the greatest commercial effect. Because of the lockdown and travel bans, doctors, medical providers, and hospitals were temporarily closed to deal with the growing covid – 19 crisis. According to the European Sleep Apnoea Database (ESADA) cohort, during a pandemic, the diagnosis of sleep apnea drops from 30% to 27.5 %. As a result, it reduces demand for sleep apnea devices, resulting in slowing business growth.
Furthermore, in covid – 19, increasing sedentary lifestyle, junk food consumption, and avoidance of exercise increases obesity among people and raises the risk of sleep apnea. Besides, OSA affects nearly 8% of the population, and the serious COVID-19 infection raises the risk of hospitalization and has a higher incidence of over 20% in people over the age of 60. A FinnGen study of 305 patients with OSA diagnosis and COVID-19 infection discovered that OSA patients with COVID-19 were 5 times more likely to suffer symptoms and be hospitalized.
MARKET DRIVERS:
The growing prevalence of sleep apnea and technological advancements helps the global sleep apnea devices market climb new heights.
The growing number of patients suffering from sleep apnea is a major driver of the sleep apnea industry. Sleep apnea may affect anybody, but older people, men, and overweight people are at a higher risk. Obstructive sleep apnea affects about 1 billion people worldwide. According to a 2020 American Sleep Association survey, about 22 million Americans suffer from sleep apnea, with about 80 % of moderate to extreme obstructive sleep apnea being undiagnosed. Sleep apnea also affects approximately 66 million Chinese, 29 million Indians, and 20 million Russians in 2020. These statistics suggest that a large number of individuals need sleep apnea diagnosis and treatment. As a result, the need for sleep apnea devices rises.
Growing awareness regarding hypertension and other prevalent chronic diseases, rapid advancements in technology, resulting in enhanced development, are the significant factors driving the market growth.
As per Sleep Review, in 2018, over 1 billion population worldwide suffered from sleep apnea. Improved treatment techniques, high stress, long working hours, and increasing cases of depression and obesity are some of the other key factors contributing to the growth of the sleep apnea devices market. According to the National Healthy Sleep Awareness Project, around 25 million U.S. adults were affected by sleeping disorders. According to the America sleep apnea organization, about 22 million Americans suffer from sleep apnea, and almost 80% of the cases are from average and high sleep apnea undiagnosed.
The advancement of innovative sleep apnea devices by industry leaders also contributes to the development of the sleep apnea devices market.
Many people are unaware that they have sleep apnea, and it goes undiagnosed. As a result, many industry leaders are designing devices to treat and diagnose sleep apnea. For example, new masks are being developed that can improve inhalation, and the device used while awake also gets FDA authorization. Besides, new devices such as Hypoglossal nerve stimulation and Expiratory Positive Airway Pressure (EPAP) have been used to treat OSA.
The growing number of health complications caused by untreated sleep apnea raises the market for sleep apnea products. Sleep apnea causes severe health problems such as high blood pressure, diabetes, heart disease, irregular heartbeats, and stroke leading to the lack of breathing. In addition, sleep apnea, which induces elevated blood pressure, can lead to cardiac arrhythmias and heart failure. Furthermore, according to Yale University research, people who have had sleep apnea for up to 5 years have a 30% elevated risk of having a heart attack or dying. Besides this, since it induces insufficient sleep, it affects everyday activities such as education and work. As a result, people have become more interested in diagnosing and treating sleep apnea, and the demand for sleep apnea devices rises exponentially, indicating market expansion.
Owing to technological enhancements, innovative products that can acquire and analyze the signal and smartphones with in-built sensors flow into the market. These devices help monitor sleep at home with improved comfort and diagnose various sleeping disorders like obstructive sleep apnea. Also, the self-management platforms, mobile applications, regular assessments of patients with mHealth, and telemedicine are likely to offer lucrative opportunities during the forecast period.
Furthermore, improved care and support to patients with telemedicine help patients lean towards convenient and productive interactions with a sleep doctor, which is expected to boost the sleep apnea devices market. Additionally, the factors like initiatives by governments and private organizations in R & D to develop innovative products, increasing adoptions of therapeutic devices are fuelling the demand for the sleep apnea devices market. Furthermore, comorbidities to prevent obstructive sleep apnea in geriatric patients, patient adherence, and increasing healthcare expenditure are also helping the market see further growth.
MARKET RESTRAINTS:
The high cost of devices limits the sleep apnea device market growth.
The high cost associated with sleep apnea devices restricts the sleep apnea market growth. According to the American Sleep Association, the retail price of a CPAP system varies between $500 and $3000, with an annual average price of $850. In Singapore, the cost of a CPAP machine also varies from $500 to $1,000 or more, depending on the model and brand. This expense discourages people from using the devices, limiting the development of the sleep apnea industry.
The expensive treatment procedures and significant discomfort are inhibiting the growth of this sleep apnea device market. Also, side effects associated with sleep apnea devices like related heart diseases, diabetes, and mental disorders hamper the growth of sleep apnea devices. Furthermore, while sleeping, these devices may cause inconvenience to the users, which may hinder the market growth. People from low and middle economic countries have less or no knowledge about sleep apnea devices, which is one more factor restraining market growth.
REPORT COVERAGE:
| | |
| --- | --- |
| REPORT METRIC | DETAILS |
| Market Size Available | 2021 to 2027 |
| Base Year | 2021 |
| Forecast Period | 2022 to 2027 |
| Segments Covered | By Product, Diagnostic Devices, End-User, and Region |
| Various Analyses Covered | Global, Regional & Country Level Analysis, Segment-Level Analysis, Drivers, Restraints, Challenges, Opportunities, PESTLE Analysis, Porter's Five Forces Analysis, Competitive Landscape, Analyst Overview on Investment Opportunities |
| Regions Covered | North America, Europe, Asia Pacific, Latin America, Middle East & Africa |
This research report on the global sleep apnea devices market has been segmented and sub-segmented based on product type, diagnostic devices, end-users, and region.
Sleep Apnea Devices Market - By Product:
Positive Airway Pressure (PAP) Devices

CPAP Devices

APAP Devices

BPAP Devices

Facial Interfaces

Masks

Nasal Masks

Nasal Pillow Masks

Full-Face Masks

Adaptive Servo-Ventilation Instruments (ASV)

Airway Clearance Systems

Oxygen Concentrators

Stationary Concentrators

Portable Concentrators

Accessories

Pillows

Chin Restraints

Mask Cleaning Wipes

Other Accessories

Oral Appliances

Mandibular Advancement Devices

Tongue Retaining Devices
Based on the Product type, the Positive Airway Pressure (PAP) Devices segment is estimated to grow at a CAGR of 10.2% during the forecast period. The increasing prevalence of quality treatment procedures is leveling up the growth rate of the market. Moreover, supportable insurance coverage for treating sleep apnea and other disorders boosts the market growth. The American Sleep Apnea Association (ASAA) delivered more than 5,000 Continuous Positive Airway Pressure (CPAP) device packages to the past through its CPAP Assistance Program (CAP) in July 2017.
Sleep Apnea Devices Market - By Diagnostic Devices
Polysomnography Devices

Ambulatory PSG Devices

Clinical PSG Devices

Respiratory Polygraphs

Oximeters

Single-Channel Screening Devices (Pulse Oximeters)

Fingertip Pulse Oximeters

Handheld Pulse Oximeters

Wrist-Worn Pulse Oximeters

Tabletop Pulse Oximeters

Actigraphy Systems
Based on diagnostic devices, the Polysomnography Devices segment is estimated to be the top-performing segment during the forecast period. The polysomnography test is the most widely used test for diagnosing obstructive sleep apnea, and the respiratory polygraphs help diagnose sleep apnea in home environments. This respiratory polygraph is considered a substitute for polysomnography. Therefore, their affordability is increasing their adoption among patients. The increasing number of patients diagnosed with respiratory disease is one factor that drives segment growth over the forecast period.
Sleep Apnea Devices Market - By End-User
Home Care Setting

Sleep Laboratories

Hospitals
Based on end-user, the Homecare settings accounted for the largest market share and remained so until 2025.
Sleep Apnea Devices Market – By Region
North America

Europe

Asia Pacific

Latin America

The Middle East and Africa
North America dominated the global sleep apnea device market with a market share of 51.5% in 2019. Sleep apnea, large patient pools, and increased awareness of international manufacturers' existence strengthen market share in the region. Also, the number of treatment tests conducted in the area to confirm sleep apnea is increasing rapidly. In addition, many people are more concerned about the health risks that result from this condition, so the prediction period is driving market growth across the globe.
In 2019, the U.K. market accounted for 14.7% as more companies manufacture sleep apnea devices count is high in this country. In addition, increasing demand for sleep apnea diagnostics and treatment devices from the population will also add to the growth of the U.K. market over the next few years.
Meanwhile, the Asia Pacific market is projected to grow at the fastest rate during the forecast period. A sizeable undiagnosed patient pool and increased healthcare infrastructure investment are to boost the market growth. Our competitors are also focusing on building strategies to deploy affordable devices for price-sensitive customers in the Asia Pacific region, further supporting growth in the area. In addition, the establishment of sleep laboratories to test sleep apnea patients in countries such as the Philippines, Singapore, and Malaysia, where awareness of OSA is growing, could drive market growth in the region. The Indian market records a favorable CAGR growth of 11.3% over the forecast period due to increased sleep apnea and other sleep disorders. Increasing disposable income in emerging markets such as India and China will continue to impact business growth. Besides, rising obesity rates through the acceptance of high levels of sedentary lifestyles is another crucial factor affecting the prevalence of sleep disorders and growing product demand.
KEY MARKET PARTICIAPANTS:
Companies leading the global sleep apnea devices market are ResMed, Inc. (U.S.), Philips Healthcare (Netherlands), Fisher & Paykel Healthcare Ltd. (New Zealand), SomnoMed Ltd. (Australia), Compumedics Limited (Australia), Weinmann Medical Devices GmbH (Germany) and Whole You, Inc. (U.S.). These players focusing on various strategies such as a merger, acquisition, product launch, and partnerships. Some of these includes,
On 5 February 2021, U.S. Food and Drug Administration has approved the promotion of another treatment prescription-only designed to relieve snoring and mild obstructive sleep apnea. This device can be used while a person is awake.
On 26 October 2020, Acurable has launched the AcuPebble SA100, a small wearable device that allows for a fully automatic and remote diagnosis of obstructive sleep apnea (OSA).
MAJOR HAPPENINGS IN THIS MARKET IN THE RECENT PAST:
In October 2019, ResMed Company released a new device known as AirFit N30 for treating sleep apnea. AirFit N30 is the very lightest CPAP mask. It also features elastic headgear and a cradle cushion under the nasal bridge for a comfortable experience; irrespective of how the wearer moves or sleeps, the seal is secured due to the mask's innovative design's curved cushion.

In September 2016, Respicardia, Inc., a medical technology company, received U.S. FDA approval for its Remede system. It is for the treatment of moderate to severe central sleep apnea. With this product approval, the company's market presence in the United States has seen significant growth, and its revenue generation flow has also rushed high.

In October 2015, Koninklijke Philips Company released a sleep apnea solution containing a DreamMapper patient engagement app, DreamWear mask, and Dreamstation PAP device.