Industrial Turbocharger Market Size and Forecast (2023 - 2028)
The Global Industrial Turbocharger Market size is estimated to grow at a CAGR of 9.1 % during the forecast period 2023 - 2028.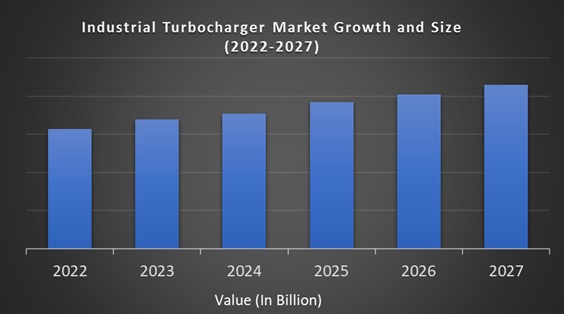 Market Overview:
The industrial turbocharger market increases due to enhanced engine performance and fuel efficiency, regulatory requirements, and engine downsizing to reduce vehicle weight. Furthermore, turbocharger installation and excessive rise in engine temperature due to overheating concerns in turbochargers are projected to hamper the turbocharger market's growth. During the projected period, however, the increase in demand for fuel-efficient engines and gasoline engines is expected to augment the expansion of the industrial turbocharger market. A turbocharger is an internal combustion (IC) engine that improves performance by increasing air intake in the combustion chamber using ejected burnt air. An IC engine requires extra air to additional combustion fuel for colossal power output, which reduces efficiency; consequently, turbochargers play an essential role in boosting efficiency by supplying compressed air.
Recent Developments in Industrial Turbocharger Industry:
According to the firm, BorgWarner is delivering its regulated two-stage (R2S) turbocharger for Daimler's latest 2.9-liter six-cylinder inline diesel engine OM 656, initially featured in the upgraded Mercedes-Benz S-Class released in 2017. BorgWarner's breakthrough turbocharging technology meets the requirements of cutting-edge engine designs. In addition, BorgWarner's breakthrough turbocharging technology improves torque, performance, and exhaust gas recirculation rates even under full-load conditions while dramatically lowering emissions.

Rheinmetall, a German automotive parts supplier, announced a deal with a lifetime value of more than €90 million (about Rs 626 crore) from a giant American carmaker for a new generation of divert-air valves. This arrangement satisfies the customer's need for local production, which is planned to begin in 2018. The contract will be in effect for six years. A US automaker will put the divert-air valves in a high-volume production series developed in other countries.

Continental's first turbocharger with the groundbreaking RAAX (stands for "radial-axial") turbine technology is now in production on the Audi A3's new 2.0-liter gasoline engine (2.0l TFSI EA888, generation 3B).
INDUSTRIAL TURBOCHARGER MARKET REPORT COVERAGE:
| | |
| --- | --- |
| REPORT METRIC | DETAILS |
| Market Size Available | 2022 – 2028 |
| Base Year | 2022 |
| Forecast Period | 2023 - 2028 |
| CAGR | 9.1% |
| Segments Covered | By Product, End User, and Region. |
| Various Analyses Covered | Global, Regional & Country Level Analysis, Segment-Level Analysis, DROC, PESTLE Analysis, Porter's Five Forces Analysis, Competitive Landscape, Analyst Overview on Investment Opportunities |
| Regions Covered | North America, Europe, APAC, Latin America, Middle East & Africa |
| Market Leaders Profiled | Honeywell International Inc., Mitsubishi Heavy Industries Ltd., BorgWarner Inc., Rotomaster International, Precision Turbo & Engine. Some other key Players of the Market include Bosch Mahle Turbo System GmbH & Co. KG, IHI Corporation, Eaton Corporation PLC, Cummins Inc., and Continental AG and Others. |
Drivers:
The global turbocharger market is predicted to increase significantly in the future years, as these chargers ensure optimal engine performance and improved fuel efficiency. Turbochargers, in particular, work best at high engine speeds and do not require any other power source to operate. Various countries around the world have made aggressive steps to minimize emissions and reliance on non-renewable energy resources. The turbocharger primarily helps in the reduction of vehicle emissions. Using a turbocharger reduces the displacement volume of the cylinder, lowering the volume of fuel required for the same output and, as a result, lowering the vehicle's exhaust emissions. It also improves fuel efficiency.
Because of these factors, the demand for the adoption of turbocharger technology has increased. Because of the elimination of turbo lag, electric turbochargers provide higher power and improved fuel efficiency. It offers numerous advantages and presents fewer technical challenges. It also reduces the need for maintenance and cooling oil. Because of the multiple benefits that e-turbo offers and the growing desire for improved fuel efficiency and power output, it will have greater market penetration in the future years. The industry is being driven by the increasing advantages of industrial turbochargers over naturally aspirated engines of comparable energy capacity. Industry turbochargers have a substantially higher energy proportion over naturally aspirated engines.
Additionally, they are powered by an exhaust system. As a result, the net energy usage of a turbocharged unit is less than an aspirated unit. Customers' rising knowledge of novel technology and purchasing power is propelling the global market.
Restraints:
Numerous technological concerns with turbochargers continue to hinder their market expansion. Because installation is a critical aspect in the proper operation of a turbocharger, any mistake during installation renders the turbocharger ineffective and affects the engine. As a result, the compatibility of turbochargers with engines is an issue that requires careful consideration. In addition, the rise of electric or battery-powered cars is a significant limitation on the industrial turbocharger market. BEV (battery electric vehicles) is expected to replace traditional passenger vehicles shortly, severely constraining the industrial turbocharger market.
The key issues affecting the automotive sector include:
Increased shared mobility.

Rising oil prices.

High vehicle pricing.

A growing emphasis on marketing electric vehicles.
This, in turn, has a major impact on the industrial turbocharger industry.
Industrial Turbocharger Market Segmentation Analysis:
By Product:
Mechanical Supercharger

Gas Wave Supercharger

Other
The market is augmented into Mechanical Supercharger, Gas Wave Supercharger, and Other.
Due to cutting-edge technology in the turbocharger business, it is expected that gasoline turbochargers will unlock the sector's potential. This enables market participants participating in the industrial turbochargers company to create new opportunities. A gasoline turbocharger is a device that increases the efficiency and power output of an engine's internal combustion by pumping more air into the combustion chamber. A turbocharger can improve an engine's performance. It allows more oxygen to enter the combustion chamber by compressing the air. Thus, in terms of fuel, an engine's power output rises. The market for gas wave superchargers will be driven by an increase in demand for gasoline engines in light-duty cars. The diesel turbocharger market has grown since practically all commercial vehicles are diesel-powered, and almost all of them have turbochargers. As a result, demand for gasoline turbochargers is rapidly increasing. TGDI in gasoline vehicles has boosted the market for gasoline turbochargers, and demanding emission standards will continue to push the market. As pollution rules become more stringent, OEMs are transitioning toward CNG or alternative fuel cars, even in heavy commercial trucks. Though alternative fuel vehicle penetration is modest, benefits including improved fuel efficiency, cleaner energy, and cheaper costs than standard fuels are expected to stimulate demand for these vehicles shortly. This would also change the need for turbochargers.
By End-User:
Marine

Agriculture

Construction and Mining

Power Generation

Oil and Gas

Others
The market is segmented into Marine, Agriculture, Construction and Mining, Power Generation, Oil and Gas, Others.
Among other end users, Agriculture is expected to be the fastest-growing segment. Turbochargers are essential components of off-road vehicles such as construction vehicles and agricultural tractors. According to industry analysts, low horsepower tractors do not have turbochargers installed, whereas practically all high horsepower tractors do. Alternatively, turbochargers are projected to be installed in almost all construction equipment. Because electrification in OHV equipment is expected to be limited for at least the next 4-5 years, demand for OHV turbochargers is unlikely to be impacted shortly. As a result, the construction equipment market has expanded significantly, particularly in rising markets like China and India.
Regional Analysis:
The Asia Pacific remains to be the world's leading producer of industrial turbochargers. Given the development of production units in China, experts anticipate strong growth in global industrial turbocharger production in the coming years. China, Japan, India, and South Korea are significant industrial turbocharger producers. The presence of important players operating in the market has widened the possibilities for turbochargers.
The Chinese are very interested in installing turbocharges in their cars, and as of 2017, over 75% of the Chinese vehicles are incorporated with turbochargers, which is promoting the Asia-Pacific Industrial Turbocharger Market.
Geographical Segmentation Analysis:
North America - the United States and Canada

Europe - United Kingdom, Spain, Germany, Italy, and France

The Asia Pacific - India, Japan, China, Australia, Singapore, Malaysia, South Korea, New Zealand, and Southeast Asia

Latin America - Brazil, Argentina, Mexico, and Rest of LATAM

The Middle East and Africa - Africa and Middle East (Saudi Arabia, UAE, Lebanon, Jordan, Cyprus)
Impact of COVID-19 on Global Industrial Turbocharger Market:
COVID-19 impacted the industry by compelling firms to shut down assembly lines, causing the economy to suffer. The COVID-19 impact resulted in the closure of manufacturing and assembly plants and disruption in automobile component exports. This scenario is projected to impact the industrial turbocharger market, as its growth is directly tied to industrial equipment output. However, due to the COVID-19 epidemic, most countries implemented a complete lockdown for over two months, affecting industrial production. Because of the impact on industrial production, the industrial turbocharger market is expected to drop following COVID-19. However, a steady rebound in output after 2021 will maintain the market's growth in the following years.
Key Players in the Market:
Major Key Players in the Global Industrial Turbocharger Market are
Honeywell International Inc

Mitsubishi Heavy Industries Ltd

BorgWarner Inc

Rotomaster International

Precision Turbo & Engine

Bosch Mahle Turbo System GmbH & Co. KG

IHI Corporation

Eaton Corporation PLC, Cummins Inc

Continental AG