Insoluble Dietary Fiber Market Size, Growth (2023-2028)
The global Insoluble Dietary Fiber Market size was worth USD 1.84 billion in 2022, and it is estimated to reach a valuation of USD 3.84 billion by the end of 2028, rising at a CAGR of 9.6% during the forecast period. The market is driven by increased demand for functional foods due to health awareness.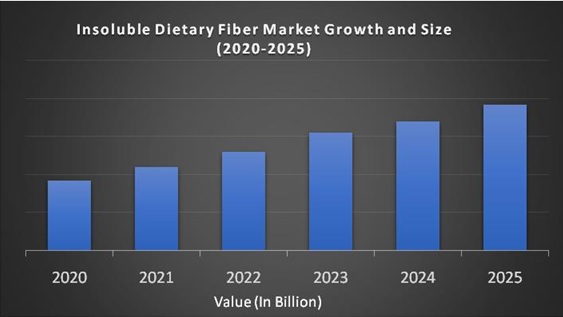 Market Overview:
Dietary fiber is extracted from plants that are an indigestible part of the food. These are classified as insoluble dietary fiber and water-soluble dietary fiber. Dietary fibers that are insoluble in fermentation are converted into bulk fibers. Insoluble dietary fiber has excellent moisture absorbing properties and can be applied to the food industry, functional food, and pharmaceutical industry. Good sources of insoluble dietary fiber include soy, whole wheat or bran products, mung beans, cauliflower, potatoes, and nuts.
Recent Developments in Insoluble Dietary Fiber Industry:
In 2017, RoquettesFreres established a new Asia Pacific headquarters with a focus on food and nutrition.

In May 2018, the JRS Group acquired the health and nutrition alginate business from DuPont. The JRS Group, a leading manufacturer of functional additives for plant raw materials, has been approved by the European Commission (EC) as an appropriate purchaser of the DuPont N&H alginate business.

In June 2018, Ingredion launched potato fiber to improve texture, performance, and cost in meat, bakery, and salty applications. The enterprise added a clean-label potato fiber recently to its portfolio to improve overall performance, quality and cost savings for the making of bakery, flavor and meat products.
REPORT COVERAGE:
| | |
| --- | --- |
| REPORT METRIC | DETAILS |
| Market Size Available | 2022 – 2028 |
| Base Year | 2022 |
| Forecast Period | 2023 - 2028 |
| CAGR | 9.6% |
| Segments Covered | By Product Yype, End-User and Region |
| Various Analyses Covered | Global, Regional & Country Level Analysis, Segment-Level Analysis, DROC, PESTLE Analysis, Porter's Five Forces Analysis, Competitive Landscape, Analyst Overview on Investment Opportunities |
| Regions Covered | North America, Europe, APAC, Latin America, Middle East & Africa |
| Market Leaders Profiled | Roquette Frères, Südzucker A.G, Tate & Lyle PLC, Ingredion Incorporated, E. I. DuPont de Nemours and Company, Archer Daniels Midland Company, Cargill, Sunopta and Others. |
Insoluble Dietary Fiber Market Growth:
Coupled with an increased awareness of food safety and hygiene increased consumer spending on food and beverages will support industrial growth.
Drivers:
The global insoluble dietary fiber market is projected to record notable growth over the estimated period because of the rise in demand for functional foods and beverages, along with a surge in health and nutrition awareness among world consumers. The incidence of multiple health problems, including coronary heart disease, obesity, gastrointestinal problems, cholesterol and diabetes, is supposed to increase market demand for insoluble dietary fiber during the outlook period. The global market demand for insoluble dietary fiber is expanding at a rapid rate due to the health benefits it provides. Insoluble Dietary Fiber is present in many diets and remains undigested throughout the digestive tract before fermentation in the large intestine. The global market for insoluble dietary fiber has been shown to increase in bulk in the past decade. Several factors, including public awareness of the benefits of dietary fiber, are behind the growth of the insoluble dietary fiber market worldwide. Also, the need for periodic testing and testing of dietary fiber sources highlighted growth prospects for the insoluble dietary fiber market worldwide.
The world market investment index for insoluble dietary fiber is assumed to improve as venture capitalists show interest in this market. Additionally, government efforts to promote healthy balanced foods for people have resulted in a global market for insoluble dietary fiber. Market growth has been further accelerated by stimulating government health programs and long-term research to spread consumer awareness of the benefits of functional foods and the potential to reduce the risk of major disorders such as diseases cardiovascular (CVC), cancer and osteoporosis. The expansion of the bakery industry by changing consumer preferences for packaged fast food is accelerating the size of the market. Its high range of products such as cholesterol-lowering agents, calorie reducing agents, immunostimulants and modulators of abdominal exercise will have a positive impact on industrial demand. Business growth has improved through technological advancements and innovations of products with variable solubility. Comprehensive functional properties, including efficient water binding, gelation, stabilization, and concentration, will facilitate the insoluble demand for dietary fiber. The increasing use as a water retention component in meat products expands the scope of the application.
The increased demand for commodities as a gelling agent for confectionery and snacks will stimulate industrial demand. A growing population of gastrointestinal diseases due to aging populations and an unhealthy diet will increase commercial demand through nutritional supplement applications. Research and development by key industry participants to use insoluble dietary fiber to treat obesity, diabetes, digestive disorders, cardiovascular problems, and high cholesterol are poised to create growth opportunities in the next six years. Furthermore, favorable government regulations and technological development to support insoluble dietary fiber are poised to increase market demand. Significant growth in the dietary population, along with better living standards and increased health awareness, is presumed to create additional market opportunities during the prediction period.
Restraints:
Emerging markets for synthetic Insoluble Dietary Fiber supplements are suspected of hampering market growth. Gas formation in the digestive tract due to irregular doses can cause discomfort and bloating, limiting the demand for products.
Insoluble Dietary Fiber Market Segmentation Analysis:
By Product Type:
Cellulose

Hemi-Cellulose

Chitin & Chitosan

Lignin

Resistant Starch
By End User:
Functional Foods and Beverages

Animal Feed

Pharmaceuticals
Geographical Segmentation Analysis:
North America - the United States and Canada

Europe - United Kingdom, Spain, Germany, Italy, and France

The Asia Pacific - India, Japan, China, Australia, Singapore, Malaysia, South Korea, New Zealand, and Southeast Asia

Latin America - Brazil, Argentina, Mexico, and Rest of LATAM

The Middle East and Africa - Africa and Middle East (Saudi Arabia, UAE, Lebanon, Jordan, Cyprus)
Regional Analysis:
The Asia Pacific region is expected to become the fastest-growing market for insoluble dietary fiber during the forecast period due to lifestyle changes and increased demand for functional foods. Besides, market growth is anticipated to accelerate due to increased investment in R&D by key participants in emerging economies in Latin America, Africa and Southeast Asia. Europe and North America are foreseen to follow the Asia Pacific region as demand for dietary supplements increases. North America, primarily the United States and Canada, dominates market share due to increased intake of supplements based on insoluble dietary fiber and is used as an ingredient in most functional foods and beverages. In addition to all of these beneficial elements it provides, government initiatives have fueled the market growth. For example, according to the US Nutrition Facts Label in 2016, the FDA instructed manufacturers to demonstrate the physiological benefits of the products mentioned in 'Dietary Fiber', which affects product evaluation and purification, improving product development. Strategic mergers, acquisitions and expansion of production capacity by key market participants are supposed to increase the degree of competition in the industry and provide superior market positioning.
Furthermore, with the increase in patents on grinding and production of insoluble dietary fibers by crucial participants over the past decade, a profitable market scenario is possible. Key market participants have adopted strategies such as capacity expansion, mergers, acquisitions, collaborations, and new technology launches, and these factors are expected to fuel the insoluble fiber market. As the number of patents increases for the leading Latin American companies that produce and crush insoluble dietary fibers, a more profitable market scenario will be created. The application of insoluble dietary fiber is presumed to increase in active industries such as the food and feed industry, pharmaceuticals, etc. and it will open the market in the Middle East.
Key Players in the Market:
Major Key Players in the Global Insoluble Dietary Fiber Market are
Roquette Frères

Südzucker A.G.

Tate & Lyle PLC

Ingredion Incorporated

E. I. DuPont de Nemours and Company

Archer Daniels Midland Company

Cargill, Inc.

Sunopta Inc.