Malt Extracts and Ingredients Market Growth and Forecast (2022 - 2027):
The global Malt Extracts and Ingredients Market size was assessed at USD 17.6 billion in 2021, and it is projected to reach a valuation of USD 20.4 billion by 2026 at a CAGR of 3.0% during the calculated period. The Malt Extracts and Ingredients market is dominated by the growing demand for craft beers and natural sweeteners.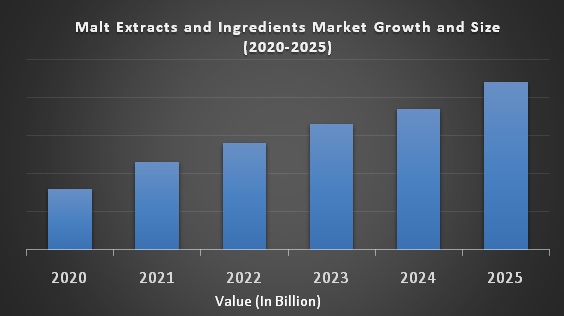 Market Overview:
Malt is the remaining portion of cereal grains that can germinate after drying. In general, barley grain is used as a malt ingredient and germinates after soaking in water. In this process, the starch present in the ingredients is converted to sugars such as glucose and fructose. Malt ingredients are widely used in the food and beverage industry. They help improve the taste and texture of various food products. These ingredients are broadly employed in the making of products like beer, whiskey, malt dough, malt milkshake, bagels,malt vinegar, milo, and rich tea biscuits.
Recent Developments in Malt Extracts and Ingredients Industry:
In September 2018, the Malteurop Group expanded its production capacity from 80 to 200 million tons.

In March 2019, Groupe Soufflet founded a malt house in Addis Ababa, Ethiopia. Its objective is to develop local industries that can increase production capacity to 110,000 tons.

BSG launched the exclusive experimental launch NZH-107 in December 2019. It was jointly developed by Hops New Zealand (New Zealand) and the Brewers Supply Group.
REPORT COVERAGE:
| | |
| --- | --- |
| REPORT METRIC | DETAILS |
| Market Size Available | 2021 – 2027 |
| Base Year | 2021 |
| Forecast Period | 2022 - 2027 |
| CAGR | 3.0% |
| Segments Covered | By Product, Source, Grade, Form, Application and Region |
| Various Analyses Covered | Global, Regional & Country Level Analysis, Segment-Level Analysis, DROC, PESTLE Analysis, Porter's Five Forces Analysis, Competitive Landscape, Analyst Overview on Investment Opportunities |
| Regions Covered | North America, Europe, APAC, Latin America, Middle East & Africa |
| Market Leaders Profiled | Rahr Corporation, Malteurop, GrainCorp, Groupe Soufflet, Holland Malt, Maltexco, Barmalt, IREKS, Muntons PLC, Simpsons and Others. |
Malt Extracts and Ingredients Market Growth:
Due to the surge in the call for malt-based foods, craft beer production is touted to supplement industrial growth over the evaluation period.
Drivers:
The global Malt Extracts and Ingredients market is primarily propelled with the inclining product demand. Also, due to vitamin B and the essential content of amino acids and fiber, it is expected that the importance of Malt Extracts and Ingredients as a functional ingredient in the formulation of nutritional drinks and sweets is supposed to increase. In recent years, non-alcoholic malt beverages have gained wide popularity in the Middle East due to strict regulations on the sale and distribution of alcoholic beverages. As a result, the number of non-alcoholic beer companies in the region is increasing. The high shelf life of powdered ingredients is the driving force that manufacturers can easily distribute to remote areas. Also, as the popularity of various craft beers increases, the growth of the market accelerates. Additionally, manufacturers are focusing on developing new products in terms of flavors such as pomegranate, raspberry, and peach, and the malt ingredient market is primarily driven by increased demand from the food and beverage industry throughout the world. As demand for dairy products and beer increases, demand for malt ingredients is expected to increase in the coming years. Also, consumer preference for prepared foods is driving demand for products in the food industry. Increased health awareness has also expanded product coverage in the food industry. In the bakery segment, there are many players offering traditional bakery products, but few players use malt ingredients in their offerings. On the other hand, people around the world are increasingly favoring foods with natural ingredients due to their inherent health benefits. This is an important trend that provides great opportunities for companies offering these products. It also gives new national players the opportunity to enter the malt extract market to take advantage of the growing demand for gluten-free, sugar-free, high nutritional value and clean label products in the brewery, bakery, food and beverage industries.
Malt extract is widely used as a colorant, flavoring, and additive in the manufacture of snack bars, cookies, flakes, milk powder, and nutritious syrups. The growing demand for clean label products is a major trend in almost all food and beverage categories, and consumers around the world are looking for foods that have simple, natural or clean ingredients. Because malt has dough conditioning properties, it is a key ingredient in baking formulations and is increasingly being replaced instead of less natural or more expensive ingredients, such as synthetic dough conditioners. Most food processors use these ingredients as an essential component in the food processing, which will drive the global market during the prediction period. Besides, malt extracts provide natural color in baking and cooking formulations, acting as a substitute to the synthetic colorants. Similarly, malt rye gives it a slightly dull, sweet taste, and as a result, the malt aroma is particularly attractive to baked goods. At the same time, the dough becomes softer and more elastic. The global organic food market has been growing rapidly in recent years. Increased health awareness among consumers in major regions has been a key factor contributing to market growth. As the demand for organic food increases and awareness of the nutritional benefits of these ingredients increases, it is predicted to lead the market in the malt extracts market. Moreover, emerging malt extracts and ingredient market is likely to open up new opportunities in the near future.
Restraints:
As demand for malt increases in the food and beverage sector, major malt producers export materials, raising raw material prices for local importers and users, limiting the market growth. Seasonal fluctuations and the availability of quality grain crops are likely to limit growth in the global Malt Extracts and Ingredients market.
Malt Extracts and Ingredients Market Segmentation Analysis:
By Product:
By Application:
Food & Beverages

Pharmaceuticals
By Source:
By Grade:
By Form:
Geographical Segmentation Analysis:
North America - the United States and Canada

Europe - United Kingdom, Spain, Germany, Italy, and France

The Asia Pacific - India, Japan, China, Australia, Singapore, Malaysia, South Korea, New Zealand, and Southeast Asia

Latin America - Brazil, Argentina, Mexico, and Rest of LATAM

The Middle East and Africa - Africa and Middle East (Saudi Arabia, UAE, Lebanon, Jordan, Cyprus)
Regional Analysis:
Based on regional segmentation, the global market covers North America, Latin America, the Middle East, and Africa, Asia Pacific, and Europe. The report also includes main countries, including the United States, Germany, France, the United Kingdom, China, Japan, India and Brazil. In terms of geography, Europe led the worldwide malt extracts and ingredients market. Also, Europe is expected to continue to maintain its dominance in the malt extracts and ingredient market during the forecast period due to the increased consumption of packaged foods in the region. Furthermore, the Asia Pacific area is deemed to be the fastest-growing regional market for these ingredients as the call for non-alcoholic and alcoholic beverages rises. The Middle East and Africa is also assumed to be another promising market for malt extracts and ingredients in the near future.
Key Players in the Market:
Major Key Players in the Global Malt Extracts and Ingredients Market are
Rahr Corporation

Malteurop

GrainCorp

Groupe Soufflet

Holland Malt

Maltexco

Barmalt

IREKS

Muntons PLC

Simpsons
1. Introduction
1.1 Market Definition
1.2 Scope of the report
1.3 Study Assumptions
1.4 Base Currency, Base Year and Forecast Periods
2. Research Methodology
2.1 Analysis Design
2.2 Research Phases
2.2.1 Secondary Research
2.2.2 Primary Research
2.2.3 Data Modelling
2.2.4 Expert Validation
2.3 Study Timeline
3. Report Overview
3.1 Executive Summary
3.2 Key Inferencees
4. Market Dynamics
4.1 Impact Analysis
4.1.1 Drivers
4.1.2 Restaints
4.1.3 Opportunities
4.2 Regulatory Environment
4.3 Technology Timeline & Recent Trends
5. Competitor Benchmarking Analysis
5.1 Key Player Benchmarking
5.1.1 Market share analysis
5.1.2 Products/Service
5.1.3 Regional Presence
5.2 Mergers & Acquistion Landscape
5.3 Joint Ventures & Collaborations
6. Market Segmentation
6.1 Malt Extracts and Ingredients Market, By Product
6.1.1 Extracts
6.1.2 Ingredients
6.1.3 Market Size Estimations & Forecasts (2022 - 2027)
6.1.4 Y-o-Y Growth Rate Analysis
6.1.5 Market Attractiveness Index
6.2 Malt Extracts and Ingredients Market, By Application
6.2.1 Food & Beverages
6.2.2 Pharmaceuticals
6.2.3 Market Size Estimations & Forecasts (2022 - 2027)
6.2.4 Y-o-Y Growth Rate Analysis
6.2.5 Market Attractiveness Index
6.3 Malt Extracts and Ingredients Market, By Source
6.3.1 Soy
6.3.2 Wheat
6.3.3 Rye
6.3.4 Market Size Estimations & Forecasts (2022 - 2027)
6.3.5 Y-o-Y Growth Rate Analysis
6.3.6 Market Attractiveness Index
6.4 Malt Extracts and Ingredients Market, By Grade
6.4.1 Standard
6.4.2 Specialty
6.4.3 Market Size Estimations & Forecasts (2022 - 2027)
6.4.4 Y-o-Y Growth Rate Analysis
6.4.5 Market Attractiveness Index
6.5 Malt Extracts and Ingredients Market, By Form
6.5.1 Dry
6.5.2 Liquid
6.5.3 Market Size Estimations & Forecasts (2022 - 2027)
6.5.4 Y-o-Y Growth Rate Analysis
6.5.5 Market Attractiveness Index
7. Geographical Landscape
7.1 Global Identity Governance and Administration Market, by Region
7.2 North America - Market Analysis (2022 - 2027)
7.2.1 By Country
7.2.1.1 USA
7.2.1.2 Canada
7.2.2 By Product
7.2.3 By Application
7.2.4 By Source
7.2.5 By Grade
7.2.6 By Form
7.3 Europe
7.3.1 By Country
7.3.1.1 UK
7.3.1.2 France
7.3.1.3 Germany
7.3.1.4 Spain
7.3.1.5 Italy
7.3.1.6 Rest of Europe
7.3.2 By Product
7.3.3 By Application
7.3.4 By Source
7.3.5 By Grade
7.3.6 By Form
7.4 Asia Pacific
7.4.1 By Country
7.4.1.1 China
7.4.1.2 India
7.4.1.3 Japan
7.4.1.4 South Korea
7.4.1.5 South East Asia
7.4.1.6 Australia & NZ
7.4.1.7 Rest of Asia-Pacific
7.4.2 By Product
7.4.3 By Application
7.4.4 By Source
7.4.5 By Grade
7.4.6 By Form
7.5 Latin America
7.5.1 By Country
7.5.1.1 Brazil
7.5.1.2 Argentina
7.5.1.3 Mexico
7.5.1.4 Rest of Latin America
7.5.2 By Product
7.5.3 By Application
7.5.4 By Source
7.5.5 By Grade
7.5.6 By Form
7.6 Middle East and Africa
7.6.1 By Country
7.6.1.1 Middle East
7.6.1.2 Africa
7.6.2 By Product
7.6.3 By Application
7.6.4 By Source
7.6.5 By Grade
7.6.6 By Form
8. Key Player Analysis
8.1 Rahr Corporation
8.1.1 Business Description
8.1.2 Products/Service
8.1.3 Financials
8.1.4 SWOT Analysis
8.1.5 Recent Developments
8.1.6 Analyst Overview
8.2 Malteurop
8.3 GrainCorp
8.4 Groupe Soufflet
8.5 Holland Malt
8.6 Maltexco
8.7 Barmalt
8.8 IREKS
8.9 Muntons PLC
8.10 Simpsons
9. Market Outlook & Investment Opportunities
Appendix
List of Tables
List of Figures
Global Malt Extracts and Ingredients Market By Region, From 2022 - 2027 ( USD Billion )

Global Malt Extracts and Ingredients Market By Product, From 2022 - 2027 ( USD Billion )

Global Extracts Market By Region, From 2022 - 2027 ( USD Billion )

Global Ingredients Market By Region, From 2022 - 2027 ( USD Billion )

Global Malt Extracts and Ingredients Market By Application, From 2022 - 2027 ( USD Billion )

Global Food & Beverages Market By Region, From 2022 - 2027 ( USD Billion )

Global Pharmaceuticals Market By Region, From 2022 - 2027 ( USD Billion )

Global Malt Extracts and Ingredients Market By Source, From 2022 - 2027 ( USD Billion )

Global Soy Market By Region, From 2022 - 2027 ( USD Billion )

Global Wheat Market By Region, From 2022 - 2027 ( USD Billion )

Global Rye Market By Region, From 2022 - 2027 ( USD Billion )

Global Malt Extracts and Ingredients Market By Grade, From 2022 - 2027 ( USD Billion )

Global Standard Market By Region, From 2022 - 2027 ( USD Billion )

Global Specialty Market By Region, From 2022 - 2027 ( USD Billion )

Global Malt Extracts and Ingredients Market By Form, From 2022 - 2027 ( USD Billion )

Global Dry Market By Region, From 2022 - 2027 ( USD Billion )

Global Liquid Market By Region, From 2022 - 2027 ( USD Billion )