Meat Starter Cultures Market Growth and Forecast (2021-2026):
The Global Meat Starter Cultures Market size was at US$ 62 million in 2021, and it is estimated that it will reach a valuation of US$ 76 million by the end of 2026 with an annual development rate (CAGR) of 3.9% between 2021 and 2026.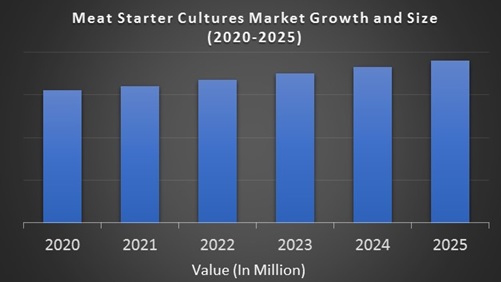 Market Overview:
Meat starter culture is the direct addition of viable microbes to meat to maintain microbial quality and develop the color, texture, and flavor of meat products. These starter cultures help improve the storage or storage quality of meat while maintaining nutritional properties that improve consumer acceptance of meat products. The microorganisms used in the meat starter culture include lactobacilli, gram-positive catalase-positive fungi, cocci, and yeasts that are not harmful to health and can tolerate salts and nitrites.
Recent Developments in Meat Starter Cultures Industry:
January 2019, Chr. Hansen started a new starter culture by expanding the Bactoferm series, primarily to provide color stability, color development and flavor in dry and cured meats, such as dry sausages, with increasing demand in North America and Europe.

In January 2019, The Mighty Co., a salty solutions provider in Thailand, launched Frutarom, a subsidiary of International Flavors & Fragrances Inc. Ltd. announced that it has acquired a full 60%.

In July 2018, DuPont expanded its research and development department by building an innovation and application system in Japan. This will serve as a hub for food development, allowing the market to leverage its strong innovation capabilities.
Meat Starter Cultures Market Growth:
The rapid expansion of the meat industry in many regions of the world has greatly influenced the development of the market for meat starter cultures around the world.
REPORT COVERAGE:
| | |
| --- | --- |
| REPORT METRIC | DETAILS |
| Market Size Available | 2020 – 2026 |
| Base Year | 2020 |
| Forecast Period | 2021 - 2026 |
| CAGR | 3.9% |
| Segments Covered | By Application, Microorganism, Composition and Region |
| Various Analyses Covered | Global, Regional & Country Level Analysis, Segment-Level Analysis, DROC, PESTLE Analysis, Porter's Five Forces Analysis, Competitive Landscape, Analyst Overview on Investment Opportunities |
| Regions Covered | North America, Europe, APAC, Latin America, Middle East & Africa |
| Market Leaders Profiled | CSK Food Enrichment BV, GEA Group, Aktiengesellschaft, Fromagex Inc, BDF Materials, Biena, DSM Food Specialist, Canada Compound Corporation, Chr. Hansen Holding A/S, AngelYeast Co., Ltd, DuPont Nutrition and Health and Others. |
Drivers:
With the growing demand for processed and convenient meats among consumers, there is a rising need for a meat starter culture. Advances in new and innovative technologies in the food and beverage sector are increasing the integration of the cultivation of meat starters in various industries. The significant growth as the demand for processed meat products with a longer shelf-life increases. The food and beverage industry has witnessed an emerging trend in recent years, evidenced by the innovations and advancements that are taking place in the packaged food sector. Packaged prepared foods are becoming an integral part of daily consumption around the world, especially in North America and Europe. Busy consumer lifestyles are driving the growth of convenience foods and food manufacturers have been dynamically investing in the production of new products that can meet the growing consumer demand for packaged convenience foods. Increased consumption of starter cultures due to various health benefits, increased demand for technological advances for industrial growth, and increased consumption preferences for functional beverages and sausage-related products are some of the factors that can increase the Meat Starter Crop market growth over the outlook period. On the other hand, as the use of meat crops to improve nutritional quality increases, the application in emerging markets is increasing, which will create new and broad opportunities that will lead to market growth of meat starter cultures in the forecast period. Modern urban consumers are very immersed in comfort and hygiene, driving their purchases in retail stores.
With the increasing adoption rate of packaged meat products, it has been a promising option for growing a meat starter culture. The meat starter culture market has seen significant growth due to factors such as increased awareness of packaged foods with a long shelf life. In addition, the increased consumption of clean-labeled processed meat products presents enormous market opportunities for key players operating in the global meat starter culture market. Due to the ever-increasing world population, meat consumption has exploded, increasing production capacity and meat supply, leading to demand for a meat starter crop. Many meat retailers are focused on introducing brands of processed meat products that are cost-effective, ready to cook, and can be stored for long periods of time. This is considered to be one of the significant factors influencing the growth of the Meat Starter Farming market. Factors such as the adoption of new lifestyle trends and eating habits emerging from various large-scale urbanizations and rapid industrialization in different countries have led to increased demand for processed meat products that are expected to coincide with the growth of market for meat starter crops. Additionally, advancements in flavor generation and genetic technology research have improved the hygienic suitability of starter cultures, which may promote the growth of the global meat starter culture market. The increasing awareness of the general population about the intake of protein in the daily diet has influenced the growth of the global meat industry and, ultimately, the expansion of the market for meat starter cultures.
Restraints:
Strict government regulations on the use of starter cultures in meat products are expected to hamper the overall growth of the global meat starter culture market. The World Trade Organization has established strict rules and regulations for the import and export of live microorganisms. Manufacturers must obtain environmental quality certificates, permit certificates and other relevant certifications before manufacturing microorganisms on an industrial level. The meat starter culture industry is at high risk to health and the environment, so it will not be easy for new manufacturers to enter the meat starter culture market. There are special regulatory measures for companies to dispose of crop and biological wastewater after production. The volatility of commodity prices and the lack of consumer awareness will be the biggest challenges for market growth.
Meat Starter Cultures Market Segmentation Analysis:
Bacteria dominate the market based on microbes. There are two types of microorganisms in meat starter cultures which are bacteria and fungi. Bacterial-based starter cultures commonly used in industry include lactic acid bacteria (LAB) and coagulase negative staphylococci (CNS). These are the dominant microorganisms used in meat products to prevent pathogens and microorganisms from decomposing during the pre and post processing of meat products.
Depending on the application, the market is segmented into sausages, salami, dry sausages, etc. The meat sausage segments, similar to most other fresh meats and raw meat preparations, consist of perishable food products, and most sausage manufacturers are looking for additional safety or a longer shelf life in terms of less spoilage or delayed oxidation. Meat starter cultures are used to provide additional safety and delay spoilage by converting uncontrolled fermentation that spoils meat into safe bacteria-controlled fermentation.
Based on the strain, the global market is separated into single strain, multi-strain mix and multi strain.
Impact of COVID-19 on the Meat Starter Cultures Market:
The coronavirus pandemic has impacted the meat starter culture market globally. Due to national closures during the epidemic period, food manufacturers are emphasizing meat products with a longer shelf life, which is supposed to boost the market for meat starter cultures in the future. The COVID-19 outbreak has created a shift towards organized retail markets to prevent further virus outbreaks.
Geographical Segmentation Analysis:
North America - the United States and Canada

Europe - United Kingdom, Spain, Germany, Italy, and France

The Asia Pacific - India, Japan, China, Australia, Singapore, Malaysia, South Korea, New Zealand, and Southeast Asia

Latin America - Brazil, Argentina, Mexico, and Rest of LATAM

The Middle East and Africa - Africa and Middle East (Saudi Arabia, UAE, Lebanon, Jordan, Cyprus)
Regional Analysis:
Europe has contributed enormously to the growth of the processed meat industry. This is because a large percentage of consumers are interested in packaged meat applications such as salami, hot dogs, and dry meats. The busy lifestyles of consumers in Western European countries such as the UK, France, Germany and Italy are driving demand for meat products with a longer shelf life. Therefore, there is a growing demand for cultivation of meat starters in the region. North America is the fastest growing market because technological advances related to the monitoring and use of meat starter cultures are available locally and meat manufacturers are adapting to changing technologies. Growing consumer interest in organic and clean-label meat products is driving increasing demand for a meat starter culture. Additionally, major players are increasingly investing in the North American meat starter culture market.
Key Players in the Market:
Major Key Players in the Global Meat Starter Cultures Market are
CSK Food Enrichment BV

GEA Group Aktiengesellschaft

Fromagex Inc, BDF Materials

Biena

DSM Food Specialist

Canada Compound Corporation,

Chr. Hansen Holding A/S

AngelYeast Co., Ltd

DuPont Nutrition and Health
1. Introduction
1.1 Market Definition
1.2 Scope of the report
1.3 Study Assumptions
1.4 Base Currency, Base Year and Forecast Periods
2. Research Methodology
2.1 Analysis Design
2.2 Research Phases
2.2.1 Secondary Research
2.2.2 Primary Research
2.2.3 Data Modelling
2.2.4 Expert Validation
2.3 Study Timeline
3. Report Overview
3.1 Executive Summary
3.2 Key Inferencees
4. Market Dynamics
4.1 Impact Analysis
4.1.1 Drivers
4.1.2 Restaints
4.1.3 Opportunities
4.2 Regulatory Environment
4.3 Technology Timeline & Recent Trends
5. Competitor Benchmarking Analysis
5.1 Key Player Benchmarking
5.1.1 Market share analysis
5.1.2 Products/Service
5.1.3 Regional Presence
5.2 Mergers & Acquistion Landscape
5.3 Joint Ventures & Collaborations
6. Market Segmentation
6.1 Meat Starter Cultures Market, By Microorganism
6.1.1 Bacteria
6.1.2 Fungi
6.1.3 Market Size Estimations & Forecasts (2021-2026)
6.1.4 Y-o-Y Growth Rate Analysis
6.1.5 Market Attractiveness Index
6.2 Meat Starter Cultures Market, By Application
6.2.1 Dry-Cured Meat
6.2.2 Salami
6.2.3 Sausages
6.2.4 Market Size Estimations & Forecasts (2021-2026)
6.2.5 Y-o-Y Growth Rate Analysis
6.2.6 Market Attractiveness Index
6.3 Meat Starter Cultures Market, By Composition
6.3.1 Single Strain
6.3.2 Multi-Strain Mix
6.3.3 Multi-Strain
6.3.4 Market Size Estimations & Forecasts (2021-2026)
6.3.5 Y-o-Y Growth Rate Analysis
6.3.6 Market Attractiveness Index
7. Geographical Landscape
7.1 Global Identity Governance and Administration Market, by Region
7.2 North America - Market Analysis (2020 - 2025)
7.2.1 By Country
7.2.1.1 USA
7.2.1.2 Canada
7.2.2 By Microorganism
7.2.3 By Application
7.2.4 By Composition
7.3 Europe
7.3.1 By Country
7.3.1.1 UK
7.3.1.2 France
7.3.1.3 Germany
7.3.1.4 Spain
7.3.1.5 Italy
7.3.1.6 Rest of Europe
7.3.2 By Microorganism
7.3.3 By Application
7.3.4 By Composition
7.4 Asia Pacific
7.4.1 By Country
7.4.1.1 China
7.4.1.2 India
7.4.1.3 Japan
7.4.1.4 South Korea
7.4.1.5 South East Asia
7.4.1.6 Australia & NZ
7.4.1.7 Rest of Asia-Pacific
7.4.2 By Microorganism
7.4.3 By Application
7.4.4 By Composition
7.5 Latin America
7.5.1 By Country
7.5.1.1 Brazil
7.5.1.2 Argentina
7.5.1.3 Mexico
7.5.1.4 Rest of Latin America
7.5.2 By Microorganism
7.5.3 By Application
7.5.4 By Composition
7.6 Middle East and Africa
7.6.1 By Country
7.6.1.1 Middle East
7.6.1.2 Africa
7.6.2 By Microorganism
7.6.3 By Application
7.6.4 By Composition
8. Key Player Analysis
8.1 CSK Food Enrichment BV
8.1.1 Business Description
8.1.2 Products/Service
8.1.3 Financials
8.1.4 SWOT Analysis
8.1.5 Recent Developments
8.1.6 Analyst Overview
8.2 GEA Group Aktiengesellschaft
8.3 Fromagex Inc
8.4 BDF Materials
8.5 Biena
8.6 DSM Food Specialist
8.7 Canada Compound Corporation
8.8 Chr. Hansen Holding A/S
8.9 AngelYeast Co., Ltd
8.10 DuPont Nutrition and Health
9. Market Outlook & Investment Opportunities
Appendix
List of Tables
List of Figures
Global, regional and country-level analysis and forecasts of the study market; providing Insights on the major countries/regions in which this industry is blooming and to also identify the regions that are still untapped

The Segment-level analysis in terms of By Application, Microorganism, Composition and along with market size forecasts and estimations to detect key areas of industry growth in detail

Identification of key drivers, restraints, opportunities, and challenges (DROC) in the market and their impact on shifting market dynamics

Study of the effect of exogenous and endogenous factors that affect the global market; which includes broadly demographic, economics, and political, among other macro-environmental factors presented in an extensive PESTLE Analysis

Study the micro environment factors that determine the overall profitability of an Industry, using Porter's five forces analysis for analysing the level of competition and business strategy development

A comprehensive list of key market players along with their product portfolio, current strategic interests, key financial information, legal issues, SWOT analysis and analyst overview to study and sustain the market environment

Competitive landscape analysis listing out the mergers, acquisitions, collaborations in the field along with new product launches, comparative financial studies and recent developments in the market by the major companies

An executive summary, abridging the entire report in such a way that decision-making personnel can rapidly become acquainted with background information, concise analysis and main conclusions

Expertly devised analyst overview along with Investment opportunities to provide both individuals and organizations a strong financial foothold in the market
Global Meat Starter Cultures Market By Region, From 2021-2026 ( USD Billion )

Global Meat Starter Cultures Market By Microorganism, From 2021-2026 ( USD Billion )

Global Bacteria Market By Region, From 2021-2026 ( USD Billion )

Global Fungi Market By Region, From 2021-2026 ( USD Billion )

Global Meat Starter Cultures Market By Application, From 2021-2026 ( USD Billion )

Global Dry-Cured Meat Market By Region, From 2021-2026 ( USD Billion )

Global Salami Market By Region, From 2021-2026 ( USD Billion )

Global Sausages Market By Region, From 2021-2026 ( USD Billion )

Global Meat Starter Cultures Market By Composition, From 2021-2026 ( USD Billion )

Global Single Strain Market By Region, From 2021-2026 ( USD Billion )

Global Multi-Strain Mix Market By Region, From 2021-2026 ( USD Billion )

Global Multi-Strain Market By Region, From 2021-2026 ( USD Billion )