Process Analyzer Market Size, Growth and Forecast (2023-2028)
Process analyzers are precision engineering tools used primarily for persistent monitoring of parameters, for example gas and liquid content at the time of the manufacturing procedure. They are widely used to examine and recognize the chemical, physical, molecular, and essential properties of a sample. These instruments are mainly used by many end users, such as the petrochemical and chemical, oil and gas, biotechnology and pharmaceutical industries.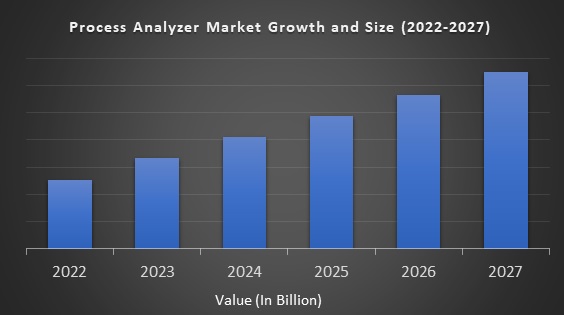 The growing demand for water and wastewater treatment plants is the main driver contributing to the growth of the process analyzer market, while the shortage of qualified process technicians acts as a limiting factor for this market. The growth of the pharmaceutical industry will add new opportunities for this market in the coming years.
Recent Developments in Process Analyzer Industry:
Yokogawa's progressive constant gas analyzer significantly lessens CAPEX and OPEX in modern cycle heating facilities.

Emerson's new Rosemount ™ CT4400 Continuous Gas Analyzer is the first tunable diode laser (TDL) and quantum cascade laser (QCL) analyzer specifically designed to help factories reduce cost of ownership and report emissions accurately, in environmental monitoring applications that measure standard components, such as nitric oxide (NO), nitrogen dioxide (NO2), sulfur dioxide (SO2), carbon monoxide (CO), carbon dioxide (CO2), and oxygen (O2) .

The CT5800 is the first Quantum Cascade (QCL) laser analyzer designed for industrial process applications requiring Class I, Division 2 hazardous area certification, built in an explosion proof enclosure.

The new laboratory NIR analysis system will be installed in one of the largest refineries.
IMPACT OF COVID-19 ON PROCESS ANALYZER MARKET:
COVID-19 has become a global pandemic that has spread to 215 countries around the world and has affected various industries around the world. The dynamics in which various industries operated will change radically. As the world continues to grapple with this crisis, many industries continue to experience steady decline. COVID-19 has spread around the world, starting with APAC, then moving to Europe, and currently accelerating in North America. COVID-19 has affected almost every continent; however, the United States, Russia, Brazil, India, the United Kingdom, Spain, Italy, and Germany have experienced a sharp increase in diagnosed cases. Globalization and the interconnected economies of most countries would be affected by COVID-19. Due to the imposition of blockades in different countries, companies face serious cash flow problems. Stopping or slowing down the manufacturing of process analyzers, as well as disruptions in global supply chain logistics due to the COVID-19 outbreak, have resulted in reduced demand for process analyzers.
Drivers and Restraints of Process Analyzer Market:
Drivers:
Technological advances in the process analyzer market have led to the development of high-performance analyzers that allow a high speed of response. They are incorporated with high-quality sensors to ensure high precision during operations. Rugged analyzers capable of withstanding harsh industrial environments and high temperatures are being manufactured. The growing need for efficient and fast analysis in all industries to improve productivity will drive the growth of the Process Analyzers market. In addition, developments in the electronics and communications sectors facilitate the transmission of data in real time, allowing better control of the process. Rising crude material and energy costs underscore the requirement for proficient control and computerization, supporting the market for process analyzers.
Restraints:
The high installation and maintenance costs of these systems limit their adoption in industries that have budget constraints hampering the growth of the Process Analyzers market. These systems include high-quality sensors and hardware components that add to the total cost of the system. Furthermore, complicated system installation and unavailability of qualified technicians in developing regions will also affect the growth of Process Analyzers market. However, various government initiatives that support industrialization and automation, along with reducing the costs of electronic equipment in countries like China, will help the industry grow. The increasing importance of replacing traditional manual inspection and analysis techniques with advanced solutions will encourage industries to find solutions to install these systems by addressing maintenance and installation challenges.
PROCESS ANALYZER MARKET REPORT COVERAGE:
| | |
| --- | --- |
| REPORT METRIC | DETAILS |
| Market Size Available | 2022 – 2028 |
| Base Year | 2022 |
| Forecast Period | 2023 - 2028 |
| CAGR | xxx% |
| Segments Covered | By Liquid Analyzer, Industry, and Region. |
| Various Analyses Covered | Global, Regional & Country Level Analysis, Segment-Level Analysis, DROC, PESTLE Analysis, Porter's Five Forces Analysis, Competitive Landscape, Analyst Overview on Investment Opportunities |
| Regions Covered | North America, Europe, APAC, Latin America, Middle East & Africa |
| Market Leaders Profiled | ABB Ltd., Modcon Systems Ltd., Emerson Electric Co., Yokogawa Electric Corporation, Siemens AG, Honeywell International, Inc., Endress+Hauser AG, Teledyne Technologies, Inc., Thermo Fisher Scientific, Inc., and Mettler-Toledo International, Inc. and Others. |
Process Analyzer Market Segmentation Analysis:
By Liquid Analyzer:
pH/ORP Analzyer

Conductivity Analyzer

Turbidity Analyzer

Dissolved Oxyen Analyzer

Liquid Density Analzyer

MLSS Analyzer

TOC Analyzer

Oxygen Analyzer

Carbon Dioxide Analyzer

Moisture Analyzer

Toxic Gas Analyzer

Hydrogen Sulfide Analyzer
However, the market for pH / ORP analyzers is expected to grow at the highest rate during the forecast period. This is due to the increasing adoption of pH / ORP analyzers in the oil and gas industries.
The oxygen analyzers fragment is required to have the biggest piece of the market and record the most noteworthy CAGR during the conjecture time frame. There has been a critical expansion in the reception of oxygen analyzers in different handling enterprises, particularly drug and petrochemical, to decide the measure of oxygen in boilers, incinerators and heaters. These analyzers give quick and precise readings in high temperatures and destructive environments.
By Industry:
Oil & Gas

Petrochemicals

Pharmaceuticals

Water & Wasterwater

Power

Food & Beverages

Paper & Pulp

Metals & Mining

Cement & Glass

Others (semiconductor processing and iron and steel industries)
The pharmaceutical industry is expected to account for the largest market share and highest CAGR during the forecast period. Process analyzers are an integral part of pharmaceutical manufacturing processes. The pharmaceutical industry must maintain product quality and follow drug rules and regulations, which requires extensive use of liquid analyzers, especially in times of pandemic. These factors are driving the growth of the market for process analyzers in the pharmaceutical industry.
Geographical Segmentation Analysis:
North America - the United States and Canada

Europe - United Kingdom, Spain, Germany, Italy, and France

The Asia Pacific - India, Japan, China, Australia, Singapore, Malaysia, South Korea, New Zealand, and Southeast Asia

Latin America - Brazil, Argentina, Mexico, and Rest of LATAM

The Middle East and Africa - Africa and Middle East (Saudi Arabia, UAE, Lebanon, Jordan, Cyprus)
Region Analysis:
The North America region has the largest market share in the world, followed by Europe and the Asia-Pacific region. The United States and Canada dominate the North American market due to increasing technological improvements and the growing adoption of process analyzers in the oil and gas industries in the region. In addition, the growing fields of application of process analyzers in different industry verticals, such as pharmaceuticals, water and wastewater, power generation, and food and beverages, among others, are another important driver of the growth of the analyzer market
On the other hand, European and Asia-Pacific countries represent emerging markets, due to the rise of pharmaceutical companies and biotechnology industries, and the growing demand from the accreditation and certification industry.
Key Players of Market:
Major Key Players in the Process Analyzer Market are
ABB Ltd

Modcon Systems Ltd

Emerson Electric Co

Yokogawa Electric Corporation

Siemens AG

Honeywell International, Inc

Endress+Hauser AG

Teledyne Technologies, Inc

Thermo Fisher Scientific, Inc

Mettler-Toledo International, Inc