Sodium Reduction Ingredients Market Size, Growth (2023-2028)
The Global Sodium Reduction Ingredients Market Size is worth US$ 1.1 billion in 2022, and it is estimated to reach a value of US$ 1.62 billion by the end of 2028, expanding an annual compound rate of 11.5% between 2023 and 2028. Growth in the food industry, especially in the packaging and processed food sector, increases sodium consumption among consumers.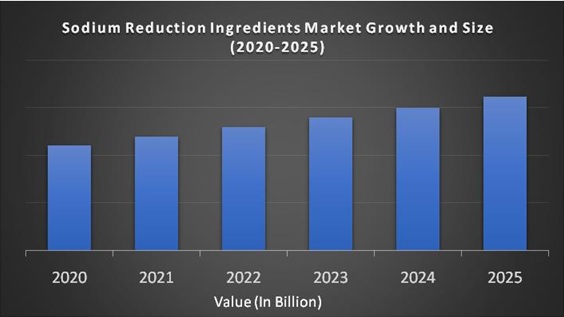 Market Overview:
Sodium is widely used as an essential nutrient for the proper functioning of the human body. Intake of sodium is necessary for the regular operation of the human body. However, excessive sodium intake causes high blood pressure and cardiovascular disease. In order to limit excess sodium content in the body, several sodium reduction ingredients are added to foods. According to the World Health Organization (WHO), foods high in sodium are known to cause severe health disorders. The average intake of 1500mg to 2300mg per day of sodium is considered acceptable. However, several studies have found that Americans and Canadians consume approximately 3,400 mg of sodium per day and are one of the leading causes of many chronic illnesses experienced by people living in this area.
Therefore, to reduce overall sodium intake, many companies are introducing some products that tend to act as sodium-reducing ingredients. Some of the sodium-reducing components include mineral salts, amino acids, and yeast extracts. It also contains trehalose, hydrolyzed plant proteins, and nucleotides. Sodium reducing ingredients are becoming more common in meat products, dairy products, bakeries, sweets, sauces, snacks, and condiments. Therefore, the sodium reducing component is an integral part of the food additive industry, either completely replacing sodium or reducing salt in food.
Recent Developments in Sodium Reduction Ingredients Industry:
Nestlé SA has announced a partnership with life science company Chromocell Corp. Through this collaboration, the company will use Chromocell's patented Chromovert technology to discover sodium-reducing ingredients that provide a salt-like flavor even with low content of sodium.

The Argentine government has established a voluntary initiative for less salt, more life. This initiative involves optional contracts with major food manufacturing companies to gradually reduce the salt content in processed foods.

Food and Beverage Ingredient Resolve Startup Company has launched a new MSE brand using salt reducing ingredient technology. The company discovers new ingredient technologies and manufactures custom ingredient blends.
REPORT COVERAGE:
| | |
| --- | --- |
| REPORT METRIC | DETAILS |
| Market Size Available | 2022 – 2028 |
| Base Year | 2022 |
| Forecast Period | 2023 - 2028 |
| CAGR | 11.5% |
| Segments Covered | By Type, Application and Region |
| Various Analyses Covered | Global, Regional & Country Level Analysis, Segment-Level Analysis, DROC, PESTLE Analysis, Porter's Five Forces Analysis, Competitive Landscape, Analyst Overview on Investment Opportunities |
| Regions Covered | North America, Europe, APAC, Latin America, Middle East & Africa |
| Market Leaders Profiled | Cargill, Incorporated, Kerry Group Plc, Royal DSM N.V, Angel Yeast Co. Ltd, E.I. du Pont de Nemours & Co, Cambrian Solutions Inc, Associated British Foods plc, Givaudan SA, Innophos Holdings, Inc, Jungbunzlauer Suisse A.G., Sensient Technologies Corporation, Tate & Lyle PLC and Others. |
Sodium Reduction Ingredients Market Growth:
Market growth is accelerating as the health-sensitive population increases. Government intervention to reduce the sodium content in foods available to consumers is affecting the growth of the Sodium Reduction Ingredients market.
Drivers:
Increased awareness of the health effects of excessive sodium consumption is supposed to remain a key driver of growth in the global sodium reduction ingredients market. Excessive sodium intake has been found to cause chronic heart disease. As mentioned above, sodium reducing ingredients are prominent in functional foods and related products. This trend is assumed to have a positive impact on the growth of the global market during the forecast period. Global market growth is expected to accelerate further as demand for processed foods increases, especially in the Asia Pacific and Latin America markets. Sodium reducing ingredients are widely used as substitutes for salt in food production. The increase in applications for confectionery, bakery products, frozen foods and dairy products is presumed to complement the growth of the global market further.
The primary sodium reducing ingredients on the market include mineral salts, yeast extract, and amino acids. Inorganic salt is the most consumed sodium reducing component due to its prepared solubility and low cost compared to other products. Other ingredients that are supposed to show significant growth during the outlook period include trehalose, nucleotides, and hydrolyzed plant proteins. These products are becoming important as masking agents that remove bitterness and post-metallic taste from foods. Sodium reducing ingredients are prominent in food flavors and formulations like condiments and sauces. Accordingly, demand is expected to strengthen further. Increasing R&D to develop better materials is suspected of giving market participants a competitive advantage.
The sodium-reducing ingredient market is assumed to grow significantly over the anticipated period as awareness of the challenges caused by lifestyle changes and increased preference for processed foods increases. They are widely used in confectionery, dairy, frozen foods, and bakery products. They are divided into sauces, meat products, bakeries, confectionery, dairy products and condiments according to their use. To increase public awareness of the destructive effects of excess sodium, increasing penetration rates as a vital component of the food additive industry, as well as private companies and government intervention, will drive market growth.
Restraints:
However, limited consumer commitment to food flavor is expected to hamper the overall growth of the sodium reduction ingredient market. The high cost of these ingredients can hinder the market growth. Furthermore, problems related to distribution channels, fierce competition, price problems, and changing consumer preferences will continue to press suppliers' profit margins.
Sodium Reduction Ingredients Market Segmentation Analysis:
By Type:
Amino Acids

Mineral Salts

Yeast Extracts

Hydrolyzed vegetable protein

Trehalose

Nucleotides
By Application:
Dairy

Bakery & Confectionary

Meat Products

Sauces

Seasonings & Snacks

others
Geographical Segmentation Analysis:
North America - the United States and Canada

Europe - United Kingdom, Spain, Germany, Italy, and France

The Asia Pacific - India, Japan, China, Australia, Singapore, Malaysia, South Korea, New Zealand, and Southeast Asia

Latin America - Brazil, Argentina, Mexico, and Rest of LATAM

The Middle East and Africa - Africa and Middle East (Saudi Arabia, UAE, Lebanon, Jordan, Cyprus)
Regional Analysis:
North America and Europe are the leading local markets and are foreseen to grow due to high consumer awareness of salt substitutes. North America occupies an integral part of the sodium reducing ingredients market due to the presence of various fast food and other food processing industries in the region. In addition, government initiatives to increase consumer awareness of the benefits of sodium-reducing ingredients are expected to strengthen the entire market in the area.
Europe is the second-largest market because there are health-conscious people in the region. The high demand for processed foods in the United States and the United Kingdom is anticipated to complement the growth of each regional market further. The Asia-Pacific region is expected to post significant growth during the forecast period due to increased demand for processed foods in China and India. The need for sodium reducing ingredients has increased, mainly as the diagnosis of heart disease in India increases. This trend is likely further to strengthen regional market growth during the projection period. In the coming years, demand in other parts of the world is suspected of showing slow growth.
Key Players in the Market:
Major Key Players in the Global Sodium Reduction Ingredients Market are
Cargill, Incorporated

Kerry Group Plc

Royal DSM N.V

Angel Yeast Co. Ltd

E.I. du Pont de Nemours & Co

Cambrian Solutions Inc

Associated British Foods plc

Givaudan SA

Innophos Holdings, Inc

Jungbunzlauer Suisse A.G.

Sensient Technologies Corporation

Tate & Lyle PLC