Alginates Market Growth and Forecast (2022-2027):
The global Alginates Market size was calculated at USD 409.2 million in 2022 and is determined to reach a valuation of USD 529.2 million by 2027 at a CAGR of about 4% during the conjecture time frame. The market is supposed to show significant growth as the use of products like thickener and gelling agent increases.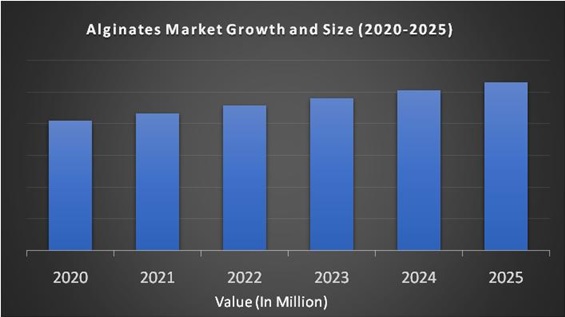 Market Overview:
Alginate or alginic acid is extensively distributed in the cell walls of brown algae and mixes with water to form viscous gums. It has other functional properties such as thickeners, the ability to form gels, and uses to form sodium and calcium films. Alginate finds numerous applications in the food, dyeing, textile, printing, pharmaceutical and cosmetic industries. In addition, it is used as a welding rod and as a binder for feed production. Europe and Asia Pacific dominate the bulk alginic acid market during the forecast period. Due to the unique properties of alginic acid, it is used in many foods like ice cream, jellies, dressings, instant noodles, beer, dairy drinks, etc. Brown algae contain mixed alginate, the basic raw material used in the manufacture of products. Color is white to tan. Usually, it is sold in the form of filaments and granules. It is quickly absorbed by water and is used as a useful additive in the manufacture of textiles and paper, as well as in dry products as weight loss aids. This product is a colloidal substance obtained from natural algae, which is commonly used in processed foods.
Recent Developments in Alginates Industry:
In 2018, DuPont Nutrition and Health is investing in its alginic acid business for the JRS Group at its German headquarters, a specialist in functional additives and plant materials.
REPORT COVERAGE:
| | |
| --- | --- |
| REPORT METRIC | DETAILS |
| Market Size Available | 2021 – 2027 |
| Base Year | 2021 |
| Forecast Period | 2022 - 2027 |
| CAGR | 4% |
| Segments Covered | By Type, Application and Region |
| Various Analyses Covered | Global, Regional & Country Level Analysis, Segment-Level Analysis, DROC, PESTLE Analysis, Porter's Five Forces Analysis, Competitive Landscape, Analyst Overview on Investment Opportunities |
| Regions Covered | North America, Europe, APAC, Latin America, Middle East & Africa |
| Market Leaders Profiled | Ashland Inc, Brenntag AG, Cargill Inc, Dohler Group, FMC Corporation, Dastech International Inc, E.I. DuPont De Nemours and Company, Kimica Corporation, Dow Chemical Company, Penford Corporation and Others. |
Alginates Market Growth:
In the food industry, the demand for alginic acid salts is expected to be driven by the high-quality gelation that products provide.
Drivers:
Increased consumption of foods such as ice cream, beer, and yogurt is expected to increase market demand for products in the food and beverage industry.
The use of products in the food and beverage industry is permitted to meet the needs of major regulatory agencies, including the FDA and the European Commission. Due to population growth, growth in the food and beverage industry, primarily in the Asia Pacific region, is expected to drive demand for products in the region. In addition, high product adoption by companies in the application industry is expected to drive growth. The medicinal characteristics of this product are vital in healing wounds and the treatment of infections and other diseases, driving the alginate market in most developing countries. The main market drivers influencing market demand for alginic acid arise from food and beverage manufacturers due to functional properties such as thickeners, gelling agents, emulsifiers, stabilizers and film-forming features. The reason for the growing demand in the food industry is one of the safest food additives in the food industry and is derived from FAO / WHO certified natural algae. Food and beverage manufacturers primarily used alginic acid as thickener and texture improvement. Meanwhile, the demand from the textile industry is increasing, as it is mainly used to print, design and dye cotton and jute fabrics.
The main factors driving the growth of the global alginates market include the growing demand from various sectors, especially food and textiles.
The textile industry, including industry, assembly applications, increased industrialization, increased end-user awareness, continuous development, and innovation, is based on the realization of processes such as dyeing, printing, and fabric design in cotton and jute. In addition, it has been applied as a binder to repair rods and as another factor to complement the growth of the alginate market in the manufacture of animal feed. As the application of products in the bakery and confectionery sector increases, it is expected to lead the growth of the market in the next 8 years. The adoption of emulsifiers in salad dressings, peanut butter, margarine, chocolate and frozen desserts is anticipated to fuel demand for products as emulsifiers in the coming years. Because there are many suppliers on the market, the bargaining power of the supplier is low. The growth of innovation in food products to integrate natural ingredients and the growing demand for health and wellness products are new opportunities for the alginate and derivatives markets.
Restraints:
On the other hand, the possible side effects of alginic acid, such as the expensive cultivation of brown algae and bloating, are likely to slow down the global alginates market. However, this product will gain great popularity in various sectors due to its various applications. The rise in the call for seaweed and carrageenan gum is anticipated to impede the availability of raw material.
Alginates Market Segmentation Analysis:
By Type:
Sodium Alginate

Calcium Alginate

Potassium Alginate

PGA

Others
By Application:
Food & Beverage

Industrial

Pharmaceuticals

Others
Geographical Segmentation Analysis:
North America - the United States and Canada

Europe - United Kingdom, Spain, Germany, Italy, and France

The Asia Pacific - India, Japan, China, Australia, Singapore, Malaysia, South Korea, New Zealand, and Southeast Asia

Latin America - Brazil, Argentina, Mexico, and Rest of LATAM

The Middle East and Africa - Africa and Middle East (Saudi Arabia, UAE, Lebanon, Jordan, Cyprus)
Regional Analysis:
By regional segmentation, the global alginates market is divided into North America, Latin America, Europe, Asia Pacific and the Middle East and Africa. European market is expanding with the presence of large firms such as Algaia and Ceamsa, which participate in the manufacture of quality products. The rich raw materials from Chile and Norway help production. However, product prices in this area have been noticed to be high because of the rising demand for high quality among consumers. Due to the rapid development of the textile and food and beverage industries, product consumption in the Asia-Pacific region is expected to increase at an average annual rate of about 6%. The potential of alginate and derivatives used in the food processing industry and industry is foreseen to be the most crucial growth element in the Asia Pacific region. The region is also deemed to grow faster than developed areas in the future if this industry is explored. The supply of products in the pharmaceutical sector in this area is currently restricted because of low use in developing economies. However, this is likely to expand the market, which is expected to increase the consumption of products during the outlook period. The paper business in Central and South America is touted to witness significant consumption as alginates usage increased. In addition, demand for products from the food and beverage industry for the production of products including gelatin, ice cream and lactic acid beverages is expected to fuel business expansion over the determined period.
Key Players in the Market:
Major Key Players in the Global Alginates Market are
Ashland Inc.

Brenntag AG

Cargill Inc.

Dohler Group

FMC Corporation

Dastech International Inc.

E.I. DuPont De Nemours and Company

Kimica Corporation

Dow Chemical Company

Penford Corporation
1. Introduction
1.1 Market Definition
1.2 Study Deliverables
1.3 Base Currency, Base Year and Forecast Periods
1.4 General Study Assumptions
2. Research Methodology
2.1 Introduction
2.2 Research Phases
2.2.1 Secondary Research
2.2.2 Primary Research
2.2.3 Econometric Modelling
2.2.4 Expert Validation
2.3 Analysis Design
2.4 Study Timeline
3. Overview
3.1 Executive Summary
3.2 Key Inferences
3.3 Epidemology
4. Drivers, Restraints, Opportunities, and Challenges Analysis (DROC)
4.1 Market Drivers
4.2 Market Restraints
4.3 Key Challenges
4.4 Current Opportunities in the Market
5. Market Segmentation
5.1 Type
5.1.1 Introduction
5.1.2 Sodium Alginate
5.1.3 Calcium Alginate
5.1.4 Potassium Alginate
5.1.5 PGA
5.1.6 Others
5.1.7 Y-o-Y Growth Analysis, By Type
5.1.8 Market Attractiveness Analysis, By Type
5.1.9 Market Share Analysis, By Type
5.2 Application
5.2.1 Introduction
5.2.2 Food & Beverage
5.2.3 Industrial
5.2.4 Pharmaceuticals
5.2.5 Others
5.2.6 Y-o-Y Growth Analysis, By Application
5.2.7 Market Attractiveness Analysis, By Application
5.2.8 Market Share Analysis, By Application
6. Geographical Analysis
6.1 Introduction
6.1.1 Regional Trends
6.1.2 Impact Analysis
6.1.3 Y-o-Y Growth Analysis
6.1.3.1 By Geographical Area
6.1.3.2 By Type
6.1.3.4 By Application
6.1.4 Market Attractiveness Analysis
6.1.4.1 By Geographical Area
6.1.4.2 By Type
6.1.4.4 By Application
6.1.5 Market Share Analysis
6.1.5.1 By Geographical Area
6.1.5.3 By Type
6.1.5.4 By Application
6.2 North America
6.1.1 Introduction
6.1.2 United States
6.1.3 Canada
6.3 Europe
6.2.1 Introduction
6.2.2 U.K
6.2.3 Spain
6.2.4 Germany
6.2.5 Italy
6.2.6 France
6.4 Asia-Pacific
6.3.1 Introduction
6.3.2 China
6.3.3 India
6.3.4 Japan
6.3.5 Australia
6.3.6 South Korea
6.5 Latin America
6.4.1 Introduction
6.4.2 Brazil
6.4.3 Argentina
6.4.4 Mexico
6.4.5 Rest of Latin America
6.6 Middle East & Africa
6.5.1 Introduction
6.5.2 Middle-East
6.5.3 Africa
7.Strategic Analysis
7.1 PESTLE analysis
7.1.1 Political
7.1.2 Economic
7.1.3 Social
7.1.4 Technological
7.1.5 Legal
7.1.6 Environmental
7.2 Porter's Five analysis
7.2.1 Bargaining Power of Suppliers
7.2.2 Bargaining Power of Consumers
7.2.3 Threat of New Entrants
7.2.4 Threat of Substitute Products and Services
7.2.5 Competitive Rivalry within the Industry
8.Market Leaders' Analysis
8.1 Ashland Inc.
8.1.1 Overview
8.1.2 Product Analysis
8.1.3 Financial analysis
8.1.4 Recent Developments
8.1.5 SWOT analysis
8.1.6 Analyst View
8.2 Brenntag AG
8.3 Cargill Inc.
8.4 Dohler Group
8.5 FMC Corporation
8.6 Dastech International Inc.
8.7 E.I. DuPont De Nemours and Company
8.8 Kimica Corporation
8.9 Dow Chemical Company
8.10 Penford Corporation
9.Competitive Landscape
9.1 Market share analysis
9.2 Merger and Acquisition Analysis
9.3 Agreements, collaborations and Joint Ventures
9.4 New Product Launches
10.Market Outlook and Investment Opportunities
Appendix
a) List of Tables
b) List of Figures
Global Alginates Market By Region, From 2022-2027 ( USD Million )

Global Alginates Market By Type, From 2022-2027 ( USD Million )

Global Sodium Alginate Market By Region, From 2022-2027 ( USD Million )

Global Calcium Alginate Market By Region, From 2022-2027 ( USD Million )

Global Potassium Alginate Market By Region, From 2022-2027 ( USD Million )

Global PGA Market By Region, From 2022-2027 ( USD Million )

Global Others Market By Region, From 2022-2027 ( USD Million )

Global Alginates Market By Application, From 2022-2027 ( USD Million )

Global Food & Beverage Market By Region, From 2022-2027 ( USD Million )

Global Industrial Market By Region, From 2022-2027 ( USD Million )

Global Pharmaceuticals Market By Region, From 2022-2027 ( USD Million )

Global Others Market By Region, From 2022-2027 ( USD Million )

North America Alginates Market By Type, From 2022-2027 ( USD Million )

North America Sodium Alginate Market By Region, From 2022-2027 ( USD Million )

North America Calcium Alginate Market By Region, From 2022-2027 ( USD Million )

North America Potassium Alginate Market By Region, From 2022-2027 ( USD Million )

North America PGA Market By Region, From 2022-2027 ( USD Million )

North America Others Market By Region, From 2022-2027 ( USD Million )

North America Alginates Market By Application, From 2022-2027 ( USD Million )

North America Food & Beverage Market By Region, From 2022-2027 ( USD Million )

North America Industrial Market By Region, From 2022-2027 ( USD Million )

North America Pharmaceuticals Market By Region, From 2022-2027 ( USD Million )

North America Others Market By Region, From 2022-2027 ( USD Million )

United States Alginates Market By Type, From 2022-2027 ( USD Million )

United States Alginates Market By Application, From 2022-2027 ( USD Million )

Canada Alginates Market By Type, From 2022-2027 ( USD Million )

Canada Alginates Market By Application, From 2022-2027 ( USD Million )

Europe Alginates Market By Type, From 2022-2027 ( USD Million )

Europe Sodium Alginate Market By Region, From 2022-2027 ( USD Million )

Europe Calcium Alginate Market By Region, From 2022-2027 ( USD Million )

Europe Potassium Alginate Market By Region, From 2022-2027 ( USD Million )

Europe PGA Market By Region, From 2022-2027 ( USD Million )

Europe Others Market By Region, From 2022-2027 ( USD Million )

Europe Alginates Market By Application, From 2022-2027 ( USD Million )

Europe Food & Beverage Market By Region, From 2022-2027 ( USD Million )

Europe Industrial Market By Region, From 2022-2027 ( USD Million )

Europe Pharmaceuticals Market By Region, From 2022-2027 ( USD Million )

Europe Others Market By Region, From 2022-2027 ( USD Million )

U.K. Alginates Market By Type, From 2022-2027 ( USD Million )

U.K. Alginates Market By Application, From 2022-2027 ( USD Million )

Germany Alginates Market By Type, From 2022-2027 ( USD Million )

Germany Alginates Market By Application, From 2022-2027 ( USD Million )

France Alginates Market By Type, From 2022-2027 ( USD Million )

France Alginates Market By Application, From 2022-2027 ( USD Million )

Italy Alginates Market By Type, From 2022-2027 ( USD Million )

Italy Alginates Market By Application, From 2022-2027 ( USD Million )

Spain Alginates Market By Type, From 2022-2027 ( USD Million )

Spain Alginates Market By Application, From 2022-2027 ( USD Million )

Asia-Pacific Alginates Market By Type, From 2022-2027 ( USD Million )

Asia-Pacific Sodium Alginate Market By Region, From 2022-2027 ( USD Million )

Asia-Pacific Calcium Alginate Market By Region, From 2022-2027 ( USD Million )

Asia-Pacific Potassium Alginate Market By Region, From 2022-2027 ( USD Million )

Asia-Pacific PGA Market By Region, From 2022-2027 ( USD Million )

Asia-Pacific Others Market By Region, From 2022-2027 ( USD Million )

Asia-Pacific Alginates Market By Application, From 2022-2027 ( USD Million )

Asia-Pacific Food & Beverage Market By Region, From 2022-2027 ( USD Million )

Asia-Pacific Industrial Market By Region, From 2022-2027 ( USD Million )

Asia-Pacific Pharmaceuticals Market By Region, From 2022-2027 ( USD Million )

Asia-Pacific Others Market By Region, From 2022-2027 ( USD Million )

Japan Alginates Market By Type, From 2022-2027 ( USD Million )

Japan Alginates Market By Application, From 2022-2027 ( USD Million )

China Alginates Market By Type, From 2022-2027 ( USD Million )

China Alginates Market By Application, From 2022-2027 ( USD Million )

India Alginates Market By Type, From 2022-2027 ( USD Million )

India Alginates Market By Application, From 2022-2027 ( USD Million )

Australia Alginates Market By Type, From 2022-2027 ( USD Million )

Australia Alginates Market By Application, From 2022-2027 ( USD Million )

South Korea Alginates Market By Type, From 2022-2027 ( USD Million )

South Korea Alginates Market By Application, From 2022-2027 ( USD Million )

Latin America Alginates Market By Type, From 2022-2027 ( USD Million )

Latin America Sodium Alginate Market By Region, From 2022-2027 ( USD Million )

Latin America Calcium Alginate Market By Region, From 2022-2027 ( USD Million )

Latin America Potassium Alginate Market By Region, From 2022-2027 ( USD Million )

Latin America PGA Market By Region, From 2022-2027 ( USD Million )

Latin America Others Market By Region, From 2022-2027 ( USD Million )

Latin America Alginates Market By Application, From 2022-2027 ( USD Million )

Latin America Food & Beverage Market By Region, From 2022-2027 ( USD Million )

Latin America Industrial Market By Region, From 2022-2027 ( USD Million )

Latin America Pharmaceuticals Market By Region, From 2022-2027 ( USD Million )

Latin America Others Market By Region, From 2022-2027 ( USD Million )

Brazil Alginates Market By Type, From 2022-2027 ( USD Million )

Brazil Alginates Market By Application, From 2022-2027 ( USD Million )

Argentina Alginates Market By Type, From 2022-2027 ( USD Million )

Argentina Alginates Market By Application, From 2022-2027 ( USD Million )

Mexico Alginates Market By Type, From 2022-2027 ( USD Million )

Mexico Alginates Market By Application, From 2022-2027 ( USD Million )

Rest of Latin America Alginates Market By Type, From 2022-2027 ( USD Million )

Rest of Latin America Alginates Market By Application, From 2022-2027 ( USD Million )

Middle East & Africa Alginates Market By Type, From 2022-2027 ( USD Million )

Middle East & Africa Sodium Alginate Market By Region, From 2022-2027 ( USD Million )

Middle East & Africa Calcium Alginate Market By Region, From 2022-2027 ( USD Million )

Middle East & Africa Potassium Alginate Market By Region, From 2022-2027 ( USD Million )

Middle East & Africa PGA Market By Region, From 2022-2027 ( USD Million )

Middle East & Africa Others Market By Region, From 2022-2027 ( USD Million )

Middle East & Africa Alginates Market By Application, From 2022-2027 ( USD Million )

Middle East & Africa Food & Beverage Market By Region, From 2022-2027 ( USD Million )

Middle East & Africa Industrial Market By Region, From 2022-2027 ( USD Million )

Middle East & Africa Pharmaceuticals Market By Region, From 2022-2027 ( USD Million )

Middle East & Africa Others Market By Region, From 2022-2027 ( USD Million )

Middle East Alginates Market By Type, From 2022-2027 ( USD Million )

Middle East Alginates Market By Application, From 2022-2027 ( USD Million )

Africa Alginates Market By Type, From 2022-2027 ( USD Million )

Africa Alginates Market By Application, From 2022-2027 ( USD Million )