Frozen Desserts Market Size, Growth, Forecast (2022-2027)
The Global Frozen Desserts Market size was worth US$ 93.7 billion in 2021, and it is estimated to reach a valuation of US$ 135.7 billion by the end of 2027, expanding at an annual compound rate of 5.4% between 2022 and 2027. The market is driven by the introduction of new flavors, increased impulse purchases, and increased demand for frozen dessert products among consumers worldwide.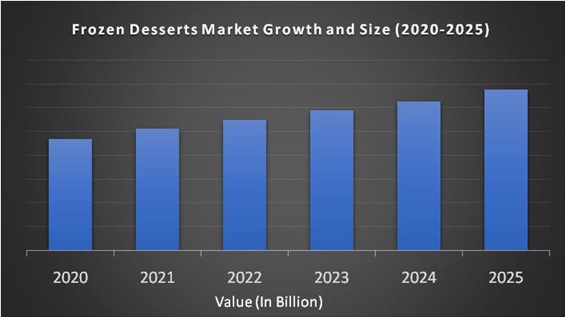 Market Overview:
Frozen desserts belong to the frozen food industry that is generally eaten after meals or served as soft drinks and can be enjoyed between meals. Frozen desserts consist mainly of milk and cream, often combined with fruit, nuts, and other flavors. Frozen desserts are aroma-based foods in the form of shaved ice, ice, sherbet, and snow cones. And they are made from solid milk or even vegetable oil. Frozen cakes, frozen yogurt, ice cream, and so on, are the prominent frozen desserts available in the market that have a high consumption rate based on the availability of numerous flavors. Additionally, target customers tend to prefer ice cream after meals, which is why ice cream sales are significantly higher than other frozen desserts.
Recent Developments in Frozen Desserts Industry:
The carbonated soft drink company Coca-Cola expanded its business by introducing frozen desserts in India. The company also proclaimed that it aims to add a wide range of fruit-based products and sweets to the market by investing 11bn rupees in agricultural ecosystems and food processing equipment and sources.

In August 2018, Hindustan Unilever Limited aspired to become a market leader in the frozen dessert market. To diversify the frozen dessert portfolio, consumer conglomerates have acquired Vijaykant Dairy and Food Products Limited (VDFPL).

Baskin Robbins has launched a dairy-free fragrance for vegan consumers who prefer desserts over animal-based ingredients. Two new flavors allow customers to follow a lifestyle without compromise.
REPORT COVERAGE:
| | |
| --- | --- |
| REPORT METRIC | DETAILS |
| Market Size Available | 2021 – 2027 |
| Base Year | 2021 |
| Forecast Period | 2022 - 2027 |
| CAGR | 5.4% |
| Segments Covered | By Product Type, Fat Content, Consumption and Region |
| Various Analyses Covered | Global, Regional & Country Level Analysis, Segment-Level Analysis, DROC, PESTLE Analysis, Porter's Five Forces Analysis, Competitive Landscape, Analyst Overview on Investment Opportunities |
| Regions Covered | North America, Europe, APAC, Latin America, Middle East & Africa |
| Market Leaders Profiled | Baskin-Robbins, Nestle SA, Unilever, Danone Groupe SA, Ben & Jerry's Homemade Holdings Inc, Cielo USA, Kraft Foods Group Inc and Others. |
Frozen Desserts Market Growth:
The increase in the disposable income of consumers, coupled with people's increasing propensity for food, is expected to fuel the growth of frozen dessert markets worldwide.
Drivers:
One of the main reasons for market growth is the increasing demand for frozen dessert products worldwide due to changes in consumer tastes and health awareness. In addition, the increase in disposable income has led to the market with the introduction of various products in the dessert sector to accommodate a wide selection of consumer groups. Frozen desserts mainly consist of dairy compounds, vegetable fats, with a flavor mix and dried fruit. The development of innovative flavors and packaging for various frozen products has proven to be crucial to the growth of the region. Over the last few years, several novel products have been introduced in the category of frozen desserts. Nestlé released "Outshine Frozen Yogurt Bars", which became very popular with children in no time. Consumers are buying more and more of these bars because they do not contain high fructose corn syrup and are high in protein and calcium.
The growth of the frozen dessert market is accelerating as the tendency to consume frozen desserts after meals increases as an effective digestive product increases. Climate change is another factor that can create a high demand for frozen desserts like ice cream and frozen yogurt worldwide. On hot days, the need for ice cream can only quickly rise to 50%, and if the weather is terrible, it can drop by 20%. Customers believe that it accelerates the growth of the market by eating ice cream to cool down their body temperature in hot weather.
The lactose-free frozen ice cream segment is considered as the new trend that is expected to become popular in the frozen dessert market in the foreseen years. The market is driven by the rising rate of food allergies and intolerances. There has been remarkable progress in the frozen dessert market for many years. The packaging industry, combined with the e-commerce sector provided customers with a convenient facility to order frozen desserts online and enjoy snacks at home. This influenced its fluctuation factor and was an active contribution to the increase in sales of ice cream and other frozen desserts. Additionally, various frozen desserts are sold in shopping malls, department stores, multiplexes, and other dessert channels to support the global frozen dessert market further.
Restraints:
There is a broad spectrum of frozen dessert markets around the world, but the biggest challenge for manufacturers is balancing the current demand for vegan and organic products with a diminishing taste that is detrimental to global sales. As people's health problems increase, it is hampering the growth of this market. Most consumers prefer low-calorie options, vegan alternatives, and dairy-free products as healthier options, affecting the growth of the market. Furthermore, as the number of diabetics increases, the dessert industry has put pressure on the development of sugar-free products suitable for the relevant consumer base.
Frozen Desserts Market Segmentation Analysis:
By Product Type:
sherbet

Frozen Yogurt

Frozen Ice Cream

Frozen Tofu

Frozen Cakes

Mousse

Frozen Novelties
By Fat Content:
regular Frozen Desserts

Low Fat Desserts
By Consumption:
home

Hotel and Restaurants

Dessert Parlors
Geographical Segmentation Analysis:
North America - the United States and Canada

Europe - United Kingdom, Spain, Germany, Italy, and France

The Asia Pacific - India, Japan, China, Australia, Singapore, Malaysia, South Korea, New Zealand, and Southeast Asia

Latin America - Brazil, Argentina, Mexico, and Rest of LATAM

The Middle East and Africa - Africa and Middle East (Saudi Arabia, UAE, Lebanon, Jordan, Cyprus)
Regional Analysis:
North America frozen desserts market was the most extensive local market in 2018 as demand for ice cream increased. In 2018, the United States was the largest market, with a 91.6% share of the North American market. Lifestyle changes, coupled with an increase in health awareness, are driving the growth of this market. Frozen yogurt is the most popular product offering consumers a variety of flavors with more than 400 brands in this segment. With this in mind, the USDA has launched several projects to promote the consumption of yogurt and related products in the region. Low-fat yogurt is a rich source of calcium, and organizations are increasingly promoting it for health and nutrition.
The Asia Pacific frozen desserts market is supposed to emerge as the fastest-growing regional market during the forecast period. Increases in urban populations, changes in lifestyles, gains in disposable income and changes in weather conditions are some of the principal factors supporting the market boom in the region. The increased demand for frozen desserts has significantly increased the total number of retail ice cream and frozen dessert stores in China. Frozen desserts are sure to be a big hit in the Chinese market, as people can spend more money on these products as demand for healthy low-fat foods increases. The increasing level of consumer income, the rapid development of manufacturing capacity, the country's trend towards primacy, and increased consumer adoption of premium products are assumed to meet the growing demand for frozen desserts in China.
Leading Company:
The growth of professional brands, such as Yili Chocliz, Mengniu Ice, Cornetto, Magnum, etc., has been a critical factor in the growth of the frozen desserts market, especially in China.
Key Players in the Market:
Major Key Players in the Global Frozen Desserts Market are
Baskin-Robbins

Nestle SA

Unilever

Danone Groupe SA

Ben & Jerry's Homemade Holdings Inc.

Cielo USA

Kraft Foods Group Inc.
1.Introduction
1.1 Market Definition
1.2 Study Deliverables
1.3 Base Currency, Base Year and Forecast Periods
1.4 General Study Assumptions
2. Research Methodology
2.1 Introduction
2.2 Research Phases
2.2.1 Secondary Research
2.2.2 Primary Research
2.2.3 Econometric Modelling
2.2.4 Expert Validation
2.3 Analysis Design
2.4 Study Timeline
3. Overview
3.1 Executive Summary
3.2 Key Inferences
3.3 Epidemology
4. Drivers, Restraints, Opportunities, and Challenges Analysis (DROC)
4.1 Market Drivers
4.2 Market Restraints
4.3 Key Challenges
4.4 Current Opportunities in the Market
5. Market Segmentation
5.1 Product type
5.1.1 Introduction
5.1.2 Sherbet
5.1.3 Frozen yogurt
5.1.4 Frozen ice cream
5.1.5 Frozen tofu
5.1.6 Frozen cakes
5.1.7 Mousse
5.1.8 Frozen novelties
5.1.9 Others
5.1.10 Y-o-Y Growth Analysis, By Product type
5.1.11 Market Attractiveness Analysis, By Product type
5.1.12 Market Share Analysis, By Product type
5.2 Fat content
5.2.1 Introduction
5.2.2 Regular frozen desserts
5.2.3 Low fat desserts
5.2.4 Y-o-Y Growth Analysis, By Fat content
5.2.5 Market Attractiveness Analysis, By Fat content
5.2.6 Market Share Analysis, By Fat content
5.3 Consumption
5.3.1 Introduction
5.3.2 Home
5.3.3 Hotel and Restaurants
5.3.4 Dessert parlors
5.3.5 Others
5.3.6 Y-o-Y Growth Analysis, By Consumption
5.3.7 Market Attractiveness Analysis, By Consumption
5.3.8 Market Share Analysis, By Consumption
6. Geographical Analysis
6.1 Introduction
6.1.1 Regional Trends
6.1.2 Impact Analysis
6.1.3 Y-o-Y Growth Analysis
6.1.3.1 By Geographical Area
6.1.3.2 By Product type
6.1.3.3 By Fat content
6.1.3.4 By Consumption
6.1.4 Market Attractiveness Analysis
6.1.4.1 By Geographical Area
6.1.4.2 By Product type
6.1.4.3 By Fat content
6.1.4.4 By Consumption
6.1.5 Market Share Analysis
6.1.5.1 By Geographical Area
6.1.5.2 By Product type
6.1.5.3 By Fat content
6.1.5.4 By Consumption
6.2 North America
6.1.1 Introduction
6.1.2 United States
6.1.3 Canada
6.3 Europe
6.2.1 Introduction
6.2.2 U.K
6.2.3 Spain
6.2.4 Germany
6.2.5 Italy
6.2.6 France
6.4 Asia-Pacific
6.3.1 Introduction
6.3.2 China
6.3.3 India
6.3.4 Japan
6.3.5 Australia
6.3.6 South Korea
6.5 Latin America
6.4.1 Introduction
6.4.2 Brazil
6.4.3 Argentina
6.4.4 Mexico
6.4.5 Rest of Latin America
6.6 Middle East & Africa
6.5.1 Introduction
6.5.2 Middle-East
6.5.3 Africa
7. Strategic Analysis
7.1 PESTLE analysis
7.1.1 Political
7.1.2 Economic
7.1.3 Social
7.1.4 Technological
7.1.5 Legal
7.1.6 Environmental
7.2 Porter's Five analysis
7.2.1 Bargaining Power of Suppliers
7.2.2 Bargaining Power of Consumers
7.2.3 Threat of New Entrants
7.2.4 Threat of Substitute Products and Services
7.2.5 Competitive Rivalry within the Industry
8. Market Leaders' Analysis
8.1 Baskin-Robbins
8.1.1 Overview
8.1.2 Product Analysis
8.1.3 Financial analysis
8.1.4 Recent Developments
8.1.5 SWOT analysis
8.1.6 Analyst View
8.2 Nestle SA
8.3 Unilever
8.4 Danone Groupe SA
8.5 Ben & Jerry's Homemade Holdings Inc.
8.6 Cielo USA
8.7 Kraft Foods Group Inc.
9. Competitive Landscape
9.1 Market share analysis
9.2 Merger and Acquisition Analysis
9.3 Agreements, collaborations and Joint Ventures
9.4 New Product Launches
10. Market Outlook and Investment Opportunities
Appendix
a) List of Tables
b) List of Figures
Global Frozen Desserts Market By Region, From 2022 - 2027 ( USD Billion )

Global Frozen Desserts Market By Product type, From 2022 - 2027 ( USD Billion )

Global Sherbet Market By Region, From 2022 - 2027 ( USD Billion )

Global Frozen yogurt Market By Region, From 2022 - 2027 ( USD Billion )

Global Frozen ice cream Market By Region, From 2022 - 2027 ( USD Billion )

Global Frozen tofu Market By Region, From 2022 - 2027 ( USD Billion )

Global Frozen cakes Market By Region, From 2022 - 2027 ( USD Billion )

Global Mousse Market By Region, From 2022 - 2027 ( USD Billion )

Global Frozen novelties Market By Region, From 2022 - 2027 ( USD Billion )

Global Others Market By Region, From 2022 - 2027 ( USD Billion )

Global Frozen Desserts Market By Fat content, From 2022 - 2027 ( USD Billion )

Global Regular frozen desserts Market By Region, From 2022 - 2027 ( USD Billion )

Global Low fat desserts Market By Region, From 2022 - 2027 ( USD Billion )

Global Frozen Desserts Market By Consumption, From 2022 - 2027 ( USD Billion )

Global Home Market By Region, From 2022 - 2027 ( USD Billion )

Global Restaurants Market By Region, From 2022 - 2027 ( USD Billion )

Global Dessert parlors Market By Region, From 2022 - 2027 ( USD Billion )

Global Others Market By Region, From 2022 - 2027 ( USD Billion )

North America Frozen Desserts Market By Product type, From 2022 - 2027 ( USD Billion )

North America Sherbet Market By Region, From 2022 - 2027 ( USD Billion )

North America Frozen yogurt Market By Region, From 2022 - 2027 ( USD Billion )

North America Frozen ice cream Market By Region, From 2022 - 2027 ( USD Billion )

North America Frozen tofu Market By Region, From 2022 - 2027 ( USD Billion )

North America Frozen cakes Market By Region, From 2022 - 2027 ( USD Billion )

North America Mousse Market By Region, From 2022 - 2027 ( USD Billion )

North America Frozen novelties Market By Region, From 2022 - 2027 ( USD Billion )

North America Others Market By Region, From 2022 - 2027 ( USD Billion )

North America Frozen Desserts Market By Fat content, From 2022 - 2027 ( USD Billion )

North America Regular frozen desserts Market By Region, From 2022 - 2027 ( USD Billion )

North America Low fat desserts Market By Region, From 2022 - 2027 ( USD Billion )

North America Frozen Desserts Market By Consumption, From 2022 - 2027 ( USD Billion )

North America Home Market By Region, From 2022 - 2027 ( USD Billion )

North America Restaurants Market By Region, From 2022 - 2027 ( USD Billion )

North America Dessert parlors Market By Region, From 2022 - 2027 ( USD Billion )

North America Others Market By Region, From 2022 - 2027 ( USD Billion )

United States Frozen Desserts Market By Product type, From 2022 - 2027 ( USD Billion )

United States Frozen Desserts Market By Fat content, From 2022 - 2027 ( USD Billion )

United States Frozen Desserts Market By Consumption, From 2022 - 2027 ( USD Billion )

Canada Frozen Desserts Market By Product type, From 2022 - 2027 ( USD Billion )

Canada Frozen Desserts Market By Fat content, From 2022 - 2027 ( USD Billion )

Canada Frozen Desserts Market By Consumption, From 2022 - 2027 ( USD Billion )

Europe Frozen Desserts Market By Product type, From 2022 - 2027 ( USD Billion )

Europe Sherbet Market By Region, From 2022 - 2027 ( USD Billion )

Europe Frozen yogurt Market By Region, From 2022 - 2027 ( USD Billion )

Europe Frozen ice cream Market By Region, From 2022 - 2027 ( USD Billion )

Europe Frozen tofu Market By Region, From 2022 - 2027 ( USD Billion )

Europe Frozen cakes Market By Region, From 2022 - 2027 ( USD Billion )

Europe Mousse Market By Region, From 2022 - 2027 ( USD Billion )

Europe Frozen novelties Market By Region, From 2022 - 2027 ( USD Billion )

Europe Others Market By Region, From 2022 - 2027 ( USD Billion )

Europe Frozen Desserts Market By Fat content, From 2022 - 2027 ( USD Billion )

Europe Regular frozen desserts Market By Region, From 2022 - 2027 ( USD Billion )

Europe Low fat desserts Market By Region, From 2022 - 2027 ( USD Billion )

Europe Frozen Desserts Market By Consumption, From 2022 - 2027 ( USD Billion )

Europe Home Market By Region, From 2022 - 2027 ( USD Billion )

Europe Restaurants Market By Region, From 2022 - 2027 ( USD Billion )

Europe Dessert parlors Market By Region, From 2022 - 2027 ( USD Billion )

Europe Others Market By Region, From 2022 - 2027 ( USD Billion )

U.K. Frozen Desserts Market By Product type, From 2022 - 2027 ( USD Billion )

U.K. Frozen Desserts Market By Fat content, From 2022 - 2027 ( USD Billion )

U.K. Frozen Desserts Market By Consumption, From 2022 - 2027 ( USD Billion )

Germany Frozen Desserts Market By Product type, From 2022 - 2027 ( USD Billion )

Germany Frozen Desserts Market By Fat content, From 2022 - 2027 ( USD Billion )

Germany Frozen Desserts Market By Consumption, From 2022 - 2027 ( USD Billion )

France Frozen Desserts Market By Product type, From 2022 - 2027 ( USD Billion )

France Frozen Desserts Market By Fat content, From 2022 - 2027 ( USD Billion )

France Frozen Desserts Market By Consumption, From 2022 - 2027 ( USD Billion )

Italy Frozen Desserts Market By Product type, From 2022 - 2027 ( USD Billion )

Italy Frozen Desserts Market By Fat content, From 2022 - 2027 ( USD Billion )

Italy Frozen Desserts Market By Consumption, From 2022 - 2027 ( USD Billion )

Spain Frozen Desserts Market By Product type, From 2022 - 2027 ( USD Billion )

Spain Frozen Desserts Market By Fat content, From 2022 - 2027 ( USD Billion )

Spain Frozen Desserts Market By Consumption, From 2022 - 2027 ( USD Billion )

Asia-Pacific Frozen Desserts Market By Product type, From 2022 - 2027 ( USD Billion )

Asia-Pacific Sherbet Market By Region, From 2022 - 2027 ( USD Billion )

Asia-Pacific Frozen yogurt Market By Region, From 2022 - 2027 ( USD Billion )

Asia-Pacific Frozen ice cream Market By Region, From 2022 - 2027 ( USD Billion )

Asia-Pacific Frozen tofu Market By Region, From 2022 - 2027 ( USD Billion )

Asia-Pacific Frozen cakes Market By Region, From 2022 - 2027 ( USD Billion )

Asia-Pacific Mousse Market By Region, From 2022 - 2027 ( USD Billion )

Asia-Pacific Frozen novelties Market By Region, From 2022 - 2027 ( USD Billion )

Asia-Pacific Others Market By Region, From 2022 - 2027 ( USD Billion )

Asia-Pacific Frozen Desserts Market By Fat content, From 2022 - 2027 ( USD Billion )

Asia-Pacific Regular frozen desserts Market By Region, From 2022 - 2027 ( USD Billion )

Asia-Pacific Low fat desserts Market By Region, From 2022 - 2027 ( USD Billion )

Asia-Pacific Frozen Desserts Market By Consumption, From 2022 - 2027 ( USD Billion )

Asia-Pacific Home Market By Region, From 2022 - 2027 ( USD Billion )

Asia-Pacific Restaurants Market By Region, From 2022 - 2027 ( USD Billion )

Asia-Pacific Dessert parlors Market By Region, From 2022 - 2027 ( USD Billion )

Asia-Pacific Others Market By Region, From 2022 - 2027 ( USD Billion )

Japan Frozen Desserts Market By Product type, From 2022 - 2027 ( USD Billion )

Japan Frozen Desserts Market By Fat content, From 2022 - 2027 ( USD Billion )

Japan Frozen Desserts Market By Consumption, From 2022 - 2027 ( USD Billion )

China Frozen Desserts Market By Product type, From 2022 - 2027 ( USD Billion )

China Frozen Desserts Market By Fat content, From 2022 - 2027 ( USD Billion )

China Frozen Desserts Market By Consumption, From 2022 - 2027 ( USD Billion )

India Frozen Desserts Market By Product type, From 2022 - 2027 ( USD Billion )

India Frozen Desserts Market By Fat content, From 2022 - 2027 ( USD Billion )

India Frozen Desserts Market By Consumption, From 2022 - 2027 ( USD Billion )

Australia Frozen Desserts Market By Product type, From 2022 - 2027 ( USD Billion )

Australia Frozen Desserts Market By Fat content, From 2022 - 2027 ( USD Billion )

Australia Frozen Desserts Market By Consumption, From 2022 - 2027 ( USD Billion )

South Korea Frozen Desserts Market By Product type, From 2022 - 2027 ( USD Billion )

South Korea Frozen Desserts Market By Fat content, From 2022 - 2027 ( USD Billion )

South Korea Frozen Desserts Market By Consumption, From 2022 - 2027 ( USD Billion )

Latin America Frozen Desserts Market By Product type, From 2022 - 2027 ( USD Billion )

Latin America Sherbet Market By Region, From 2022 - 2027 ( USD Billion )

Latin America Frozen yogurt Market By Region, From 2022 - 2027 ( USD Billion )

Latin America Frozen ice cream Market By Region, From 2022 - 2027 ( USD Billion )

Latin America Frozen tofu Market By Region, From 2022 - 2027 ( USD Billion )

Latin America Frozen cakes Market By Region, From 2022 - 2027 ( USD Billion )

Latin America Mousse Market By Region, From 2022 - 2027 ( USD Billion )

Latin America Frozen novelties Market By Region, From 2022 - 2027 ( USD Billion )

Latin America Others Market By Region, From 2022 - 2027 ( USD Billion )

Latin America Frozen Desserts Market By Fat content, From 2022 - 2027 ( USD Billion )

Latin America Regular frozen desserts Market By Region, From 2022 - 2027 ( USD Billion )

Latin America Low fat desserts Market By Region, From 2022 - 2027 ( USD Billion )

Latin America Frozen Desserts Market By Consumption, From 2022 - 2027 ( USD Billion )

Latin America Home Market By Region, From 2022 - 2027 ( USD Billion )

Latin America Restaurants Market By Region, From 2022 - 2027 ( USD Billion )

Latin America Dessert parlors Market By Region, From 2022 - 2027 ( USD Billion )

Latin America Others Market By Region, From 2022 - 2027 ( USD Billion )

Brazil Frozen Desserts Market By Product type, From 2022 - 2027 ( USD Billion )

Brazil Frozen Desserts Market By Fat content, From 2022 - 2027 ( USD Billion )

Brazil Frozen Desserts Market By Consumption, From 2022 - 2027 ( USD Billion )

Argentina Frozen Desserts Market By Product type, From 2022 - 2027 ( USD Billion )

Argentina Frozen Desserts Market By Fat content, From 2022 - 2027 ( USD Billion )

Argentina Frozen Desserts Market By Consumption, From 2022 - 2027 ( USD Billion )

Mexico Frozen Desserts Market By Product type, From 2022 - 2027 ( USD Billion )

Mexico Frozen Desserts Market By Fat content, From 2022 - 2027 ( USD Billion )

Mexico Frozen Desserts Market By Consumption, From 2022 - 2027 ( USD Billion )

Rest of Latin America Frozen Desserts Market By Product type, From 2022 - 2027 ( USD Billion )

Rest of Latin America Frozen Desserts Market By Fat content, From 2022 - 2027 ( USD Billion )

Rest of Latin America Frozen Desserts Market By Consumption, From 2022 - 2027 ( USD Billion )

Middle East & Africa Frozen Desserts Market By Product type, From 2022 - 2027 ( USD Billion )

Middle East & Africa Sherbet Market By Region, From 2022 - 2027 ( USD Billion )

Middle East & Africa Frozen yogurt Market By Region, From 2022 - 2027 ( USD Billion )

Middle East & Africa Frozen ice cream Market By Region, From 2022 - 2027 ( USD Billion )

Middle East & Africa Frozen tofu Market By Region, From 2022 - 2027 ( USD Billion )

Middle East & Africa Frozen cakes Market By Region, From 2022 - 2027 ( USD Billion )

Middle East & Africa Mousse Market By Region, From 2022 - 2027 ( USD Billion )

Middle East & Africa Frozen novelties Market By Region, From 2022 - 2027 ( USD Billion )

Middle East & Africa Others Market By Region, From 2022 - 2027 ( USD Billion )

Middle East & Africa Frozen Desserts Market By Fat content, From 2022 - 2027 ( USD Billion )

Middle East & Africa Regular frozen desserts Market By Region, From 2022 - 2027 ( USD Billion )

Middle East & Africa Low fat desserts Market By Region, From 2022 - 2027 ( USD Billion )

Middle East & Africa Frozen Desserts Market By Consumption, From 2022 - 2027 ( USD Billion )

Middle East & Africa Home Market By Region, From 2022 - 2027 ( USD Billion )

Middle East & Africa Restaurants Market By Region, From 2022 - 2027 ( USD Billion )

Middle East & Africa Dessert parlors Market By Region, From 2022 - 2027 ( USD Billion )

Middle East & Africa Others Market By Region, From 2022 - 2027 ( USD Billion )

Middle East Frozen Desserts Market By Product type, From 2022 - 2027 ( USD Billion )

Middle East Frozen Desserts Market By Fat content, From 2022 - 2027 ( USD Billion )

Middle East Frozen Desserts Market By Consumption, From 2022 - 2027 ( USD Billion )

Africa Frozen Desserts Market By Product type, From 2022 - 2027 ( USD Billion )

Africa Frozen Desserts Market By Fat content, From 2022 - 2027 ( USD Billion )

Africa Frozen Desserts Market By Consumption, From 2022 - 2027 ( USD Billion )