Food Thickeners Market Size, Growth, Forecast (2023-2028)
The global Food Thickeners Market size was worth US$ 11.05 billion in 2022, and it is estimated to reach a valuation of US$ 18.98 billion by the end of 2028, rising at an annual compound rate of 6.2% between 2023 and 2028. Thickeners are mainly used in foods to increase viscosity. They are mostly used in bakery and confectionery products to avoid the deformation of the product.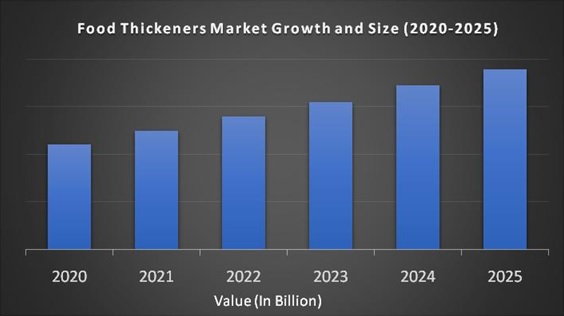 Market Overview:
Food thickeners are food agents that help increase the consistency or thickness of a food without affecting the taste or other properties of the food. Food thickeners absorb liquids from beverages and concentrate them. In the food and beverage industry, these thickeners are widely used to increase the viscosity of drinks, including sauces and puddings combined with food and various ingredients. Food thickeners are used or applied to substances that increase the consistency or thickness of a solution without changing the taste or properties. When a food thickener is added to the drink, the thickener absorbs the liquid, and the drink becomes concentrated.
The removal of the thickener reverses the established action, and almost all the water in the drink is provided as a liquid that is absorbed by the body. Food thickeners are used in the food and beverage industry to increase the viscosity of food and beverages, such as puddings and sauces, along with various ingredients such as gelatin, eggs, and starch, such as wheat flour, rice flour, corn starch and arrowroot. Furthermore, food thickeners can be defined as specially modified vegetable gums, food starch or polysaccharides. Food thickeners absorb liquid and are added to beverages as the liquid concentrates. Vegetable gums commonly used as food thickeners are agar-agar, lignin, pectin, gums and alanine, grasshopper bean gum.
Recent Developments in Food Thickeners Industry:
In 2016, Cargill Inc. established an innovative facility in China to meet changing consumer demands by manufacturing innovative food thickeners with different flavors.

In April 2019, CP Kelco U.S. Inc. announced that it would introduce a new product portfolio called "NUTRAVA Citrus Fiber" focused on consumer demand for natural clean label products.

In September 2017, NIPPON PAPER INDUSTRIES CO., LTD. It has announced that it has started a cellulose nanofiber manufacturing plant in Gotsu, Japan.

In April 2017, the Nestle Health Sciences and the China Stroke Association announced the establishment of a collaboration focused on the diagnosis and management of "distress" for stroke patients.
REPORT COVERAGE:
| | |
| --- | --- |
| REPORT METRIC | DETAILS |
| Market Size Available | 2022 – 2028 |
| Base Year | 2022 |
| Forecast Period | 2023 - 2028 |
| CAGR | 6.2% |
| Segments Covered | By Type, Source, Application and Region |
| Various Analyses Covered | Global, Regional & Country Level Analysis, Segment-Level Analysis, DROC, PESTLE Analysis, Porter's Five Forces Analysis, Competitive Landscape, Analyst Overview on Investment Opportunities |
| Regions Covered | North America, Europe, APAC, Latin America, Middle East & Africa |
| Market Leaders Profiled | CP Kelco, Archer Daniels Midland Company, Cargill Inc, Tate & Lyle PLC, E. I. du Pont de Nemours and Company, TIC Guns, Ashland Specialty Ingredients, Ingredion Incorporated and Others. |
Food Thickeners Market Growth:
The introduction of prepared foods and the increasing demand for sugar-free confectionery products are expected to play an essential role in driving market demand.
Drivers:
Lifestyle changes, higher disposable income, and higher consumer spending on convenience and processed foods are supposed to drive market growth during the outlook period positively. The global industry is defined by the appearance of numerous manufacturers of food thickeners worldwide. The leading players in the market have adopted a variety of strategies, such as joint ventures, acquisitions, collaborations, and contracts, to gain a competitive advantage. These key players are also actively investing in regional expansion strategies and new product launches. Food thickeners are increasingly used in a variety of beverages, such as fruit pulp, juices, and energy drinks, as they help improve food texture without achieving the desired viscosity and degrading nutritional value. Market growth is expected to accelerate as demand for these beverages increases due to their favorable properties.
Factors such as increased demand for prepared foods, consumers who prefer a healthy lifestyle, increased awareness of a healthy diet, and various benefits and functions associated with food thickeners will accelerate demand for food thickeners in the global market. Food concentrator manufacturers continue to work on product innovation to expand their product portfolio and invest heavily. All of these factors are driving the food concentrator market. Other factors contributing to the market growth are improvements in the functional and other sensory properties of the product. Food thickener manufacturers continue to invest and focus on product innovation to continue expanding their product portfolio and improve functional features such as aroma, texture and other organoleptic properties of the product, driving demand in the global market for thickeners of foods.
Moving consumer preferences toward healthier diets and better sensory properties will increase the size of the food thickener market. As the demand for nutritional convenience products has increased, the use of thickeners has increased due to beneficial properties, including emulsion and palatability of ingredients, accelerating industrial growth. Thickeners change the viscosity of diet preparations, beneficially serving indigestion patients with functional features, including bolus control, lung aspiration, and ease of swallowing, driving growth in the global market.
Restraints:
Factors that inhibit market growth are the high costs involved in research and development of food thickener production and changes made to raw materials, which have a negative impact.
Food Thickeners Market Segmentation Analysis:
By Type:
Hydrocolloids

Protein

Starch
By Source:
By Application:
Bakery

Confectionery

Sauces

Beverages

Marinades & Gravies

Dairy

Convenience Foods
Geographical Segmentation Analysis:
North America - the United States and Canada

Europe - United Kingdom, Spain, Germany, Italy, and France

The Asia Pacific - India, Japan, China, Australia, Singapore, Malaysia, South Korea, New Zealand, and Southeast Asia

Latin America - Brazil, Argentina, Mexico, and Rest of LATAM

The Middle East and Africa - Africa and Middle East (Saudi Arabia, UAE, Lebanon, Jordan, Cyprus)
Regional Analysis:
The geographic classification of the global food thickeners market includes North America, Latin America, Eastern Europe, Western Europe, Asia Pacific, the Middle East, and Africa.
The Asia-Pacific region is likely to secure large quantities in the global market. One factor contributing to this growth is the increased consumption of many types of food concentrators in the Asia Pacific market. This is because food and beverage manufacturers are playing an essential role in terms of health, improving functional functions, including texture and taste, and are starting to innovate products. The Indian commodity market is expected to increase at a compound annual rate of 7.1% during the forecast period. The country's high growth rate is attributed to growth in the food and beverage industry, rising disposable income, and changes in consumer food preferences. Therefore, this factor is anticipated to drive demand for bakery and confectionery products and the food thickener industry.
The rapid expansion of the food and beverage industry in Venezuela, Peru, Brazil and Argentina is presumed to accelerate the growth of food hubs in Central Africa and South Africa. Changes in food patterns, rapid urbanization, and increased disposable income of citizens in this region are foreseen to promote growth in the end-use sector, which in turn will drive demand for products. Due to the high consumption of hydrocolloids, starches, proteins and starch derivatives, North America will achieve a high value in the food thickener market, as it is increasingly used in food and beverage applications. Europe is also showing significant market growth.
Key Players in the Market:
Major Key Players in the Global Food Thickeners Market are
CP Kelco

Archer Daniels Midland Company

Cargill Inc

Tate & Lyle PLC

E. I. du Pont de Nemours and Company

TIC Guns

Ashland Specialty Ingredients

Ingredion Incorporated