Hydrocolloids Market Size, Growth, Forecast (2023-2028)
The global Hydrocolloids Market size was worth US$ 8.8 billion in 2022, and it is estimated to reach a valuation of US$ 11.4 billion by the end of 2028, expanding at an annual growth rate of 5.3% between 2023 and 2028. The rise of the hydrocolloid market is credited to aspects like the augmented processed food industry, owing to the mounting need for prepared foods in emerging economies.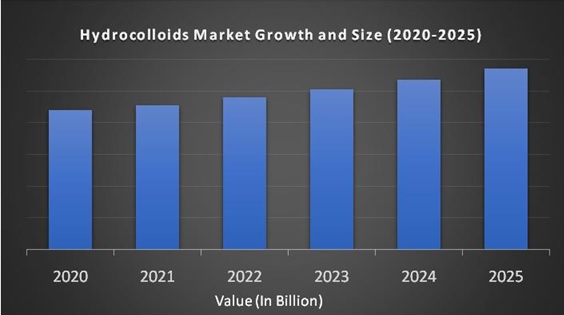 Market Overview:
Hydrocolloids are long-chain heterogeneous polymers, that is, groups of proteins and polysaccharides. It is commercially significant in the food and beverage industry due to its sensory and rheological properties. It acts as a binder, emulsifier, stabilizer, thickener and gelling agent, and can be easily dispersed in water. These hydrocolloids remain in gel or sol form. Food hydrocolloids have a wide range of applications and functionalities. Hydrocolloid is a colloidal long-chain polymer structure composed of fine particles dispersed in water. These hydrocolloids find a wide range of applications, especially in the food sector, due to their unique ability to transform the fluidity of the added structure. In addition, it also applies to cosmetics and pharmaceuticals. As a food and beverage element, they are used as gelling agents, thickeners, stabilizers and emulsifiers, among other applications.
Recent Developments in Hydrocolloids Industry:
In March 2019, Ingredion Incorporated acquired the division of Western Polymer, a private company based in the United States based in Moses Lake, Washington. This acquisition helped expand potato starch production.

In September 2018, Ingredion invested $ 60 million to grow its specialty food ingredient business in the Asia Pacific region. This investment helped the company expand its business in the Asia Pacific region.

In April 2018, Tate & Lyle expanded its food application labs and customer facilities in Mexico City to help manufacturers develop products that meet consumers' preferences for healthier and more delicious food and beverages.

Nexira signed a partnership deal with Synthite Industries (India) in October 2018, in order to develop acacia gum at a manufacturing plant near Coimbatore, India.
REPORT COVERAGE:
| | |
| --- | --- |
| REPORT METRIC | DETAILS |
| Market Size Available | 2022 – 2028 |
| Base Year | 2022 |
| Forecast Period | 2023 - 2028 |
| CAGR | 5.3% |
| Segments Covered | By Type, Source, Function, Application and Region |
| Various Analyses Covered | Global, Regional & Country Level Analysis, Segment-Level Analysis, DROC, PESTLE Analysis, Porter's Five Forces Analysis, Competitive Landscape, Analyst Overview on Investment Opportunities |
| Regions Covered | North America, Europe, APAC, Latin America, Middle East & Africa |
| Market Leaders Profiled | CP Kelco, Cargill Inc, Ashland, Ingredion, Tic Gums, Darling Ingredients, Kerry Group, Hawkins Watts, DuPont, Royal DSM and Others. |
Hydrocolloids Market Growth:
The demand for processed foods is increasing among consumers. Due to this, the world market for food hydrocolloids is likely to be growing enormously in the future.
Drivers:
Emerging economies in the Asia-Pacific region are seeing increasing demand for thickeners and gelling agents in the pharmaceutical, personal care, and cosmetics, food and beverage industries. The increase in consumption of hydrocolloid-based products in construction materials along with growing demand in the cosmetic industry is expected to accelerate market growth during the forecast period. Also, the high demand for concentrated and gelled applications in the food and beverage sector is supposed to be an essential factor in driving sales. The broad scope of functions of these hydrocolloids in the food business is a notable driving element in this market. The most important role that contributes to the productive use of products in the food industry is the ability to combine with water to improve the properties of food ingredients. When the demand for healthy foods increases, the need for hydrocolloids will increase, which is likely to drive the growth of the hydrocolloid market worldwide?
The rise in demand due to the convenience provided by processed foods is presumed to have a positive impact on the market in the coming years. The food sector witnessed a huge demand for food hydrocolloids, attributing to its functional features. Increased consumption of processed foods is a significant driver of market growth. Practical hydrocolloids are mostly used in processed foods and prepared foods. Solutions provided by manufacturers also include custom mixes and systems. These products require food additives, such as hydrocolloids, that give the food the proper texture, viscosity, feel, and mouth shape. As the demand for hydrocolloids increases to help maintain the quality of the end product and add value, food ingredient manufacturers can invest in R&D and introduce new solutions to the market.
Restraints:
Several governments have applied strict rules and regulations regarding the use of food hydrocolloids, used mainly in underdeveloped countries where the food industry has not fully developed. This is a real impediment to the growth of the global food hydrocolloids market. Furthermore, these additives are not available in remote areas, limiting the expansion of the worldwide food hydrocolloid market. However, some manufacturers have to regulate the production of hydrocolloid compounds. This is anticipated to offset most of the constraints affecting the global food hydrocolloid market.
Geographical Segmentation Analysis:
North America - the United States and Canada

Europe - United Kingdom, Spain, Germany, Italy, and France

The Asia Pacific - India, Japan, China, Australia, Singapore, Malaysia, South Korea, New Zealand, and Southeast Asia

Latin America - Brazil, Argentina, Mexico, and Rest of LATAM

The Middle East and Africa - Africa and Middle East (Saudi Arabia, UAE, Lebanon, Jordan, Cyprus)
Hydrocolloids Market Segmentation Analysis:
By Type:
Gelatin

Starch

Xanthan Gum

Carrageenan

Pectin

Agar

Galactomannans

Others
By Source:
Natural Sources

Plants

Animals

Microbial

Seaweed

Synthetic Sources
By Function:
Stabilizer

Emulsifier

Jellying Agent

Coating Agent

Others
By Application:
Dairy & Frozen Products

Bakery

Meat, Poultry & Seafood

Beverages

Confectionary

Oils & Fats

Others
Regional Analysis:
Geographically, food hydrocolloids find market covers North America, Europe, Asia Pacific, Latin America, and the Middle East and Africa. North America and Europe are foreseen to rule the market in the coming years. The Asia Pacific region is expected to be the most promising region in terms of gradual opportunities to generate high profits. Increasing disposable incomes, population growth, and increased demand for ready-to-eat foods are driving the market for food hydrocolloids. The market is envisioned to grow at a faster rate in countries such as India, China and ASEAN countries during the forecast period. The Asia Pacific has become the most significant local hydrocolloid market. As the consumption of carboxymethyl cellulose in processed foods increases along with the expansion of the textile and construction sectors, domestic demand for products is estimated to increase.
As demand for food and beverages increases, China is expected to remain a major consumer, and a large population, along with large quantities of raw materials, is likely to drive growth in the local market. North America is one of the largest markets for dietary hydrocolloids due to the high demand for fat loss due to the eating habits of consumers. They serve as a barrier to the maintenance of bread/fried foods, which are widely consumed in the United States. Future growth trends in North America are deemed to be positive as population awareness and awareness of healthy food and eating habits increase. In the USA, the main types of dietary hydrocolloids are gellan gum, xanthan gum, guar gum, grasshopper soy gum, and pectin. Due to the high price, Zellan Black has witnessed slow growth in recent years. The confectionery market, which is growing in the United States, is leading the market for food hydrocolloids, especially usage as sweets, fortifying agents and stabilizers. The role of a thickener in the bakery industry is driving the demand for food hydrocolloids across the vicinity.
Key Players in the Market:
Major Key Players in the Global Hydrocolloids Market are
CP Kelco

Cargill Inc.

Ashland Inc.

Ingredion

Tic Gums

Darling Ingredients

Kerry Group

Hawkins Watts

DuPont

Royal DSM