Food Additives Market Size, Growth, Forecast (2023-2028)
The global Food Additives Market size was worth USD 37.91 billion in 2022, and it is estimated to reach a valuation of USD 55.53 billion by the end of 2028, rising at a CAGR of 6% during the forecast period. Market growth is accelerating as additive convenience increases, and demand for packaged foods rises.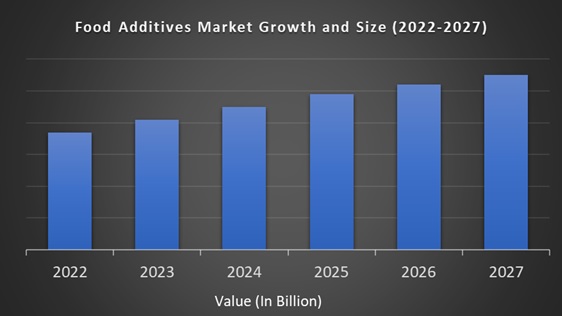 Market Overview:
Food additives are substances added to foods that help improve the texture, color, taste, or chemical preservatives, appearance, or function of processors. These food additives are often added in minimal amounts to enhance the visual appearance, flavor, texture, and other storage properties. Food additives offer several advantages, such as preventing spoilage of food during storage, transport, distribution or processing. More than 3,000 different compounds are used as food additives. A wide range of food additives such as preservatives, antioxidants, flavor enhancers, colorants, and sweeteners are used in the manufacture or preservation of a variety of foods, packaged foods, functional drinks, bakery products, dairy products, meat, and seafood.
In addition to the list of food additives mentioned above, enzymes, emulsifiers, acidulants, shelf life stabilizers and fat substitutes are in high demand in the global food additives market. Food additives are in high demand due to general requirements from the food industry, end consumers, and regulators around the world. Food additives are used in various applications such as bakery and confectionery, dairy and frozen desserts, beverages, meat and poultry products, and other products including sauces, soups, and baby food to improve the sweetness and enhance or add color and avoid spoilage of food.
Recent Developments in Food Additives Industry:
Tate & Lyle PLC, a prominent player in the food additive business around the world, introduced ultra-low-calorie sugar with the help of proprietary process and corn's enzymatic conversion.

Cargill Incorporated launched new carrageenan extracted from Satiagel ABN 500 algae, which was a part of the texture variant.

Shokubai of Japan has acquired a certified halal company. This acquisition allowed Nippon Shokubai to add organic acids to its product portfolio.
REPORT COVERAGE:
| | |
| --- | --- |
| REPORT METRIC | DETAILS |
| Market Size Available | 2022 – 2028 |
| Base Year | 2022 |
| Forecast Period | 2023 - 2028 |
| CAGR | 6% |
| Segments Covered | By Product, Application, Source and Region |
| Various Analyses Covered | Global, Regional & Country Level Analysis, Segment-Level Analysis, DROC, PESTLE Analysis, Porter's Five Forces Analysis, Competitive Landscape, Analyst Overview on Investment Opportunities |
| Regions Covered | North America, Europe, APAC, Latin America, Middle East & Africa |
| Market Leaders Profiled | BASF, Danisco, IFF, Frutarom, DuPont, Archer Daniels Midland, Ajinomoto, Associated British Foods, Royal DSM N.V, ADM, Eastman Chemicals, Givaudan, Tate & Lyle key sweetener brand, SPLENDA sucralose and Others. |
Food Additives Market Growth:
Population growth, coupled with rising food demand, is supposed to be a significant driver of the global market for food additives.
Drivers:
As consumption of high-nutrient foods and beverages with improved visual appeal increases, market demand is assumed to increase during the forecast period. The global food additive industry is expected to witness growth due to changes in consumer taste and interest in product quality and nutritional value. Increased consumer awareness of different types of flavours is also likely to play an essential role in driving growth. To enhance protection against harmful bacteria and other types of microorganisms to extend shelf life, additives are included in the finished product. It also imparts properties such as the taste, color, and taste of foods, and increases nutritional content. Food additives are elements added to foods to improve specific features, such as taste, consistency, flavor, light-protection surface, and shelf life. There are two essential food additives on the market: instant food packaging and indirect food additives. Since there is no real option for food additives, the development of the food and beverage industry may influence decisions in the global market.
The global market for food additives is anticipated to withstand fragmented properties as there are many organizations and a variety of affordable items that add to the food business. For example, the problem of well-being will help obesity among young people and adults to demand useful food additives in the market. Interest in natural food additives is assumed to increase markedly as shoppers become more wellness conscious and perceive the detrimental effects of manufactured food tones. As the demand for packaged products, including ready-to-eat foods, snacks, and frozen meals increases, manufacturers are expected to increase production capacity and increase demand.
The growing consumer demand for exotic flavors and high-value nutritional products is driving manufacturers to develop ingredients that enhance the consumer experience. Population growth, coupled with rising food demand, is expected to be a significant driver of the global market for food additives. In addition, consumer demand for quality food is foreseen to drive the growth of the food additive business in the coming years. Emerging markets around the world are expected to offer opportunities for the food additive market in the near future.
Restraints:
In particular, the increased demand for premium foods in developed countries is estimated to play an essential role in the growth of the food additive market. However, the strict regulations established by regulatory agencies such as the European Food Safety Authority, the Food and Drug Administration and the European Union Law on the Safety of Food Additives can serve as a deterrent to the global market for food additives. Furthermore, the limited solubility and high cost of natural food additives are expected to serve as inhibitors for the food additive market. The market has been limited due to increased consumer demand for synthetic additives, increased consumer demand for "additive-free" foods or products containing natural additives, limited availability and high cost of natural food additives, and increased consumer conversion to organic food growth in recent years.
Food Additives Market Segmentation Analysis:
By Product:
Flavors & Enhancers

Antioxidants

Anticaking Agents

Emulsifiers

Sweeteners

Stabilizers

Colorants

Others
By Application:
Confectionary

Hotels

Bakery

Dairy & Frozen products

Meat

Poultry & Seafood products

Beverages

Others
By Source:
Geographical Segmentation Analysis:
North America - the United States and Canada

Europe - United Kingdom, Spain, Germany, Italy, and France

The Asia Pacific - India, Japan, China, Australia, Singapore, Malaysia, South Korea, New Zealand, and Southeast Asia

Latin America - Brazil, Argentina, Mexico, and Rest of LATAM

The Middle East and Africa - Africa and Middle East (Saudi Arabia, UAE, Lebanon, Jordan, Cyprus)
Regional Analysis:
The main manufacturing and consumption centers in the world market for food additives are North America and the Asia Pacific, which are followed by Europe, South America, Middle East and Africa. The European market is mature, and several regulatory agencies strictly regulate the use of food additives such as flavors and enhancers, and North America, which leads the US food additive market. The US, Mexico and Canada will reach $ 28 billion by 2024. Demand is expected to increase as demand for confectionery and beverages increases in North America due to a busy lifestyle, increased urbanization and an increase in the retail and lodging sectors. Markets in the region are also leaders, as nutritional functionality increases consumer awareness of natural and functional food additives.
Germany, the United Kingdom, Russia, and France, are leading the landscape for the Europe food additive industry, which is deemed to reach $ 25 billion by 2024. Demand is expected to increase as demand for European convenience and products increases. Market growth is anticipated to accelerate as awareness of preventable diseases increases through the effective use of additives and increased health awareness among the general public in Europe.
The Asia Pacific, with emerging nations like China, Korea, India and Japan, is envisioned to reach about US$ 40 billion by the end of 2024. As awareness of high-nutrition diets increases and the need for ethnic tastes increases, it is playing a pivotal role in accelerating demand in the Asia Pacific food additive market. Changes in consumer preferences in the region and increased demand for healthy, natural and organic foods are foreseen to lead the market. Latin America is assumed to grow at a favorable rate, mainly due to the growth of Brazil. The Middle East and Africa are expected to show moderate growth during the outlook period.
Key Players in the Market:
Major Key Players in the Global Food Additives Market are
BASF

Danisco

IFF

Frutarom

DuPont

Archer Daniels Midland

Ajinomoto

Associated British Foods

Royal DSM N.V

ADM

Eastman Chemicals

Givaudan

Tate & Lyle key sweetener brand

SPLENDA sucralose