Food Emulsifiers Market Size, Growth, Forecast (2023-2028)
The Global Food Emulsifiers Market Size was worth US$ 2.5 billion in 2022, and it is estimated to reach a valuation of US $ 4.36 billion by the end of 2028, expanding at a CAGR of about 5.6% over the foreseen period.
Market Overview:
Food emulsifiers are used to improve food texture, mix ingredients well, and provide excellent flavor. It is widely used in various foods due to its multiple properties and functional advantages. The effective use of numerous emulsifiers such as lecithin, stearoyllactylate, polyglycerol esters, and sucrose esters will contribute to market growth during the forecast period.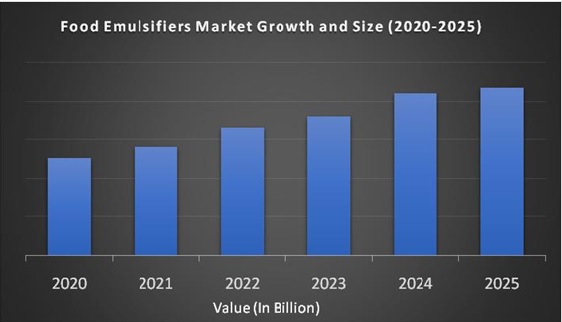 Recent Developments in Food Emulsifiers Industry:
In January 2017, Palsgaard acquired a significant stake in Brazilian food ingredient company Candon Food Additives, a supplier of bakery emulsifiers. The acquisition will increase the company's product range and will have a positive impact on industrial growth.

Cargill, Incorporated in 2016 launched Canola Lecithin for use in a variety of food applications, including chocolate and confectionery, bakery, and prepared foods.

In 2017, Clariant developed a low-foam, labelless emulsifier for metalworking fluid formulations.

Voxon Photonics develops the world's most advanced 3D food emulsifier, Voxon VX1, to bring digital content to life and enable people to collaboratively view, communicate, learn and enjoy without interrupting the 3D experience.

In 2018, Dupont Nutrition and Biosciences, a major player in the food emulsifier market, launched the latest edition of the DIMODAN® HP 90-M emulsifier to the range of ingredients in DuPont ™ Danisco®. Naturally supplied, this new and developed monoglyceride emulsifier improves production and manages the efficiency of food manufacturers.
REPORT COVERAGE:
| | |
| --- | --- |
| REPORT METRIC | DETAILS |
| Market Size Available | 2022 – 2028 |
| Base Year | 2022 |
| Forecast Period | 2023 - 2028 |
| CAGR | 5.6% |
| Segments Covered | By Type, Application, Source and Region |
| Various Analyses Covered | Global, Regional & Country Level Analysis, Segment-Level Analysis, DROC, PESTLE Analysis, Porter's Five Forces Analysis, Competitive Landscape, Analyst Overview on Investment Opportunities |
| Regions Covered | North America, Europe, APAC, Latin America, Middle East & Africa |
| Market Leaders Profiled | Archer Daniels Midland Company (U.S.), E. I. du Pont de Nemours and Company (U.S.), Cargill, Kerry Group Plc. (Ireland), Ingredion Incorporated (U.S.) and Others. |
Food Emulsifiers Market Growth:
As the preference for packaged foods increases, the obese population increases worldwide. It is expected to lead the market for food additives, such as emulsifiers, as the demand for high transparency for ingredients used in consumer foods, which is the market for clean label food ingredients.
Drivers:
The development of the global food emulsifiers market has been surprising in recent years as it is increasingly clustered and ready to eat nutritional items. The global market for food emulsifiers is being fueled by growing wellness awareness and the growing number of consumers requesting low-fat dietary products. In addition, interest in nutritional emulsifiers is supposed to be very high in the candy and bakery sectors. As interest in pastry cookware expands, interest in dietary emulsifiers is also likely to increase in the coming years. The global food emulsifier market is also assumed to experience positive changes in the improvements and developments in the food emulsifier business. Emulsifiers or colloids are widely used as additives in virtual processing. These products have a wide range of applications, from bakery to meat processing.
Furthermore, the rapid industrialization of the food and beverage sector in the Asia-Pacific region is another factor driving demand. Changes in consumer preferences for the region's fictional quality, texture, taste, and nutritional value may affect the dynamics of the emulsifier industry during the outlook period. The United States is a significant consumer of oil painting products. The current trend for clean labeling for ingredients and additives used in processed food processing in Korea is presumed to increase the demand for natural and biological components in the future. This scenario will provide a range of consumption of natural emulsifiers in a considerable variety in the coming years. The rapid increase in urbanization has increased the demand for processed foods. This product helps improve the texture, appearance, and taste of processed foods. Due to these characteristics, it can be used in the manufacture of instant mashed potatoes, cheese, canned and carbonated beverages to increase the size of the market.
The growing consumer demand for trans-fat products to use emulsifiers in products to reduce calorie and fat content is a crucial factor driving the growth of the global food emulsifier market. In addition, the extensive use of food emulsifiers in pastry and bakery products, the expansion of the frozen and processed food industry are other factors that are expected to accelerate the growth of the global market for food emulsifiers during the forecast period. Furthermore, as awareness of the types of emulsifiers available to consumers increases, it is expected to support the growth of the global market for food emulsifiers in the near future. Moreover, the development of new food emulsifiers for low-fat foods in the food emulsifier industry is a current trend that is anticipated to accelerate the growth of the world market for food emulsifiers in the next decade. Besides, increased research activities on health benefits are foreseen to create numerous opportunities for market participants in the global market.
Restraints:
Due to seasonal dependence on performance, fluctuations in the prices of raw materials for the manufacture of natural emulsifiers can undermine industrial profitability, which may affect the trend in the market price of food emulsifiers. Studies have shown that chemically synthesized emulsifiers can interfere with microbes in the human gut, such as inflammatory bowel disease and obesity so that they can act as other retraining factors.
Food Emulsifiers Market Segmentation Analysis:
By Type:
Mono-Glycerides

Di-Glycerides

Lecithin

Sorbitan Esters

Stearoyl Lactylates & Polyglycerol Esters
By Application:
Bakery

Confectionery

Convenience & Dairy

Meat
By Source:
Geographical Segmentation Analysis:
North America - the United States and Canada

Europe - United Kingdom, Spain, Germany, Italy, and France

The Asia Pacific - India, Japan, China, Australia, Singapore, Malaysia, South Korea, New Zealand, and Southeast Asia

Latin America - Brazil, Argentina, Mexico, and Rest of LATAM

The Middle East and Africa - Africa and Middle East (Saudi Arabia, UAE, Lebanon, Jordan, Cyprus)
Regional Analysis:
Europe food emulsifiers market accounted for most of the industry, accounting for 29.5%, followed by North America and the Asia Pacific. Germany, France and the countries of Eastern Europe are expected to have a positive impact on industrial expansion in the coming years. Local demand for emulsifiers, including stearoyl lactylate and sorbitan esters for bakery and dairy applications, is expected to increase with a constant CAGR in the coming years. Eastern European countries, including Russia, are expected to show the fastest industrial expansion due to increased foreign investment in the manufacture of alcoholic beverages. This development is expected to provide a favourable outlook for emulsifiers.
Due to the rapid growth of the food and beverage industry and significant socioeconomic factors, including a broad consumer base, the Asia Pacific food emulsifier industry is foreseen to witness the fastest growth. This scenario will also be reflected in China, India and other Southeast Asian countries in the coming years. The Brazilian market can have significant gains of more than 4.5% by 2025, which will facilitate the dispersion of coffee cream and improve whitening properties. As the cultural importance of coffee in Korea increases, the demand for products will increase, stimulating the growth of local industries.
Top Leading Company:
Stepan Company is a leading supplier of emulsifiers for a variety of food and beverage applications. The company provides monoglyceride and diglycerides under the DREWMULSE name and helps stabilize and emulsify nutrition and feeding systems.
Key Players in the Market:
Major Key Players in the Global Food Emulsifiers Market are
Archer Daniels Midland Company (U.S.)

E. I. du Pont de Nemours and Company (U.S.)

Cargill

Incorporated (U.S.)

Kerry Group Plc. (Ireland)

Ingredion Incorporated (U.S.)