Food Encapsulation Market Size, Growth, Forecast (2023-2028)
The global Food Encapsulation Market size was estimated to be US$ 9.9 billion in 2022, and it is foreseen to reach a valuation of US$ 14.1 billion 2028 with an annual expansion pace of 7.5% between 2023 and 2028.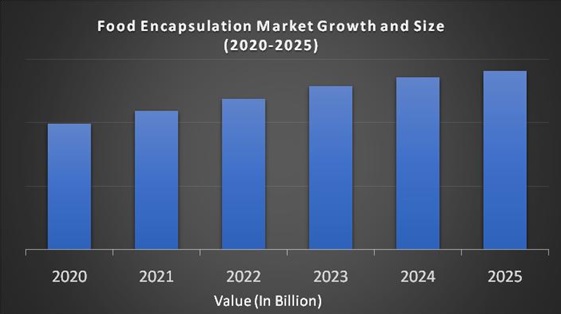 Market Overview:
Food encapsulation used to preserve food and maintain the shelf life of food products by enhancing its taste, flavor and color. It also helps preserve and stabilize food ingredients in their original form. However, food manufacturers should focus on combining encapsulation technology and wall material to improve product shelf life in various applications, such as animal nutrition products, beverages, and dairy products. These ingredients are essential to guarantee the flavor, shelf life and taste of finished products. Food encapsulation makes it easy to coat food ingredients like raisins, fats, flavors, acidulants, and whole ingredients.
Recent Developments in Food Encapsulation Industry:
In May 2017, Lycored (Israel) entered a joint venture with a biotech company, Algatechnologies (Israel), to distribute Algatech's AstaPure in the form of pearls, which will help increase the brand's commercial reach for this line. of products in North America Market.
In November 2019, Givaudan announced the launch of a new fat encapsulation technology that is believed to reduce the fat content of meat substitutes by 75%.
Food Encapsulation Market Growth:
The Asia Pacific food encapsulation market is expected to witness the fastest growth of over 8% between 2020 and 2026. Rapid growth in the food industry, coupled with growing demand for functional food products, will lead to a share regional market.
REPORT COVERAGE:
| | |
| --- | --- |
| REPORT METRIC | DETAILS |
| Market Size Available | 2022 – 2028 |
| Base Year | 2022 |
| Forecast Period | 2023 - 2028 |
| CAGR | 7.5% |
| Segments Covered | By Technology, Material, Core Phase and Region |
| Various Analyses Covered | Global, Regional & Country Level Analysis, Segment-Level Analysis, DROC, PESTLE Analysis, Porter's Five Forces Analysis, Competitive Landscape, Analyst Overview on Investment Opportunities |
| Regions Covered | North America, Europe, APAC, Latin America, Middle East & Africa |
| Market Leaders Profiled | Advanced BioNutrition Corporation, ABCO Laboratories Inc, Aveka Group, Cargill Inc, Balchem Corporation, Encapsys Microencapsulation, Blue California, FrieslandCampina Kievit, Coating Place Inc, Firmenich Inc and Others. |
Drivers:
Consumers are becoming health conscious and therefore the demand for nutrient rich products has increased globally and can be met by encapsulating food. The principal aspects of the global food encapsulation market are the rise in call for functional foods and the surge in the health-conscious consumers worldwide. The prevalence of diseases such as obesity and diabetes are increasing worldwide; therefore, people become more aware when choosing their food and drink. Also, the increasing demand for ready-to-eat food could also boost the world market in the future. This is expected to drive the global food encapsulation market in the near future. As a result, consumer demand for specialty foods has increased significantly worldwide, providing new products. Consumer buying behavior has changed significantly in recent years. This is mainly due to increased disposable income and increased consumption of healthy foods. This may be due to increased consumer awareness that drives food awareness demand and increased consumer consumption of food and beverages, and demand for food that provides additional benefits is increasing at a faster rate, especially in economies emerging. However, due to a busy life, people opt for prepared meals. These foods fall into the category of ready-to-eat foods; they need a certain shelf life to preserve the taste, flavor and color of food. Furthermore, prepared meals could drive the food encapsulation market in the coming years. With the increasing number of diseases like diabetes and obesity worldwide, people are becoming more aware of their food and drinks. These are ready-to-eat foods that require a certain shelf life and must retain the flavor, color and taste of the food. The increase in the number of health-conscious consumers, the increase in the consumption of functional foods and the increasing demand for ready-to-eat foods are among the main drivers of the global food encapsulation market.
It is also increasingly used as an encapsulated sweetener in confectionery products such as candy and gum. Encapsulation technology allows the core product or active material to be designed to be released at a specific temperature or time required after consumption. Besides, food and beverage processors tend to secure a competitive advantage by applying encapsulation to various products. The benefits of encapsulation, such as the controlled release of ingredients, are driving business expansion. Time controlled release of constituents is the preferred method for functional food products. Changes in lifestyles are leading to wide diversification of food products and triggering demand for ready-made meals, thereby stimulating demand for food encapsulation. Controlled release of ingredients over time is the most preferred method for nutraceuticals. Using encapsulation technology, the base product or active ingredient can be designed to be released at a specific temperature or at the required time after consumption. The benefits of encapsulation, such as the controlled release of ingredients, drive the company's expansion. Additionally, food and beverage processors tend to increase the application of encapsulation in various products to gain a competitive advantage. Growing consumer preference for healthy and convenient foods due to awareness. Food encapsulation is widely adopted in industries such as meat, poultry, beverages, and seafood. Due to the busy life schedule, consumers have a higher demand for prepared foods. The demand for healthy, tasty, and nutritious products by health-conscious consumers can be met through food encapsulation, leading the overall market. The global food encapsulation market has strengthened as demand for prepared foods increases. On the other hand, emerging economies offer enormous growth opportunities due to better economic conditions and greater government support.
Restraints:
A limiting factor in this market is maintaining food stability during processing and packaging. Another limiting factor is the size of the capsule. These technologies are in their infancy, and ongoing technological advances have yet to attract much attention. This negatively affects the growth of the market. The difficulties associated for maintaining the stability for food encapsulation during the processing and packing of the food is expected to hamper the business growth.
Food Encapsulation Market Segmentation Analysis:
The global food encapsulation market is classified by technology, type of material and core phase.
Based on the technology, the market is divided into nano encapsulation, micro encapsulation, and hybrid technology. Microencapsulation is the process of packing or coating small solid, liquid, or gaseous particles with a secondary material to produce microcapsules with a diameter of 1 to 1,000 microns. Microencapsulation technology helps control the release and strengthening of functional food and beverage ingredients such as flavors, vitamins, antioxidants, fatty acids, and minerals.
Depending on the type of material, the market is divided into proteins, emulsifiers, lipids, polysaccharides, and other materials. Polysaccharides are compositions of repeated monosaccharide units linked by glycosidic bonds. Polysaccharides are chemically easily deformable and offer numerous textures and viscosities. The polysaccharide sector occupied the largest market for roofing material in 2018 and is expected to follow the same trend by 2025.
Based on the core phase, the market is classified into minerals, organic acids, vitamins, enzymes, probiotics, additives, essential oils, prebiotics, and other substances. Vitamins are functional ingredients that are used in food due to the specific nutritional properties of various parts of the human body. Therefore, encapsulation is primarily applied to vitamins for specific effects. Depending on the vitamin, the trend for flavor encapsulation to achieve long-term controlled release of flavors is increasing.
Geographical Segmentation Analysis:
North America - the United States and Canada

Europe - United Kingdom, Spain, Germany, Italy, and France

The Asia Pacific - India, Japan, China, Australia, Singapore, Malaysia, South Korea, New Zealand, and Southeast Asia

Latin America - Brazil, Argentina, Mexico, and Rest of LATAM

The Middle East and Africa - Africa and Middle East (Saudi Arabia, UAE, Lebanon, Jordan, Cyprus)
Regional Analysis:
North America contributed the largest share in the worldwide market for food encapsulation. However, the market for finished products is saturated and the market is slow. Asia Pacific is emerging as the fastest-growing market due to the region's fast food industry. Besides, increased financial stability and urbanization could strengthen the global food encapsulation market in the coming years. Growth factors for the Asia Pacific market include increased adoption of encapsulated flavors and colors in the premium food and beverage industries. Therefore, manufacturers took advantage of this opportunity to expand their business in the encapsulation market in countries such as China and India. Europe has the largest market share, as it is the fastest-growing region of the rest of the market. The Middle East and Africa area is expected to decrease their growth rate due to a lack of technical knowledge and the slow adaptation of local actors.
Key Players in the Market:
Major Key Players in the Global Food Encapsulation Market are
Advanced BioNutrition Corporation

ABCO Laboratories Inc

Aveka Group

Cargill Inc

Balchem Corporation

Encapsys Microencapsulation

Blue California

FrieslandCampina Kievit

Coating Place Inc

Firmenich Inc